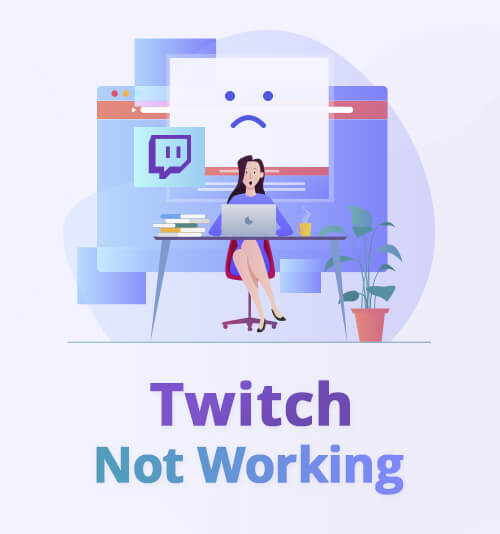 Twitch not working! Twitch down?
What a pity! When you want to stream or talk about video games at Twitch community on Chrome or Twitch app, it is black-screen or not loading properly.
When such a situation occurs, you may wonder why is Twitch down and how to fix Twitch not working properly?
Today, I am going to share with you why Twitch is down and the best method to fix Twitch not working properly.
Find the answer from the article below now and use the methods to download videos from Twitch now.
Issue 1. Twitch Not Working – Quick Tip
As a leading video streaming platform, Twitch attracted millions of visitors to watch the video, video games or broadcasts of game event. We can say, Twitch is an indispensable part of Twitch lovers' life.
However, if you are a Twitch lover, you may not feel strange about the situations: Twitch down, Twitch not working, Twitch is no loading, Twitch not working on Chrome. Or, you may be familiar with FAQs on the community or forum, like: Is Twitch down? Why is Twitch down? How to fix?
Now, in this section, I will present methods to fix Twitch not working issue. Take Twitch Not Working Issue on Chrome as an example. And read the steps below to fix this issue.
Check the internet connection. Make sure your bandwidth is well connected and disable other bandwidth-hogging applications.
Clear Chrome browsing data. Due to the piles up of cookies, cashed images, browsing history or other browsing data, the browser will work slowly. The most obvious problem is the slow loading speed. Use shortcut keys "Shift + Ctrl + Delete" to open "Clear browsing data" window. Then, clear the browsing data according to your needs. Pay attention to not clear the password you saved on the browser.
Browse Google Chrome in the incognito mode. Some third-party extensions, like ad-blockers may affect the loading and playback when streaming the videos online. So, you'd better access to the Twitch in the incognito mode of Chrome.
Use antivirus to scan your computer, removing malware and unwanted programs deeply.
If the steps mentioned above do not solve the issue, please try the desktop or mobile app of Twitch.
Issue 2. Twitch Down – Fix Once and for All
Why is Twitch Down?
Due to server maintenance or server error, Twitch will be down.
In this case, what you can do if you want to stream Twitch videos or game video?
So easy. Just an app – AnyVid, things done.
As a video download app, AnyVid enables you to search for videos. It supports +1000 video sites, including Twitch. You can directly stream Twitch videos from AnyVid. It works on Windows, Android and Mac.
Download AnyVid app to your device now!
AnyVid
Download any video from 1,000+ websites
for Windows 10/8/7
for Mac OS X 14+
for Android
Now, let me tell you how to stream Twitch videos by AnyVid desktop app.
Launch AnyVid on your pc. Here you can see the menu "Popular Sites." Click on the "View All" button.
Here you can see the supported sites listed by categories. Scroll down your mouse to find the Games category. Then, click on the Twitch icon.
You are on Twitch now. You can stream gaming videos from Live Channel, Recommended Categories, Recommended music & Performing Arts Channels, etc. Or you can directly search for the wanted videos.
Let's say you want to watch the live broadcast of League of Legends. Simply type "lol" on the search bar and press to search. Here you will get a wide selection of LOL videos by categories. Select a gaming video under Live menu.
Click on the download button to download the video.
AnyVid is your first choice when issues like "Twitch not working," "Twitch app not working," or "Twitch down" occur, where you can watch videos directly or download videos from offline watching.
Problem Solved!
No matter which application you use, certain issues may occur. Even the world's leading live streaming platform Twitch, it may have some problems, including buffering, crashing, playback issues, black screen, no loading, etc.
Instead of restarting the browser or app, you have got a simple way to fix the issue "Twitch not working." That is using AnyVid.
Just an app, problem solved. If you have any other questions, you can tell us directly in the comment box below.
You May Also Be Interested in These Topics