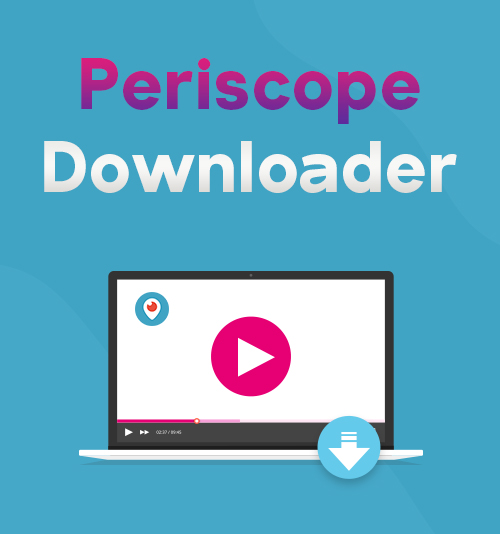 Since Periscope was acquired by Twitter in 2015, it has been known as a live video streaming platform of Twitter. Thanks to the merger, Periscope defeats Meerkat, the biggest rival in live video streaming, and wins 1 million users in the first 10 days following its launch. This live streaming service can be used on Twitter, which attracts more audiences through the users' follower network. Moreover, the "scopers" can set the live broadcast as either public or private for only their friends and family.
Periscope users can enjoy the interactive live video service, like leaving comments and send "heart" to the broadcaster by tapping on their mobile phone. When browsing on the Periscope homepage, you will see all kinds of live videos streaming all over the world. You may wonder: how to download these great live videos to local file folders if you want to replay it?
The answer I will give you is: using the Periscope downloader.
There are plenty of Periscope downloader options on the Internet. However, this article aims to save your time by recommending those excellent choices to you.
Read on, and see what good stuff I prepare for you!
Top 4 Periscope Video Downloader
AnyVid is a powerful download tool that supports more than 1,000 sites including Periscope. It has a flexible and clear interface. Launch the software, and you can see the search bar in the center of the window. The download steps are as easy as a pie. Copy and paste the Periscope live URL and click the "Download" button. Other than using the exact Periscope video link, you can also search by keywords like "Periscope" for results. AnyVid offers 3X faster speed than most of the video downloaders, and also the lossless video picture quality.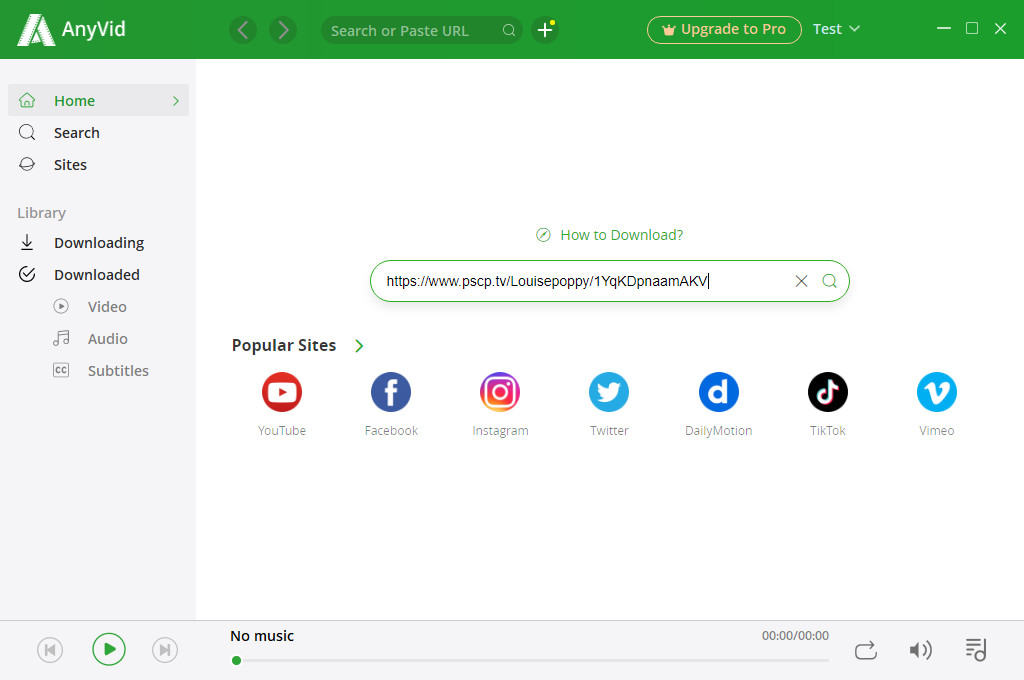 I have used this software for more than 6 months. As for me, AnyVid the first choice.
Pros:
● Plenty of supported sites
● 3X faster download speed
● Lossless download quality
● Keywords search
Cons:
● More format options exclusive to Pro Plan users
2. DVDFab Downloader
DVDFab Downloader is a free Periscope downloader. Its free installation has both Windows and Mac versions. DVDFab Downloader defines itself as a powerful and professional Periscope video downloader. Its supported over 1,000+ social sites, and you can enjoy the fast download speed by enabling the Turbo-speed mode. If you want to download the Periscope video, you can either copy and paste the exact video link or use the built-in browser to visit Periscope. DVDFab Downloader also allows batch download. You can view all the download tasks in the download queue window.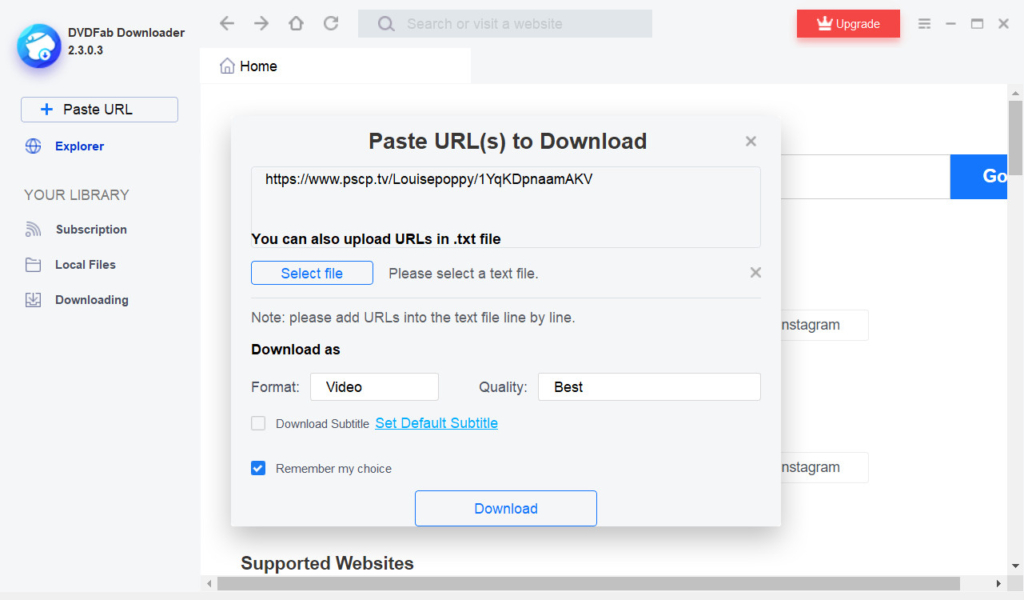 Pros:
● Turbo-speed mode
● Built-in browser
● Batch download
Cons:
● Installation takes a long time
● Periscope was removed from the popular sites list
Scopedown is an online third-party Periscope video downloader. By copying and pasting the Periscope video URL, Scopedown supports you in downloading Periscope video in the ".ts" format. You may need an extra player for the ".ts" file because the codec is necessary to playback. According to Scopedown's website, the recommended players are VLC Player for PC and MX Player for Android.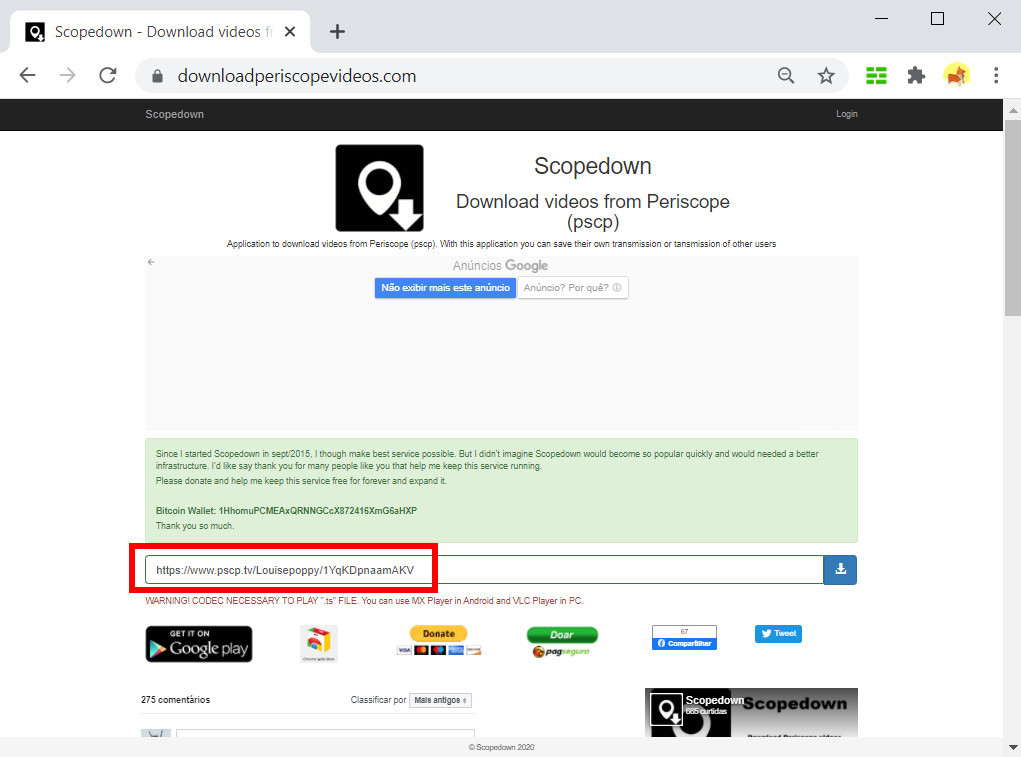 Pros:
● Easy to use
● Fast download speed
● Also has Google Chrome extension
Cons:
● Extra player tools needed
● No format and quality options
4. PSCP Online Video Downloader
PSCP Online Video Downloader is focuses on Periscope videos download. It's extremely easy to use: go to Periscope and find the video URL (click the Share button and choose "Copy the link"), and then paste it to the search bar of PSCP Online Video Downloader. After the downloader finishes parsing the link, it will show the download options for you. You can choose the format and quality from the list. There is no limit to video duration.
Moreover, PSCP also supports to download Twitter videos. But if the live video you wish to download is currently on streaming, you need to wait till it ends before you can download the full video. Otherwise, you will only get clips of the broadcast.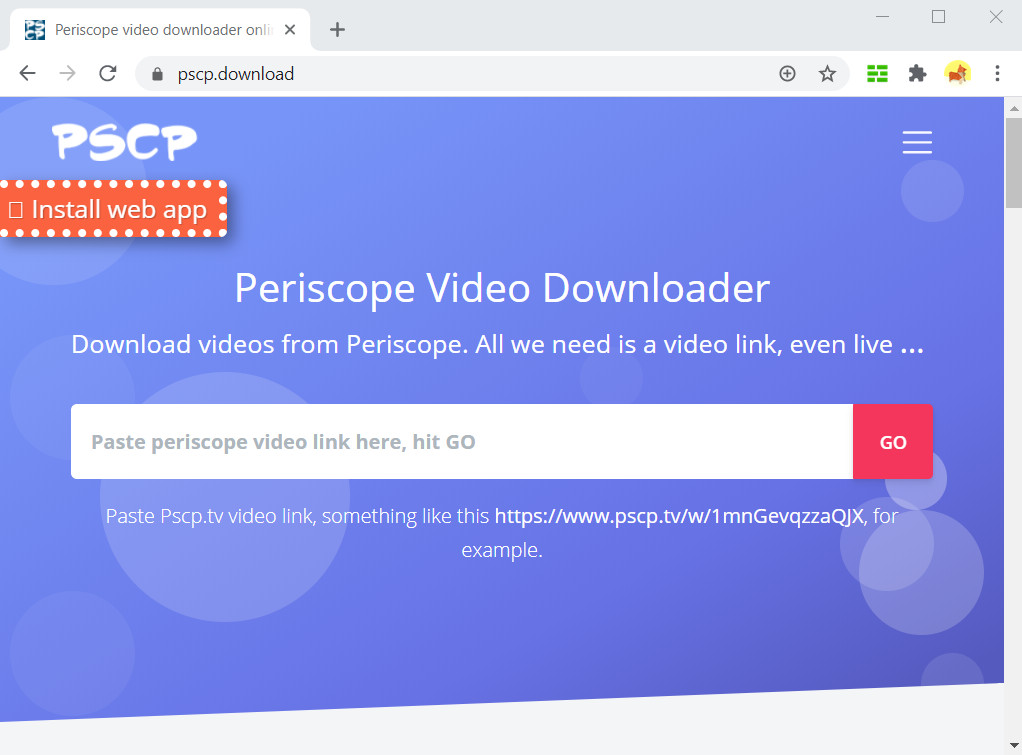 Pros:
● Easy steps
● Web app available
● No size or duration limitations for videos
Cons:
● No video preview before download
● Exact URL search only
Conclusion
By reading the post above, do you get some ideas of the Periscope downloader?
Personally, I think AnyVid is my best one. Because besides download Periscope videos, it works well to download other sites' videos. Install the software once, and it fits all the future needs.
AnyVid
Download any video from 1,000+ websites
for Windows 10/8/7
for Mac OS X 14+
for Android
Go for it and have a try!
You May Also Be Interested in These Topics