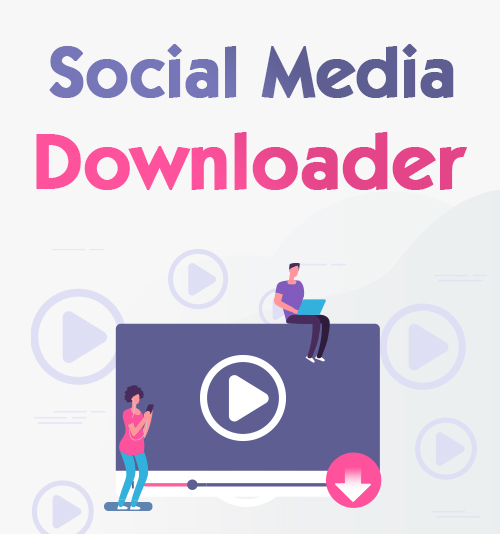 As we spend more and more time on social media like Facebook, Twitter, Instagram, etc., the chances are that we want to download some interesting and funny videos. In this way, we can either watch them in leisure time or re-share with our friends on other platforms.
The pity is that most social media doesn't allow us to download the video directly.
You may want to resort to social media downloader shortcuts to save the videos. However, this app is compatible with iPhone, iPad, and iPod touch (requires iOS 12.0 or later).
To well solve this problem, I will show you an all-in-one social media downloader. It would help you to download videos on the computer or an Android phone.
Let's dive in.
Part 1. Social Media Downloader for Windows & Mac
Several criteria would help you to find out the best social media video downloader. First of all, the application should be stable and supports multi-sites. Plus, the app should be easy to use and owns features such as conversion and batch download.
We have tested lots of social downloaders and find out a powerful all-in-one free social video downloader, AnyVid!
AnyVid is safe and clean, containing no plugins, viruses, and ads. With AnyVid, you can easily download videos from most popular social media sites such as Facebook, Twitter, TikTok, etc. Besides, AnyVid features a multi-thread acceleration engine that could boost download speeds by up to 300%. Plus, AnyVid frequently updates to provide service without disturbance.
Now let's set an example on how to download Facebook video with AnyVid.
Before we start, please install AnyVid on your Windows or Mac.
AnyVid
Download any video from 1,000+ websites
Explore Facebook, and find out the video you want to download. Then right-click on the video and choose the option "Show Video URL," when the small window pops up, copy the URL.
Launch AnyVid and paste the Facebook URL on the search box to search for the video. Also, you can find videos via keywords such as captions, video titles, artists, etc.
Once the result shows up, click the MP4 button to download the video in the default format. Or you can select the More button to find more formats.
Only three steps you can grab the video! Enjoy yourself.
Part 2. Android Social Media Downloader
As most of us use mobile to explore social media much frequently, here, I will also introduce how to use download video with Android social media downloader – AnyVid.
Just like its Windows version, AnyVid Android version also supports more than 1000+ sites, including most well-known video sites such as YouTube, Facebook, Twitter, etc. Also, this social media download Apk is small and clean, with no malware bundled.
Now let's install AnyVid and start downloading!
AnyVid
Download any video from 1,000+ websites
Search for the video. Copy the video URL from social media and paste into AnyVid search box.
Download the video. Once the search result shows up, you can click the MP4 button or the More button to save the video directly.
After the video downloaded, you can watch it on AnyVid directly. There are many essential functions of AnyVid. Let's explore it together.
Conclusion
Due to different viewing experiences, some people tend to visit social media sites via PC while others via mobile phone. That is why AnyVid releases Windows, Mac, and Android versions.
As a robust social media downloader, AnyVid allows you to download videos from most social media sites. Also, you can enjoy a fast download speed with AnyVid.
Have a try and discover more features on AnyVid.
AnyVid
Download any video from 1,000+ websites
You May Also Be Interested in These Topics