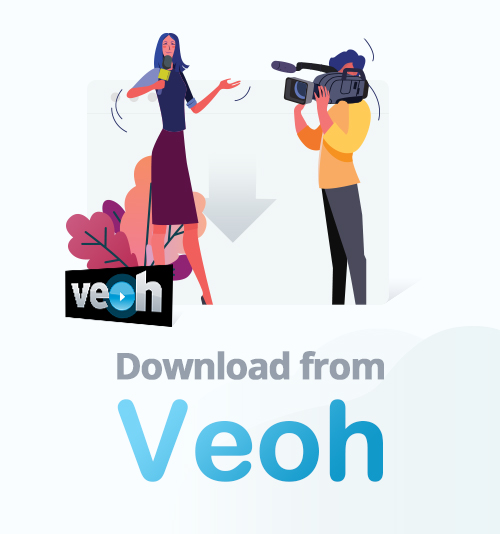 Veoh, one of the world's most popular video content and Internet Television sites, has been a part of Qlipso since 2010.
On Veoh, you can search for millions of videos in various categories. Also, you can be the uploader to share your videos with friends and family. Create groups and build a community are also possible here.
If you find your friends' and family's videos here, do you want to download them to keep the good memories? Yes, this is the most appealing factor of Veoh.
However, you can't download from Veoh directly.
Luckily, you can seek help from Veoh downloader. I will show you how to do it quickly and simply.
Let's get started!
Method 1. Download from Veoh with Veoh Video Downloader
AnyVid is a powerful Veoh downloader to help you download whatever video you want on Veoh. It can download and convert the online video quickly to your personal computer, mobile phone and MP4 media player. At present, it has the version for Windows, Android, and Mac.
AnyVid is not a complicated downloader tool. You can breeze effortlessly through the downloading steps. Let's see how to download from Veoh.
Copy link from Veoh.
Open AnyVid and paste the link to the search bar.
Choose the format and hit the download button.
If you prefer to use mobile phone to watch video, it's also accessible in the same easy way. AnyVid has the built-in media player for phone and the MP4 format is compatible with many media players.
Quick tip: For files you just want in MP3 format, you can choose the MP3 format to download the audio. Audio in 320k can provide you with a good listening experience.
It's quite easy to download video from Veoh, right? Enjoy 1080p video with fast downloading speed in AnyVid, download it now!
AnyVid
Download any video from 1,000+ websites
for Windows 10/8/7
for Mac OS X 14+
for Android
Aside from downloading video from Veoh, AnyVid supports downloading video from many other main video streaming sites like YouTube, DailyMotion and Vimeo etc. You can use the built-in browser to facilitate your downloading process.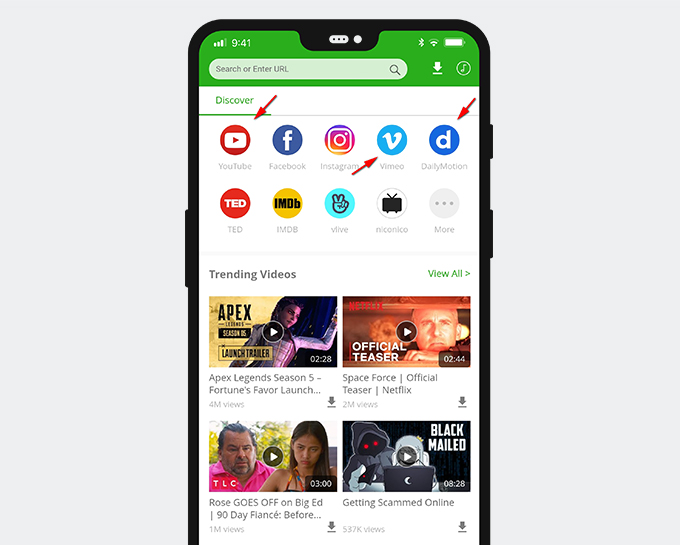 Quick tip: To track your view history, you can log in to those sites.
On the homepage of AnyVid, there are many hand-picked trending videos. The theme covers music, sports, games, News and so on. If you are a music crazier, you can establish your own music library with AnyVid. If you are fond of making video by yourself, downloading video to help you with self-editing. If you are a student, you are able to download study materials for personal elevation.
Download AnyVid and start your free trial now!
Method 2. Download from Veoh Online
If you don't want to download the software, AnyVid also has its online tool, AmoyShare Free Video Finder, to save you from the APP installation procedure.
To make it, just copy a link from Veoh and paste it to the search bar.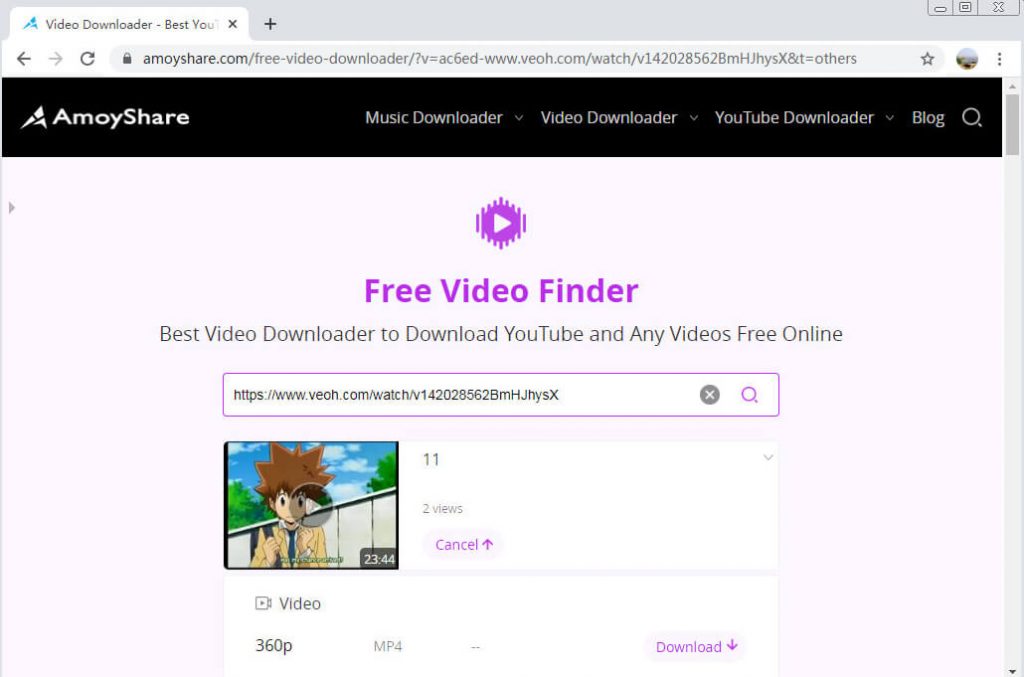 Conclusion
Among the plethora of categories of videos, like Action & Adventure, Education & How-To or TV Shows, one of the videos must catch your attention.
Share your DIY video on Veoh and download from Veoh with AnyVid for the video you like or even the video made by your friends and family.
Have you used other Veoh video downloader before? Share with us how to download videos from Veoh in the below comment box.
You May Also Be Interested in These Topics