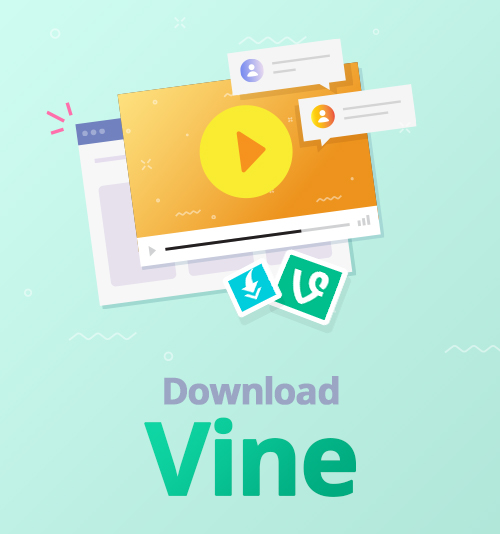 Vine is a popular six-second video hosting service. People never forget the funny, shocking and creative ideas Vine has ever brought to us. Although it shut down in 2017, there are still people looking for the old Vine videos, especially those cherished to them.
How can I see my old Vine videos? Funny vine videos free download? If you search on Google, you will find lots of people still miss Vine videos.
Although the full Vine website is no longer available, we can still track it and find out old memories.
In this post, I will help you to find out old Vine videos effectively. Besides, I will offer the best method to download Vine videos with ease, just in case you will lose them again.
Part 1. How to See Old Vine Videos
As we all know, the Vine website is no longer available since January 2017. And many people ask online how can I see my old Vine videos. Below I will list two methods to help you find out Vine videos.
Find Vine Videos on Twitter
If you have connected your Vine to Twitter accounts, you are the lucky one. The Vine videos you've ever posted are easy to find.
Log in to your Twitter account and tap on your profile. Further click Edit profile in the upper right corner, then scroll down and you will find Show my Vine profile, just enable it. Now you can watch the Vine videos you've posted.
Find Vine Videos on Internet Archive Website
Internet Archive is a non-profit digital library of internet sites and other cultural artifacts in digital forms. It just likes a time capsule to preserve information on websites. Now let's see how to go back to old Vine days with Internet Archive.
Visit Internet Archive website and search for https://vine.co/ with the option Searched archived web sites. Then you will get the result with a calendar.
Select a specific year to explore captures. Then further select a particular date and time. You will get a Vine page.
Click the thumbnail to play the video.
It is exciting, right?
Now let's see how to download Vine videos.
Part 2. Download Vine Videos with Ease
Some people frequently ask about where can I download Vines or how can I download Vine videos in 2020? Below I offer two methods to download Vine videos for free.
The Best Way to Download Vine Videos in 2020
The first method is to download Vine videos with AnyVid downloader. That is the easiest way to download Vine videos.
AnyVid is a useful downloader to free download videos from more than 1000+ websites such as YouTube, Facebook, Instagram, etc. Besides, it allows you to preview videos before downloading without any ads. Moreover, you can convert the video to mp3 easily with AnyVid.
Let's free install AnyVid and start downloading videos.
AnyVid
Download any video from 1,000+ websites
Copy Vine captions & creator, and paste them into the search bar. To get the best result, you can search for Vine videos with more keywords at one time.
Click the play button in thumbnail to preview the video before downloading it.
Download Vine video with the desired format.
Now you have saved the Vine videos on your devices.
Download Vine Videos with a Unique URL
The second method is to download Vine videos with a unique URL.
Just as we mentioned in Part 1, you can see old Vine videos on Internet Archive website. Actually, you can find out Vine video URL there.
When you use Google Chrome to find a video on Internet Archive website, Right-click the video page, and select inspection, then the page source will pop up.
If you use a Microsoft Edge browser, right-click the video page, and pick inspect element, the page source will now appear in the context menu.
Afterward, you need to click the small arrow in the top left corner page source. Thus, corresponding code text will be highlighted when you click on the video.

Now you need to check the code and find out the unique video URL. It should be a link start with http://v.cdn.vine.co.r/videos and finished with mp4 (http://v.cdn.vine.co.r/videos…….mp4).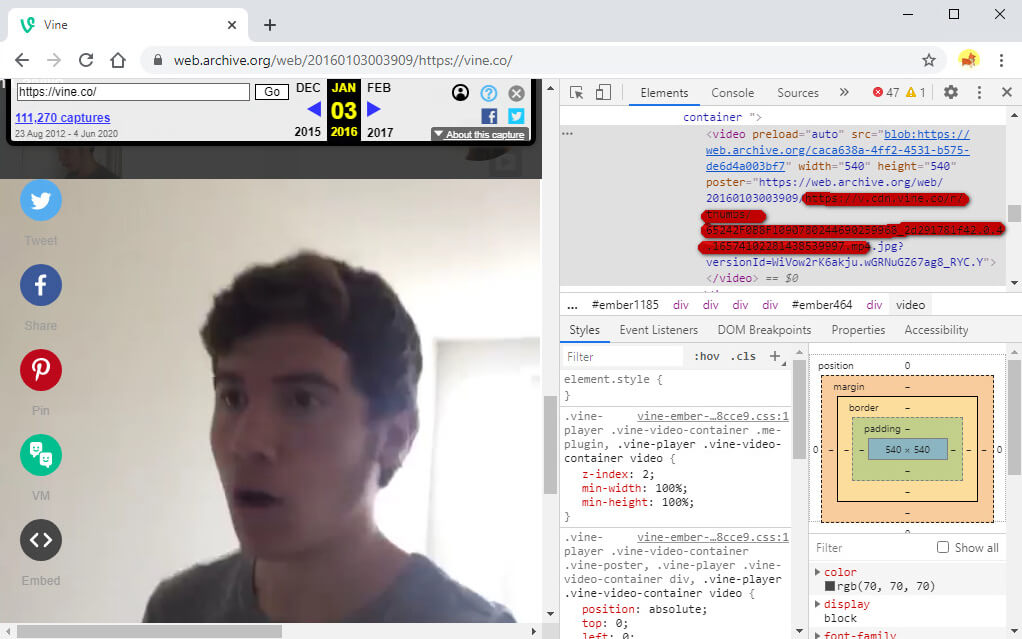 Once you find the code, copy it patiently and search on google. Usually, the link works and you can play the video, or download it directly when you click the three vertical dots.
Although it takes some effort, you finally get the funny Vine videos.
Don't let it slip away once again.
Conclusion
Luckily, we can find and download Vine videos, even though the website has been shut down. But we need to keep in mind that not all websites can last long, and it is better to have a copy of your favorite videos on your device.
If you want to download videos for local storage, AnyVid must be your first choice.
AnyVid is a powerful downloader. It is not only compatible with Windows, Mac but also Android. Besides, batch download with fast speed is available. Moreover, you can convert videos to audio directly.
Why not have a try right now.
AnyVid
Download any video from 1,000+ websites
You May Also Be Interested in These Topics