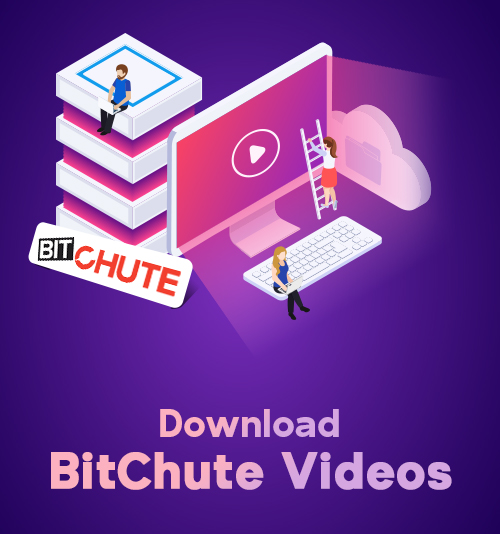 As a video hosting site, BitChute aims to provide creators with a service that they can use to flourish and express their ideas freely. In other words, BitChute will help them to avoid content rules enforced on YouTube.
You can find lots of eye-catching or exciting movies on the BitChute website. Some of the videos are worth watching again and again. You may mark your favorite videos, add to watch later, or add to playlist so that you can find and watch them easily.
However, there is still the risk that your favorite videos are removed or deleted. In this case, you should download BitChute videos on your devices.
Now let's figure out how to download BitChute videos with ease.
Part 1. Download BitChute Video with Link
To download BitChute videos, I recommend AnyVid downloader.
AnyVid is a versatile downloader. It is workable with Windows, Mac, and Android. It helps you to convert videos to audio easily. Besides, it has a built-in browser and supports downloading videos from more than 1000+ sites. The most important is: it allows you to download from BitChute for free. Let's install AnyVid and download videos from BitChute.
AnyVid
Download any video from 1,000+ websites
Copy the link of the video you want to download from BitChute website. Then launch AnyVid and paste the link to the search bar on the top, now start searching.
Click MP4 to download BitChute video directly. Or click the More button to select a format. After the video downloaded, you can find it in the Library. Enjoy yourself!
Part 2. Download BitChute Video with Keywords
If you fail to find the BitChute link for downloading, this method is recommended.
AnyVid not only supports download videos with links but also searches music, videos via title, artist, album, etc. In this way, you can find more resources on the internet.
Of course, you need to install AnyVid in advance.
AnyVid
Download any video from 1,000+ websites
Insert video title, artist, album, etc. on the search bar and start searching BitChute videos on the internet.
Choose the video you want to download and further click on More button to select a resolution. Now the video download starts. Also, you can tap on the play button in thumbnail to preview the video.
Furthermore, you can use AnyVid to batch download BitChute videos easily. That is very helpful if you want to download videos for an artist, or a particular video session.
Search for the video title, artist, or album with AnyVid. Then select the videos you want to download and click the green download button at the right-bottom corner.
Further, select a format for all selected videos and start downloading.
Everything is easy with AnyVid, right?
What's more, there are no annoying ads to disturb you when downloading videos.
AnyVid is a safe app without ads, plug-ins, or viruses. Why not try right now!
Conclusion
I have mentioned 2 methods to download BitChute videos for free. Have you got it?
AnyVid is the best BitChute downloader. BitChute download can be a piece of cake with AnyVid. AnyVid supports to download videos from more than 1000+ sites. Either batch download or preview videos before downloading is available with AnyVid.
Have a try right now!
AnyVid
Download any video from 1,000+ websites
You May Also Be Interested in These Topics