anyvid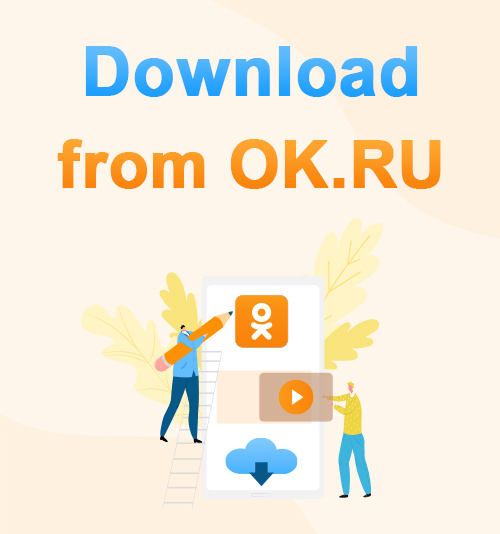 Talking about the popular social networking sites, the first thing that come to your mind would be Facebook, Twitter, or Instagram, which are the most famous and commonly used platforms all over the world. However, in many Russian-speaking countries, the social media that people most familiar with is OK.ru.
Odnoklassniki is the full name of OK.ru. It means "friends" in Russian. OK.ru allows users to post text, photo, video, or broadcast on their feed. Meanwhile, users can find events, watch videos, and enjoy music that other people shared in the community. The navigation tab allows you to check all the popular video channels, supported sites, and the subscription update.
Like most of the video websites, OK.ru doesn't provide a download service for users. When you want to download something, you may need to rely on third-party tools such as AmoyShare Online Video Downloader, AnyVid, etc.
Here, I will give my suggestions on how to download from OK.ru. Let's read on and learn the methods of download OK.ru videos.
Part 1. 3 Best Choices for OK.ru Download
The first solution that I'd like to introduce is AnyVid, a powerful desktop downloader with Windows and Mac versions. The basic download steps are to copy and paste the target video link to AnyVid's search box, then choose the video quality you like to start the download. By these easy steps, you can download videos from more than 1,000 sites, including OK.ru. AnyVid provides 3X faster download speed for 4K and HD video download than other software. If you want to download a complete playlist from a specific channel, AnyVid's batch download will helps a lot. Moreover, AnyVid has a built-in browser that allows you to search for videos by typing the keywords.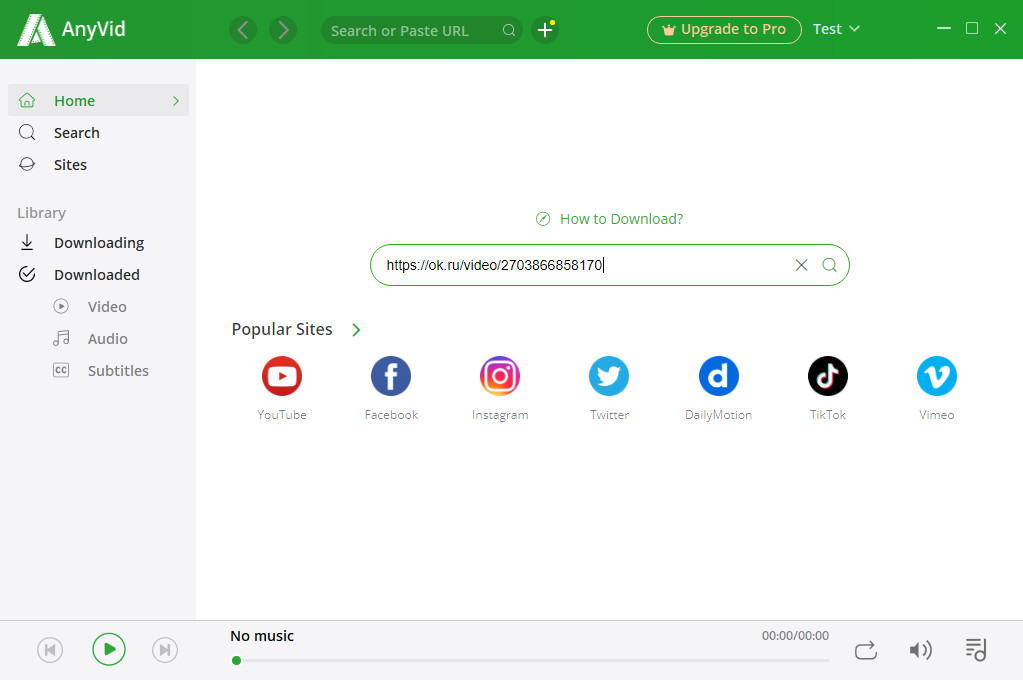 Pros:
● Supports 1,000+ sites
● Fast download speed
● Batch download
● Lossless download quality
● Keywords search
Cons:
● More quality options are exclusive for premium users
● Plain UI design
Okvid.download is an online download site that offers a video OK.ru download service. By copying and pasting the OK.ru video URL, OKVid will parse it and show you all the available download options. For the example link that I used, OKVid listed 12 results that contain different video qualities and formats. The shortcoming is, OKVid doesn't have the video preview. You can also install the web app to use OKVid in a more convenient way.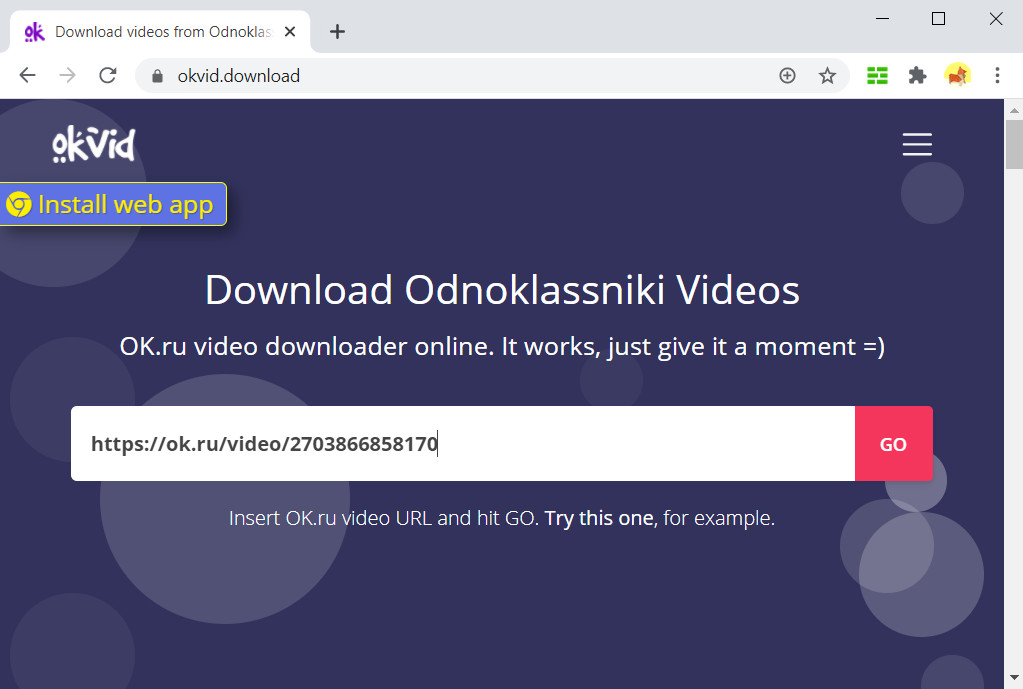 Pros:
● No installation needed
● Plenty of quality options
● Provide web app for quick access
Cons:
● No video preview
● Not as stable as a desktop software
WonderFox has just newly launched an online OK.ru downloader. You just need to paste the OK.ru video link in its search box. The online downloader will parse the link and offer you different levels of video quality options. By clicking the "Download Now" button, you will open a new window of the video preview, and the final download button is at the bottom right corner. What's more, if you think the online download service is unsatisfying, you can still scroll down to see the installation of WonderFox's desktop application. The download guide is also attached.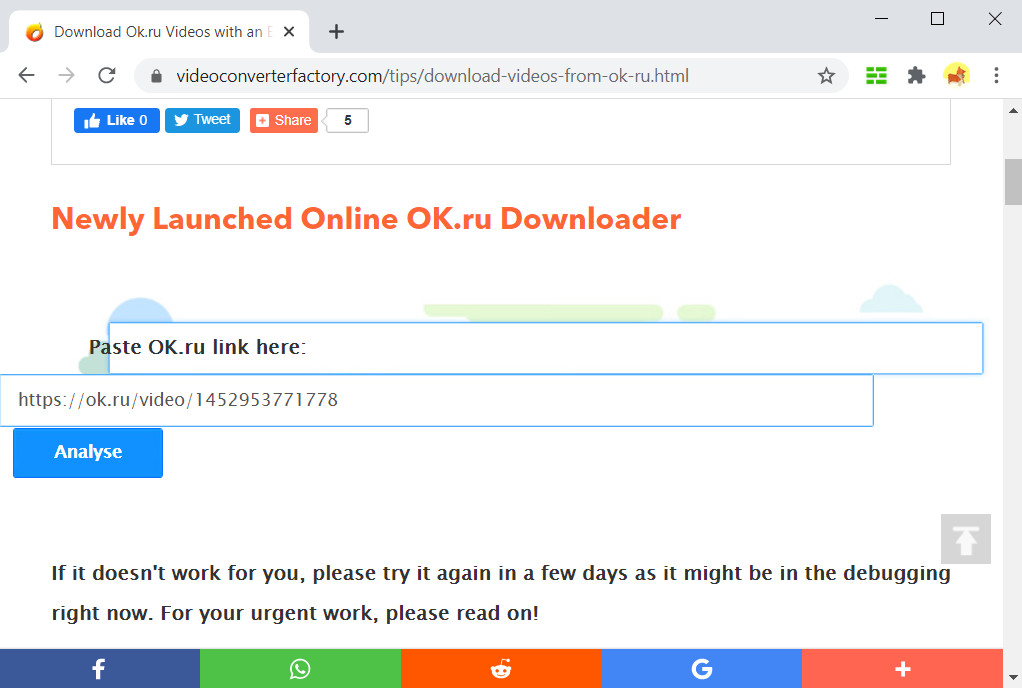 Pros:
● Newly launched and easy to use
● Video preview
● Also has the desktop application
Cons:
● Link parsing speed is not as fast as expected
● Limited quality options
Part 2. Download Videos from OK.ru on Android
Like all social media sites, mobile app users plays a big part. So OK.ru video download also has a high demand from mobile device users. In this case, you can search for "Video downloader for OK.ru" in Google Play. It's an app that has 5,000+ users and earns 4.5 stars. After installing it on your device, you can download OK.ru videos by sharing the content from the official website to this app downloader. Tapping the "Download" button and choose the video quality that you want. The downloaded video will be automatically added to your album.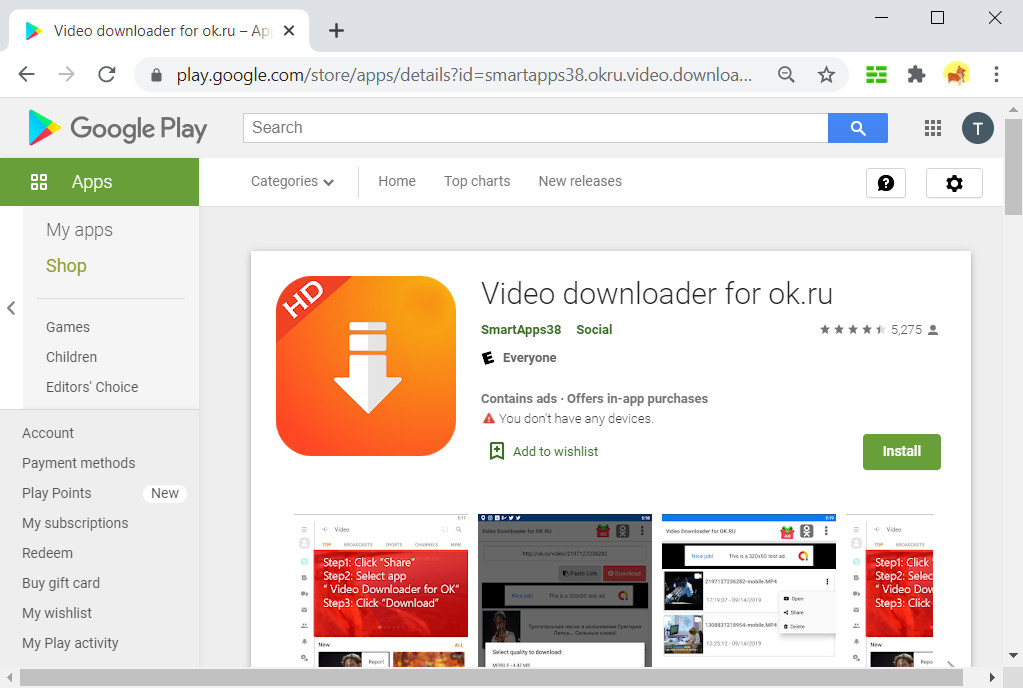 Pros:
● Share the content to the app to download
● Automatically save the video to your album
Cons:
● Have to watch ads to finish the download
● Problem occurs when users trying to download HD videos
Conclusion
By reading through this post, do you have some ideas about how to download from OK.ru? Whether you use OK.ru on PC or mobile phone, you can always find a tool that suits your need.
As for me, my number one pick is AnyVid. This downloader has both PC and Android versions. Besides OK.ru, it also supports video downloads from many other sites such as YouTube, Facebook, Instagram, and 1,000+ sites. Of course, its download performance is outstanding, which is the most significant reason I choose it.
AnyVid
Download any video from 1,000+ websites
for Windows 10/8/7
for Mac OS X 14+
for Android
Don't hesitate to get AnyVid and enjoy the awesome video download experience!
You May Also Be Interested in These Topics