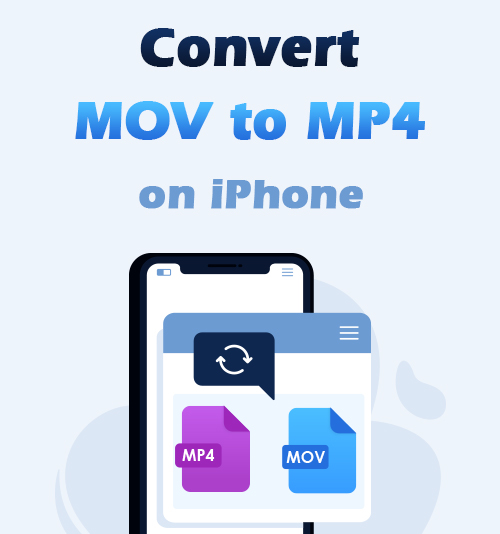 MOV is a widely used video format for Mac and iPhone users but is not as popular among Android users. So, some devices don't support this format. Even worse, the MOV video files are bigger than other formats. Therefore, transferring will become a severe problem when you want to share it with friends by email.
Under these circumstances, converting MOV to a popular format becomes essential. Being a popular video format, MP4 has high compatibility that can be played on a wide range of devices.
Is there any method to convert MOV to MP4 on iPhone with ease? That's definitely yes! Here, I will recommend 5 best MOV to MP4 converters. So come and follow me now!
Part 1: Convert MOV to MP4 on iPhone Online
AmoyShare Online MP4 Converter website is the most convenient way to get conversion because it requires no installation or registration. Moreover, it's so easy to use that you can convert files with a few clicks.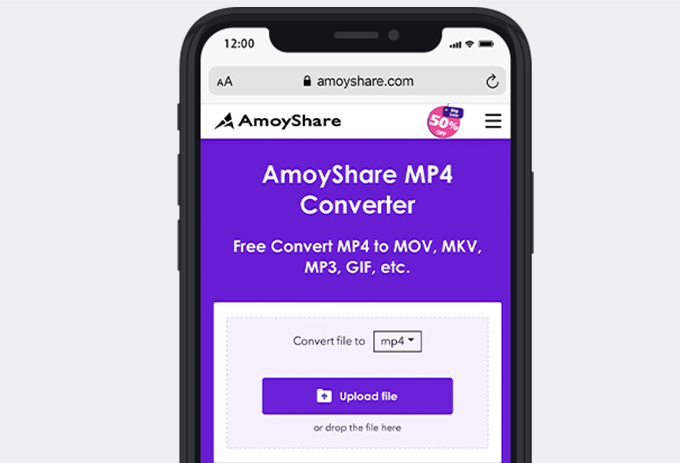 AmoyShare Online MP4 Converter lets you convert one video or audio format to another desired format, including MOV to MP4. It has a concise layout that enables you to find the information directly. Besides, it's pretty simple to transform videos as other online converters. Moreover, it allows adding three video files to change formats simultaneously, significantly improving efficiency. Most importantly, it's free and 100% safe because the uploaded file will be deleted in 2 hours.
To convert .mov to .mp4 on iPhone online, follow these steps: First, head to the Online MP4 Converter on Safari. Then, upload a MOV file and select MP4 as the target format. Next, convert the MOV file and download the converted file to your folder. After these steps, you can share the MP4 file with friends without the hassle.
Part 2: iConv
iConv is one of the best converter apps on the iPhone, which allows converting almost all video and audio formats like MP4, WMV, MPEG, FLV, AAC, WAV, M4A, and FLAC, etc. Therefore, it's capable of changing MOV to MP4 on iPhone successfully. Besides, it has other built-in editors. These colorful tools include painting for videos, adding emoji, text, or music, changing the filter, and speeding up videos to suit your individual need.
However, the ads will pop up occasionally during the conversion process, and it's not free. That's a terrible experience for iPhone users. If you don't mind these cons, try it out!
At first, you need to import a file to iConv and tap on the MOV file on the main interface. Then, choose the convert option and set MP4 as the output file. Next, select a location to save it. Finally, the converted file has been downloaded on your iPhone.
Part 3: Media Converter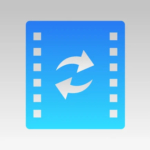 You have to mention this MP4 converter on iPhone called Media Converter on App Store when it comes to converters. It gives the ability to convert MOV files to MP4 on iPhone. In addition to transforming, other features are waiting for you to explore. For instance, you can play videos or audios on the converter with the built-in media player and make video your ringtone as you wish.
Furthermore, the powerful function of Media Converter is to extract audio from a video. It means that you can rip music as an independent file and only save it on your device for saving the storage space.
On the other hand, it exists some drawbacks. For example, many ads will pop up on Media, and its advanced features are not accessible unless payment is made.
Part 4: Video Converter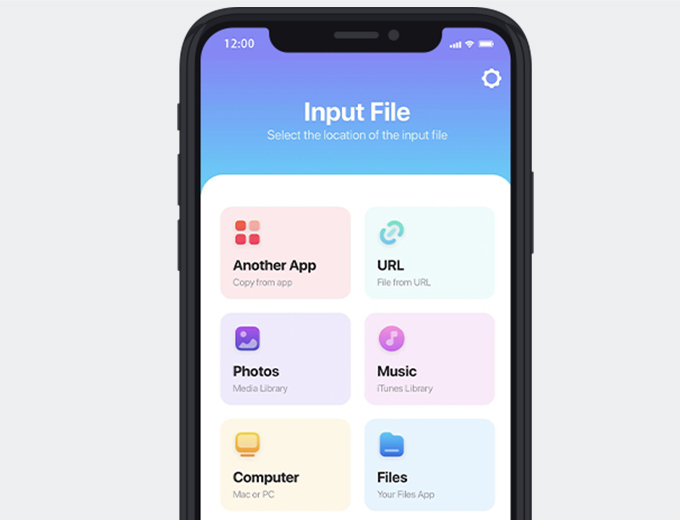 Another video converter for iPhone is the Video Converter app which can be installed from App Store. It is primary function – converting video and audio formats – is suitable for iOS users. You can input files from another app, URL, Photos, Computer, and Files folder. However, one thing you need to notice is that it only supports some formats for free. Therefore, paying for the pro version is essential for converting files to MP4, MOV, WMV, MPG, MP3, M4A, etc. Besides, it has a low converting speed.
Suppose you want to know how to change MOV to MP4 on iPhone, following these procedures. At first, open the Video Converter app and select a location for importing the file. Then, select MP4 as the output file and tap on the Convert File button. After that, you have exported MP4 files smoothly on your iPhone.
Part 5: How to Convert MOV to MP4 on Mac
Apart from converting MOV to MP4 on iPhone, using desktop software on Mac is also a great way. With the program's help, you can enjoy a higher converting speed or enhance the video quality. Therefore, don't hesitate to choose a desktop program.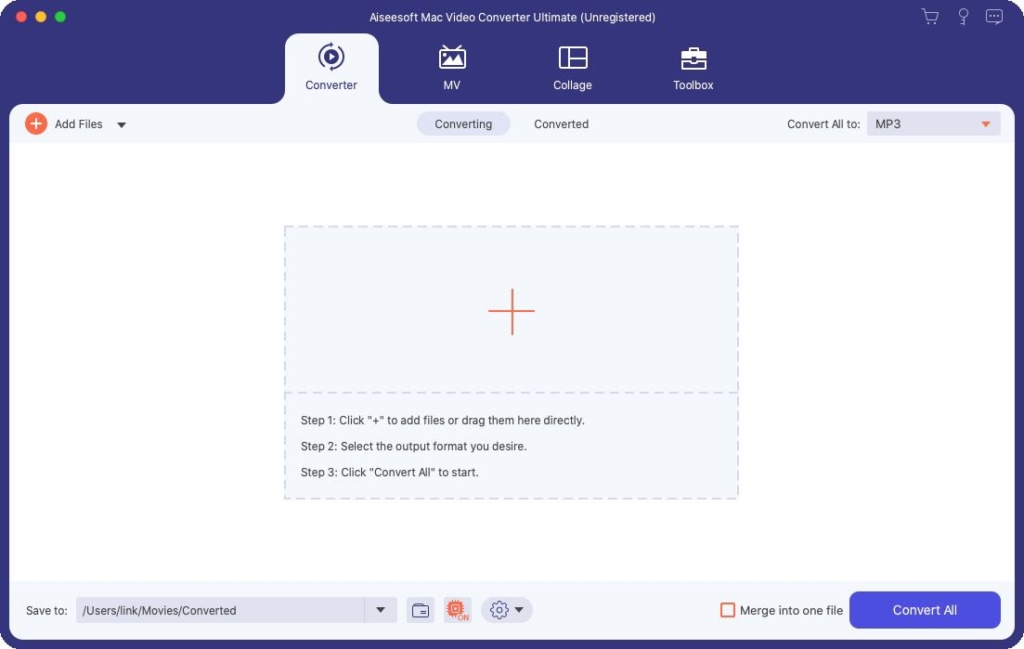 As a professional feature-rich tool on Mac, AmoyShare Video Converter Ultimate provides many versatile features which let you recreate videos. One of the most powerful functions is to convert videos from one format to another. So it's an easy thing to turn MOV into MP4. Furthermore, it enables batch conversion that lets you add multiple video files and convert them simultaneously. All in all, it increases efficiency significantly.
In addition, Ultimate has a 60X faster speed than other MOV to MP4 converters on iPhone. That is to say, you can get more converted MP4 files at the same time. Above all, it gives the ability to transform videos without quality loss. Instead, you can choose to enhance the video quality to 4K, 1080p, 720p, etc.
It's super easy to convert MOV to MP4 on Mac with Ultimate. First, launch the program and click on the plus icon to import MOV files. Secondly, select MP4 as the output format. Finally, hit the Convert All button. This converter will automatically make MOV into MP4.
Conclusion
To sum up, this tutorial has offered 5 remarkable tools to convert MOV to MP4 on iPhone and Mac. Of course, each of these converters has its pros and cons. You can choose one of them to satisfy your need.
AmoyShare Online MP4 Converter is the easiest way to transform videos with simple steps. Besides, it doesn't need to download or install any program on iPhone.
If you want to preserve the original quality of MOV files, try to use AmoyShare Video Converter Ultimate on Mac. Furthermore, you can add multiple files for bulk conversion.
Come and convert files with the help of these converters!
FAQ
Should I convert MOV to MP4?
The most popular video format MP4 has higher compatibility and smaller file size than MOV. So when you want to share videos with friends by email, MP4 is the better choice.
How do I convert MOV to MP4 for free on iPhone?
AmoyShare Online MP4 Converter is capable of converting videos or audio from any format to other formats. And it's free to convert MOV to MP4 on iPhone.First, head to the website on Safari and hit the Upload file button to add single or three MOV files.Then, set the output MP4 format and click on the Convert button.Next, hit the Download button.
How do I change the video format on my phone?
Whether an iPhone or Android user, the AmoyShare Online MP4 Converter allows changing the video format without installing any app. You only need to go to this website on Safari or another browser, and upload the files you want to transform. Then, choose one video format and hit the Convert button. Finally, download this converted file to your folder.
You May Also Be Interested in These Topics