The change from ".mp4" to ".mp3" hides what is happening under the hood. Modern inventions give users the desired results, but keep the complicated procedures to the professional few. As potential buyers of smart devices, you take into account how many needs can be taken care of, rather than working out how to design a high-performance chip.
The same goes for video converter app. It would be best to have a handy converter for your device, which requires no expertise. Considering the best video converter for iPhone, Android, and PC is in demand, this post will give a comprehensive review of the top 10 converter tools that are feature-rich and worthy of your trust.
Keep reading and find the best fit as the article unfolds.
Video Converter Apps for Android
Android has, no doubt, taken up the lion's share of the mobile market. Google Play is the biggest provider of Android applications. But the Android app shop is inundated with countless video converter apps for Android, but the quality of their services varies greatly. Below I choose two of the best video converters for Android users.
Video Converter
In addition to a package of video processing functions (video conversion, cutting, reversing, etc.), Video Converter doubles as a video to MP3 & DVD converter. As it has claimed, it can convert video to MP4 or convert MP4 to any other format ( MP4, MKV, AVI, 3GP, FLV, MTS, M2TS, TS, MPEG, MPG, WMV, etc.). Besides, this video converter for androids can handle 4K/8K conversion.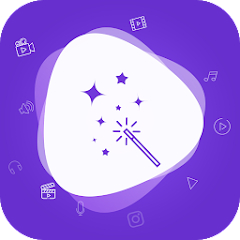 Video Converter, Compressor
This video converter app has the bare minimum of interface design. Calling itself an all-in-one video/audio tool, Video Converter, Compressor compress and convert videos without losing quality, extract audio track from video, and process files in batches. In its advanced settings, you are allowed to change resolution, frame rates, video/audio codecs…
AmoyShare Online Video Converter
AmoyShare Online Video Converter gives you online access to format conversion. This is the best online alternative to free video converter apps. Converting videos in the Cloud, this online tool requires no installation. You can convert video to MP3, MP4, GIF, and any other video/audio format. Its conversion speed is decent, and the good news is that the website knows no border. Any smart device (iPhone, Android, iPad, Mac, Windows) accessible to the Internet can use this tool for free.
● Virus-free & Ads-free
● 20+ formats supported (MP4, AVI, MOV, MKV, MP3, OGG, GIF, etc.)
iPhone Video Converter Apps
iPhones boast a sleek design that is pleasant to the eyes. But what captivates people most is its unparalleled user experience. App Store has collected a load of applications that fit the bill perfectly. Below are two hot video converter apps for iPhone.
The Video Converter
The highlight of this iPhone video converter is that it embraces files from anywhere (other apps, computers, URLs, etc.). With multiple input paths, you needn't look for a specific file in the messy folder. Grab the file from the immediately accessible path, and drop it into Video Converter to convert to some 20 formats.
Media Converter
Media Converter enjoys 10K+ 5-star ratings, exceeding any video converter in the App Store. Its powerful processing takes the credit for the popularity. You cannot imagine you can convert 50+ formats (video, audio, and image) on a palm-size device. Don't be deceived by its name. It is more than just a video converter app since it serves multiple purposes like compressing, trimming, and playing videos.
Best Video Converter Software for PC (Windows & Mac)
Are you a computer buff? Powered by the advanced hardware, PC makes it a breeze to generate fast results with the best quality. The Video converter software I'm gonna introduce is working perfectly on Mac and Windows.
BeeConverter
To be your easiest solution, BeeConverter makes its interface neat and straightforward. Even without any instruction, you can convert formats like an expert. Packing anything into one video converter is not what BeeConverter is aimed for. Take a look at what this best video converter for Mac & Windows can offer:
● Convert files at a 60X faster speed
● A wide range of pre-configured video, audio, image, device, and web formats(MP4, MOV, MKV, MP3, WAV, M4A, JPG, PNG…)
● Enhance quality up to HD/4K
● Handle high-resolution videos in batches and with no quality loss
Are you active on all kinds of social platforms. Be you an influencer or a common user, BeeConverter takes care of your needs to convert Facebook video to MP4, convert Instagram video to mp3, and the like. Below is a step-by-step guide accompanied by pictures.
Video Converter
Convert videos to MP4, MOV, MP3, GIF, and more
Choose the conversion tool.
Add files from your PC.
Select the target format from the drop-down menu.
Press "Convert" or "Convert All" to start.
WonderShare UniConverter
UniConverter revolutionizes the way a video converter can benefit users. Regarded as a multifunctional video converter app for PC, UniConverter empowers you to edit videos, transcribe audios, burn DVDs, etc. Having this Jack of all trades, you don't need to switch between different programs since UniConverter provides one-stop services. But one drawback is that this video converter software is bundled with a video player.
● 200+ types of formats readily available
● Convert, download, and compress video easily
● Plenty of AI tools to refine videos (watermark and noise removal, voice changer…)
VideoProc Video Converter
The video conversion software –VideoProc is critically acclaimed for ultra-fast conversion speed. The secret to this feat is a unique technology it has applied – GPU acceleration technology. To reach more users, VideoProc has improved the compatibility to the extent few can rival.
● Convert videos 47X faster via hardware acceleration
● Video converter tool friendly to Apple devices: preset formats for Final Cut Pro, ProRes, iMovie, etc.
● Unique features like snapshot, 3D to 2D, and so on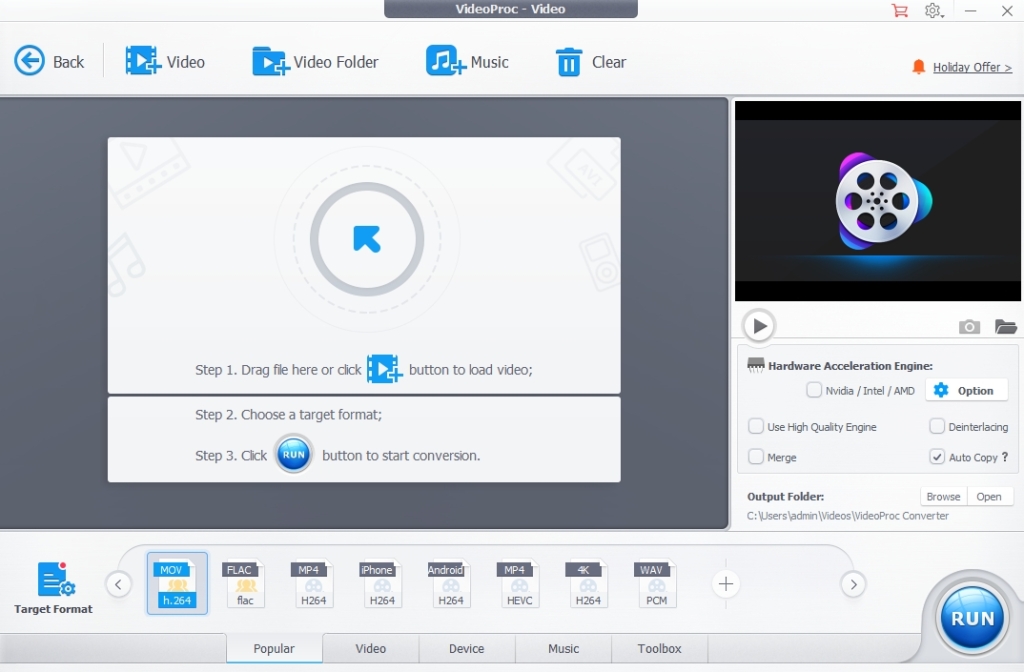 Freemake Video Converter
In terms of performance, many conversion tools are qualified for the best video converter software. In the competitive market, looking different is a way to stand out. Freemake Video Converter has lovely animals holding placards popping up on the interface (though being adverts in essence). As its name suggests, this is a free video file converter. But its free services have many restrictions and there are constant messages to encourage you to pay.
● 20+ formats supported
● Special visual effects: slideshow and music visualization
Note: If you convert videos without paying to upgrade Freemake, your result will end up with a logo. And the conversion speed is undesirable even when you convert video to MP4, a standard format.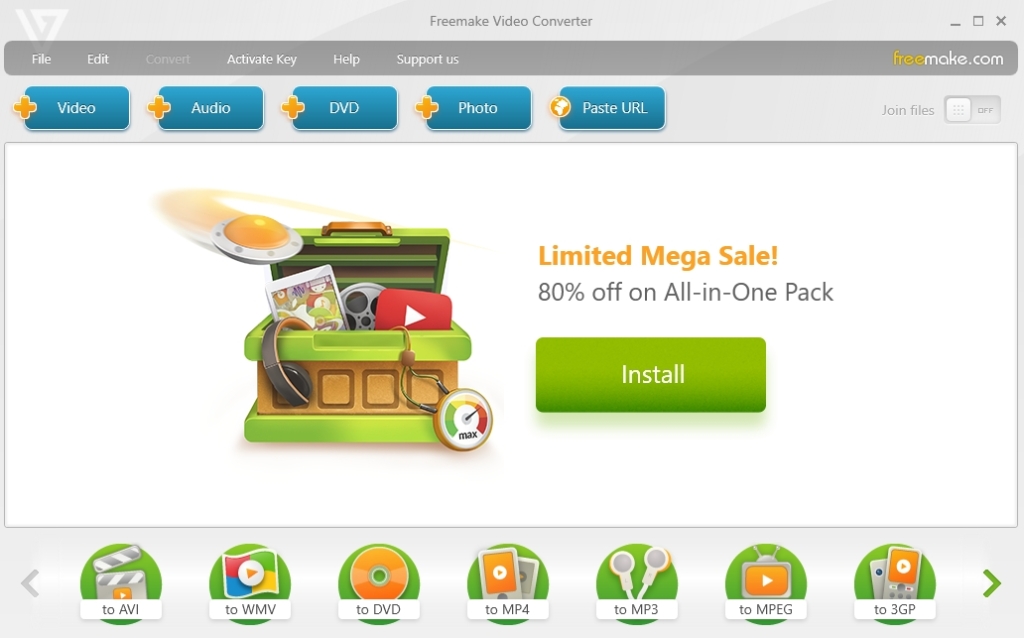 Aiseesoft Video Converter Ultimate
Aiseesoft receives positive reviews for making videos more visually attractive. This best video converter tool for video effects will keep you on its interface for a while. Converting videos is your original intention, but enhancing them a little bit won't be a waste of time. After you convert video to TikTok format, or any format compatible with social websites, take advantage of Aiseesoft's toolbox to get as many likes as possible.
● Ultra-fast & loss-free conversion
● Make MV or collage from videos
● All-purpose tool kits: video enhancer, 3D maker, etc.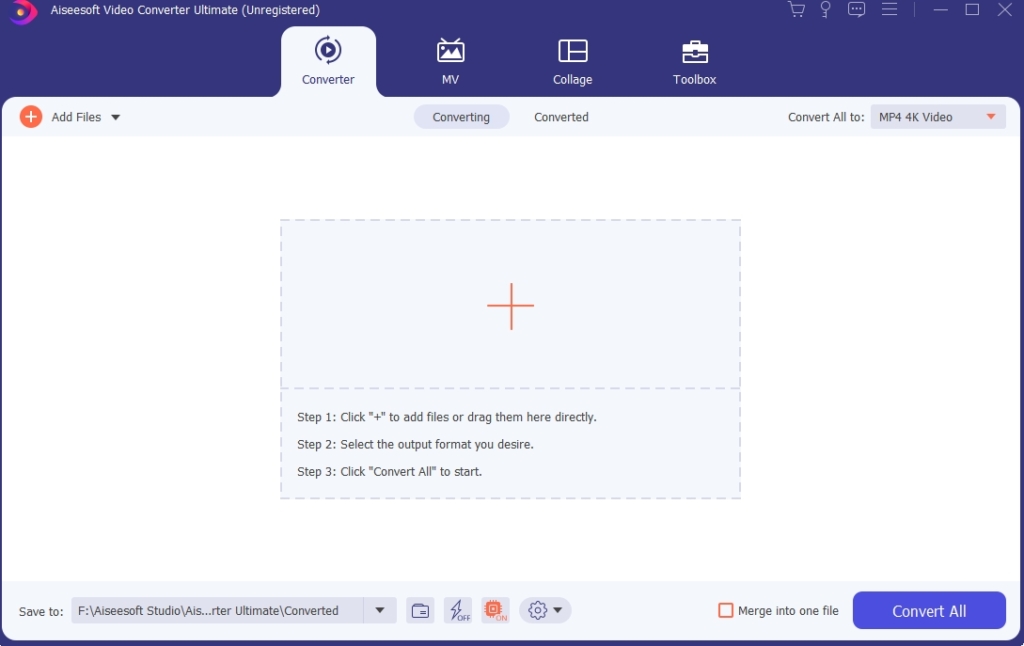 Conclusion
A helpful article can exempt you from the punishment of finding one best tool among a sea of choices. In this post, you are exposed to 10 best video converter apps or software. Considering the speed and quality, I recommend best video converter for windows and Mac, BeeConverter, to solve all the problems from smartphones and computers. Grab this chance, and create the best memory by the end of 2023!
Video Converter
Convert videos to MP4, MOV, MP3, GIF, and more
Frequently Asked Questions
Is there a free video converter?
Yes. But video converter apps that are entirely free only lack support and aren't so friendly to users. Sometimes, these free video converters are inundated with ads. AmoyShare Online Video Converter is a free, safe, ads-free online tool, which effortlessly handles the conversion of 20+ formats. Or you can download BeeConverter on your desktop. Services offered in its trial mode beat many free apps.
How can I convert video to MP3 on iPhone?
Visit AmoyShare Online Video Converter's website, and choose one online conversion tool. You can easily convert video to audio. When your files are too large, I recommend BeeConverter, a more reliable video converter for PC. Computers are adept at processing high-resolution videos.
Can I convert video to MP4 for free?
Converting video to MP4 is the most commonly seen request. Free video converters like AmoyShare Online Video Converter, are online tools that enable you to convert to MP4 on the website for free.
What is the best Mac video converter?
BeeConverter is one of the most friendly desktop programs, showing no discrimination against PC systems. This lightweight video conversion software treats MOV conversion as easy stuff. You can convert video to MOV, or convert MOV to any other format compatible with Android or Windows.
Can I use the video converter app to convert video to GIF?
Yes. GIF is a specialized image format. BeeConverter allows you to trim the videos before churning out GIFs with the same quality as the source.
You May Also Be Interested in These Topics