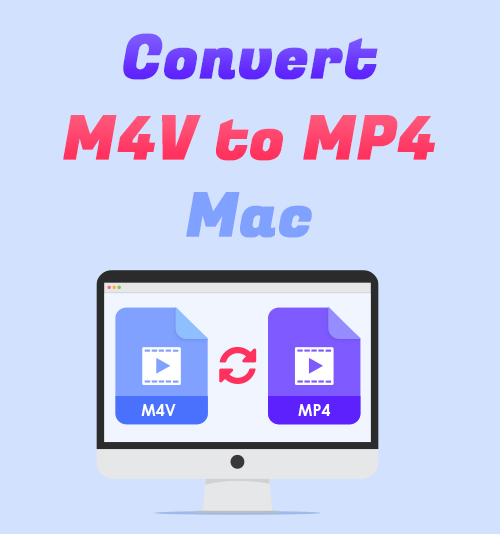 M4V is a video container format that stores the downloaded videos from iTunes. Due to Apple's DRM copy protection mechanism, you cannot open an M4V file smoothly on Windows or Android. Some of the unprotected M4V files can probably be opened by changing the file extension from .m4v to .mp4. However, other protected files are not easy to play unless the users have authorization from iTunes.
In that case, the best approach to play M4V files easily is to convert M4V to MP4 on Mac. Only in this way can you solve the compatibility issue. Want to know how to convert M4V into MP4 on Mac? Here are 2 proven methods to achieve the conversion. Let's get started!
M4V vs. MP4
The difference between M4V and MP4 is as below:
| | | |
| --- | --- | --- |
| | M4V | MP4 |
| File extension | .m4v | .mp4 |
| Developer | Developed by Apple Incorporated | Developed by Moving Picture Experts Group |
| Video-codec | H.264 as the video-coding format | MPEG, H.264, H.265, etc. as the video-coding formats |
| Audio-codec | The main audio-codec are MP3, AAC, AC-3 | The main audio-codec are MP3, AAC, AC-3 |
| Compatibility | Compatible with Apple devices, and some Windows media players can open it | Compatible with almost all devices and media players |
| Protection | Protected by Apple's DRM copy protection | No copy protection |
| Popularity | Popular with iTunes users on Mac, iPhone, iPad, etc. | The most popular format on Windows, Mac, any mobile device |
Convert M4V to MP4 Mac Online
If you are unwilling to install any program or create an account for converting M4V to MP4 on Mac, an online tool is a top way to suit your individual needs. Alternatively, while watching this post on your phone, it's a great choice to go to a website and get conversion instantly.
AmoyShare Online MP4 Converter is a web-based tool available for Mac, Windows, and mobile device users. It can be used to convert files in all popular formats. These popular formats include MP4, MOV, AVI, M4V, MP3, AAC, GIF, etc. Through the reliable converter, transforming M4V into MP4 is super easy. Besides, it's free and straightforward to use without any complex layout. Moreover, it's 100% safe because the uploaded files will be deleted in 2 hours.
Anyway, how to convert M4V to MP4 on Mac for free? Here are the steps to do it!
Launch the Online MP4 Converter and select MP4 as the target format from the drop-down list next to "Convert file to" on the converting box.
Add an M4V video file by hitting the "Upload file" button. Alternatively, drop the file into the box.
Click on the "Convert" button, and the MP4 converter will change the format in a snap. You can also hit the "Add More Files" button to upload 3 files in total.
Hit the "Download" button. The converted file will be saved in your folder.
After these procedures, you can get pleasure from the converted files offline on any device and media player. Head to the online MP4 converter and get M4V files converted before replay.
Best M4V to MP4 Converter for Mac
You have known online MP4 converter can add 3 M4V files and convert them simultaneously. However, many people will expect the capability to get unlimited conversion in a batch. Well, if you are searching for this feature on a professional converter, you've come to the right place.
As the best M4V to MP4 converter for Mac, AmoyShare Video Converter Ultimate enables you to add unlimited files to transform them. So you can grab multiple MP4 video files a few seconds later. In addition, there is another reason to convert M4V to MP4 on Mac with excellent efficiency. This powerful function is that it has a 60X fast conversion speed.
Moreover, it's 100% quality preserved. Therefore, you don't need to fret about the quality loss problem. Alternatively, you can enhance the video quality instead of keeping the original one.
To change M4V to MP4 on Mac, follow these steps:
Video Converter
Convert videos to MP4, MOV, MP3, GIF, and more
Run the Video Converter Ultimate program and click on the plus icon to upload the M4V file.
Choose the "Video" > "MP4" > "Same as source" option from the drop-down menu next to "Convert All to" at the top right corner.
Click on the "Convert All" button. This tool will automatically turn M4V into MP4 and save it to your default folder.
By the way, there is a Toolbox tab next to the converter. It includes many built-in editing tools. For instance, a video compressor can help you shrink the file size with a few clicks, a video trimmer allows for cutting your videos to a perfect length, and other tools are waiting for you to explore. To install this feature-rich converter and it's worth a try!
Final Thoughts
To sum up, 2 remarkable ways have been provided to convert M4V to MP4 on Mac. AmoyShare Online MP4 Converter is the easiest way to change file format with a user-friendly interface, which is quite simple to use. Video Converter Ultimate makes unlimited batch conversion easier. Besides, with the help of 60X rapid speed, you can transform video and audio quickly.
Video Converter
Convert videos to MP4, MOV, MP3, GIF, and more
Give it a shot!
FAQ
How to convert M4V to MP4 on Mac using VLC?
As the most popular media player in the world, VLC has the ability to convert video or audio format to any desired format as well.First, hit the Convert option from the File tab.Next, hit the Open media button to add an M4V file.Then, select MP4 as the profile and click on the Save as File to choose a file location.Finally, hit the Save button.
How to convert M4V to MP4 Mac Handbrake?
HandBrake is a free, open-source desktop program for Windows, Mac, and Linux. It allows converting video from nearly any format, including M4V to MP4.First, hit the Open Source button to upload M4V files and choose MP4 as the output preset.Then click on the Start button to convert videos in one go.
You May Also Be Interested in These Topics