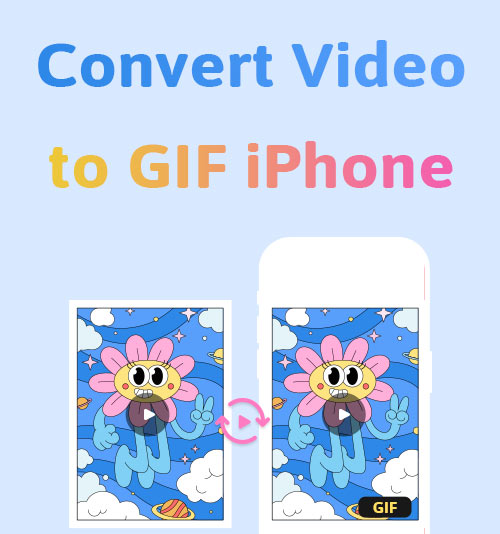 GIF (graphics interchange format) sees its popularity booming among the youth. Online chatting never falls short of memes, short videos and GIFs. And young netizens ride the wave of multimedia technology to fill their communication with lovely and funny GIFs.
Wanna follow this "in" trend of chatting online? Of course, yes. But What if I want to make a GIF from an iPhone recording? iPhone users may fear iPhone videos (MOV) cannot be suitable materials for making GIF. It's rocket science for novices, but a piece of cake for professional tools.
This article reveals 4 tools with the best ratings to help you convert video to GIF for iPhone. Pick one recommended tool to create GIF from video, and enliven your conversations with animated GIFs.
Let's get started!
Take A Dive into GIF Format
We will discuss the GIF format briefly before going to the main point of this article.
How much do you know about GIF? If you want to add some spice to your language-dominant communication, it's necessary to understand why you convert video to GIF.
Modern human beings recognize seeing with eyes is sometimes more effective than delivering a speech. This idea is echoed more strongly by the Gen Z. Engaging and relatable, GIF has an irreplaceable role in showing emotions, shaping personas, and doing advertising.
A common GIF lasts for a few seconds, and has a larger file size than a static image. Unlike short videos, which require the press of "Playback," GIF displays the contents in a loop. Originally, GIF could not fully replicate the colors and quality of the source videos. That's why you were seeing low-resolution GIFs circulating on the Internet.
Can I turn video to GIF with no compromised quality? Can I create GIFs easily on iPhone? The rest of the article is devoted to answering these questions.
How to Convert Video to GIF on iPhone?
Exclusive GIF converter apps for iPhone are widely available on the App Store. I filter through products on the shelf and pick two best-rated apps. Each tool is given a brief review plus a user guide.
Giphy
In response to the ever-growing demand for visual communication, Giphy was created. The website, initially designated for searching GIFs, has now held many positions like making and sharing GIFs. You cannot imagine it's a breakfast talk that gave birth to the idea of setting up Giphy. In its community, talented artists gather to post their avant-garde works.
In order to convert to GIF on Giphy, there are several things you should know beforehand.
Giphy is not merely a tool to make GIF from video. It is a platform where you gain a sense of belonging and share GIF with like-minded strangers. Giphy can be accessible through website or mobile app. It accepts video formats, such as MP4, MOV, and WEBM. You can even upload videos through URL. Other convenient features include decorating your GIF with captions, stickers, filters…
How to use this GIF file converter? Here is a picture-aided instruction to teach you how to turn video into GIF on iPhone. The first thing to begin this GIF journey is download Giphy from your App Store.
Tap "Create" in the top right corner.
Press "Continue" to grant Giphy access to your albums.
Upload your iPhone video that you intend to convert to GIF to Giphy.
Do some simple editing before converting to GIF.
Tap to save GIF to iPhone.
Shortcuts
Shortcuts is an Apple application, available for iPhone, iPad and Mac. From iOS 13 and later, Shortcuts becomes a default app. This robust video scripting tool allows you to convert an iPhone recording to a GIF, make a GIF from video downloaded elsewhere, and even make images to GIF.
This is a free video to GIF converter for iPhone. Below is how to convert video to GIF on iPhone.
Click "Video to GIF" to first import the video.
Choose the video you want to convert.
Trim the video and tap "Save" to create a GIF from video.
Note: On Shortcuts, "Video to GIF" deals only with iPhone recordings, while "Make GIF" handles videos in albums. If this is your first use, go to the "Gallery" to search keywords like"GIF."
Best Plan: Convert Video to GIF on PC
Your Plan A is using a mobile app to convert video to GIF on iPhone. But relying on your computer to make GIF never descends to Plan B. Despite the trouble of transferring data, computers with unparalleled processing power can generate high-resolution GIFs in a row.
A comparatively small screen and a chip with limited capacity put smartphones at a disadvantage. By comparison, PC allows for finer operations. And BeeConverter is a superb desktop program recommended for Mac & Windows.
Take a look at what it can do for you:
[A Wide Range of Input Formats] Besides common formats like MP4, BeeConverter converts to GIF from various formats, such as MOV, MKV, AVI, WEBM, FLV, etc.
[High-Speed & Quality Conversion] On the GIF-making tool, you can convert video to GIF with the same quality as the source. The speed is very decent, since this is a professional video converter that gets used to converting videos lasting for hours.
[Simple Editing Functions] You can trim, crop, and adjust the quality of the video before turning it to GIF.
Below is a visual instruction accompanied by words. Reading this step-by-step guide, and you'll know how easy and fast it is to make a GIF from video.
Video Converter
Convert videos to MP4, MOV, MP3, GIF, and more
for Windows 10/8/7
for Mac OS X 14+
for Android
Go to the "Video to GIF" tool on BeeConverter.
Click "+ Add File" to import iPhone videos.
Trim and Crop the video before saving the setting.
Press "Convert to GIF" or "Convert All."
Online Alternative to Turn Video into GIF
World Wide Web is where you search for information and connect with friends. Maybe, you are endowed with more possibilities. For instance, you can convert video to GIF on iPhone's Safari as one of them. The online tool only requires good Internet connection, and then you can visit its website on iPhone, iPad, Mac, Android, and Windows.
AmoyShare Video to GIF Converter is a safe site that provides file conversion services. No adverts and no installation are the first step towards AmoyShare. Follow through all the steps below, and you'll be stunned by its simplicity, speed, and variety.
Open the link, and upload your iPhone video.
Click "…" and select MP4.
Tap "Convert" to made video into GIF.
Conclusion
A funny GIF can lift your mood, make your friend burst into laughing, draw traffic to your social account, and more. This new-found interest in visual communication encourages you to learn how to change video to GIF. As iPhone users, you also need to learn how to deal with iPhone video format (MOV). BeeConverter is a tool capable of translating various input files to GIF format, while ensuring lossless quality. Download this amazing program, and convert video to GIF for iPhone with the best support!
Frequently Asked Questions
What is the best video to GIF converter for iPhone?
Countless options are open to you. You can convert video to GIF online via AmoyShare Video to GIF Converter. But large files will overload your iPhone's processor. Therefore, I recommend BeeConverter to you for its simplicity and high efficiency. The second you launch BeeConverter, you can expect GIF to be generated in one minute. Its conversion speed is faster than most of the best iPhone applications.
Can I convert MP4 to GIF?
Yes. MP4 is a widely accepted format. Virtually any GIF converter supports MP4. But there exist variations in the services provided by these tools. BeeConverter can convert to GIF in batches and retain the details.
How can I convert WEBM to GIF for iPhone?
WEBM is less common than MP4. But it doesn't constitute a problem for a professional tool. BeeConverter supports 13 general video formats (MP4, MKV, AVI, M4V, MOV, WEMB, FLVC...) Download this software, and it'll solve most format troubles.
Is there a free video to GIF converter?
Yes, AmoyShare Video to GIF Converter is an online tool with free GIF making services. Also, BeeConverter allows you to experience video to GIF conversion in its free mode without hassle.
How to make a GIF from a video?
Download a 4-star rated program BeeConverter. Drop the file to its Video to GIF conversion tool, edit the video according to your preferences, and press the convert button.
You May Also Be Interested in These Topics