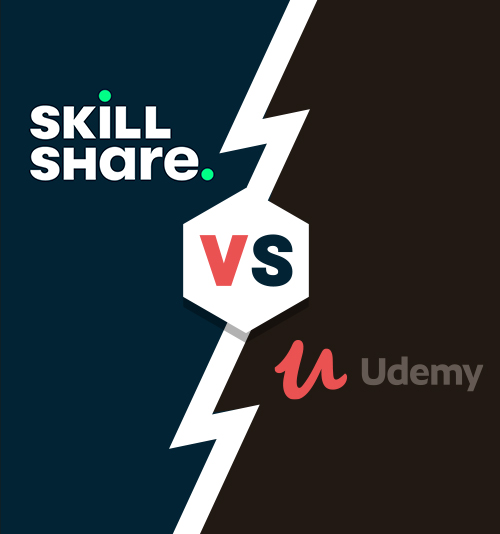 When I first started looking for the online course to help me top up my marketing learning, two names frequently appear on the Internet: Udemy and Skillshare. But I wasn't sure how to choose, to be honest, I didn't know what each exactly offered.
Of course, both providers give courses on many topics other than marketing. So what is it like to study on their platforms? Which one will be the best choice for you?
To make it clear, I've made an in-depth Skillshare vs. Udemy comparison. I'll tell you their prices, course quality, instructors and much more. On top of that, you can also get to konw how to download courses for offline viewing.
Let's make a start!
Part 1. Overview – Skillshare vs. Udemy
Skillshare
Udemy
Pricing
Premium starts at just $8.25/month
Typically $10 – $15 per course
Pros
● With Premium Subscription plan, a month of Skillshare costs less than the average price of a single Udemy course
● Utilize a bite-sized, project-based approach to learning
● High-quality course videos and site navigation
● The quality of the instruction is usually incredibly high
● Most courses are between 2 and 5 hours
● Have quizzes to help you gauge whether you've mastered a part before moving on
Cons
● The vast majority of courses are 30 minutes or less
● Fewer courses to select from (especially non-creative topics)
● Not accredited
● Costs can add up if you take lots of courses
● Not accredited
● Some courses are of lower quality
Part 2. Courses – Paid & Free
Pricing
Perhaps the most important category is pricing, it's good if a platform comes with all the bells and whistles, but if you can't afford it, it won't be useful.
Skillshare
Udemy
Premium courses
27,000+
150,000
Free courses
2,500
11,000
Platforms
Desktop, iOS & Android
Desktop, iOS & Android
Prices
$19 a month
$99 a year ($8.25 a month)
$19.00 to $199.99 a course
Unless you have a Udemy Business plan (expensive), you'll have to pay for each Udemy course ($19.99 – $199.99 a course) you'd like to enroll. If you only need a couple of courses, that's Okay, but if you aim to become an expert on a field, you may most likely need abundant resources to get your game up. That's why Udemy can become expensive.
On the other hand, Skillshare allows you to access the whole library for $19 a month or $99 a year, at that price, you can have as many courses as you like. If you make up your mind to pay yearly, it works out with $8.25 a month.
Language
Although Skillshare encourages teaching in any language, the truth is that their community is primarily English speaking. It does offer several language learning courses (e.g., for Spanish, German or French), but I fail to find courses about other topics in other languages than English.
On the other hand, Udemy does host courses in many other languages. Some of the English courses even have subtitles in German, French, or Spanish. Actually, Udemy incorporates a filter to find classes in several languages (see image above).
Subjects/Topics
Udemy offers more than 30,000 courses taught by 18,000 instructors. Courses cover a wide variety of topics, including marketing, health, and fitness, photography, office productivity, etc.
Skillshare has an equally impressive category of courses, with more than 23,000 currently being offered. Its courses also cover a vast variety of categories like business, technology, and lifestyle.
Generally speaking, the length is the most significant difference between course offerings of the two platforms. Skillshare classes could be as limited as 10 minutes. However, on Udemy, 30 minutes is the minimum course length.
Both platforms both have courses that are several hours long. However, Udemy has more in-depth course materials, whereas Skillshare tends to offer classes that are shorter and more to the point.
Instructors
Instructors on Udemy and Skillshare are people just like you. Anybody can sign up and start making courses of their own. Some renowned experts also bring their experiences to each platform to offer knowledge to others. Although most Udemy and Skillshare teachers don't necessarily own credentials like a Ph.D. that you'd expect from a university professor, most of them have abundant practical experience in the subjects.
The downside to platforms where anybody can become an instructor is that course quality can vary dramatically. On Skillshare, this is less problematic because of their subscription model. Whereas if you purchase a course that you aren't satisfied with on Udemy, you've made payment for it individually. Luckily, Udemy provides users with 30-day refunds on all of their courses. Remember that if you're continually requesting refunds, your account may be subject to suspension or termination.
Whether you're looking to have class on Udemy or Skillshare, I'd recommend looking at the course ratings, reviews, and the number of students who have already bought the course. It will help you to avoid wasting your time or money on low-quality courses.
Part 3. Accreditation & Certificates
Neither Udemy nor Skillshare is an academically accredited institution Udemy gives certificates of completion after the courses are finished. However, most companies won't value the skills you've learned on the online platform. As for Skillshare, it doesn't offer any certificates. The only proof you get is the skills that you picked up along the way.
In that case, neither Udemy nor Skillshare is useful if you want to polish your resume. Other online course providers are likely a better option if certification and credentials are the major concerns.
Part 4. Bonus: Download Udemy Course
As you already know, you can't download the course from Udemy directly. Luckily, you can seek help from a video downloader. AnyVid is a free but professional video downloader. It has an intuitive interface and is fully compatible with Android, Mac, Windows.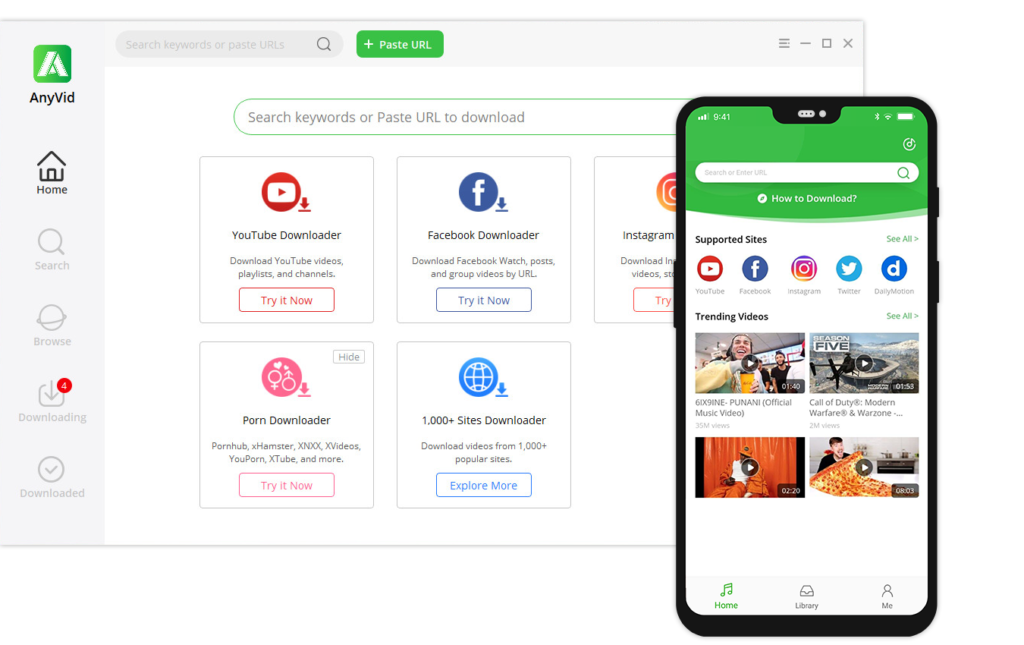 AnyVid
Download any video from 1,000+ websites
for Windows 10/8/7
for Mac OS X 14+
for Android
With AnyVid:
● You can either search for videos with keywords like video names or video links.
● You can preview and download courses for offline viewing.
Here, I will show you how to download courses from Udemy with AnyVid.
(Assume that you want to download courses about "python")
Enter the keyword "python" into the search bar of AnyVid and click the "Search" icon.
Select the course you are looking for.
That's it!
If you prefer to watch the online course on mobile, AnyVid for Android will help you. The download process is all the same as on the computer.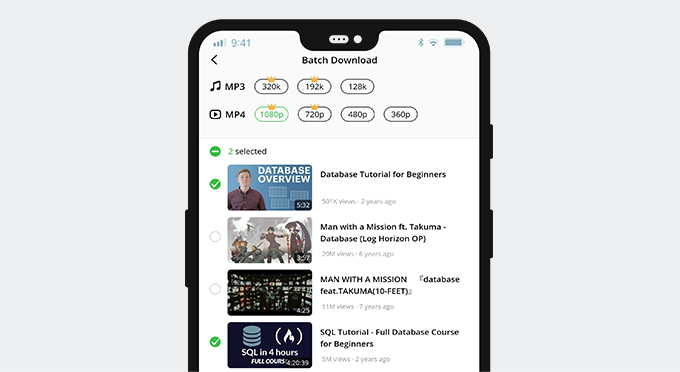 Skillshare vs. Udemy | Which is better?
After this detailed comparison, I am sure you can pick what platform is better for you. As we've seen, it wasn't easy to make the decision as both learning communities have powerful points. However, Udemy and Skillshare adapt to different profiles.
Choose Udemy if you:
● Want in-depth courses
● Want the widest variety of courses
● Need courses in other languages than English
● Don't want to pay a recurrent subscription
Go with Skillshare if you:
● Need several courses about the same topic
● Don't mind paying a subscription
● Want the best bang for your buck
● Are looking for top-notch instructors and community
You May Also Be Interested in These Topics