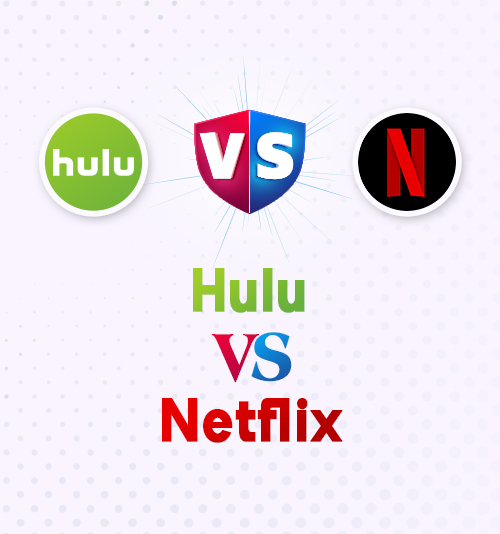 You may get confused when you decide to choose one streaming provider. After all, there are many streaming services emerge with their unique features.
The best live TV streaming service is Hulu, while Netflix has become the default streaming service for many. You can read a lot about Netflix and Hulu, and still fail to find out which is better, Hulu or Netflix.
Don't worry, this tutorial on Hulu vs Netflix will help you to get the most bang for bucks. Plus, I will give you the best way to download videos from websites like Hulu and Netflix. In this way, you can get the best use of your streaming provider.
Let's start right now!
Part 1. Hulu vs Netflix
As outstanding original streaming services, both Hulu and Netflix have millions of subscribers. Besides, they also strive to provide their users with awesome content and excellent viewing experience.
Then, how to decide which is better, Netflix or Hulu.
Below we will make the comparison of Netflix vs Hulu through three parts: price, content, and user experience. In this way, you can easily find out your preference.
Let's dive in.
Price
Either Hulu or Netflix offers 3 price options.
Hulu
Hulu (ad-supported) plan charges just $5.99 per month. And you can get full access to Hulu streaming library. Only one screen allows.
Hulu (No Ads) plan costs $11.99 per month. Except for the resourceful premium streaming library, you are available to download videos with supported devices. One screen allows.
Hulu + Live TV plan is the most expensive. You have to pay $54.99 per month with ad-supported, or $60.99 without ads. On top of the streaming library and download function, you can watch 65+ live and on-demand channels. Plus, you are allowed to use its Could DVR service.
Netflix
Netflix offers 3 streaming plans to get unlimited Netflix content based on different definitions.
For the Basic Plan, you can watch Netflix content on one screen in standard definition. The download function is available, and the price is $8.99 per month.
For Standard Plan, you can enjoy titles in HD. This plan is desirable since most titles on Netflix will benefit from HD viewing. Besides, you can stream to two screens at the same time. The download function is available as well. The cost is 12.99 per month.
The Premium Plan allows you to watch titles in HD and UHD when available. Besides, you can stream videos on four devices at the same time. However, if you don't have a 4K TV or 4K monitor, this plan will be a bit wasted for you. It costs $15.99/month.
In a word, in the comparison of Hulu vs Netflix, Hulu is a better choice for budget.
Content
Price doesn't mean everything. Content is also an essential part of taking into account. Here I will only focus on the unique features of both providers.
Either Netflix or Hulu possesses tons of titles for its viewers.
Hulu scrapes ahead of Netflix when it comes to broadcasting speed. Hulu has the right to next-day streaming of new shows from NBC, FOX, ABC, and others, which is much sooner than Netflix. If you are looking for popular network TV shows, Hulu is a better choice for you.
Netflix shines when it comes to its original content. Both Hulu and Netflix have their original content. However, Netflix takes the prize due to its superior quality. Netflix has 424 titles of high-quality movies, which defined by Reelgood as rated 7.5 or higher IMDb. Hulu, however, only has 87 titles.
Besides, Netflix tends to release titles with the complete episode. Thus, you can binge on your favorite shows without disturbance.
In short, Netflix wins out in terms of content quantity. But Hulu surpasses in airing new shows. Of course, both Netflix and Hulu have titles that exclude in other platforms. You can take all these into account and make your decision.
Other Perks
There goes the riddle that what does Hulu have that Netflix doesn't. The answer is Nintendo Switch.
Both Hulu and Netflix are popular, and they are compatible with almost every video-playing device, such as smartphones, tablets, streaming box, or home computer, etc. However, you need to keep in mind that you couldn't watch Netflix on a Nintendo Switch.
However, Netflix is available in most parts of the world. You can subscribe to Netflix in more than 190 countries such as Canada, Europe, Australia, etc.
Hulu enables you to customize your service with paid add-ons, including HBO, Cinema, Showtime, and Starz. These add-ons give you access to premium shows and movies from the network's streaming library.
Is Hulu better than Netflix? Have you got your answer from our comparison above?
Part 2. Download Videos from Websites like Hulu & Netflix
Although both Netflix and Hulu (No Ads) allow you to download the video to watch offline, you can't keep the videos forever. Besides, the videos on Netflix cycles out a lot of popular movies each month. In other words, you can watch some movies this month, but you won't be able to follow them the next month.
If you get hurt by such an issue, I suggest you download videos for local storage. In this way, you can watch the video without any limitation.
The best download software I have used is AnyVid. AnyVid is compatible with Windows, Mac, and Android. And it allows you to download videos from most popular video streaming websites such as Hulu, Netflix, YouTube, etc. Of course, AnyVid enables you to batch download videos. In other words, you can easily download a title with AnyVid.
Now let's see how to download videos from website.
Before we start, please install AnyVid on your device.
AnyVid
Download any video from 1,000+ websites
Insert the video title you want to download and start searching for the video. Or you can paste the URL into AnyVid search box.
When the results show up, click the MP4 button to download a video in default quality. Or you can click the More button to find out the desired quality. Either video or audio format is available. Furthermore, you can hit the play button on a thumbnail to preview the video.
Now you have the video downloaded, enjoy yourself.
Conclusion
This post makes a comparison of Hulu vs Netflix. Have you come out with your answers? Both Hulu and Netflix are great video providers. It is your preference matters when it comes to which is better, Netflix or Hulu.
If you want to download videos from websites like Hulu & Netflix, AnyVid is the best downloader. After all, Hulu and Netflix set limitations when it comes to video download. AnyVid is compatible with Windows, Mac, and Android. Plus, it allows you to batch download videos in a few clicks.
Have a try right now!
AnyVid
Download any video from 1,000+ websites
You May Also Be Interested in These Topics