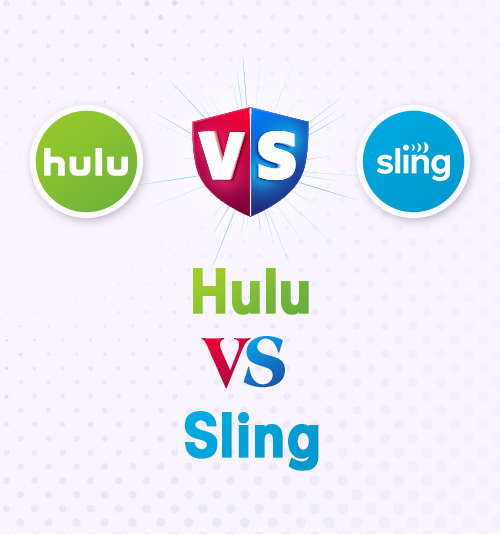 There is no doubt that the internet is gradually changing the television industry. With many over-the-top (OTT) media services in the market nowadays, you have many choices to bypass cable and watch your favorite TV flexibly and on more devices.
According to the statistic published by MoffettNathanson, Hulu Live TV, Sling TV, YouTube TV, etc. are few paid TV streaming services that are still profitable in America so far.
Do you want to experience the OTT media service? And how to choose a suitable stream service for your TV watching?
I am going to compare two of them – Hulu vs Sling – for your choices. Besides that, the trick to download TV shows will also provided. Hence, you won't worry about missing any favorable shows.
Let's have a look!
Hulu vs Sling: Which OTT Is Better to Watch TV
General Introduction
Compared with traditional cable and satellite TV services, streaming media TV services are convenient and have low barriers to activation. In early 2015, American satellite broadcaster Dish Network launched Sling TV, which changed the traditional TV format. As long as users access the Internet, they can watch TV channels and videos through a variety of electronic products such as smartphones and computers. Streaming TV services have become an important supplement to traditional TV services.
According to the statistics from, Q3 2019 Cord-Cutting Monitor, released by MoffettNathanson, Hulu Live TV has surpassed Sling TV with a total number of 2.7 million paid subscribers at the end of the third quarter of 2019, becoming the largest streaming TV service in the United States with paid subscribers.
Video Content Library
In terms content, Hulu has more than 150,000 on-demand long videos, more than 500 content partners including the National Aeronautics and Space Administration (NASA), and more than 60 TV channels. If users want to order TV series, Hulu can provide the most abundant choices. Hulu's children's video section is mainly classic high-quality IP works and original works, such as "Sailor Moon," and "Brave Knight".
Hulu Live TV subscribers can watch live or on-demand programs from ABC, NBC, Fox, Discovery, HBO, SHOWTIME, CINEMAX and other TV channels, and can store content offline through DVR function. Users have 50 hours of online DVR cloud storage space, and can store up to 25 programs offline on 5 different devices, watch them at any convenient time and place, and no longer need to be on time in front of the TV.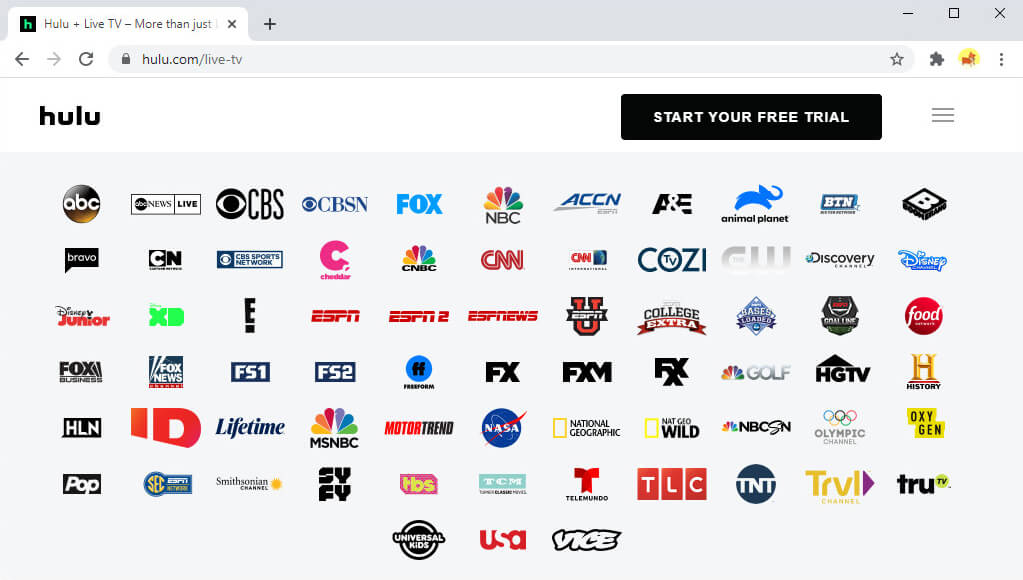 Sling TV vs Hulu Live? Let's have a look on Sling.
There are two price package you can choose on Sling.
Sling Orange offers more than 30 channels, which are good for sports and families, and Sling Blue offers 50 channels, which are good for news and entertainment. Bear in mind that they come with different channel lineups with some overlapping. If you want them all, you can get Sling Orange + Blue. The popular channels in Sling Orange package are as ESPN, HGTV, CNN, TNT, AMC, Food Network, etc. Sling Blue popular channels include Fox News, TBS, MSNBC, CNN, TLC, HGTV, etc.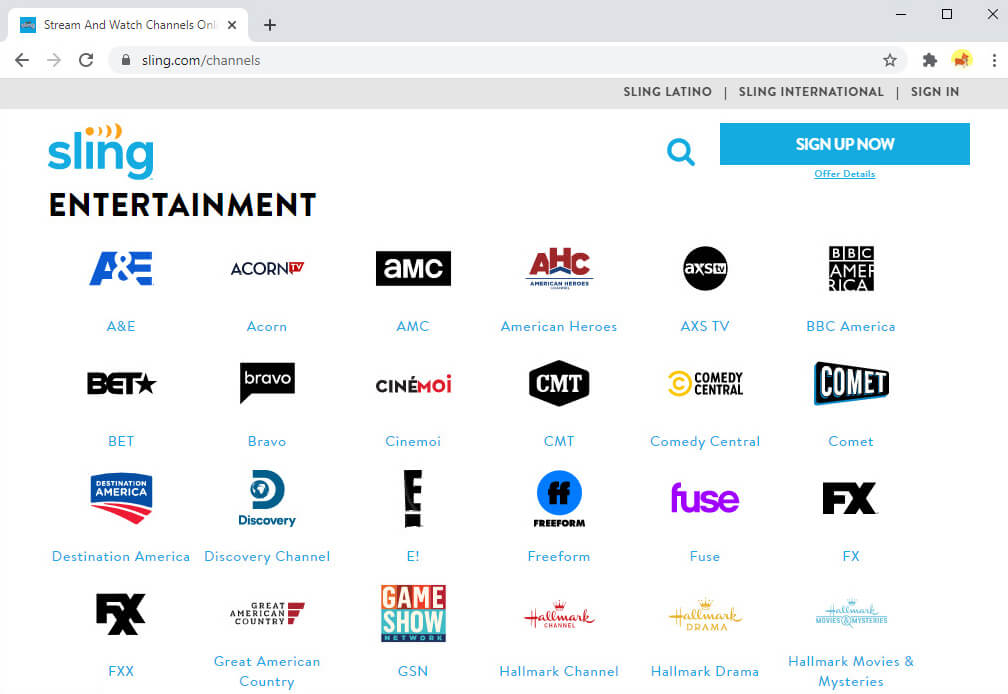 So far, you can watch Sling TV via AirTV, Roku, Amazon Fire TV, Apple TV, LG webOS, Xbox One, TiVo, Stream 4K, Samsung TV.
Price
Last but not least, after I have made comparisons from the above perspectives, you need to know how much you need to pay for the TV services. In general, Sling TV is much cheaper than Hulu TV. Click Hulu and Sling to find detail information.
How to Download TV from Hot TV Streaming Sites
As you already know, you need to be a paid subscriber to watch TV on Hulu and Sling. Are there other ways to watch TV free on the internet?
Yes, you get a chance!
Tubi is a popular streaming site that provides resources for movies and television series. It provides free and high-quality video content from famous media company like Metro-Goldwyn-Mayer, Sony Pictures, Warner Bros., etc. through the income of ads, which is different from what Hulu and Sling do. This realizes the win-win situation among customers, content providers and advertisers.
At present, you can get Tubi App on iOS, Android, Roku and Amazon Fire. Tubi's App supports more than 10 kinds of platforms such as FireTV, PS4 and Samsung and You can watch videos on Tubi without registration.
Great! You can watch TV free online now.
However, the unstable internet may frustrate you if you can not watch TV fluently right? This is the biggest problem of watching TV online.
Don't worry. The advance of technology has set you free from renting special TV cables and equipment and you also have method fix this problem at present.
How to make it? Download your favorite TV for offline viewing! Here comes a professional video downloader, AnyVid, to help you download whatever video you like on Tubi. By typing keywords in the search bar, you can also download some TV from Hulu and Sling.
AnyVid supports downloading TV on Android, Windows, and Mac. Let's learn how to use it.
Copy an URL from Tubi TV.
Launch AnyVid on your desktop, and then paste your URL in the search bar.
Download the TV from Tubi TV.
Pretty cool! Download AnyVid and start your offline TV watching.
AnyVid
Download any video from 1,000+ websites
for Windows 10/8/7
for Mac OS X 14+
for Android
Which is better Hulu or Sling or Tubi?
For some contents, you can only watch them on the specific platform. Aside from content, price and additional service are also important elements.
Hulu Live vs Sling vs Tubi. Have you made your choice?
Leave your comment in the below box to share with us.
You May Also Be Interested in These Topics