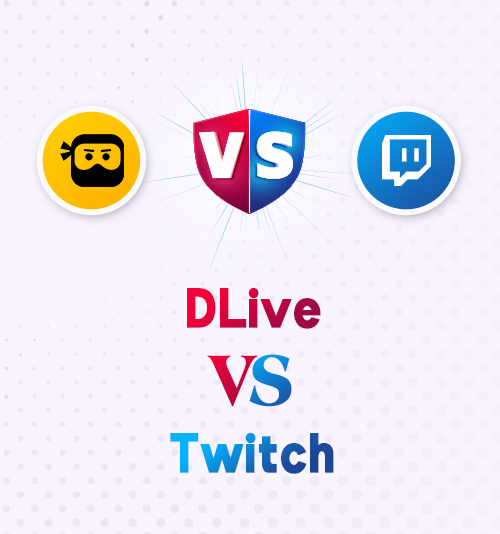 As we all know, both DLive and Twitch are great streaming platforms to watch the game live.
However, it is hard to say which is better for streaming and watching video games. Both of them have their unique merits.
In this post, I will review all the features and give you a brief tutorial on DLive vs Twitch 2022. Also, the method to download Twitch clips for free is provided. Thus you won't miss any games, even without the internet.
Without further ado, let's start!
Part 1. DLive vs Twitch
DLive is a new video-streaming platform built on blockchain technology. It attracts more than 5 million monthly active users on DLive now. You can watch lots of live video games on DLive without registration.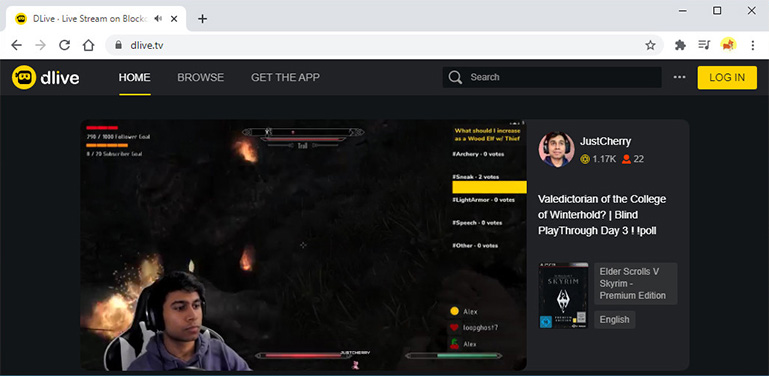 Twitch is a predominant live-streaming platform. More than 1.6 billion hours of Twitch content is watched per month.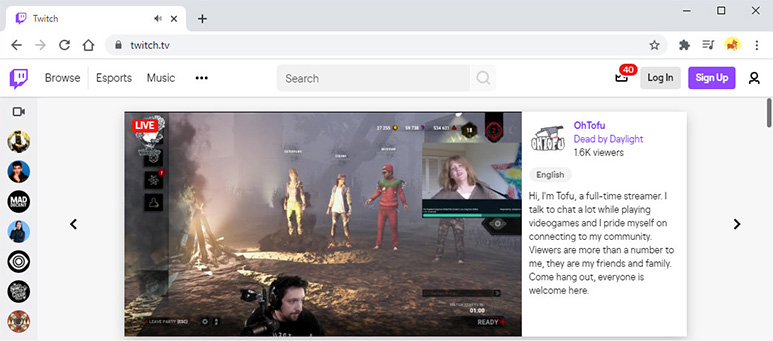 In this sense, Twitch is far more popular than DLive. However, DLive processes distinct spotlights that some people wonder if it will challenge the dominant position of Twitch. Therefore, I make a brief comment on Twitch vs DLive.
Backup
The first point is that DLive is backed by PewDiePie. PewDiePie, an excellent internet icon that has nearly 94 million YouTube subscribers, signed an exclusive live-streaming deal with the DLive platform in April 2019. That brings more opportunities and attention to the platform. On the contrast, however, Twitch loses several superstars such as Ninja, Shroud, Gothalion. They are all professional streamers, and their move to other platforms is a heavy strike for Twitch. The lucky thing is that there are still plenty of popular games on Twitch, such as Counter-Strike: Global Offensive, Dota 2, League of Legends, etc.
Monetization
Different monetization offerings for creators is the second point. DLive doesn't take a cut of revenues from subscriptions or virtual gifts. Instead, 90.1% goes to creators, and the rest go to a pool that offers rewards to specific users. That attracts a large number of creators and spectators. On the flipside, Twitch offers 3 monetization methods. One is to earn revenues from the subscription. Besides, the streamers can get Bits from viewers. Viewers can purchase virtual currency "Bits" to show support for their favorite Twitch streamers. Those streamers can get 1 cent per Bit. On top of that, Twitch partners can get revenue from ads. However, it is not easy to become a Twitch partner.
Regulations
The last point attributes to regulations. To push the platform toward a clean-cut image, Twitch has exerted stricter policies, and many people are banned or even scared off from the platform. To be honest, this is both necessary and great in building a sound streaming platform and attracting more viewers. However, there are also plenty of people who are pursuing freedom of speech. DLive is such a lightly regulated space. If you wish to have an outlet but find you outcast on other platforms, DLive is the right place to go. DLive welcomes those who have a voice and want to express themselves honestly.
Either DLive or Twitch has its advantages. You can select the one suitable for you.
Part 2. How to Watch Video Games Offline
Both DLive and Twitch are the right places to watch video games. You can log in to the website and watch the games without registration. However, reliable internet is required to watch video games online. Besides, you may want to kill time with video games even without the internet. In such circumstances, I will suggest you download videos, especially those classic video games.
How to download video games most easily? You can achieve it with AnyVid. AnyVid is a versatile downloader that allows you to download videos from more than 1000+ sites. Plus, it enables you to batch download videos with a few clicks. In this way, you can download the video collections about your favorite gamers at a fast speed.
Now let's install AnyVid and start downloading video games right now!
AnyVid
Download any video from 1,000+ websites
Copy the link from the video site and paste it into AnyVid search box. Now you can start searching for videos. Or you can insert video title, artist, or album to find out the videos.
Click the MP4 button to download videos with default quality. Or you can click more to pick the desired quality. If you want to batch download videos, click the Batch download button on the upper left side and tick the videos you want to download. After that, hit the download button to choose a quality further, now click the green Download button to start video download.
Now you can find all the downloaded videos on the Library menu.
It is easy, right?
Conclusion
That's all about the review of DLive VS Twitch. You can decide which is better for you. Besides, if you want to watch video games offline, I do recommend AnyVid.
It allows you to download videos from more than 1000+ sites, and you can batch download videos in a few clicks.
Have a try right now!
AnyVid
Download any video from 1,000+ websites
You May Also Be Interested in These Topics