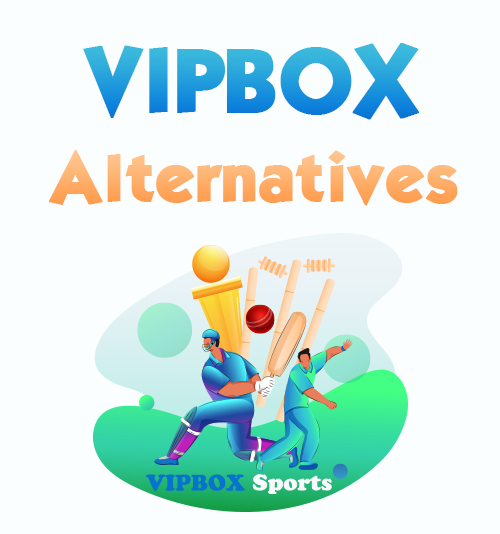 If you are a sports fan, you must be very familiar with VIPBox. It is a popular sports streaming site that allows you to watch various sports events in real-time, such as football, NBA basketball, MLB baseball, NHL hockey, etc.
However, there are irritating ads and redirects on this site. And VIPBox is not working sometimes. Hence, many users are searching for reliable VIPBox alternatives.
If you are looking for sites like VIPBox, this post will help you. I have tested various sport streaming sites and handpicked the top 15 VIPBox replacements. Besides that, I will show you how to download sports videos with a powerful video downloader called AnyVid. Of course, online tool such as AmoyShare Online Video Downloader is also helpful to save sports videos to your devices.
Please keep reading and pick one.
Top 15 VipBox Alternatives to Watch Sports Matches
1. LiveTV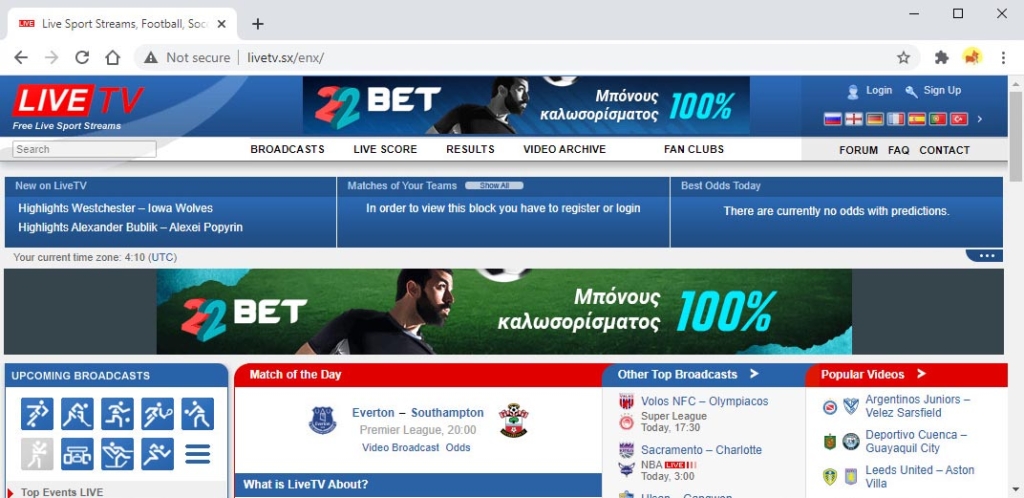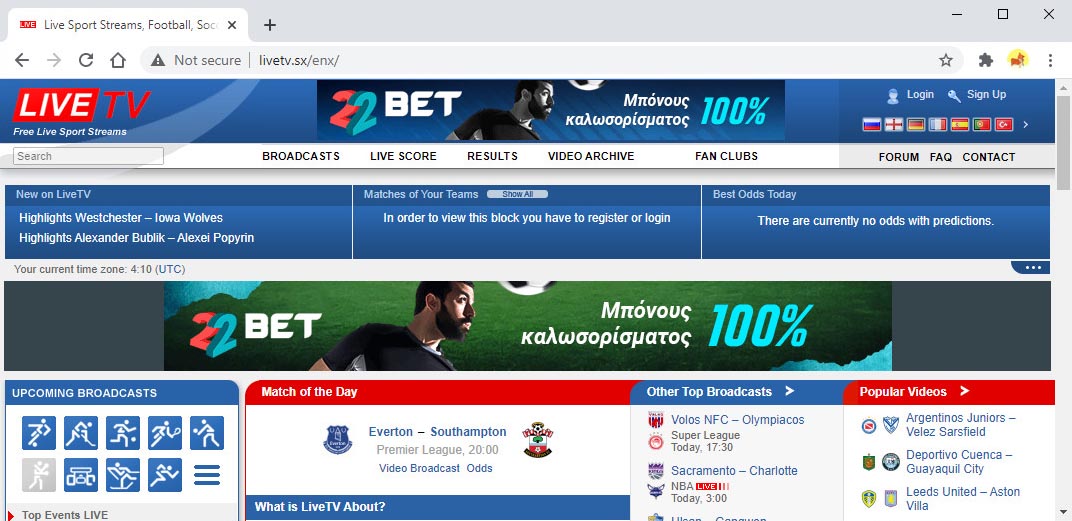 LiveTV is a free sports streaming website. It enables global sports fans to watch live USA football, basketball, hockey, and many other sports. Moreover, all these streams are free of charge. And you won't be bothered by any irritating ads.
This interface of this VIPBox alternative site is easy to navigate. You can find the Top Events Live on the left section and find the Popular Videos on the right side. Moreover, you can see the Premier League Table directly on the interface. LiveTV also has Fan Clubs for diverse sports,you can take part in and communicate with other sports enthusiasts.
Key features:
● Free site to watch live sport matches
● Ad-free
● Fan Clubs for easy communication
2. BatmanStream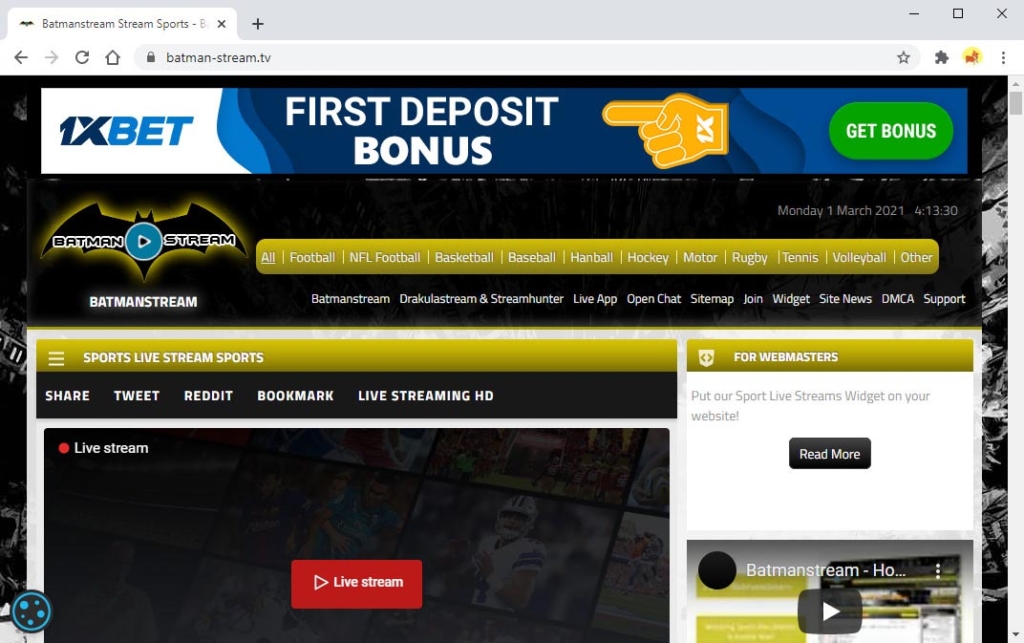 BatmanStream is an excellent site like VIPBox that many users count on for the best live streams of the latest matches. It enables you to change the time zone and view live events in different countries. Particularly, you can get easy access to the sports event played in Europe. By the way, if you are fond of handball or volleyball, BatmanStream would be your first choice.
Key features:
● Airing matches in high quality
● Capable of changing the time zone
● Covering every aired game of all the premier soccer leagues
3. FirstRowSports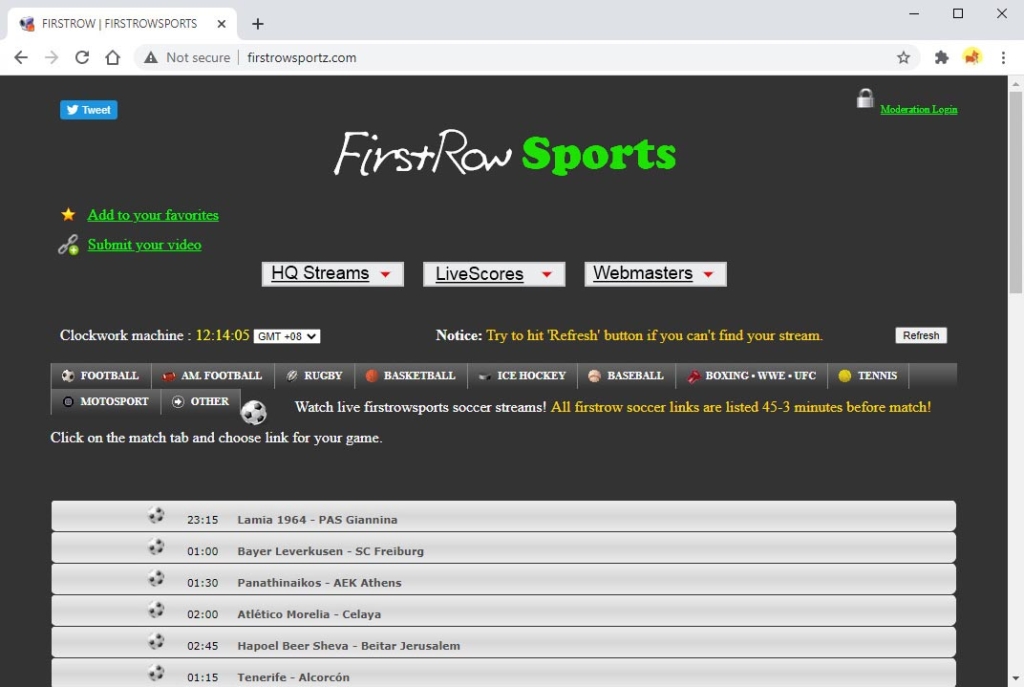 FirstRowSports is another VIPBox alternative. It offers instant access to all sorts of streams of the leading sports channels. And the streaming quality is premium. Plus, you don't spend a dime while watching sports stream on this VIPBox free alternative. That is why the FirstRowSports site ranks as one of the best websites like VIPBox among sports fans.
FirstRowSports doesn't host any video itself. Instead, it offers one match with several viewing links. If you fail to watch the game in one link, switch to another.
Key features:
● Free to use
● Ad-free
● HD streams
4. Streamhunter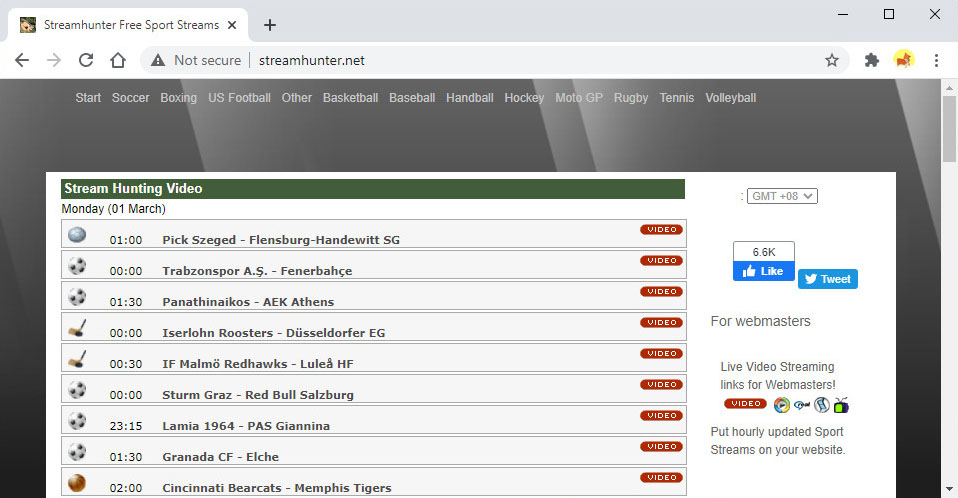 Streamhunter is another VIPBox sports alternative. It lists all the sports of the day for you to tune in. Besides that, this site like VIPBox offers various most-watched sports events and games in the USA, such as basketball, US football, baseball, etc. You can watch sports live streams in remarkable quality. Most importantly, Streamhunter is completely free of charge.
Key features:
● Free and easy for navigation
● HD streams
5. Sportlemon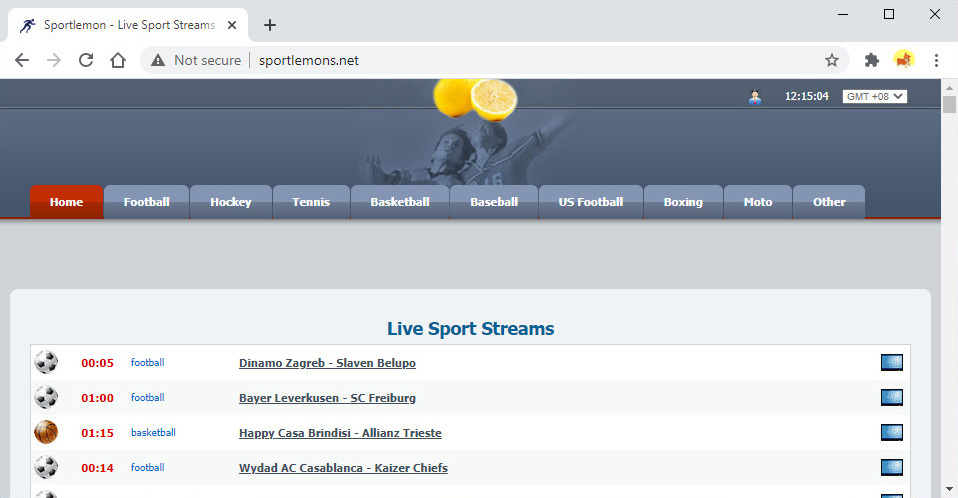 Sportlemon is another live sports streaming site. It offers a wide range of live streams across all sports. On this site, you can find various live streams on football, hockey, tennis, basketball, etc. This site is entirely free, and you don't have to put up with any ads. It is worth mentioning that Sportlemon offers real-time streaming of sports games without surveys or any malware. Therefore, many sports lovers deem it one of the best VIPBox alternatives.
Key features:
● Easy and free to use
● Running smoothly
● Well-organized layout
6. Wiziwig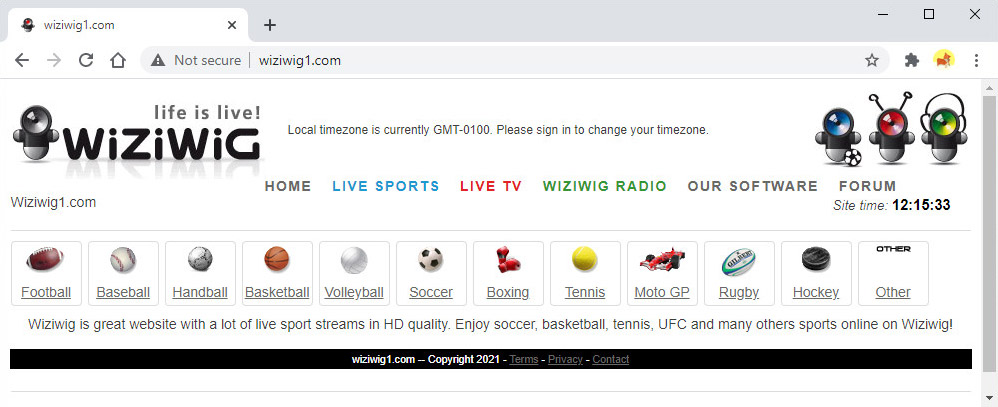 Wiziwig is another all-in-one live streaming site like VIPBox. It consists of multiple categories such as football, baseball, TV channels, and lots of radio stations, etc., for free. Besides, this great VIPBox alternative enables you to change your time zone to watch more events. However, signing in is required for changing the time zone.
Key features:
● Free and easy to use
● Offering mobile applications
● Responding quickly
7. MamaHD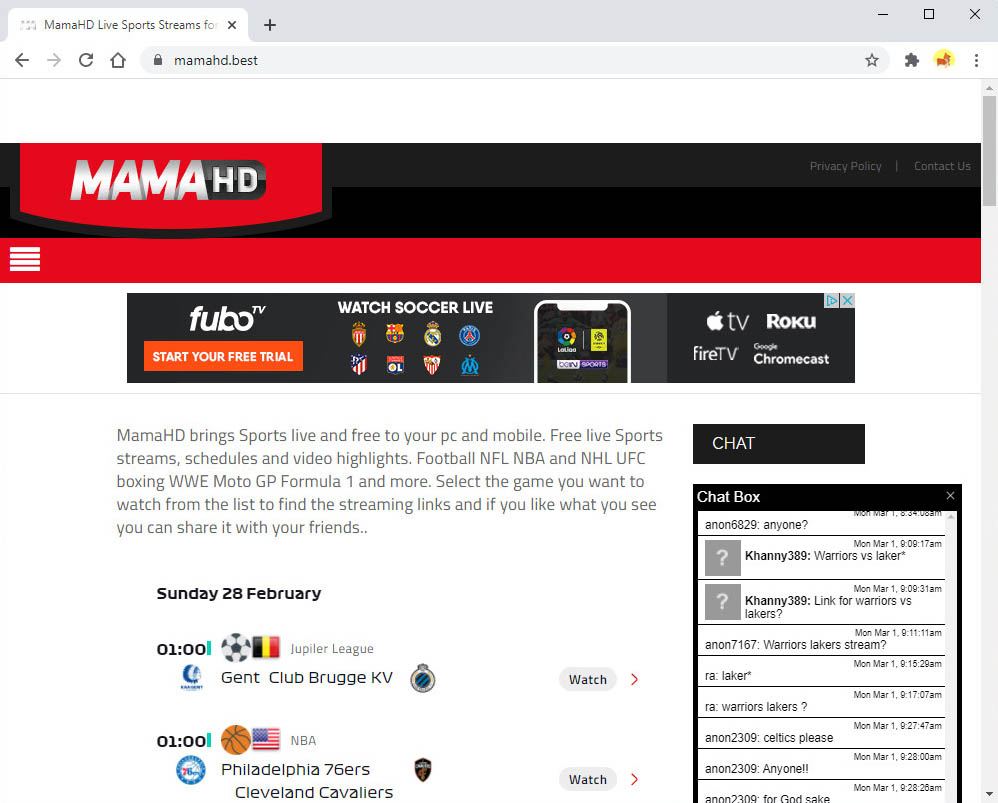 MamaHD is listed in the top 15 VIPBox alternatives as well. It offers you free live sports streams, schedules, and video highlights. This site like VIPBox allows you to watch your favorite sports games in HD and SD for free. Besides, there is a chat box for you to talk to other sports lovers instantly.
Key features:
● Watch HD & SD sports for free
● Instant chat box
● No registration is required
8. Other Great VIPBox Alternatives
Part 2. How to Download Sports Videos?
Above I have mentioned the top 15 VIPBox alternatives. Pick one and enjoy yourself.
Yet, if you want to download sports highlight videos for playback or download online videos from any website, AnyVid video downloader comes in handy.
AnyVid is a professional video downloader. It supports video downloads from more than 1,000+ sites, such as YouTube, Facebook, ESPN, abc.com, etc. Besides that, you can even download these videos in HD 720p, 1080p+ quickly.
AnyVid is safe, clean, and free of ads. You can use it on your PC, Mac, and Android devices. How to download sports with AnyVid? Please install the downloader and follow my steps.
AnyVid
Download any video from 1,000+ websites
Run AnyVid and insert the sports video you wish to download. Or you can paste the sports video link from abc7.com, espn.com, etc.
When the result shows up, pick one video and click the MP4 icon to download a sports video on your device. You can also preview the video by clicking the play icon on the thumbnail.
Conclusion
Above I have recommended the top 15 VIPBox alternatives, which one wins your heart? Please tell us by leaving the comment below.
If you want to keep a copy of your favorite sports highlight videos, please download them with AnyVid. It is a powerful video downloader to help save videos from 1,000+ sites. Give it a shot!
AnyVid
Download any video from 1,000+ websites
Frequently Asked Questions
What is VIPBox?
VIPBox is a popular sports streaming website. It offers various live sports matches and sports highlights for free. On VIPBox, you can easily find the sports matches you are fond of, such as football, basketball, baseball, hockey, etc. Yet this site is full of irritating ads and redirects. If you are tired of such a site, you can switch to other sites like VIPBox, such as LiveTV, FirstRowSports, Sportlemon, etc.
What are the best VIPBox alternatives?
The best VIPBox alternatives include LiveTV, BatmanStream, FirstRowSports, Streamhunter, Sportlemon, Wiziwig, MamaHD, etc.
You May Also Be Interested in These Topics