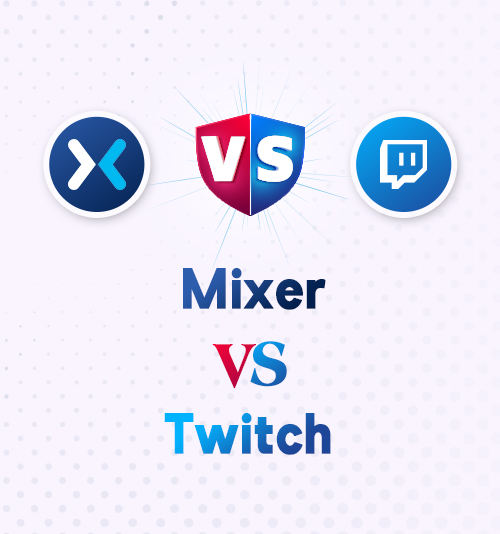 Mixer vs Twitch: which one do you like better?
If you are a game fancier, you may not be stranger to the popular live game video streaming platforms: Mixer and Twitch.
Some of you may switch between these two platforms for live gaming video streaming. Some of you may ask, "Is Mixer better than Twitch?" or "Should I stream on Mixer rather than Twitch?" "Should I leave Twitch?"
Well, in this article, I will tell you the difference between Twitch vs Mixer, so that you can get your answer. If you want to learn the tricks from live game video on these 2 site, I would like to share my favorite video downloader, which helps you download videos from 1,000+ sites effortlessly.
Now, let's go.
Mixer vs Twitch: Which Is Winner?
Since the launch of Mixer, the competition between Mixer and Twitch never ends. Before comparing, let's take an overview of these two streaming services.
What Is Twitch vs What Is Mixer?
Twitch is a renowned live video streaming platform owned by Amazon. It mainly focuses on the live streaming of gaming videos, including live broadcasts of esports competitions (e.g. League of Lengends, Fortnite, Dota 2, VALORANT, etc. It also expands the business on non-gaming content, including live music channels and other creative media content. Twitch attracts millions of broadcasters and viewers. All media content on Twitch is allowed to view live or via video on demand.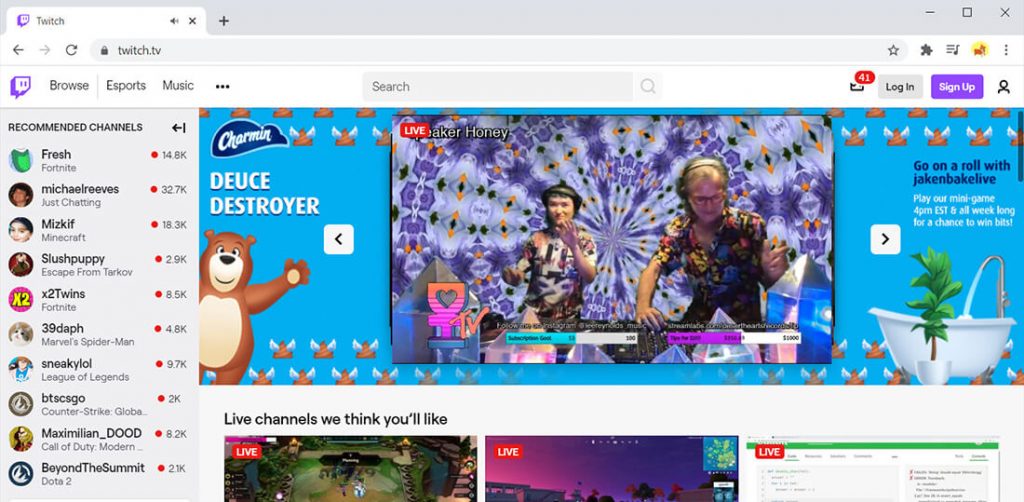 Mixer is owned by Microsoft now. It was previously known as Beam when launched in 2016. The site aims to the interactivity between viewers and broadcasters, which means viewers can interact with broadcasters by spending "Sparks," voting or other special effects. However, Microsoft announced that Mixer would be shut down on July 22, 2020 due to a poor market share.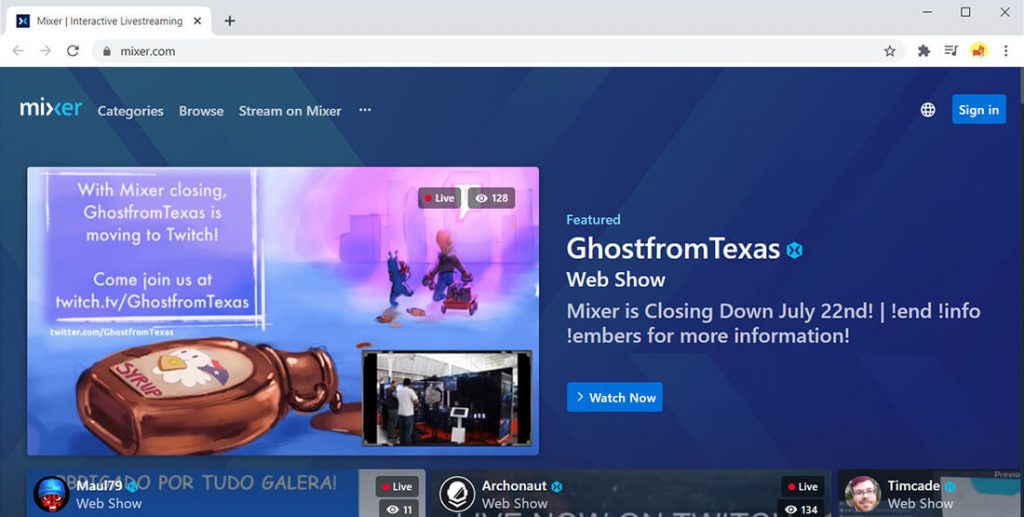 Mixer vs Twitch: Platform Support
As stated by Twitch CEO Emmett Shear, "be every platform where people watch the video." Twitch is available on Windows, Mac or Linux. And its app is available for Android and iOS devices, as well as other video game consoles.
Mixer is a live streaming service that comes packaged into the Windows 10.
Streaming on Mixer vs Twitch
Twitch mainly focuses on live stream watching without providing interactivity features. It is a leading live-streamed platform creating extensive media content, including VoD (Video on Demand) and live streams. Users here can easily find the content they want.
Mixer offers low stream latency experience based on its faster-than-light (FTL) streaming protocol, to boost audience engagement. Also, Mixer creates an interactive streaming platform where streamers can interact with viewers.
Subscription Program: Twitch Prime vs Mixer Pro
With Twitch Prime, you can access to free games, in-game content, a free subscription on Twitch TV. Twitch Prime comes free with Amazon Prime membership, offering a free 30-day trial and $12.99 per month after trial.
A subscription to Mixer Pro gives users some benefits, including ad-free streaming experience, early access to new features, highlights of chat text in different colors, etc. It costs $7.99 per month.
Both platforms have their merits. There is no definite answer for "Twitch vs Mixer: who is the winner?"
Stream on Twitch or Mixer? It depends on you.
How to Download Gaming Videos with Software?
After the comparison between Twitch and Mixer, you have learned their similarities and differences. You can stream either of them according to needs. However, online video streaming needs a good network connection. And, it will affect your mood when you want to have a video stream, the streaming sites are shut down due to specific reasons like maintenance.
To improve the viewing experience, you'd better get the videos download for offline watching.
Here, I recommend the best video download software to you: AnyVid.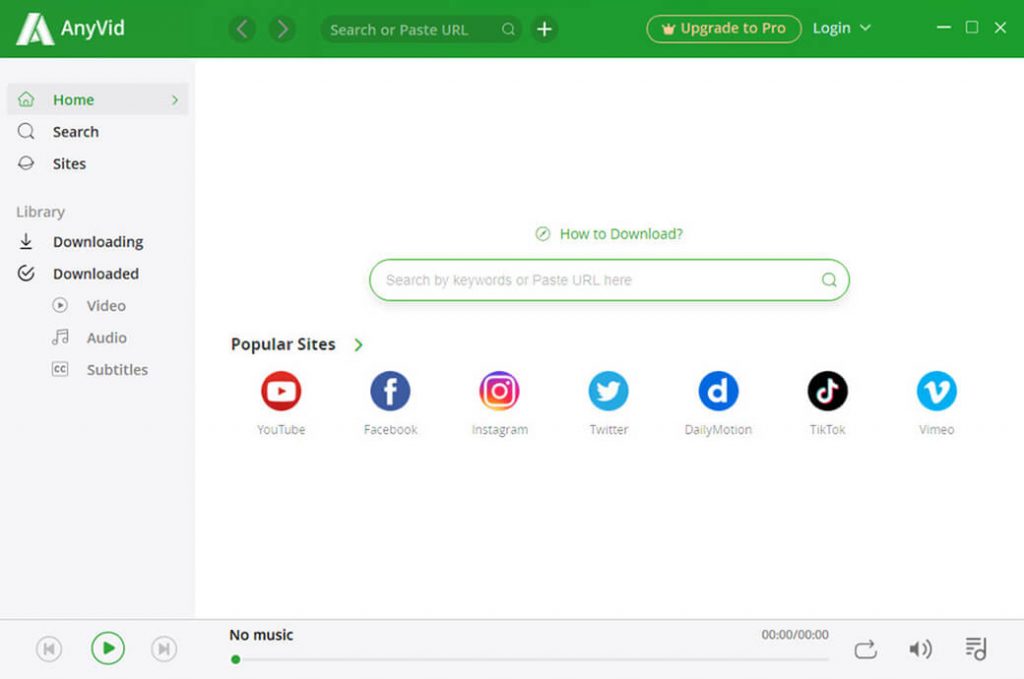 Designed with a built-in browser, AnyVid can act as a video streaming platform by creating channels for viewers to access live streaming sites like Mixer (Beam). Click on Popular Sites > Go to 1000+ Supported Sites > Select Game category > Click on Beam (Mixer) to access Mixer sites.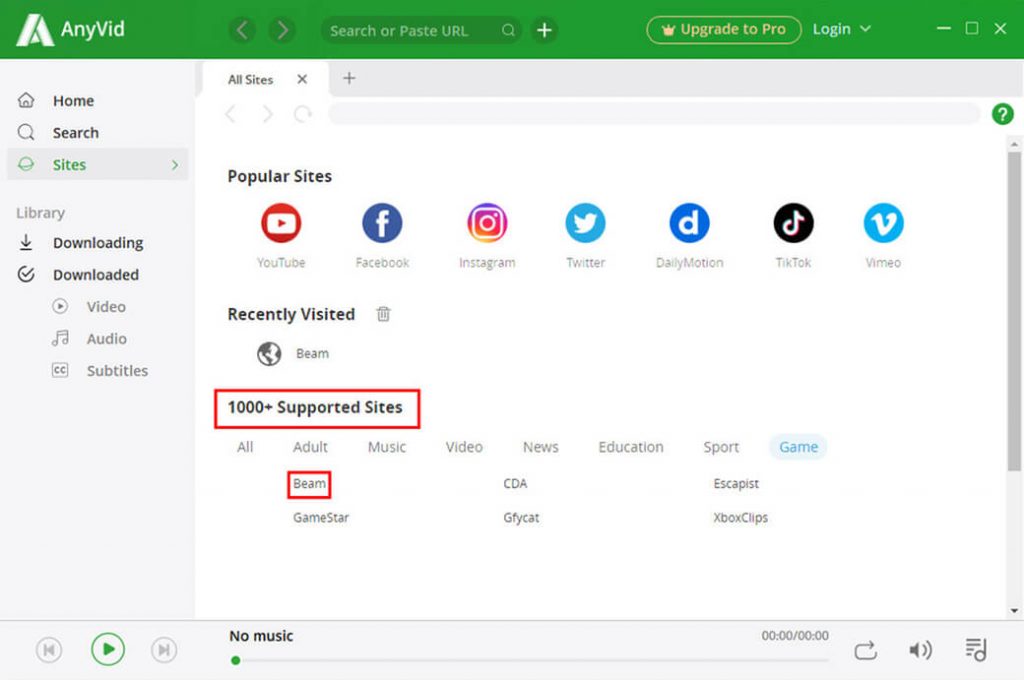 Here, you can get a live stream for gaming videos across the range.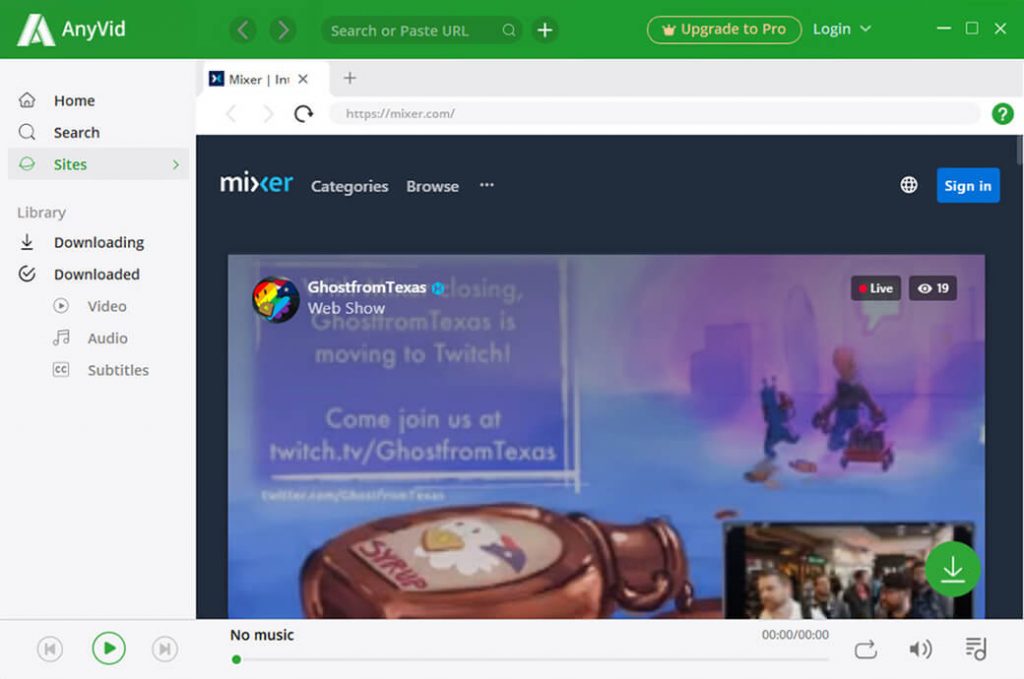 Scroll down your mouse to find a video you want to stream. There are trending eSports in Top categories.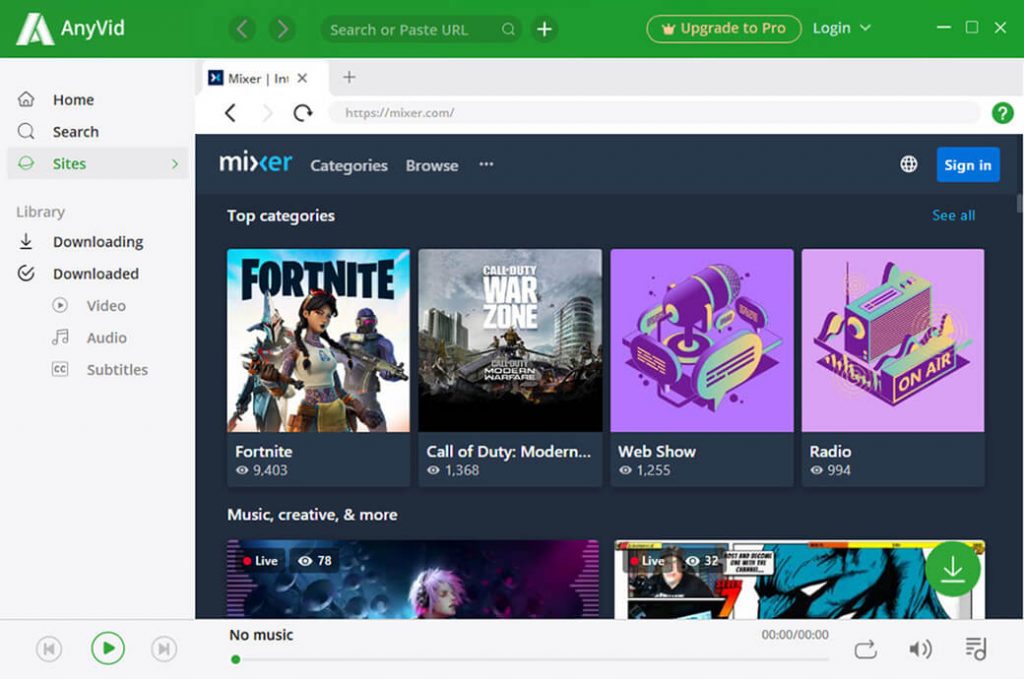 Look, it's the popular game Fortnite. Click on the cover to access a new interface. Here, you can stream any video of Fortnite. And you can download the videos by clicking on the green download arrow at the lower right corner of the screen.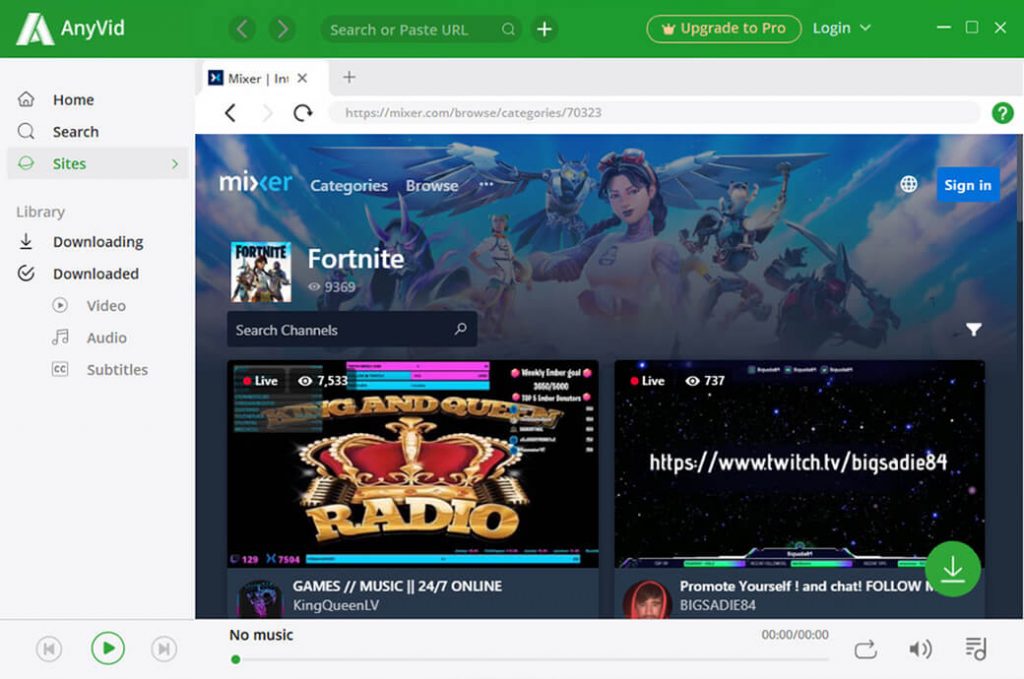 Quick Tip: AnyVid also lets you download trending gaming videos by searching the game's name on the search box.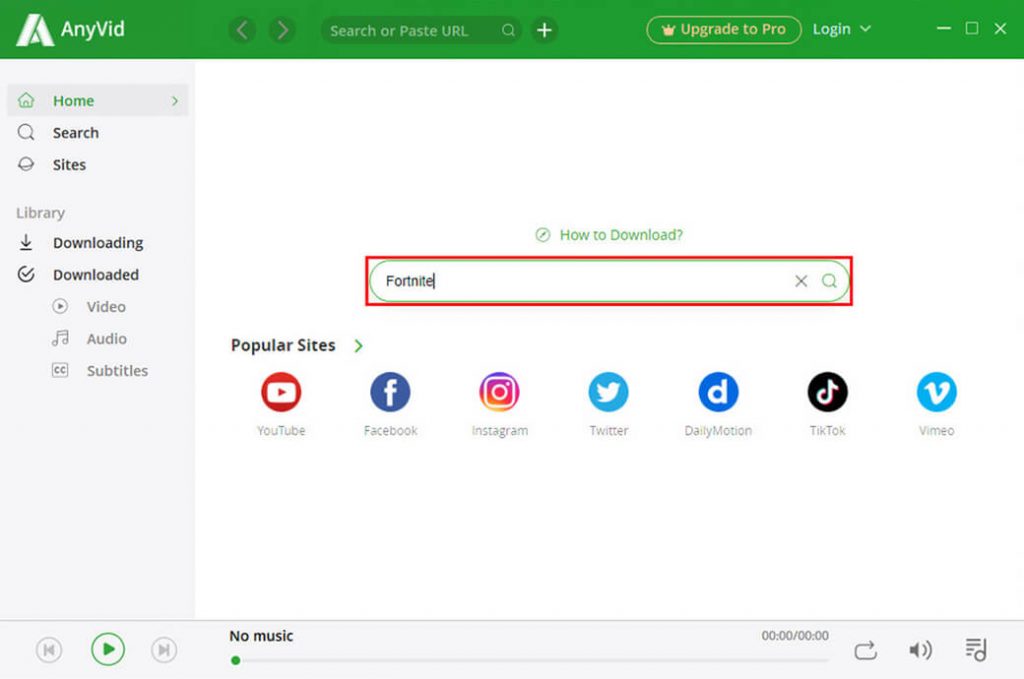 Preview videos of the search result. Click on MP4 to download a Fortnite video you like.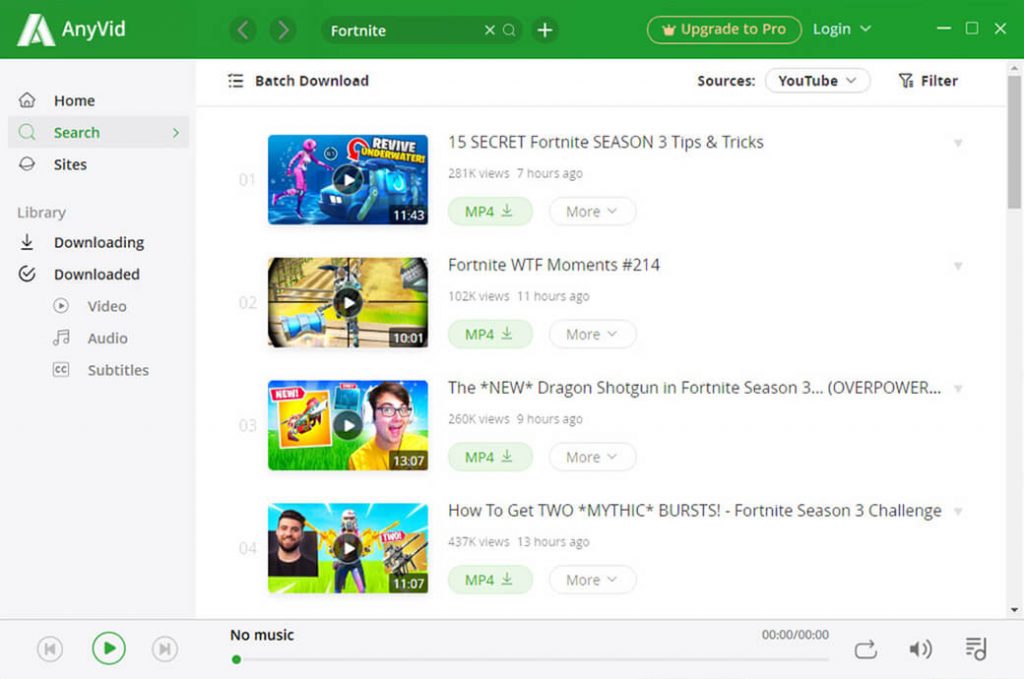 Get AnyVid to download trending game videos today!
AnyVid
Download any video from 1,000+ websites
for Windows 10/8/7
for Mac OS X 14+
for Android
Mixer vs Twitch: Which Is Better?
Both Mixer and Twitch are good live streaming platforms. Due to different emphasis, Mixer and Twitch provide users with different live video streaming experience. Whichever you choose, you can get good live streams. However, Microsoft has announced to shut down Mixer on July 22, 2020. In some sense, Twitch is better.
By the way, if you want to find software to download gaming videos, AnyVid is your best choice.
You May Also Be Interested in These Topics