anyvid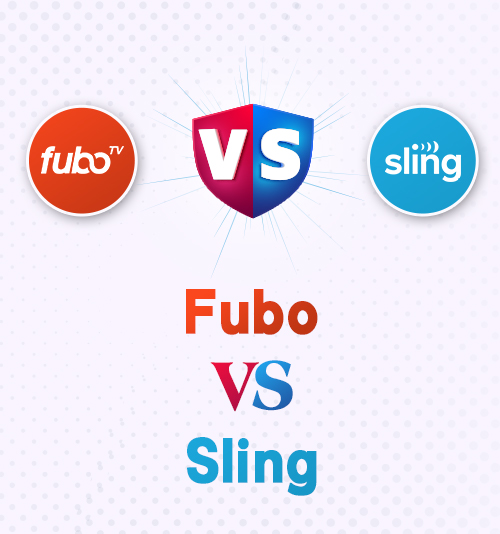 Here, I am going to talk about today's most popular live TV streaming services, FuboTV and Sling TV.
If you have been looking for ways to significantly cut your cable bill, you might have used one of them. Both are good alternatives to cable.
But do you know the difference between them? Which is right for you? Which one is more cost-effective?
If you have no idea about the above questions, please read this tutorial on "Fubo vs Sling."
You can find the answers here.
Ready? Go!
Part 1. Fubo vs Sling
Both FuboTV and Sling TV are American popular TV streaming service. Before exploring the differences between FuboTV and Sling TV, let's first look at their similarities from 4 aspects below,
● Much more affordable than Cable TV.
● No contract. You can pay month by month and cancel the service at any time.
● More popular channels available without cable.
● Workable on different devices.
FuboTV and Sling TV are always considered as good alternatives to cable, which enables us to watch more shows freely at a lower price.
But if you want to know which one is more suitable for you and your family, you need to go deep into their differences.
Here, I will show you that in the following 3 perspectives,
Fubo vs Sling: Pricing Scheme
For FuboTV, there are many kinds of packages for you to choose from. Below I will briefly introduce 2 major plans to you.
One for the standard one, you need to pay 54.99$ per month. Then you get 66 channels, 500 hours of space for cloud DVR, and more.
The other for the upgrade one (Ultra), you need to pay 84.99$ per month. But you can get more, 137 channels, 40 entertainment channels, 22 high-energy channels, 500 hours of space for cloud DVR, and more.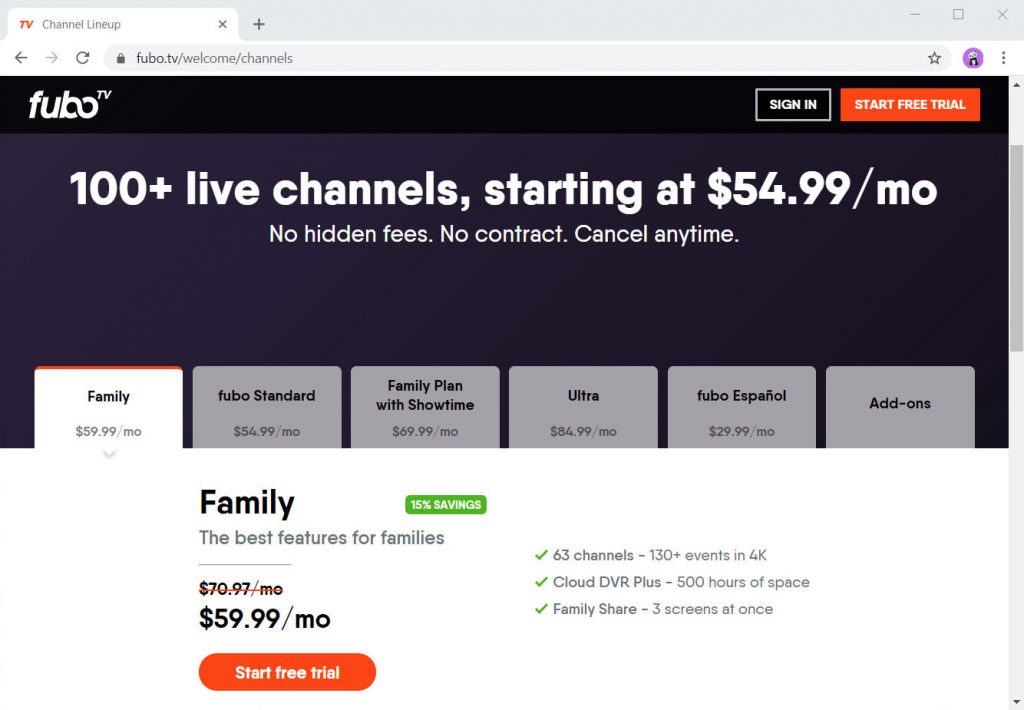 By contrast, Sling TV offers two plans, Sling Blue and Sling Orange. No matter which one you choose, you are required to pay 30$ per month. But Sling Blue targets at those keen on news and entertainment. With Sling Blue, you get 50+ channels and 10 hours of space for DVR. But if you are a sports enthusiast, I recommend you to consider the Sling Orange. Although it provides only 30+ channels, it includes ESPN, CNN, AMC, Lifetime, TNT and TBS, best for sports lovers.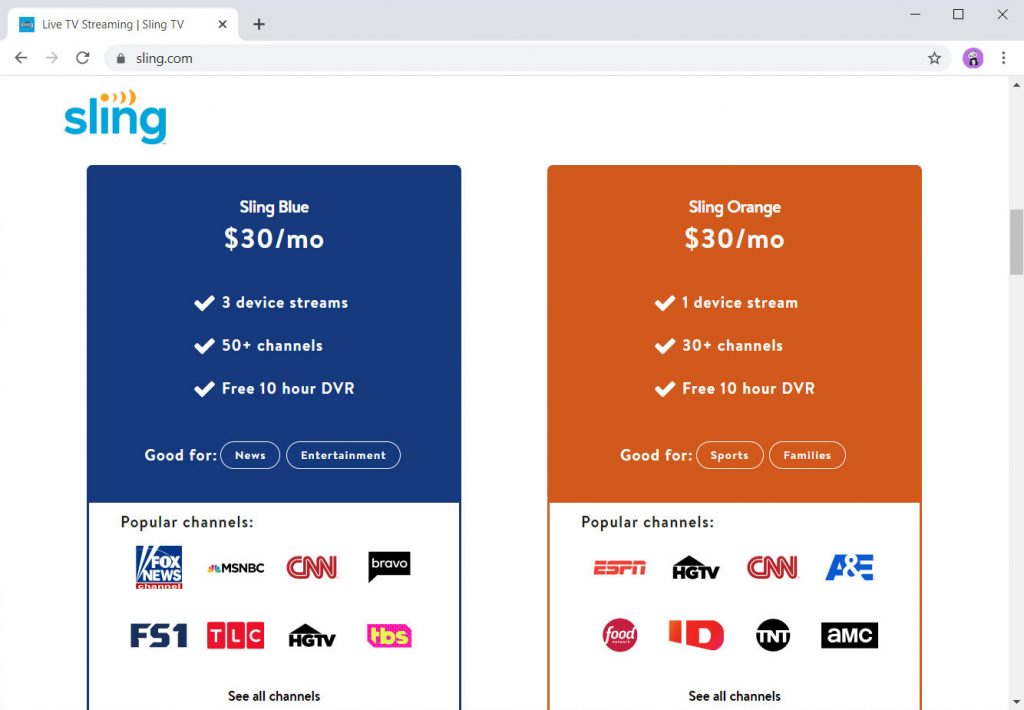 Fubo vs Sling: DVR Recording
With DVR, we can record live TV shows for offline watching. To our delight, DVR recording is available on both Fubo and Sling.
If you use FuboTV, you own a DVR with 30 hours of space. If you are willing to pay 10$ a month, you upgrade it to 500 hours.
But with Sling TV, you can only get 50 hours of DVR storage even when you pay 5$ a month.
So, for this aspect, I prefer to use FuboTV because I use DVR recording frequently.
Fubo vs Sling: Multiple Streaming
If you want to share live TV shows with family members or friends, you will absolutely like this feature.
FuboTV enables 2 persons to watch shows simultaneously on different devices while Sling TV provides one stream for Sling Orange and 3 streams for Sling Blue. This is quite a fantastic feature!
Both Fubo and Sling are good alternatives to cable, and the above comparison of "Sling vs Fubo" helps before you decide which service you want to use. Think before you decide.
But if you have no time to watch live TV shows, I recommend you to download it onto your computer or mobile for offline watching at any time.
So, here, I want to offer you a powerful TV show downloader, called AnyVid.
Part 2. Best Downloader for TV Shows
AnyVid is a capable video downloader for your computer and Android phone. It enables you to search and download videos like TV shows, TV series, movies and more without sign-in.
If you are interested in a TV show, just remember the name and then type it into the search bar of AnyVid to get a download. So easy!
Besides, video formats and resolutions are selective here.
Next, I will clearly show you how to download TV shows with AnyVid in just 2 steps.
Launch AnyVid software and then enter the name of your long-anticipated TV shows on the search bar. Let's take "Sunday Night Football" for example.
After the related TV shows appear, select the one you want and click "MP4" to download it or click "More" to download the show with higher resolution. That's it!
Conclusion
Now, have you figured out which service suits you best?
If you are a sports lover, I recommend you to use FuboTV, which covers multiple sports channels.
If you are a person on a budget, Sling TV is suitable for you.
Each has its pros and cons. Before making your decision, you'd better carefully read this tutorial on Fubo vs Sling.
But if you have no time to watch live TV shows, I suggest downloading them with AnyVid.
AnyVid
Easy but powerful video downloader & converter
Windows
Mac OS X 10.9+
Android
It is powerful TV shows downloader, workable on Windows, Mac and Android.
Why still waiting? Give it a shot