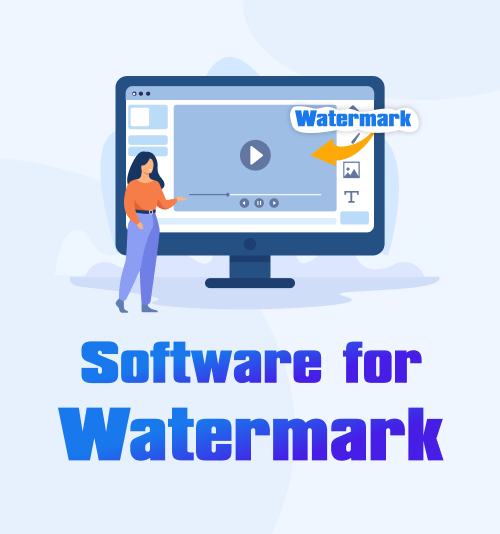 Artists, creators, and photographers all understand the value watermarks have for your business. Watermarks protect your hard work from being stolen or used without giving you credit. In addition, when your videos or pictures have a watermark, anyone who sees them can associate your work with what they see.
Many creators depend on word of mouth and sharing their content to expand, which is why it is always essential to have your logo featured in all your work. Usually, placing a logo on each of your hundreds of pictures or videos can take up a lot of time, which is why you need to use watermark software that allows you to do bulk watermarking.
But with so many choices available on google, which software for watermark is the best for your needs? During this intriguing topic, we discuss the best watermark software available and how to add watermarks to your photos and videos.
Let's dive in.
1. Special Pick: AnyErase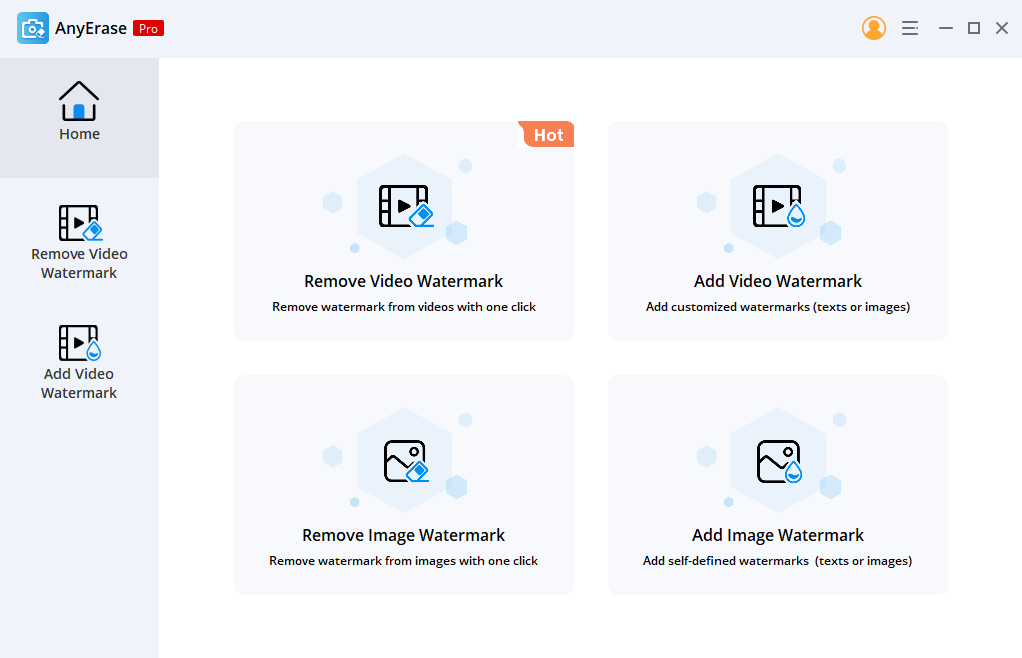 AnyErase is one of the best watermark software I have ever used, the simplicity of the interface makes it easy to get everything done in just a few minutes. You can use it to add text to photo without watermark. You can either create your text watermark with the in-application feature or import your custom-made logo and add it to all your content. Besides that, AnyErase is an excellent application to remove unwanted watermarks or texts from other media as well.
Tips: Learn more about how to add a watermark to the video.
AnyErase is a star-studded product, but like all software for watermark, there are pros and cons. It is important to compare multiple options with one another. So let us take a look at a few pros and cons of AnyErase.
User-friendly interface
add watermark to pictures and videos
Built-in watermark remover
Inexpensive
We can all agree that the pros of AnyErase outweigh the cons. So let us dive in deeper and learn how to use this fantastic watermarking software.
 Let's take a look at the few easy steps to get your watermark on your video or photo content. Foremost, please install AnyErase watermark software for Windows 10/11/7/8. Then, once the application is downloaded and installed, launch it.
AnyErase
Remove watermark from videos and pictures magically
When the application opens, you will notice a panel on the left side of the app. Click on the one that says add watermark. Next, click the plus button in the middle of your screen to upload the picture or video you want to watermark.
Click on the table labeled "Add text" on the right to add text to the content. If you have already created a watermark, you can click on the one labeled "Add image" to upload your watermark to the application. You can change the size by moving the side toggles around the watermark. Drag the watermark to where it is needed and adjust the opacity to suit your needs.
When you are happy with the final result, hit the Start button to export the content.
2. Visual Watermark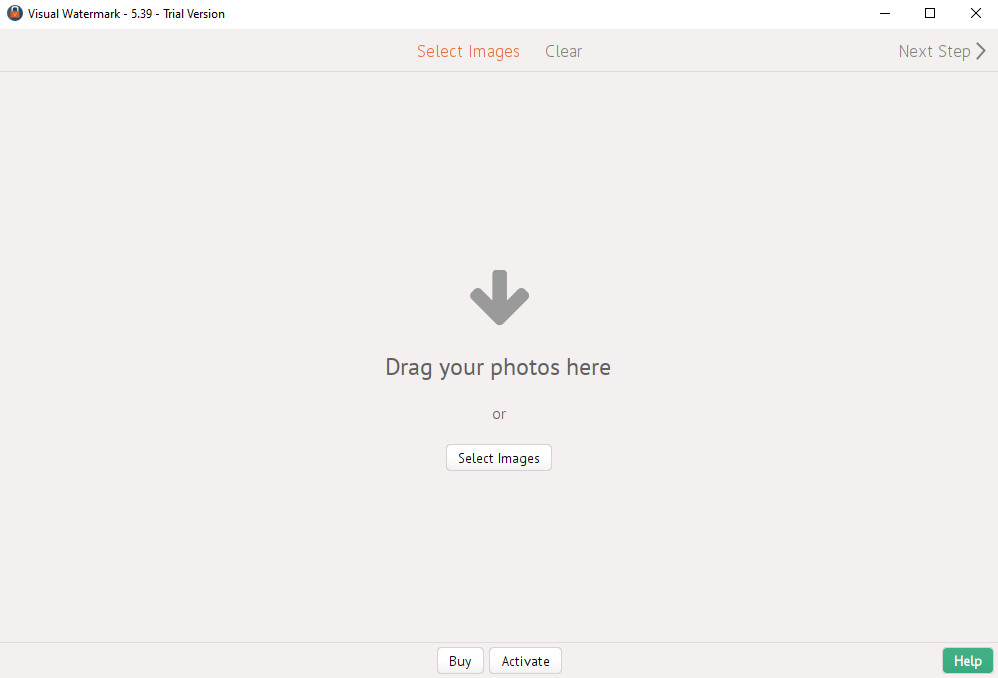 Visual watermark offers an excellent option for bulk watermarking. In a short time frame, you can watermark over 100 photos. We also love the opportunity to add a watermark to videos, and this watermarking software has over 250 fonts available to choose from to help you create your watermark in-app. If you have already created a custom watermark, you can import it to the application and use it instead.
Free trial

A vast number of fonts to choose from

Batch watermarking

Payment is required to unlock all features

It can be slightly confusing interface
3. Water Marquee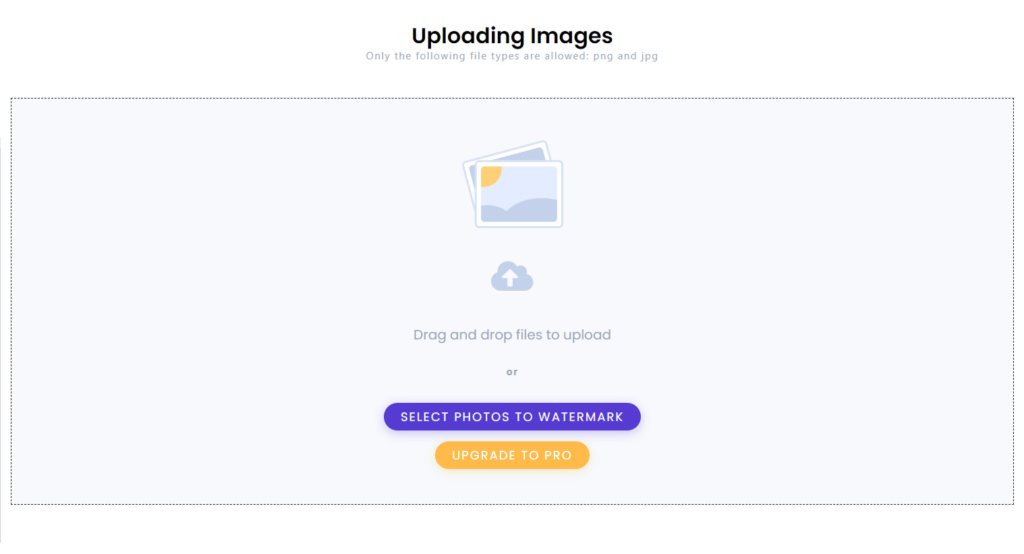 Water Marquee is free watermark software that can be used by all users in need of accessible free software. Although the free version only offers a limited number of actions before you are required to purchase, you can use it on any device. Water Marquee is a web-based watermarking tool. You can access this free software for watermarking photos on your computer or cell phone, making it convenient for you when you're on the go. In addition, the full version offers many extras tempted during the free watermark photos trial, like bulk watermarking.
Web-based

Free version

Premium templates on the Pro version

Always needs internet connection

Restricted access without purchase

The content size limit on the free version
4. Watermark Software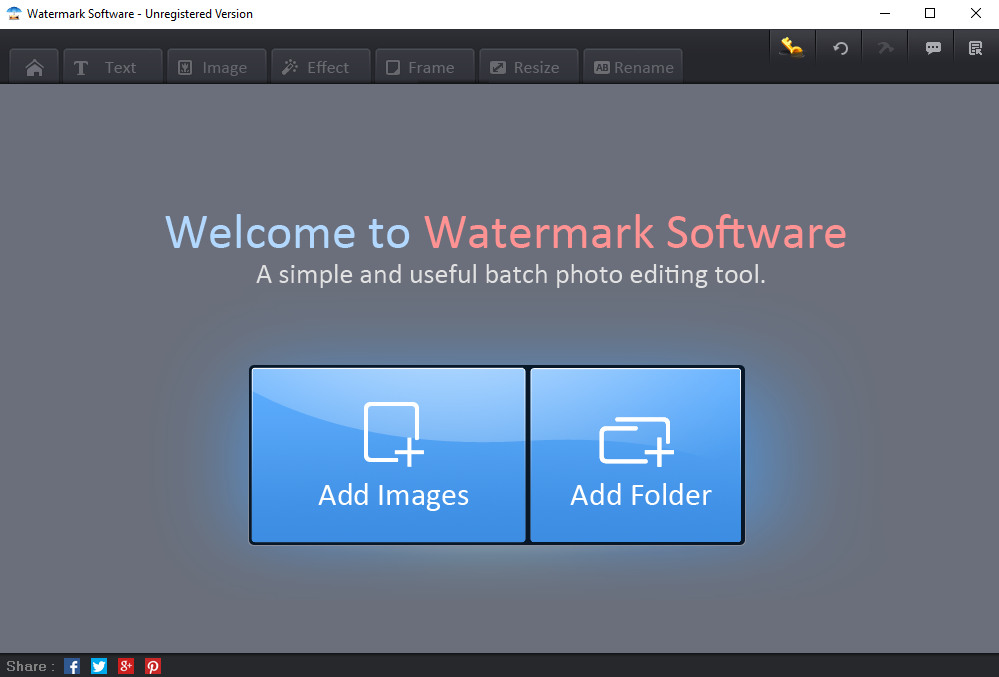 This excellent Watermark Software has made it possible for users to add a QR code as a watermark to all their content. QR codes are essential to direct customers or fans to the website associated with the video or picture. The Watermark Software application also allows users to watermark metadata from an image to include EXIF settings. You can use this software to watermark movies and photos with ease.
Can add QR code as a custom watermark

Allows EXIF marks

Finding how-to guides is difficult

You need to pay to unlock all features

The user interface is outdated
5. uMark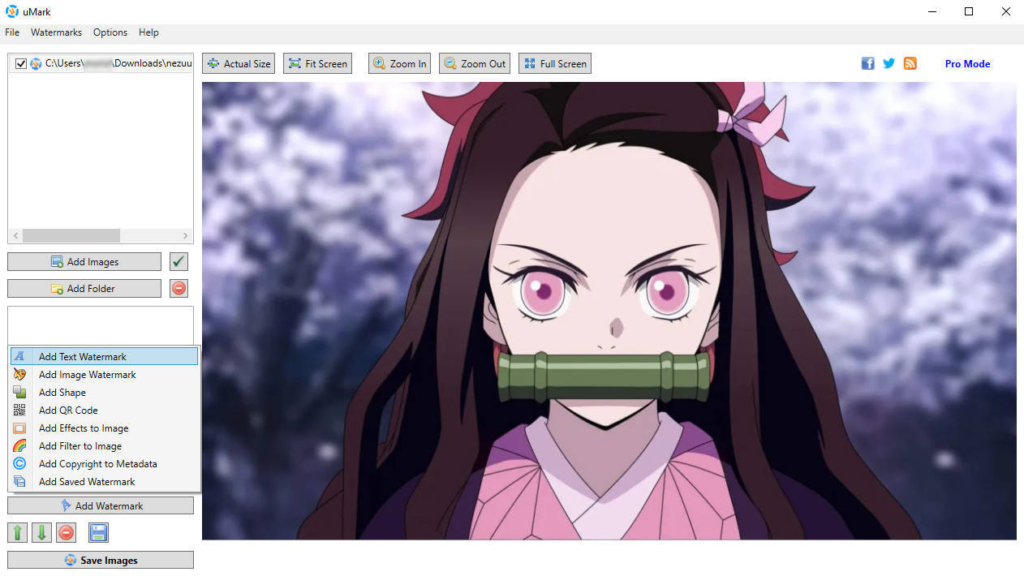 uMark is yet another exciting software for watermark photos. uMark makes watermarking many pictures at once easy, along with the ability to add custom watermarks and QR codes. uMark is also available in multiple languages and is considered a watermarking freeware for all users.
Allows batch watermarking

Can add QR codes as watermarks

uMark adds a watermark on all content with the free version

Struggles to manage several folders

We need to purchase the pro version to have full access
6. MarkGo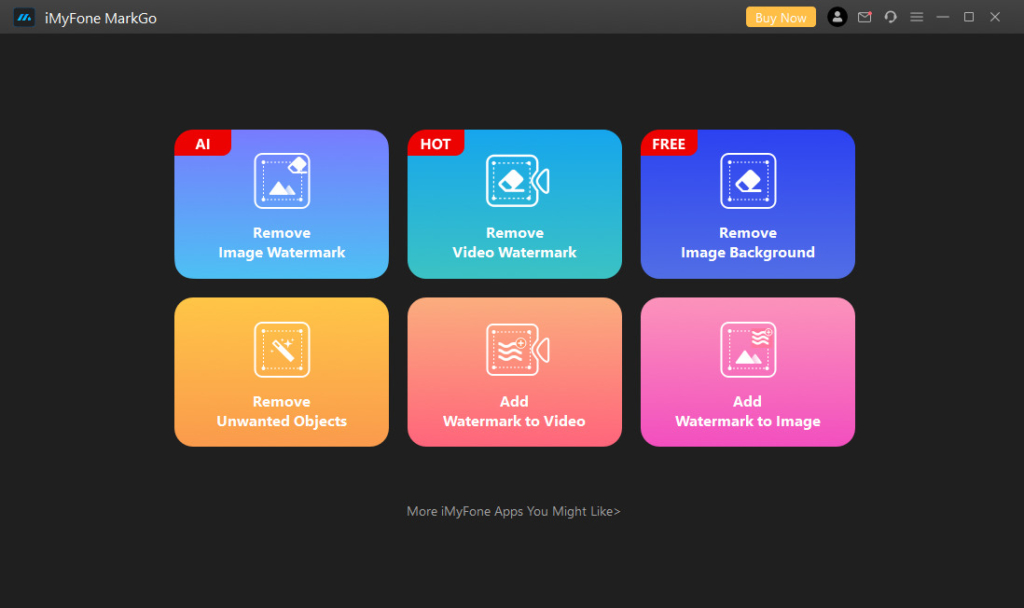 The MarkGo watermarks software powered by iMyFone allows users to remove unwanted objects, people, logos, and watermarks from pictures and videos. Apart from that, it also serves as software to add watermarks to videos and pictures. Hence, you can use it to add watermarks and customize logos for content. MarkGo uses an AI-powered algorithm to help you during your tasks, and the application is simplified using this algorithm.
AI removes watermarks automatically

Easy to use

Free to use and download

You can't export or save without purchasing a license

Can be a loss in quality when removing watermarks
7. Apowersoft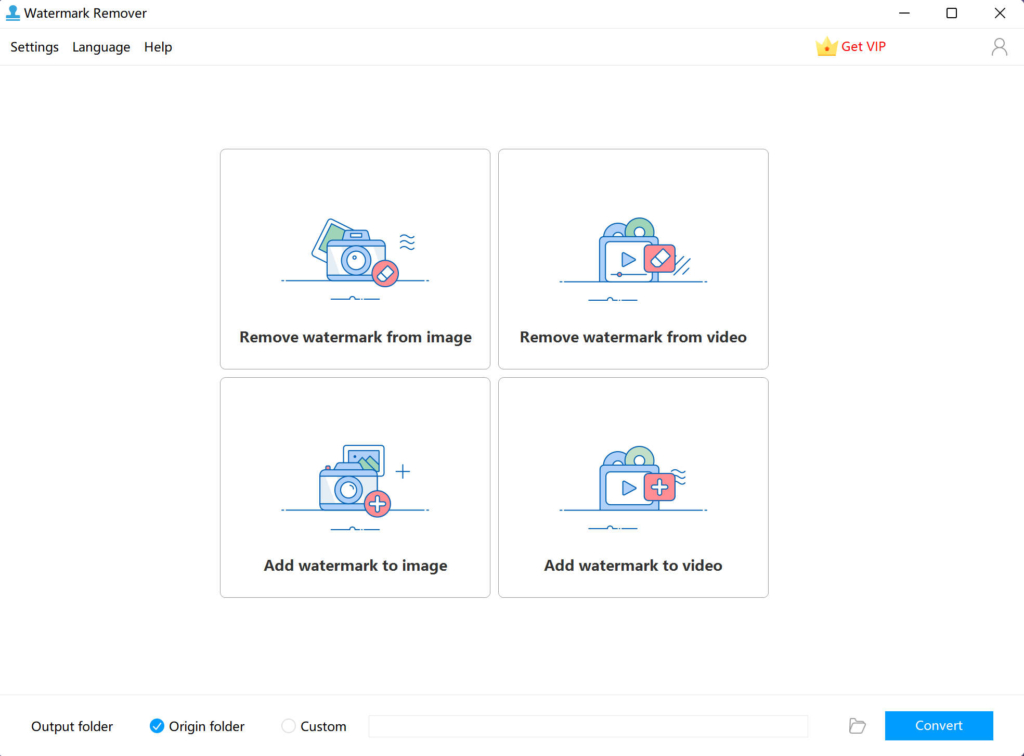 Apowersoft allows you to watermark multiple photos at once quickly, and all content is customizable by size and transparency. In addition, the batch watermarks software supports a vast range of image and video formats for watermark removal. Apowersoft also allows users the option of an online watermark remover instead of an application.
Add bulk watermarks

Supports multiple formats

Free version

Expensive license for full version

No version for Mac
8. iWatermark Pro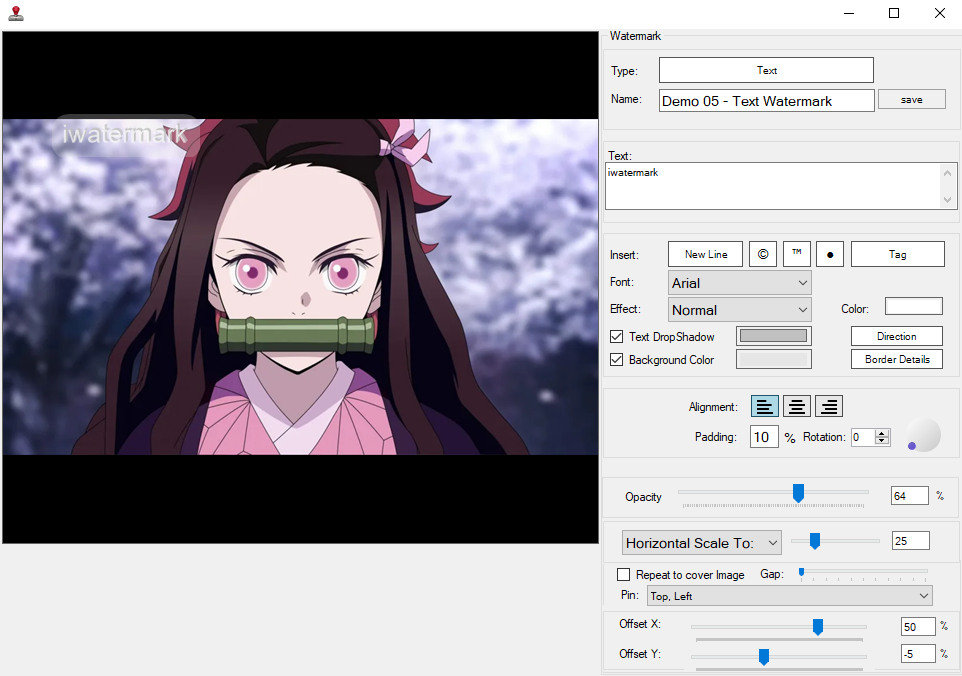 Many photographers have preferred iWatermark Pro to use when bulk watermarking projects. iWatermark is compatible with almost all photo formats and allows users to use RAW formats. iWatermak Pro works with many photo editing applications used for photography, like Lightroom and Photoshop. All in all, it is one of the best software to watermark photos.
Used as an add-on for other editing software for photography

Compatible with Windows and Mac devices

Not user-friendly

No free version
9. Mass Watermark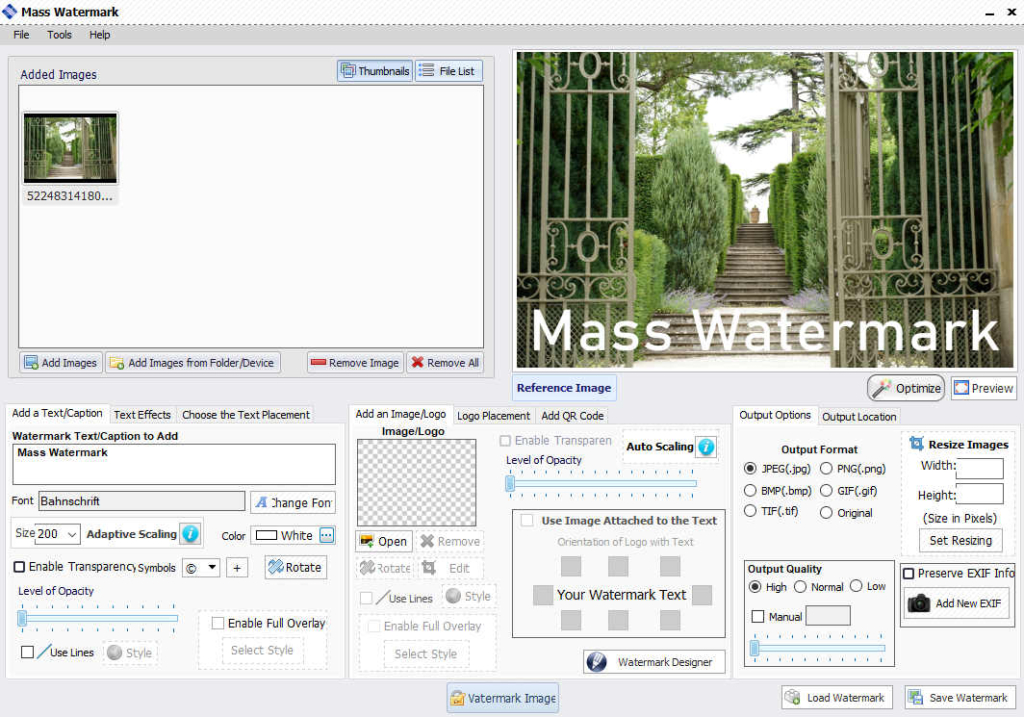 Suppose you want software to add watermarks to multiple pictures and videos, Mass Watermark application comes in handy. It allows you to process bulk watermarking in a couple of minutes, making it fast and easy to use. Mass Watermark also offers basic editing to help you re-touch your images before posting the content.
Resize pictures in the application

Basic editing tools

Web optimized photos

Not a user-friendly interface

Limited Trial
10. 123 Watermark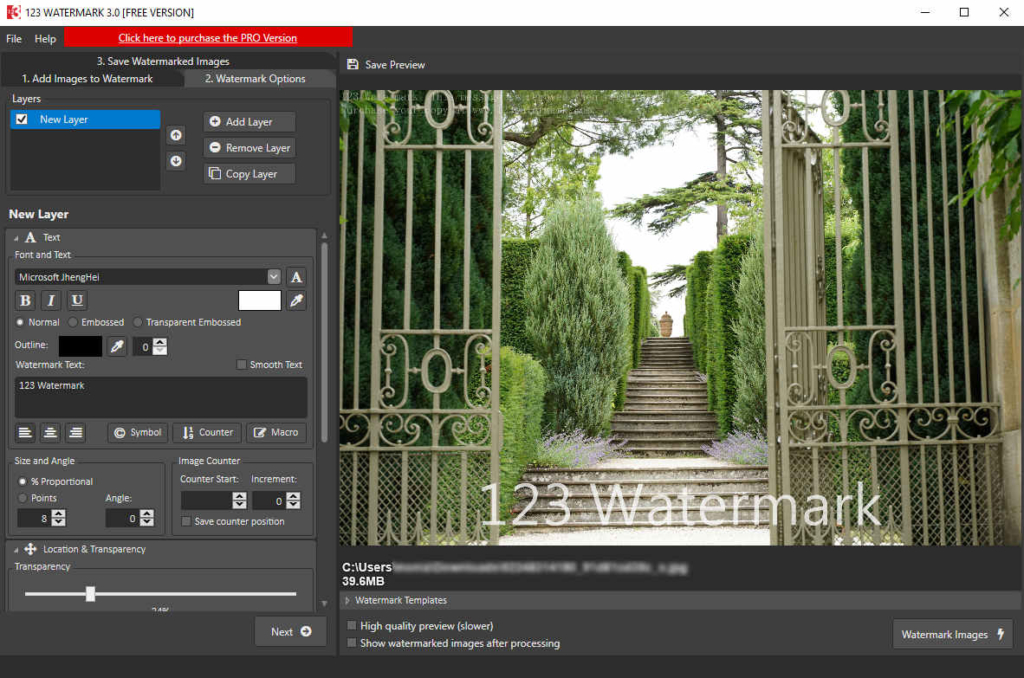 123 Watermark also serves as one of the best watermark software. There are some great features to consider with the 123 Watermark application. The built-in guide helps new users to understand the application almost instantly. You can add your watermark and make it an invisible watermark or a visible one.
Simple to use

Easy to upload to Dropbox or Google drive

Built-in tutorial

Not updated regularly

Only compatible with windows
Final Thoughts
Whether you are a content creator for social media platforms or a photographer who posts your creations on social media, it is vital to have all your work branded with a logo or watermark.
No one can steal your work or take credit for your images when you have a watermark, which is why having access to top watermarks software for all future posts.
To end things off, AnyErase is the best watermark software for all your video and photo watermarking needs. The software for watermark is simple to use with a user-friendly interface. In addition, when you purchase AnyErase, you can opt for a lifetime pass.
With so many choices of watermarking software to choose from, it is only fitting that we give you the best option first. Batch watermarking photo has never been more accessible. Add your logo to all your stellar content without fear of not getting credit when others share it.
Which of these following applications or options do you prefer?
Until next time.
AnyErase
Remove watermark from videos and pictures magically
FAQ
Can you watermark a batch of files all at once?
Yes, if you are using the correct watermarking tool. AnyErase allows you to do multiple watermarks at once. You can also incorporate your custom design or make one using the applications in just a few clicks.
What is the best free watermark software?
123 Watermark is one of the best free options on the internet. The only problem is that there are not as many features as a paid product like AnyErase .
You May Also Be Interested in These Topics