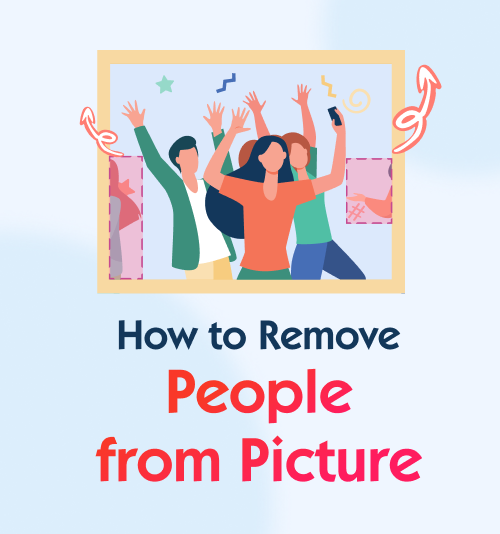 I firmly believe that you must have experienced these issues. When you are on vacation, you find it exceedingly hard to take a perfect photo without unexpected passers-by. When you are lingering for a spectacular natural view picking up a camera, but to your madness, these scenery killers and running visitors spoiling your photo render it impossible for you to capture an amazing scenery shot. When you are checking some old photos to recall your sweet memories, someone who you hate or your ex comes into your sight, which drags you into a bad mood. How annoying these experiences are! Do you want to heal your nearly perfect photos?
Fortunately, there are always solutions to help remove a person and any unwanted objects from your photo. This article presents how to remove a person from a photo.
Hence you can take a look, try a few out, and see which suits your needs.
Part 1. 4 Top Apps to Remove a Person from a Photo (iOS & Android)
If you have just returned from your unforgettable vacation, you must be eager to share your favorite photos on social media, but it is inevitable that we need to get rid of the person or objects from your photo on phone. They might be a street sign, passes-by who break into your shot suddenly in the sea of visitors. To settle this vexing fact, many software experts have designed creative apps to remove unwanted objects and persons from photos. We have access to beautify your photo with few simple tricks.
We are going to recommend you some clever apps to remove person from photo ideally on phone (iOS & Android).
Don't wait to go through these details to create your excellent photo.
Snapseed
Snapseed is created by Google the internet giant and famous for a great variety of professional photo editing features. You can remove a person from a photo with the assistance of its Healing feature in just mere seconds. And you are free to make additional editing with many other tools provided by the app.
What's more, Snapseed is available for both iOS and Android. It is friendly to beginners and professionals.
How to edit people out of photos? Follow the steps below.
Install Snapseed and launch it. Then click the "+" button to import your photo.
Go to the Tools tab, then click the "Healing Tool."
Draw over the person to be erased, then Tap on the "√" icon button.
Tap the "EXPORT" button, then tap on the "save" icon to save your edited photo.
Features:
1. Full-featured
2. Allows you to undo or adjust your photo at any time in the process
TouchRetouch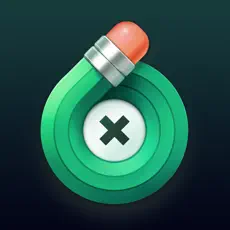 TouchRetouch is an editing tool that is exclusively designed for erasing undesirable objects from photos. It is so easy-to-use that you only need to choose from either the Brush tool or the Lasso tool to remove a person from a photo.
Furthermore, what sets TouchRetouch apart from a bunch of apps is that it is capable of precisely selecting the objects and saving a lot of time by highlighting the person that needs to be removed.
TouchRetouch is much worth trying. The following tutorials are presented for you.
Download TouchRetouch from Google Play Store, and install it. Then you can run it and import the image.
Use the Lasso or Brush Tool to select the object or person you want to remove.
Tap the "Go" to remove the selected object or people.
Tap the "Check" and "Save" buttons to download the edited photo.
Features:
1. Remove complicated objects or people quickly
2. Have an intuitive interface
Youcam Perfect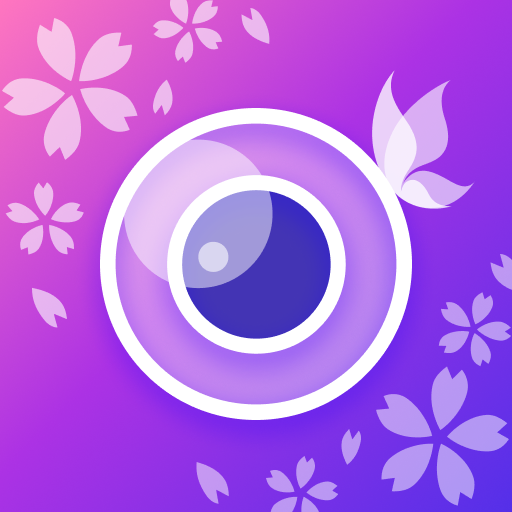 If you are a photography enthusiast, YouCam Perfect is your best option, which provides an extensive collection of tools and abundant photo effects for camera photo editing. Taking unwanted objects or people out of a photo with Youcam Perfect could not be convenient.
Just in a snap, You will get a satisfying new photo. Here comes how to remove a person from a photo.
Download it, and run Youcam Perfect on your Android phone, then upload the photo you want to edit.
Go to Photo Edit and tap the "Removal" button.
Use the brush to choose the person or object in the photo and click the "Apply" button.
Save and share your new photo.
Features:
1. Photos can be saved to the app's cloud backup
2. Allows you to access images across multiple devices
Airbrush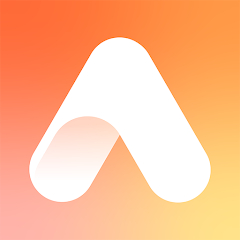 Airbrush is an outstanding photo editing app. As a matter of fact, the prominent thing about Airbrush is that it is endowed with awesome editing tools. What deserves our praise is the Magic Eraser Tool that can be applied to precisely remove the unnecessary person in your photos. Furthermore, its clone tool also enables you to copy part of an image onto another.
Airbrush is both compatible with iOS and Android. Give it a try!
Download Airbrush and run it, then click the "library" button to import your photo.
Go to the "Tools," then click "Eraser."
Paint over the person to be removed.
Save your new photo.
Features:
1. Beginners-friendly
2. Offers high-quality result
Part 2. How to Remove a Person from a Photo in Photoshop
Photoshop is the most powerful and professional photo editing app around the world. It is popular among the majority of designers and photographers thanks to its robust photo editing features. Not only does it allow you to add special effects to your photos but it offers some of the best healing tools to remove an unwanted person from your photos.
However, it is a view commonly held by most people that using Photoshop requires some rudimentary knowledge and skills in editing photos.
Although that may be true, there is no longer a worry. The following tutorial will teach you how to remove a person from a photo with Photoshop step by step. Keep reading, and you can be skilled in editing people out of photos. The quality of the new photo delivered must amaze you.
Isn't that wonderful? Let's dive right in.
Download Adobe Photoshop here. Then launch it and import your photo.
Go to the tool bar to select the "Lasso" icon.
Make a selection around the unwanted person with the Lasso tool
Go to the "Edit" tab to select the "Fill" tool.
Choose Content-Aware Fill to apply the Fill effect, and you can choose settings according to your preferences.
Hit Ok, then save your processed photo.
Part 3. 2 Top Tools to Remove a Person from a Photo on PC
From many people's perspectives, removing an object or person from a photo on a computer can be a time-consuming and complicated task. Searching for an easy-to-use and effective way to take a person or objects out of a picture? Look no further. In the upcoming section, we list 2 top tools that are capable of making removing a person from a photo much easier.
In addition, we elaborate tutorials focusing on carefully walking you through how to erase persons or objects from a photo with the listed photo editing tools.
Are you looking forward to trying them out?
iMyFone MarkGo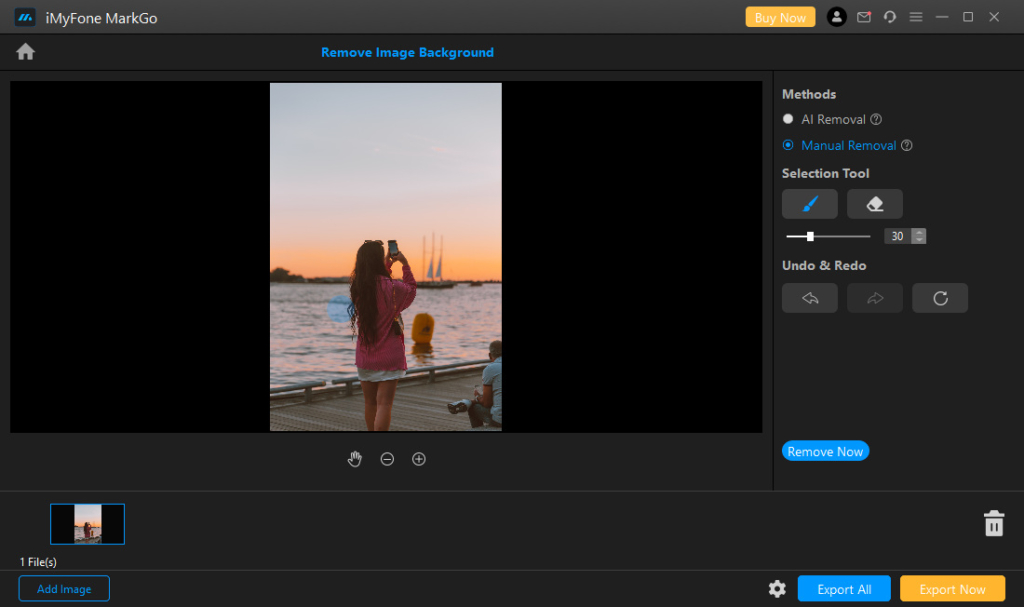 As a full-featured and specialized photo editing tool, iMyFone MarkGo is capable of modifying and manipulating photos . It is destined to render the process of removing objects or person from a photo easier.
If you are eager to erase the undesirable person from your photo with iMyFone MarkGo, try these following simple steps.
Download iMyFone MarkGo and Launch it on your PC, then go to the Remove Image Background.
Click the "Add Image" button to import your photo.
Go to the "Selection Tool" to click the "Manual Removal" icon, then paint over the unwanted person.
Click the "Remove Now" button, then wait for a few seconds.
At last, click the "Export now" button.
Feature:
1. Compatible with multiple photo formats
2. Easy-to-use
Movavi Picverse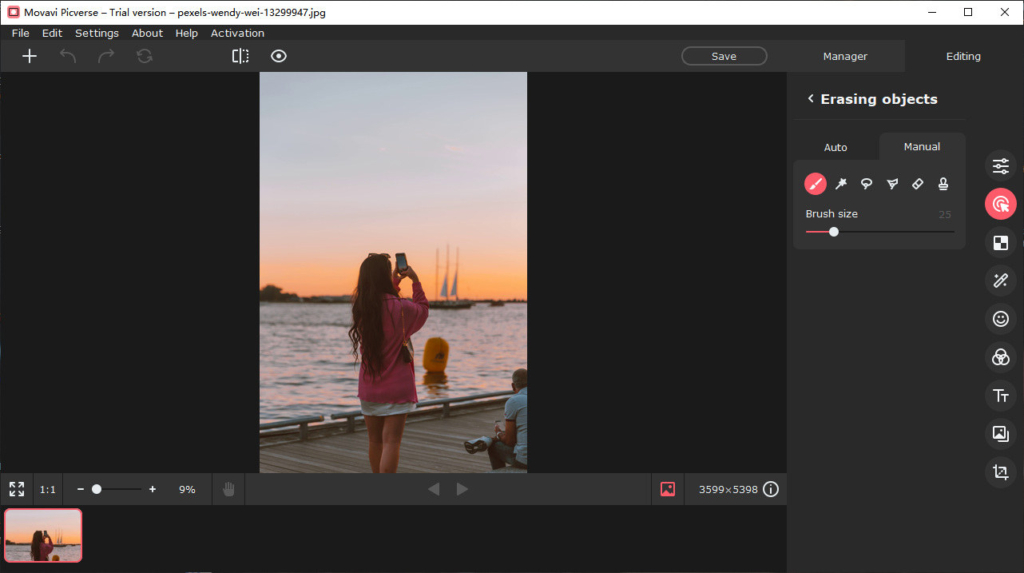 The great photo editor is Movavi Picverse which applies 2 removing patterns to take someone out of a photo. People boast that Movavi Picverse is an image editing all-rounder. It is friendly for a complete beginner. With the help of Movavi Picverse, removing the unnecessary person from a photo is no longer a technique demanding task.
Can't wait to learn how to clean up the undesirable person from a photo with Movavi Picverse? Next, I will show you the guidance step by step.
Download Movavi Picverse and open it. Then import your photo.
Click the "Erasing objects." You can select the "Auto" or "manual" pattern to erase the unnecessary person on your photo. If you select the "Auto" pattern, you need to directly click the person to be erased and change the size of your selection. If you select the "manual" pattern, you can select the "Brush," " Magic wand," "Lasso tool" and "Polygonal lasso" to remove the unwanted person.
Click the "erase" button.
Tap the "save" button to save the processed photo.
Feature:
1. Quickly select the objects of the same color
2. Can adjust the quality and format of the processed photo
Conclusion
We hope this how to remove a person from a photo guide has been helpful in assisting you to edit people out of photos on PC and phone. These great person-removal tools are at your disposal. They are all waiting for you to explore their merits.
If you are a beginner, I tend to recommend you to choose the tool MarkGo and Airbrush.
If you are tech-savvy, all the tools can be your excellent helper. Your sweet memories and favorite moment can be perfectly recorded on your photo by using these remarkable removal tools.
FAQs
What are the best editing tools to erase people out of photos?
You can go to the above mentioned iMyFone MarkGo and Movavi Picverse. They are all professional online person-removal tools that can be used for free and offer an awesome result. You are free to choose one to give it a try.
How to cut someone out of a picture without Photoshop?
If you want to cut someone out of a picture without Photoshop, the above listed person-removal tools can all help you out. You can choose an appropriate tool to get your work done.
You May Also Be Interested in These Topics