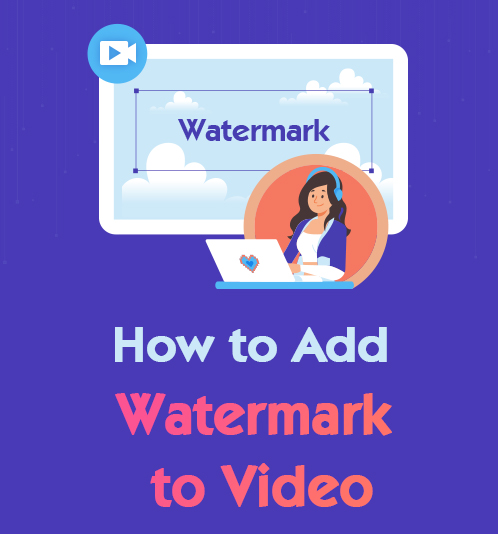 In a world where the internet has made it possible for anyone to create unique content, you can find watermarks everywhere.
I know most of us have looked for a way to remove them, but how to add a watermark may have also crossed your mind.
During this article, we look at why watermarks are necessary and what fantastic tools can be used to add a logo to your video content.
After reading, you will learn how to add a watermark to video on PC, Mac, Android, and iPhone.
Let's get started.
What Is aWatermark on a Video?
I am sure you have seen videos on different websites with logos from the application's creator imprinted on the video.
That is called a watermark. It identifies the video's owner or the website you downloaded it from.
Many creators on different platforms brand their content with a watermark to ensure people do not steal their videos for personal gain without giving credit. When creators add a watermark to MP4 content they share with the world, you know exactly where to find more content from the said creator.
Should I Watermark My Videos?
This question depends on you. Some creators do not release any content without a watermark, whereas some ordinary users share content without being bothered to watermark it.
Suppose you intend to make a career out of the videos you share, a watermark would be beneficial. It allows audiences who see your content on social media sites like Facebook or Twitter to find more videos created by you.
There have also been instances where videos from small creators go viral, the content is shared broadly worldwide, and the original creator gains no credit. Knowing how to put a watermark on a video is fantastic knowledge for creators.
Watermarking your videos will do more good than harm, whether you're a creator with a vast following or a SAHM making videos for fun.
How to Add a Watermark on PC?
I can give you fifty different applications and programs that you can use to add a watermark to your content, but none of these would ever be on the top of my list. AnyErase is the number one application to use when adding watermarks to videos.
This application is easy to use and gives you amazing high-quality content. So, before I explain how to put a watermark on a video using this stellar application, download and install it on your PC.
AnyErase
Remove watermark from videos and pictures magically
Once you have finished your download and installation, open the application. After the application is open, you will see different options. Select the "Add watermark" option, and let us get started.

On your screen, you will notice a "add file" button. Click on it and select the video you want to add a watermark on.

On the top right side of the screen, you will see a "add image" option. Click on it. Next, you will need to select the logo or picture you would like to use as a watermark and add it. Afterwards, use your mouse to move the logo to the correct place on the video and adjust the size by using the round toggles or drag the toggle under the add image button labeled "size." Once the size and placing are correct, drag your toggle under the "opacity" until you have the suitable transparency.
Hit the big blue start button in the bottom right corner to start the download of the new watermarked video.
How to Add Watermark to Video on Mac?
Apple has given users a tool available on their devices that can do almost anything. That includes adding a watermark to a video of your choice. Here is how to do that in a few easy steps.
Design a watermark or have a graphic designer create one for you. Remember, this watermark resembles you or your business, keep it professional.
Select the logo you want to place on your videos by clicking on "new file" on the iMovie platform and creating your semi-transparent or noticeable watermark.
Open the iMovie application on your Mac and create a project. Then import the desired video and watermark to add them to the iMovie editing system. You can choose to have a semi-transparent watermark or a fully visible one.
Stretch the logo so that it shares the same duration as the video. Then tap the Video overlay settings and choose Picture in Picture from the drop-down menu. Next, set the logo size and position. Finally, when you feel good about the result, preview and export it.
How to Add Watermark to Video Online?
Sometimes downloading a whole application to add a watermark to one video can be a hassle, so the online watermark tool from Kapwing is impressive. Here are a few easy steps on how to add a watermark to a video online.
Follow the link to the Kapwing video watermark tool website and click on the "Choose a video" button. Then upload the image you would like to use as a watermark, and upload your video the same way. Once both have been uploaded, drag the image over the video icon in the left corner.
Once you have merged the video and image, you can adjust the watermark to suit your video. For example, you can change the size, transparency, and location of the watermark using the editing tools at the top right corner under the "Animation," "Timing," and "edit" tabs.
Once the watermark is the correct dimension, click on the big green export button on the top right corner of your screen. Your video with its watermark will be downloaded automatically.
How to Add a Watermark to Video on Android?
There is an application for anything, including putting watermarks on your content. Now keep reading and learn how to add a watermark to video android using an application.
Download the application InShot in your app store and design a logo with a transparent background.
Once the download is complete, open InShot and import the video you want to add a watermark to. Then you will see an InShot watermark on the lower-right corner. Remove it by tapping on the cross button and selecting Free Remove. Watch the advert to complete the process.
Once you have edited the video to your liking, tap on the PIP option. Then you can browse the Gallery, and choose the logo you would like to use as a watermark. Adjust its size and position, then hit the tick icon. Finally, hit the SAVE button in the top right corner. Now you can find the watermarked video in your Gallery.
How to Add a Watermark to Video on iPhone?
When creating a watermark for a video on your Mac, you use iMovie. iPhone is no different. You can use iMovie on your iPhone, and here is how to add a watermark to a video on your iPhone.
Design or pay a designer to create an image or logo that you would like to use as a watermark. Ensure that the logo is in PNG format so it can be easily added to your video.
Open iMovie, hit the plus Create Project button, and choose the Movie option to import the video file. Then confirm it by hitting the blue Create Movie button at the bottom. Please note that you should move the playhead away from the end to add an overlay.
Then hit the + icon beneath the movie and find the image you want to use as the watermark. Tap it and further choose the three-dot option next to the + icon, and select Picture in Picture. Now, you are directed to the editing page. And the desired logo has been added above the timeline. Make sure to stretch your image until it is the same duration as your video.
Choose the logo in the timeline. Then you can adjust the logo position via the cross icon on the right side of the screen. When all is ready, hit the Done button at the top right corner. Now you can preview the final work. If you are satisfied with the final work, hit the share icon, and save the video to your Camera Roll.
Final Thoughts
Although some of you might feel a watermark is silly, one day, when some of your content goes viral and other people start posting it, you lose all credit for your work.
Adding your watermark to your content protects your work from being exploited by others for various reasons.
Now that you have known how to add watermark to a video, you will never have a problem with accounts or other creators stealing your content.
Put watermark on your videos with AnyErase now!
AnyErase
Remove watermark from videos and pictures magically
FAQ
Where is the best place to put a watermark on a video?
The best place for a logo is in the top right or left corner of the video. It ensures your logo won't be blocked by subtitles when shared on other platforms.
How does video watermarking work?
You can use an application like AnyErase to add a logo or image design to a video. This app processes the footage and brands with the text/image of your choice.
What is video watermarking?
Video watermarking is used to keep people from stealing other creators' content. They place the logo of their company or channel onto their videos, and it's called a watermark.
You May Also Be Interested in These Topics