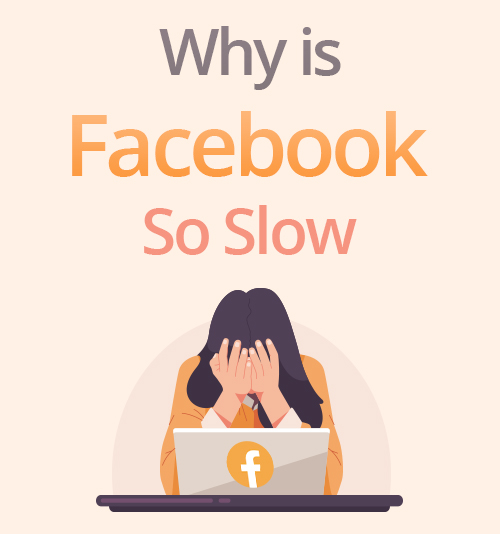 Facebook is a social media website. People used to go to a party or cafe to network and make new social contacts. Nowadays, however, people build social ties mostly on the internet. You may scroll though Facebook content every day and get a lot fun from that.
However, sometimes you may run into the snags such as Facebook keeps stopping, Facebook video not playing, and Facebook running slow, and so on.
There is nothing more frustrating than Facebook loading slow. You have to wait long before viewing anything you are interested in. The user experience is so awful.
Why is Facebook so slow?
Today I am going to help you find out the real culprits of Facebook lagging issue and tell you how to speed up Facebook on your computer and mobile phone.
On top of that, I would like to recommend a fast Facebook downloader for you to get your favorite FB videos for offline viewing.
Now let's move on.
Part 1. Why Is Facebook So Slow?
Many people complain about the slow loading of Facebook, which results from the addition of features. New features are useful for users, but they also lay a burden on the application and server.
In simple terms, the primary problem has been too many JavaScript files/functions on Facebook. Go on to the next point to see why is Facebook so slow on Chrome.
● Server issues
● No cleaning of cache cookies
● Internet issues
● Not using VPN
● Third-party toolbars that are added to the web browser
● Unnecessary browser extension installed
And below could explain why Facebook is so slow on my phone:
● Insufficient storage capacity
● An outdated operating system
● Corrupted files
● Too many apps running in the background
Now that we find out the reason for Facebook sluggish, lets fix it together.
Part 2. Fix Facebook Slow Issue on Mac & PC
It's important to remember how big Facebook is. Sometimes it could just be running slow for the reason that the sheer number of code, some of which is decades old, brings you updates.
Keep reading, I will talk about different methods you can use to solve the Facebook loading slow issue on Chrome or Microsoft Edge. Most of them are easy, and you'll be able to deal with them with little time and effort.
1. Clear cookies:
Cookies are little clusters of data that can be saved on your browser. When you've accumulated too many cookies, it will slow down your browser.
How to clear cookies on browser? Here I will take an example on Chrome.
Click the three-dot icon at the upper right corner of Chrome, and select More tools > Clear browsing data.
On the Advanced tab, choose All time from Time range drop-down menu.
Then tick the data you want to clear and hit the blue Clear data icon.
2. Check internet connection:
Is your internet slow, or is there something wrong with your connection? If there is, fix your connection first by restarting your router. If you still want to use Facebook, try using it on your mobile phone.
3. Disable browser plugins:
Facebook can use too much of your browser's energy, so it's better not to have it dispersed. Try deactivating your ad-blocker or antivirus plugins you have installed on your browser when logging in to Facebook.
How to disable browser plugins?
For Chrome, tap the three-dot icon at the upper right corner, and choose More tools > Extensions. Then you will be taken to then Extensions tab. Now look for skeptical plugin and toggle off it.
Now go back to Facebook website and check if everything is ok.
4. Try a different web browser:
It might be a temporary problem with your web browser, and switching to another one may help you here.
5. Check if Facebook is down:
The website may be on maintenance and be down for a little while. It's advisable to check it by visiting their social media sites or their help center and seeing what they say about their status.
6. Deactivate Facebook Messenger:
The problem could be the messenger application in the browser. Sometimes it can take a severe toll on how your Facebook runs, so deactivating it could help. You can use Messenger Lite versions on your mobile phone.
7. Use your phone:
If all else fails, fear not. It could just be a temporary problem that will disappear after a while. You can turn to Facebook on your mobile phone. The smartphone application seems to work pretty flawlessly and stops you from worrying about Facebook loading slow.
Part 3. Fix Facebook Lagging Issue on My Phone
No matter you are using an Android or iPhone device, below are the steps to help you get rid of the Facebook slow issue.
1. Reboot your phone
This solution also calls a soft reset, which requires to turning your phone off and back on again. It is not magic but effective. Your phone's RAM will fill up abundant pieces of software code as time pass by. And these bits of computer code get scatted about in different area. When you reboot, everything in your RAM gets cleared out.
How to reboot your phone based on the model?
For Android users, tap and hold the power button and choose restart from the menu. Wait for a few seconds, the phone will reboot again.
For users with iPhone X and newer, long-press the side button and either volume button till the slider appears. Then swipe the slider to shut down your phone. Next, tap and hold the side button to reboot the phone.
If you are using iPhone 8 or older, long-press the power button to turn off and turn on your phone.
Now you can check if your Facebook loading normally.
2. Clear cache on Android phone
You probably visit Facebook app frequently, which means there are probably a ton of cache that need to clear out. Clearing cookies and cached files to see if it improves your Facebook loading speed.
How to clear Facebook cache?
Go to Settings > App & Notifications > Facebook > Storage & cache > CLEAR STORAGE.
3. Update operating system
When new version of operating system rolls out, they are always accompanied by additional features, improved usability and enhanced user experience. If you don't keep your operating system up to date, you may experience crashing, freezing and poor performance on your phone.
How to update operating system on mobile phone?
On Android device, navigate to Settings > System > System updates to check it. If update is available, go to update it in your available time.
For iPhone and iPad users, go to Settings > General > Software Update. Again, update it if available.
Part 4. Download from Facebook for Offline Viewing
To improve your experience in watching Facebook videos, it is better to download your favorite Facebook videos for offline viewing. Luckily, you can get Facebook video downloaded with AmoyShare Facebook Video Downloader
AmoyShare Facebook Video Downloader is the most capable tool among its peers. It enables you to download Facebook video to Android, iPhone, PC, and Mac without sign-in.
No ads! Saved to external storage! Optional video resolution!
Let's get started to download Facebook videos on Android with the following steps:
On the right top of the post, you can find the dot-dot-dot icon, click it, and then choose "Copy link."
Head over to AmoyShare Facebook Video Downloader on your phone, and paste the link into the text field and hit the Download button.
Here you've downloaded the Facebook video! Try this excellent tool now!
Tips: For iPhone users, you need to rely on a file manager such as Documents by Readdle to save a video from Facebook on your phone.
Conclusion
In today's world, everyone loves using social media, and Facebook is probably the most famous. The slow loading of Facebook can sometimes be disappointing and depressing.
After reading this post, I hope you have known why is Facebook so slow and how to fix it on your computer and mobile phone.
Frequently Asked Questions
Why is Facebook so slow?
Facebook loading slow can be caused by a wonky internet connection, corrupted files, conflicted third-party toolbars, server issue, etc. You need to dig out the true reason and fix it once for all.
How do I fix Facebook running slow?
To fix the issue of Facebook loading slow, go to check your internet first. Then you can clear cookies or disable the browser plugin and check if Facebook functions well. If not, please try another browser or check if the Facebook server is down.
You May Also Be Interested in These Topics