anyvid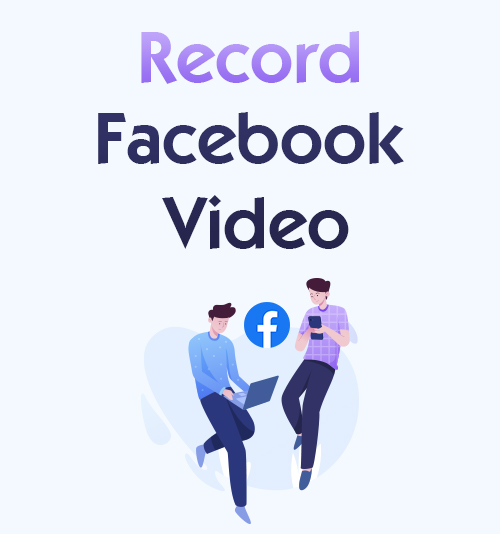 As the social media empire, Facebook has an abundant and comprehensive set of social features for its users. For example, Facebook launched the instant chat app Messenger in 2011 and now has more than 1.2 billion active users.
You can send a multi-media message via Messenger: Text, photos, GIFs, videos, voice messages. Users can also make voice or video calls now. During 2020, the message traffic via Messenger increased by 50% due to the global COVID-19 quarantine. The group video calls, which become the new way of online meetings, increased by 1,000% especially.
You can make a Facebook video call on various platforms, including Windows, Mac, iOS, and Android. Through this article, I'll introduce the methods of how to record Facebook video call on different platforms.
Part 1. How to Record Facebook Video Calls On Computer?
Do you know both Windows and Mac have built-in screen recorder? Although the built-in screen recorder may not have as many features as the third-party screen recorder, it's enough for the basic screen recording.
Let's see how to record Facebook video calls on the computer!
Windows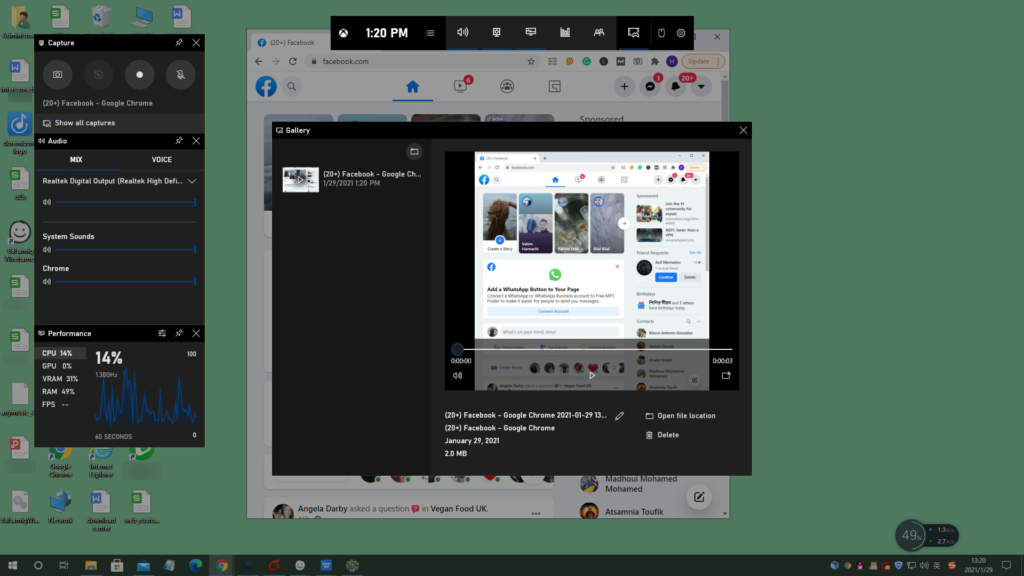 For Windows users, you can start the screen recording by pressing Win + G on your keyboard. This is the keyboard shortcut to run the XBOX Game bar, which is originally used for recording screens during gaming.
In the XBOX Game bar, you will be able to record the activities that happen in your browser. So, pick up your video call on the web, and then click the dot icon to start recording. You can stop the recording by clicking the square button. Press Win + G again, and you can see the recorded video. There are several options for you: you can view the recorded video in the default folder, rename it, or delete it. Generally, the screen record video will be saved as an MP4 file.
Mac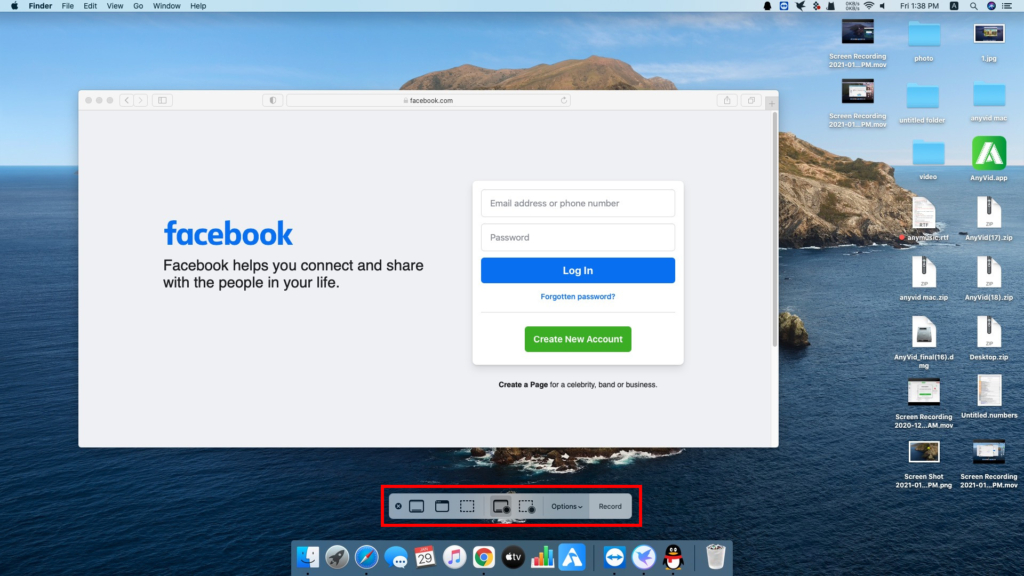 Mac OS also has a built-in screen recorder that could be enabled by pressing Shift + Command + 5. You will see the Screenshot toolbar appears. You can choose to record the full screen or a selected area of the screen. When you are on a Facebook video call, click Record to start recording. To stop it, you need to click the square stop button, or press Command + Control + Esc. By clicking the screen record's thumbnail, you will be able to trim, save, share, or delete it.
Another way to record Facebook video call is using QuickTime player to do so. Open QuickTime player from your Launchpad, and then select File > New Screen Recording in the menu. QuickTime Player can also record your voice during the Facebook video call as long as you choose a microphone.
After you stop the recording, the QuickTime player will automatically save the recorded video to your local folder. You can play, edit, share or delete it.
Part 2. How to Record Facebook Video Calls On Android?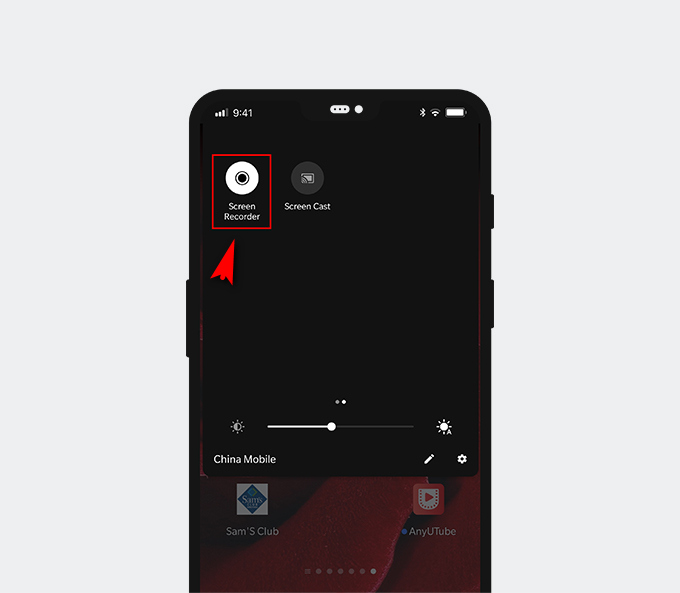 You can use the built-in screen recording function of an Android cellphone. When you receive the Facebook video call, you can start the screen recording by swiping down from the top edge of your phone. If you wish to record your voice during the Facebook video call, you also need to turn on the microphone.
Tap the Stop button to end the recording. The video will automatically go to your Files folder. You can play it or edit it via other apps.
Part 3. How to Record Facebook Video Calls On iPhone?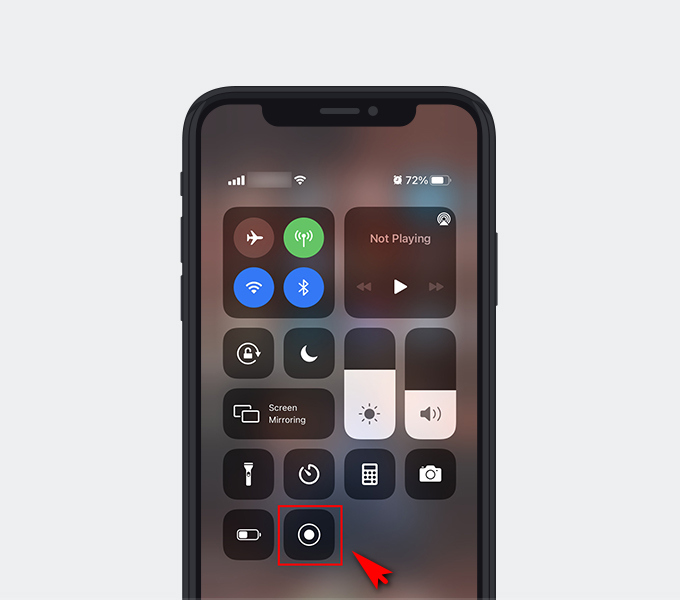 The screen record button is hidden in the Settings > Control Center > More Controls. Tap the circle button to start regular screen recording in 3 seconds. If you deeply press the button, you will see more options of screen recording: turn on/off the microphone, or the apps available to record the screen. To stop the recording, you can simply tap the red status bar at the top of the screen and choose Stop.
The recorded video will be saved to your Photos automatically with a notification banner.
You can trim it directly in Photos or export the video to other editing or sharing apps.
Part 4. Bonus: How to Download Facebook Video?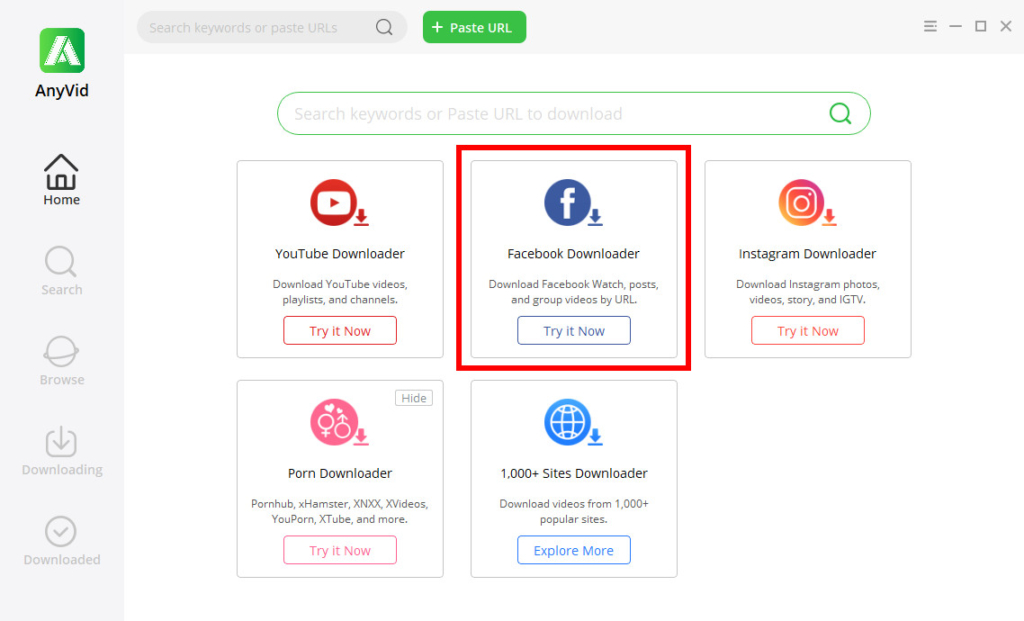 Besides video calls, you can also find plenty of other types of videos on Facebook. Generally, users can post videos on their timeline, or share videos with friends via Messenger, or start a Live to interact with others. All these videos could be downloaded using a powerful video downloader – AnyVid.
AnyVid supports video downloads from 1,000+ sites including Facebook. As long as you have the exact Facebook video link, whether it's from a post, a Messenger link, or a Facebook live video, you can download it within a few easy steps. By pasting the link into AnyVid's search box, you will see all the available download options of this video on AnyVid's result page. Select the one you like, and then click Download. The Facebook video will be automatically saved to your device.
AnyVid currently has Windows, Mac, and Android versions. Try it free!
Conclusion
I believe you already know how to record Facebook video calls and how to download Facebook live videos after reading this post. Whether you are a Windows, Mac, Android, or iOS user, you should find a good answer above.
AnyVid
Download any video from 1,000+ websites
for Windows 10/8/7
for Mac OS X 14+
for Android
Most operating systems have their own built-in screen recorder that could satisfy the basic screen recording needs. But in order to get a more complete Facebook video, I'd rather download it than record it. AnyVid is the best assistant for me to download Facebook videos. I think it's worth your try!
Frequently Asked Questions
How to download Facebook videos?
Using AnyVid is the best way to download a Facebook video. Copy the video link from your Facebook feed, the Messenger message, or the Facebook live, and then paste it into AnyVid's search box. Select the video quality you like to download. After the progress bar hits 100%, you will see the video saved into your local folder.
Can you record Facebook live?
Yes. You can use the built-in screen recorder of your device to do so. If you don't want to record your voice, make sure that you close the microphone. You can also download the Facebook live video by copying and pasting its link into AnyVid.