anyvid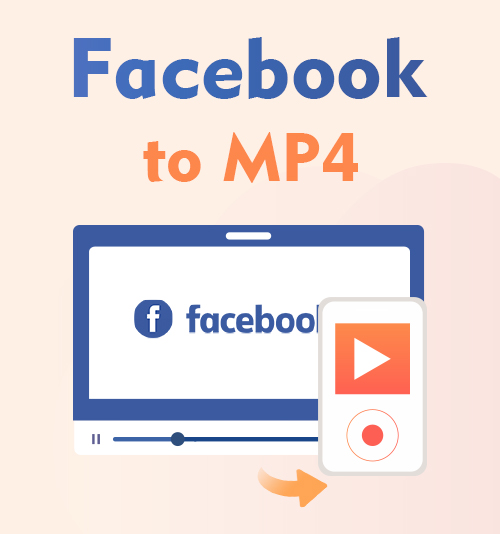 Facebook has become a vital part of our daily life. Most of us hop onto Facebook and go through the feed everyday.
With Facebook feed, you come across impressive videos such as trailers, clips, funny videos, and many how-to tutorials, etc. Some of the contents can be of great use.
If you want to own these videos, we will advise you to download these Facebook to MP4. MP4 format is small in size but high in audio and video quality.
Although Facebook doesn't permit you to download the video directly, there is still a versatile downloader that could help you reach it.
Now let us take a glance at what it is and how it works!
Part 1. How to Convert Facebook Video to MP4?
If you want to download Facebook videos, download them in MP4 format!
MP4 files can be played on the majority of well-known media players. Besides, video streaming platforms often encourage users to upload files in MP4 format because it is capable of produce videos with high quality.
To convert Facebook to MP4, AnyVid could do you a favor.
AnyVid is a versatile Facebook video converter. It can convert videos to MP4 or MP3 with different quality, ranging from 128k to 1080p. Plus, AnyVid allows downloading Facebook videos in batch. The download speed can be boosted by up to 300%. Also, AnyVid is clean and safe. It won't collect your data. Neither will it hide malicious software.
You can install it on your Windows, Mac, or Android.
AnyVid
Download any video from 1,000+ websites
How to convert Facebook video to MP4? Below I will walk you through the process.
Copy the Facebook video URL. Find the Facebook video you want to download, expand the video by double click or click the two diagonal arrows. Then you can get the URL in the address box.
Search for the Facebook video with the copied URL. Launch AnyVid and paste the copied URL into the search field to detect the video you want to download.
Convert Facebook video to MP4. Once the result shows up, click MP4 to convert the Facebook video directly. Or you can click the More button to get more qualities in MP4.
AnyVid supports numerous video streaming sites such as YouTube, Facebook, Twitter, etc. The download process is pretty straightforward and requires no significant efforts.
Have a try!
Part 2. Free Online Facebook Video Converter to MP4
If there are only a small amount of short Facebook videos need to download, you may be reluctant to install extra software. In such a case, Facebook Video Downloader would help you.
Facebook Video downloader also works as a free online Facebook video converter (to MP4). It enables you to convert Facebook videos to MP4 with a click. This website doesn't contain pop-up ads. Neither does it read or change or your browsing history.
The download procedure is as below:
Copy Facebook video URL. Find the FB video you want to download and enlarge the video by click twice, and then you will get the URL in the top address bar.
Select an MP4 format for download. Visit Facebook Video Downloader, and paste the URL into the search field. Once the downloader detects the video, you can click the Download button to select an MP4 format.
Download the Facebook MP4 file. When you decide the output, you will be directed to a new tab. Now you can click the three-dot icon in the bottom right corner of the screen and tap the "Download" button.
Now the Facebook has downloaded, enjoy yourself!
Conclusion
AnyVid is an excellent Facebook MP4 downloader. It helps download Facebook to MP4 with various qualities. The download speed is up to 300%. Plus, it works well on Windows, Mac, and Android.
Have a try right now!
AnyVid
Download any video from 1,000+ websites
If you want to download Facebook video MP4 online, go to Facebook Video Downloader and grab the video directly.