anyvid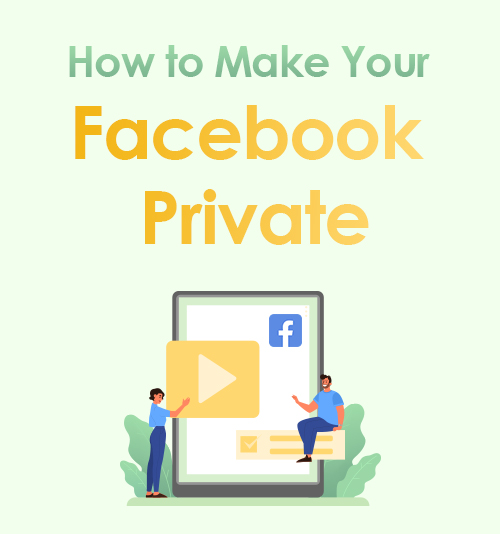 Facebook, as one of the most popular social networking sites, has more than 1.6 billion daily active users. On Facebook, you will make friends of all kinds: your middle school classmates, your friend's friend, even the person that used to live in the same neighborhood. This powerful social network is based on a vast amount of data from users. Facebook has a long personal information list for you to fill out, including your hometown, education experience, working experience, and so on.
It's risky to expose too much personal information on the Internet. Facebook indeed offers privacy settings to protect your personal information from the public. However, not too many people know how to set Facebook to private.
In this article, I will focus on how to make your Facebook private. It's easier than you thought!
Part 1. How to Make Your Facebook Profile Private?
Generally, we can limit access to our personal information by Facebook's privacy settings. You can find the entry to privacy settings on your Facebook home page. Because there are so many items that you can make changes to, Facebook offers a privacy check at the beginning of the settings. You can run the privacy check to simply find which part is the most important one to you.
On Computer
You will find the Settings & Privacy in the menu by clicking the small triangle on the top right corner.
Click Privacy Checkup.
You will see the page displays 5 different topics. You can select the one you want to begin with. For example, let's click on the Who Can See What You Share.
You will see the list of settings you can adjust in this part. Click Continue to start.
You can set the access range of your personal information. Either Public, Friends, Friends of friends, Only me, or Custom that you can include or exclude friends and lists.
You can move forwards or backwards between different tabs. After you feel happy with your settings, click Review Another Topic.
After you finish all the settings in these 5 topics, your account is under basic privacy protection. If you still feel not secure enough, you can find more privacy settings on Facebook in Settings.
On Mobile Phone
The way to make Facebook account private on the mobile app is almost the same on the web version.
Open the Facebook app on your phone, and log in to your account.
Tap the menu icon which has three short lines. Tap Privacy shortcuts.
You will see 5 tabs that will direct you to control your privacy and security on Facebook. Under the Privacy tab, start with any topic you think is the most important.
Run through all 5 tabs and make sure you are satisfied with these settings.
Part 2. How to Make Your Facebook Page Private?
In the Privacy Settings, you can make your future posts only available to your friends. For the past posts, Facebook allows you to limit all of them in one go. After you limit the past posts, only your friends can see them. However, the one who was tagged in the post, and their friends can also see the post. You can see your friends' private photos and videos even if they make the post private. With the help of AnyVid, you can download private Facebook videos.
The best part of the Privacy Settings is that it allows you to make a batch of past posts private. If you want your past posts more private, you might need to limit a specific post's audience.
Part 3. How to Make Photos Private on Facebook?
Go to your profile page. Click the Photos tab.
Choose Albums. Please notice that you cannot change the audience of the Mobile Uploads album, Profile Photos album, and Cover Photos album. They are always public. But you can limit the audience for each photo in the album.
Click the top right corner of an album, then choose Edit Album.
You can change who can view the album in this way. If you want to make the album private, just switch the audience to Only Me.
Conclusion
After you read this post, I bet you've already known how to make your Facebook private. Facebook provides user with privacy guarantees. You can limit access to your personal information by scanning the 5 topics. Of course, Facebook still has more detailed privacy settings. It's possible to hide all the activities on your Timeline, but it just takes time.
Frequently Asked Questions
How to make Facebook completely private to non-friends?
Run the Privacy Checkup to limit your audience as Friends. For further settings, you can go to Settings>Your Activity to make your future and past posts could be only seen by Friends.For the photos, you can make albums only open to Friends. But for Mobile Uploads, Profile Photos, and Cover Photos, you need to change the view range each one at a time.
How to make your friends list private on Facebook?
1. Go to your Facebook profile page, and click the Friends tab.2. Click the ellipsis icon to Edit Privacy.3. Select the audience that could view your Friend List.