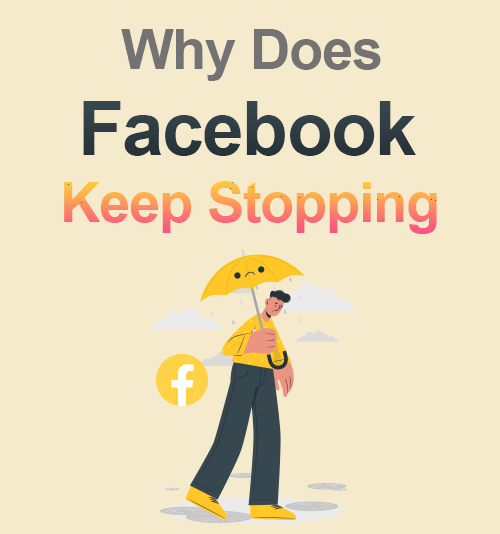 You are just about to check your Facebook friend's wedding photos, but only to find that Facebook keeps stopping.
Well, take it easy. I got the solution for you.
Many users have been having issues with Facebook app crashing on their phones recently , as well as Facebook loading slow, Facebook videos won't play, etc.
While you may be thinking it's a sign you should take a breather from social media anyway, we thought we'd let you know why does Facebook keep stopping and how to fix it.
Besides that, we will also help you copy videos from Facebook so that you can watch them whenever and wherever you go.
Let's fix it now!
Part 1. Why Does Facebook Keeps Stopping on My Phone?
Facebook app crashing is caused by various factors.
One of the main reasons could be that you have not updated the app for a while. An outdated app may cause issues when you are logging in or using the app.
Another major reason is that the smartphone device you are using is too hot. If the phone gets too hot, it can experience issues such as battery drain, forced shutdown.
Apart from that, other issues such as corrupted files, the Facebook server down, and conflicted apps, etc., will lead to Facebook crashing more than other apps.
Part 2. How to Fix the Error of Facebook Keeps Crashing on Android?
An individual can try the following methods to prevent Facebook app from crashing. These methods could help you solve the problem in a few minutes.
1. Clear cache and data
Android apps cache comprises stores of small bits of information to speed up performance. However, the cached files will become corrupted or overloaded and cause performance issue such as Facebook loading slow, Facebook video not playing or Facebook keeps crashing. Hence it is advisable for you to clear the cache from the Facebook app, which will help you explore social media platforms effectively.
How to clear Facebook cache and data, the steps will help you.
Go to phone Settings and tap Apps or Apps & notifications.
Navigate to Facebook app and tap it.
Tap the Storage & cache option and further press CLEAR CACHE option.
After clearing the cache and data, go back to your Facebook app and see if the error has been removed.
2. Check for update
You might experience various problems with an outdated version of the Facebook app. Hence, it is necessary to check the updates. Facebook keeps fixing the past glitches from the app and offers new features for users. With the latest version of Facebook, you can not only get rid of the errors but also enjoy the new features of the software.
Open the Play Store app on your Android phone.
Click your avatar and select My apps & games.
Tap the Update icon next to Facebook.
Now check if you have fixed the Facebook app keeps stopping error.
3. Delete and reinstall
If you have tried clearing storage and updating the app to its latest version and Facebook keeps crashing, try uninstalling or deleting it from your mobile phone. It is a quick way and many users have proven it. Make sure you have a good internet connection when downloading the Facebook app.
Go to Settings > Apps and notifications > Facebook and tap it.
Tap the UNINSTALL option to remove the app.
Head over to Play Store and search for Facebook. Then install it to your phone as usual.
Run the new Facebook app and login, then find out if it works well.
4. Restart your device
Yeah, but have your tried it? Rebooting your phone will solve a lot of errors and only takes a few seconds. Sometimes Facebook crashes when the phone gets hot or is overwhelmed with too many apps running at the same time. Restarting will make your phone reboot and function well.
Long-press the power button and tap Restart from the options to reboot your phone. Then check if the Facebook app functions well.
Part 3. How to Fix the Error of Facebook Keeps Stopping on iPhone?
In this part, I will focus on how to fix Facebook app keeps stopping on iPhone. If you want to dig out the causes, you can view the crash logs via iPhone Settings > Privacy > Analytics > Analytics Data.
By the way, these solutions are also workable if Facebook app keeps stopping on iPad. Please keep reading.
1. Reboot Your iPhone
Reboot your iPhone can fix small glitches. All the programs shut down naturally and give them a refresh start when you restart your iPhone.
If you are using an iPhone X or newer, press and hold either volume button and the side button until the "slide to power off" text appears. Drag the slider to shut down your iPhone. Then press and hold the side button until the Apple logo appears to reboot the phone.
If you are using an iPhone 8 or older, hold the power button to turn off your iPhone. Again, press and hold the power button to turn on it.
Now go to check if the error of Facebook keeps stopping is resolved.
2. Update iPhone's software
A common reason why Facebook keeps crashing is that the iPhone's software is outdated. Here we are not talking about the Facebook app itself, but the operating system.
How to check your iPhone's software is up-to-date? Go to Settings > General > Software Update. If the update is available, install it. Generally, iOS updates come with awesome features and bug fixes. It is always a good idea to update iPhone software.
Once you have updated the software, go to check if the problem of Facebook keeps closing on iPhone persists.
3. Update the Facebook app
If your iPhone software has been upgraded, now make sure the Facebook app is up-to-date.
Launch the App Store and tap your Account icon in the upper right corner.
Scroll down to the list of apps with updates available.
When you see Update icon next to Facebook, tap it to download and install the latest Facebook app.
Once the update finishes, go to check if the problem of Facebook app keeps closing is fixed.
4. Delete the Facebook app and reinstall
If the Facebook app keeps crashing after above efforts, it's time to delete it from your iPhone and download a fresh one from the App Store.
Touch and hold the Facebook app. Then tap Remove app > Delete app > Delete to uninstall Facebook on your iPhone.
Go to the App Store, search for Facebook and tap the cloud icon to download it again.
Now you need to log in to your Facebook account and see if everything is ok.
Part 4. Backup Facebook Content – Download Facebook Videos
It is inevitable that Facebook will stop working sometimes. However, if it keeps happening all the time, it may badly influence your viewing experience, and you can't access your favorite videos on Facebook.
Why not downloading Facebook videos for offline viewing?
AmoyShare Facebook Video Downloader could be the best choice to download Facebook videos. It just takes a few steps. Let's see how to use it on an Android phone!
Open Facebook, and find the video you need to download. Click the ellipsis on the right bottom of each video and choose "Copy link."
Paste the link to FB downloader's search bar and choose a preferred quality option to download the Facebook video.
Very cool! Download video from Facebook, done!
Quick tip: To download Facebook videos on iPhone, a file manager such as Documents by Readdle is required to bypass the iPhone restriction. Click here to get more about how to download Facebook videos on your phone.
Conclusion
After reading, you've known why does Facebook keep stopping and got the solutions to fix it. The important is to keep your Facebook app up-to-date and clear corrupted files regularly.
Frequently Asked Questions
Why does Facebook keep shutting down?
Many factors will lead to Facebook keeps shutting down. For example, outdated version of Facebook app, corrupted files, too many apps run in the background, insufficient storage space, etc.
How to fix the error of Facebook keeps stopping?
You need to clear cache and corrupted files, update or reinstall your Facebook app, reboot your Android or iPhone device to get rid of the snags of Facebook keeps stopping.
You May Also Be Interested in These Topics