anyvid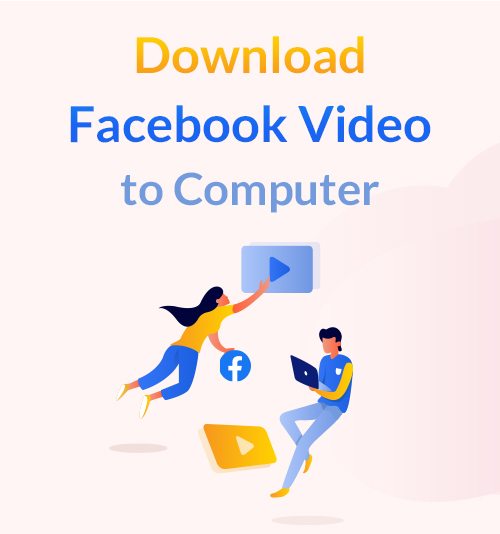 Are you a Facebook lover?
As one of the most popular social media platforms in the world, Facebook is the preferred choice for those sociable and charismatic people. You are out if you are not in the circle!
As a big fan of Facebook, I like to watch my friends' video posts, stay tuned to their daily updates, and interact with them.
Then there comes a question. What if you want to download Facebook videos to your computer? Because you may always want to save the best and interesting memories.
How to download video from Facebook to computer? Fear not! I am going to make it clear in this post. It involves a safe and practical downloader – AnyVid, and an online tool – AmoyShare Facebook Video Downloader.
Let's dive in!
Why Downloading FB Videos to a Computer?
Keep an eye on your friends' updates.
After registration, you could create a Facebook profile of your own and share moments on the platform. Other users who have agreed to be your "friends" could see the information you post. Vice versa, you could also see the moments of your "friends." Seriously, isn't it a nice thing to save some funny, precious memories or whatever videos you like to your computer?
Many loved videos in the Facebook Group.
There are various kinds of groups about different but specific topics on Facebook. You can explore the world with people who like to share. Perhaps you could also have insights into your specialized area with many people who have a common goal.
Take the music videos group as an example.
Find "Groups" on the right side of the home interface, and click it.
Type "music videos" in the search bar above.
After the related search results showed up, you can use the filter function to select the groups you want, and then send a request.
How to Download Video from Facebook to Computer Free?
Method 1. Download FB Video to a Computer with Software
Facebook has provided you with a quick way to save Facebook videos. Find the three small black dots at the top right corner of the video, and you could save the video to your saved items on Facebook.
However, you need to access to the internet whenever you want to watch the video. And, what if the post person has deleted the video?
Here comes a safe and practical way to save Facebook videos as your local files with AnyVid.
AnyVid could be your best choice! The friendly and well-designed Facebook video downloader supports downloading videos on Android, Mac, Windows systems.
AnyVid
Download any video from 1,000+ websites
for Windows 10/8/7
for Mac OS X 14+
for Android
How to download video from Facebook to computer? Let's explore.
Search for a video on Facebook.
Click and preview the video to see its URL, then copy it.
Open AnyVid, paste the Facebook video URL to AnyVid, and download it.
Quick tip: AnyVid supports downloading HD videos, ranging from 720p to 1080p and higher! It depends on the original video resolution of the Facebook video.
Method 2. Download FB Video to Computer Online
If you like to use Facebook on the computer, AmoyShare Facebook Video Downloader online could be the best tool. It saves you the hassle of downloading the app. You can save videos from Facebook in just a few steps.
Search for a video on Facebook.
Click and preview the video to get its URL.
Paste the Facebook video URL to AmoyShare Facebook Video Downloader.
Hit the blue Download button. Facebook video downloaded!
Wrapping up
I have finished the guide on how to download video from Facebook to computer. I hope you can download Facebook videos successfully with the video downloaders I recommend.
Try them today to collect your precious memory!
For software, try AnyVid.
For the online tool, try AmoyShare Facebook Video Finder.