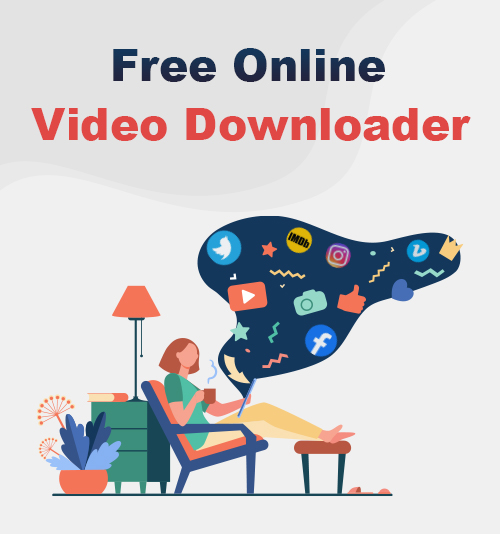 Watching videos currently stands as the happiest pastime for many people.
On the other hand, you must admit that compared with text, video can arouse the audience's resonance better and foster communication more smoothly.
That's the magic of video!
Sometimes, you may encounter a slow internet connection, which could cause unwanted buffering and frustrate the pleasant video watching experience you were hoping for.
You're probably thinking that downloading the videos you like to watch would get rid of all these problems, which is true!
In this article, I would like to introduce you to the free online video downloader. It will help you download your favorite videos on Android, iPhone, Mac & Windows 10.
Part 1. Free Online Video Downloader for Mac and Windows
No software is needed for downloading videos from almost any video hosting website.
Don't trust it?
I dealt with the problem of how to download videos online successfully with AmoyShare Free Video Finder. Thisis the best free video downloader online that enables you to download videos completely free of viruses, plugins, and adware.
With the steps below, I will show you how to download videos to the computer by using AmoyShare Free Video Finder. It works the same for Mac or Windows system.
Time to search for the desired video. Simply enter into the search field any keyword about the video you are looking for (e.g., video name, cast, and director) or directly paste the video URL.
First, preview the video.View through the video you want to download to ensure it's the one you want.
Pick the video you want by clicking on the Download Button.
Then a window will pop up for you to select the downloading formats. Directly select "360p–MP4" to download the video. Then you can find the downloads in a folder of your computer.

Easy right?
AmoyShare Free Video Finder allows you to download and save an unlimited amount of free videos to MP3 or MP4 format files.
You can now have as many downloaded videos at your fingertips minus the buffering, lousy internet connection, and ads!
Have a try!
Part 2. Free Online Video Downloader for iPhone
This part is all about the specific guide on downloading videos on iPhone with Documents by Readdle and AmoyShare Free Video Finder.
They are the two tools I tried and highly recommend because they are super practical and useful.
Each is necessary to make the download possible.
Documents by Readdle is a free, secure iOS file manager which features a built-in browser and downloader. You can download it in the App Store.
AmoyShare Free Video Finder is a web-based, free service for you to download videos.
It's time to figure out the usage of the two tools.
Open the built-in web browser. Find the browser button that looks like a compass at the lower right corner of the interface.
Find the video. There are 2 ways to find videos – keywords or URLs. Let me show you the keywords way. Firstly, tap the browser icon and type AmoyShare Free Video Finder in the address bar.Secondly, type some words about the video in the search field. All the results displayed are relevant to the words you entered. Quick tip: If you want to aim your desired video accurately, I suggest you search it with URL.
Download the video on iPhone. Tap the Download button, and you will find several audio and video quality options. Select a video quality option and tap the Download button on the right side.Then, a pop-up window will let you rename the file. The saved location is Downloads by default, and you can change it to iTunes Files.
Now that the video has been saved on your iPhone, you can find the Downloads in Documents and enjoy it.
Part 3. Free Online Video Downloader for Android
If you've used any free online video downloader before, you know how they work.
In most cases, you need to visit video hosting sites – search for a video you want to save, copy the video link, and paste it to the search bar of a video download site.
It sounds very complicated, right?
Here comes a magic tool I'm gonna show you today – AmoyShare Free Video Finder. You can search for almost any video here, but please bear in mind that the search results come from YouTube in default.
AmoyShare Free Video Finder is compatible with most web browsers, so Android users are free to use any browser to download videos.
Let's see how to make it happen.
VisitAmoyShare Free Video Finder on your Android phone.
Enter into the search field either the keyword relating to your desired video or paste the video URL directly.
Selectthe desired YouTube video and then download it.
You might be looking to download a video with a slightly higher quality resolution.
Well, I've also got you covered there.
You can now download a free version of the AnyVid app, which enables you to download videos for free with high resolution. Download it to see more features.
AnyVid
Download any video from 1,000+ websites
for Windows 10/8/7
for Mac OS X 14+
for Android
Wrapping up
Do you agree with me that AmoyShare Free Video Finder is the best free online video downloader?
I hope that by now, you've tried and tested the solutions provided above by downloading at least one video using AmoyShare Free Video Finder.
Now that I've covered the free online video downloader, I'd love to hear your experience and would appreciate your positive suggestions in the comments below.
You May Also Be Interested in These Topics