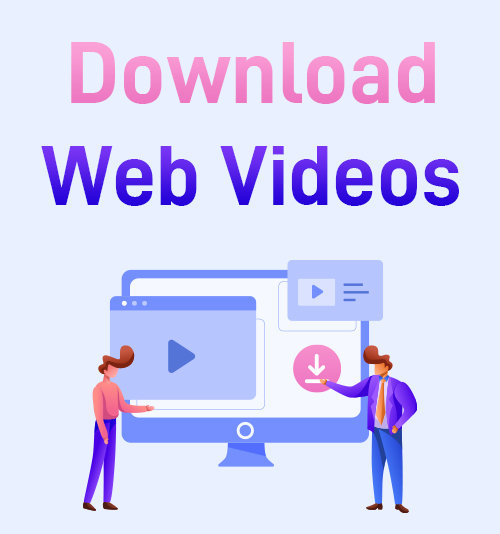 Downloading web videos is not difficult if you see a download button. Unfortunately, most video hosting sites obviously don't allow downloads, usually to protect copyrights or because there's not a large demand to download videos from web. However, there are tools you could rely on to download videos from web even when there isn't a download button.
Maybe you want to save a video you found on an entertainment site or save a YouTube video to your PC? If you're watching a free movie online and you want to download it to watch later on an airplane, you'll want to download the video.
Regardless of your reason in doing so, downloading web videos is usually possible.
Here I handpick the top 6 video downloaders for your choices. You can have a glance at the table firstly.
Follow this guide, and I will show you.
Download Web Videos with AnyVid
AnyVid is an easy-to-use video downloader. With a smart search engine, it lets you save videos by keywords or pasting a video link. It works on Windows, Mac, and Android. Videos from streaming websites are available to be downloaded in HD quality.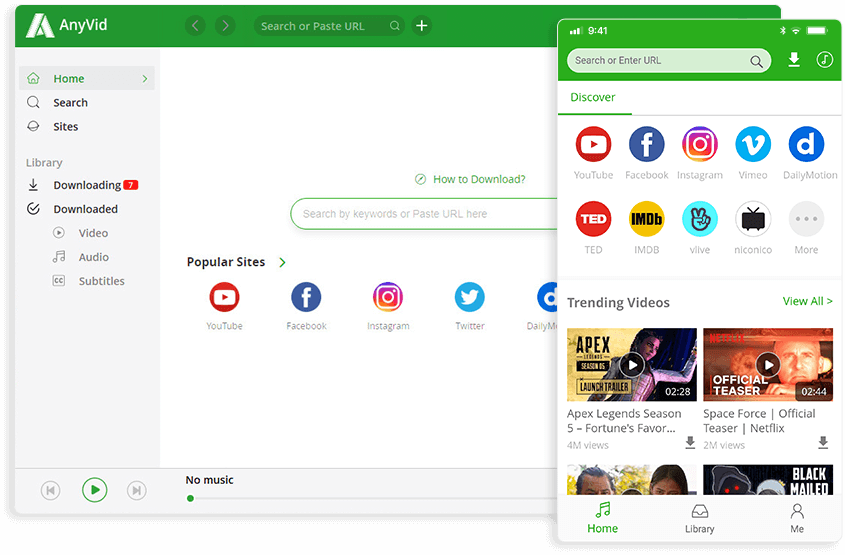 Download AnyVid App now! First-in-first-service!
AnyVid
Download any video from 1,000+ websites
Key Features:
● HD Video downloader
● Compatible with Windows, Mac, and Android.
● Support batch download.
● Support local file conversion.
Cons:
● It takes time to parse the file.
● It doesn't work on the iPhone.
How does it work?
Type in the video URL on the search bar. Or you can search by keywords.
Hit on the More button to see more download options, and choose one to download.
SnapDownloader is one of the great video downloaders for Windows and macOS that allow you to download videos of high quality with ease. It supports over 900 sites and can download videos at a fast speed. With SnapDownloader, you can save videos in 8K, 4K, 1080p HD, 720p, and more and convert them to MP4 or MP3 without any hassle.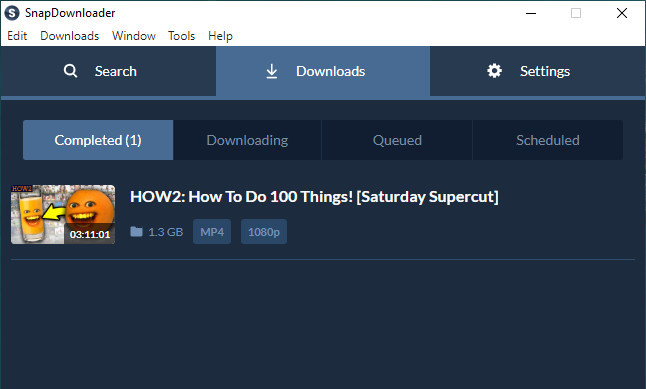 Key Features:
● Support 900+ sites.
● Download channels, YouTube playlists, 3D, and VR videos.
● Set up a proxy within the app to save from websites or videos blocked in your region.
● Save multiple videos quickly from different websites.
Cons:
● It works on Windows and macOS only, with no support for mobile platforms yet.
● It takes a long time to parse files.
4K Video Downloader is an intuitive video download tool, and it is quite easy to download videos. You can directly copy any YouTube video, channel link, or playlist and click on Paste Link to download. Also, it allows getting the latest videos from YouTube channels by subscribing to YouTube. It works on Windows, Mac, and Linux.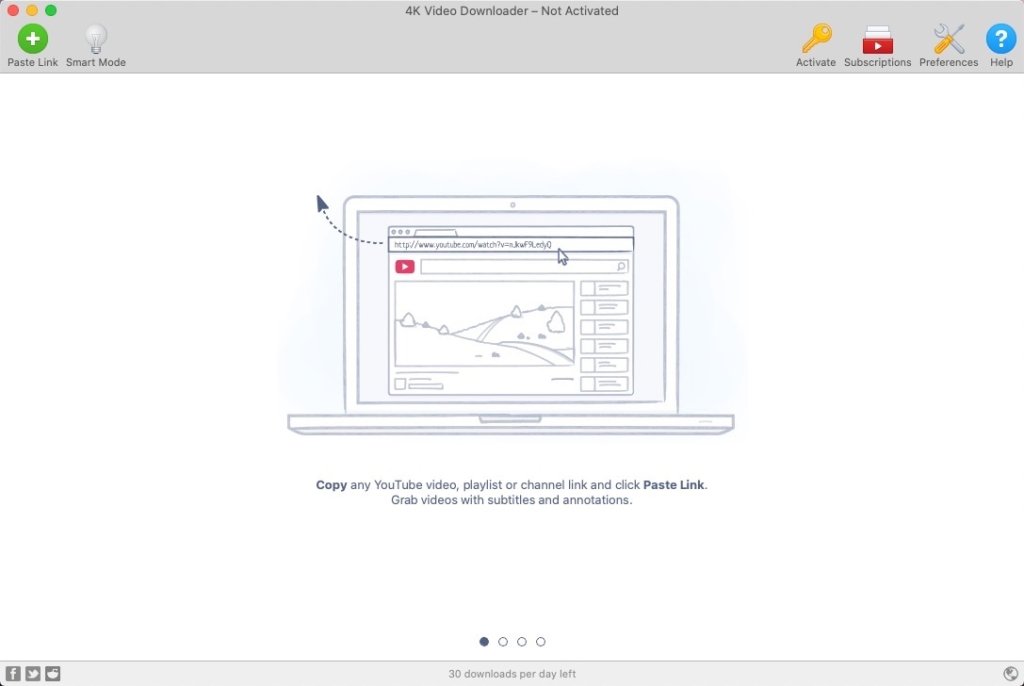 Key Features:
● Support YouTube Playlists and Channels download.
● Download in high quality.
● Private YouTube content download.
● Support downloading annotations and subtitles with YouTube videos. For this, it supports 50 languages.
Cons:
● 4K Video Downloader doesn't work on Android and iOS platforms.
● Advertisements in free version
Download Web Videos with iTubeGo
iTubeGo focuses on audio, video download, and conversion solutions. You can download videos and music from the Internet through iTubeGo media downloaders, instantly have unlimited movies or music library. The site supports saving videos from YouTube, Netflix, Facebook, Instagram, and Dailymotion, Vimeo, BBC, and many other platforms.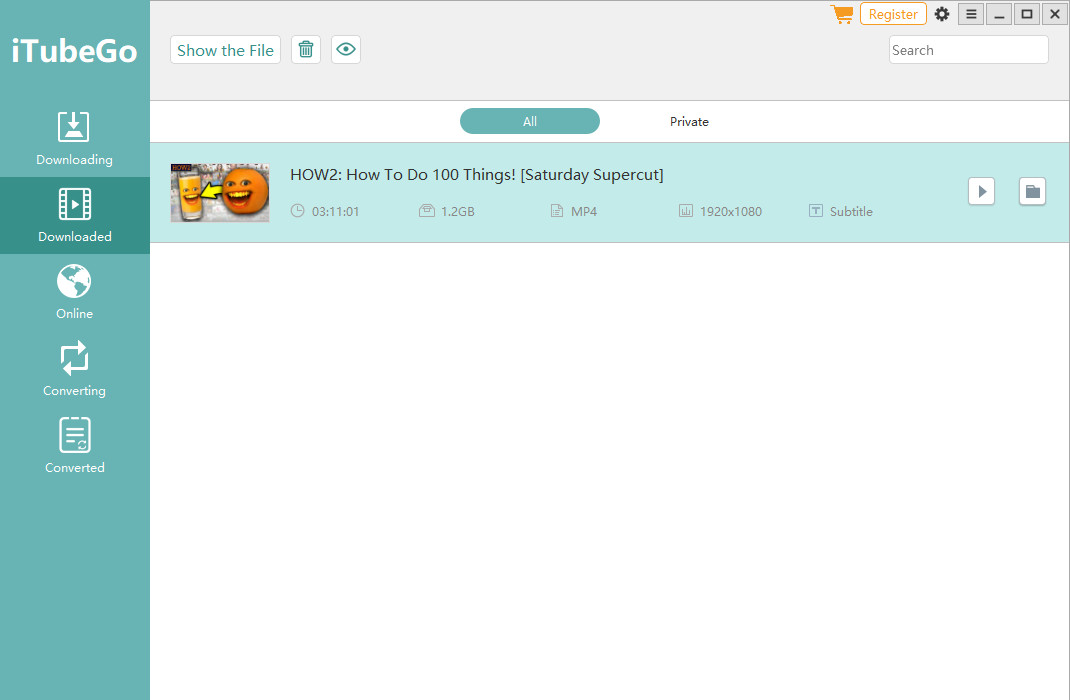 Key Features:
● Download YouTube videos, audio, playlists, and channels in one click.
● Convert YouTube to MP4, MP3, MOV, AVI, M4A, and more.
● Download videos with a built-in browser.
Cons:
● The premium version is a bit expensive.
● It is not compatible with iPhones.
AmoyShare Free Video Finder is one of the best video downloaders online to download any videos from web. It supports saving videos by keyword searches or video URLs. It is also a free video downloader, allowing downloading videos, video playlists, and YouTube MP4 without charge.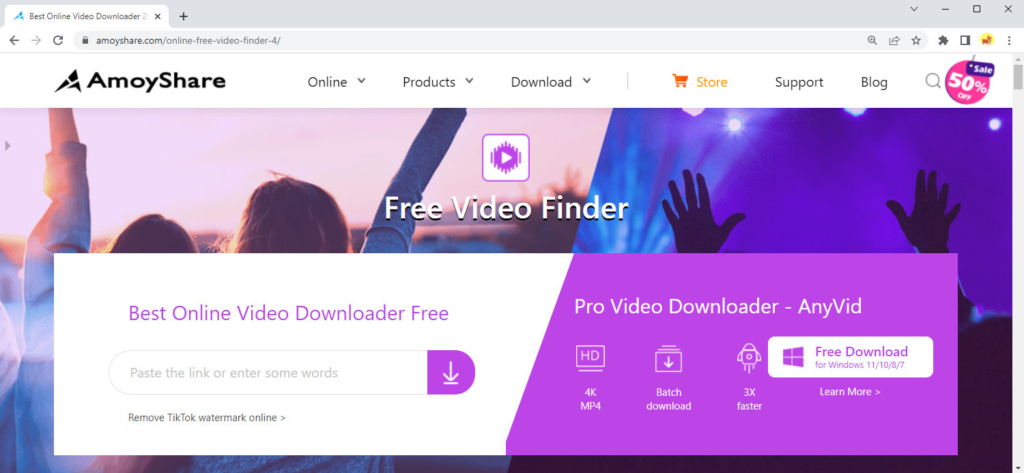 Key Features:
● Free web video downloader
● 4K Video Downloader
● Support 250+ video sites.
● Download with video keyword searching or video URLs.
Cons:
● Take time to parse the download file.
● It can't download HD videos.
Download Web Videos with Vidownloader
Vidownloader is a free YouTube video downloader, which can download and convert videos from YouTube to MP4 or MP3 files. It is compatible with PC, mobile devices, and tablets. You can save videos from YouTube without any registration.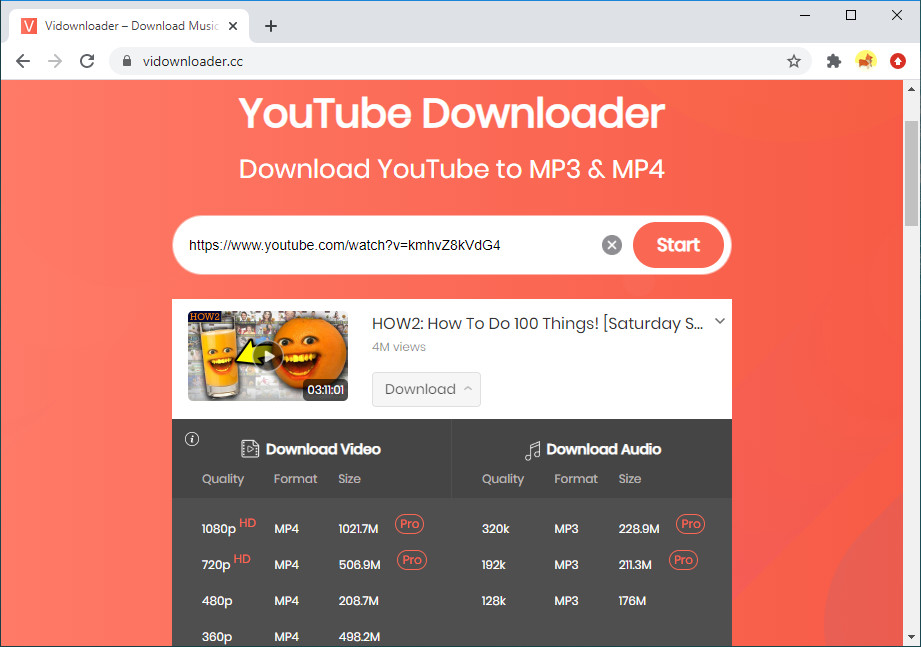 Key Features:
● YouTube Video Downloader
● Support video URL download.
● Support playlist download.
Cons:
● Slow file parsing speed
● It only supports MP3 and MP4 file formats.
Wrapping up
The easiest way to download web videos is to use a video downloader tool. These programs and web apps help you download videos from any website you want.
Among them, I prefer AnyVid and AmoyShare Free Video Finder for their clear and clean interface and abundant supported download sites.
Try it and you'll love it. Give it a try now!
AnyVid
Download any video from 1,000+ websites
You May Also Be Interested in These Topics