anyvid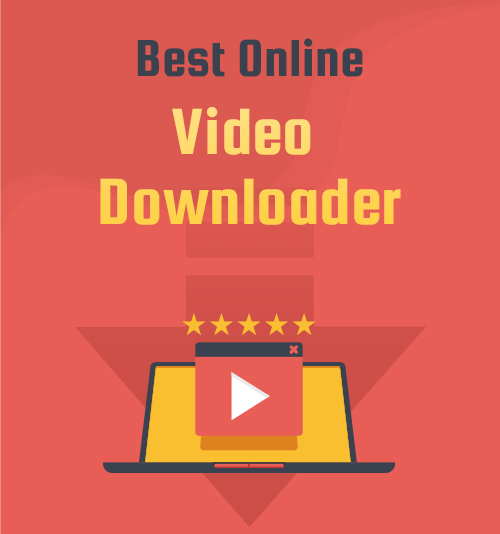 Although there are quite a lot of video resources on the Internet these days, not all of them are allowed to download directly.
It would bring you much inconvenience if you can't download the videos you love for offline viewing.
Don't worry.
You only need the best online video downloader to make it happen.
I am going to show you a list of best online video downloaders, by which you can get the task done without installing any extra software.
Wanna know more?
Let's dive in!
Are you looking for the best video downloader online? AmoyShare Free Video Finder is one of the best video download sites, enabling you to download videos online from many websites. As the best online video downloader, AmoyShare Free Video Finder is also one of the best YouTube Downloaders, since YouTube is the largest online video site in the world.
Features:
● No software required. The strength of this best online video downloader is that you can download videos online without installing any software.
● Work on many devices. Whatever you're using a PC, Mac, iPhone, or Android phone, you can easily download videos to any of your devices.
● Zero virus or ads. AmoyShare Free Video Finder cares about user experience. That's why the whole process of this video downloader is ad-free & virus-free.
Let's see how to save videos with this best online video downloader easily.
This best online video downloader allows you to save videos from a wide range of platforms, including YouTube, Facebook, Instagram, Coub, etc. All you need to do is to type the video's URL into the text field at the top to search and download it. It is a free website that doesn't require any additional software or user registration. It is 100% secure, free and easy to use.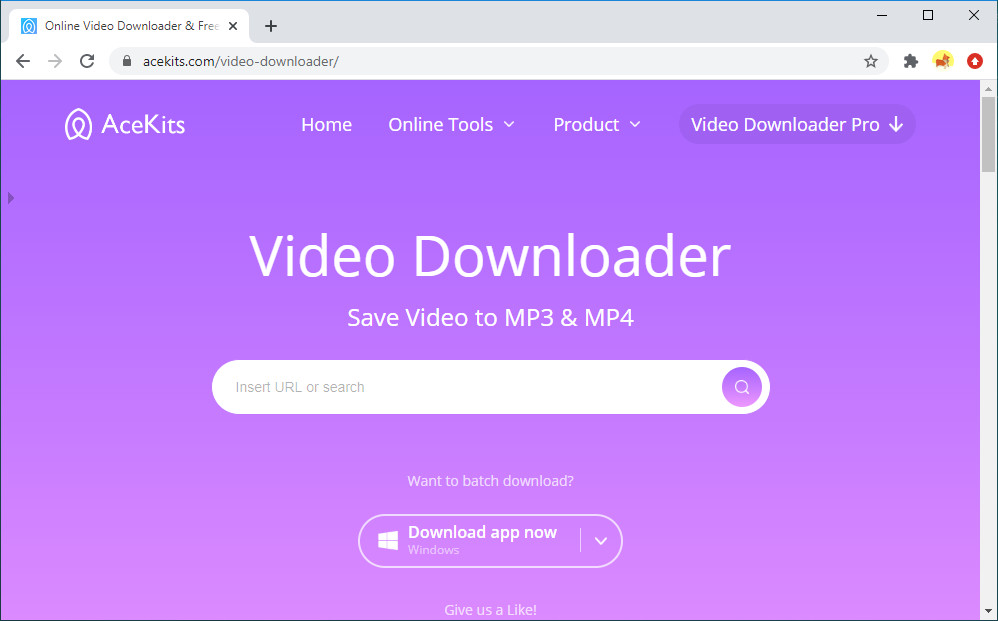 Features:
● No registration is required. The tool is 100% assured free to use without any restrictions and does not demand you to download any additional software or register for an account.
● HD video downloader. Depending on the video, yes, AceKits can support up to 1080p video downloads. Of course, you should be aware that the higher the quality of the download video is, the bigger the file size is, so it is likely to take a little longer to download.
● Video to MP3 converter. It is not merely a tool to convert MP4. You can also convert video to MP3. Besides, M4A is another audio option for free.
Vidownloader is a powerful online YouTube MP3 converter and YouTube downloader. It helps you convert YouTube to MP3, download YouTube videos in MP4, download music from YouTube, and get audio and video downloads from hundreds of sites.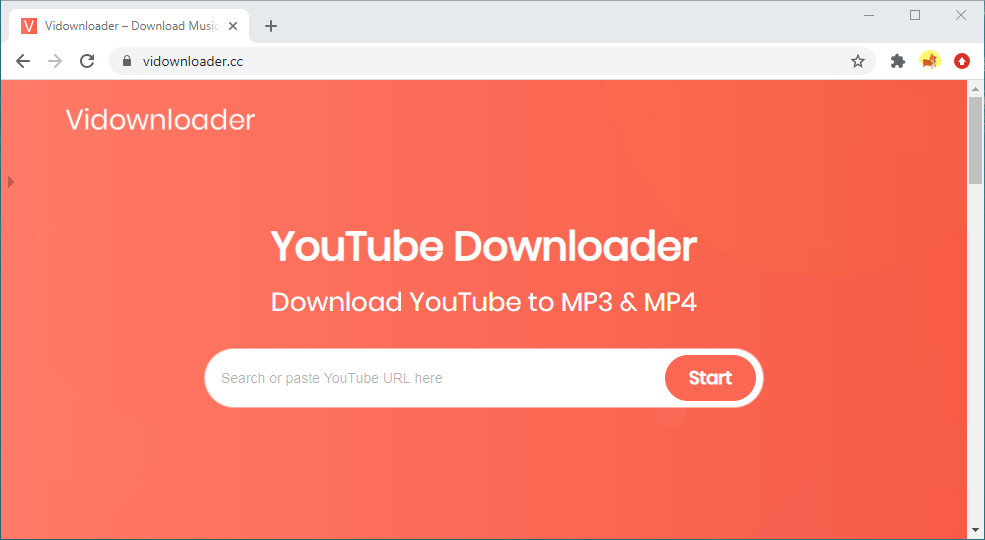 Features:
● Download YouTube music videos. Admittedly, MP3 is the most popular format for music. MP4 still has its place for those who prefer music videos. You can not only download YouTube MP3 but also download YouTube music videos and any other YouTube video in MP4.
● Download YouTube playlist to MP3. Vidownloader allows you to convert YouTube playlist to MP3 free. Simply copy the URL of the YouTube playlist, and paste it to the search bar on the top. You will see all the items of the playlist listed in the search results. That saves a lot of trouble pasting links of the items one by one.
● Convert YouTube to MP3. If you wonder how to turn YouTube videos into MP3 files, you've got the right site. Vidownloader is the best site for you to download YouTube videos MP3, convert YouTube playlist to MP3, and get YouTube to MP3 songs download free.
VidPaw has been the first choice to save videos from YouTube with growing global popularity. No best, only better! It keeps on going and aims to make VidPaw the most used video downloader for YouTube and other popular video hosting sites.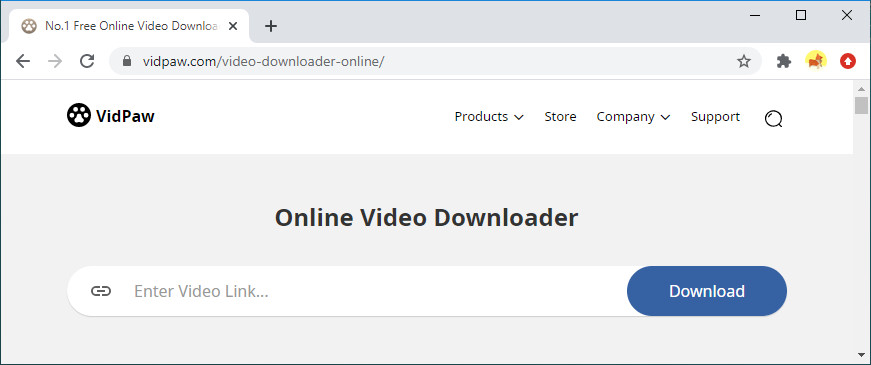 Features:
● Unrestricted downloading times. Free as VidPaw Online Video Downloader is, VidPaw doesn't restrict the number of downloads for users, which means that you can save no matter how many videos from any sites provided your device has enough storage.
● Save any video from any sites. VidPaw offers an intuitive and practical video download solution, making it simple to download not only videos, but also songs, playlist, and subtitles online from any sites including YouTube, Vimeo, Instagram, Facebook, SoundCloud, and so forth.
● Support of a large number of formats. VidPaw provides various formats along with optional quality for videos as well as music. The supported qualities include 8K, 4K, 2K, 1080p, 720p, 360p, 240p, 144p for MP4, 3GP, WebM, and 320kbps, 256kbps, 128kbps, 96kbps, 64kbps for MP3, and M4A.
Keepvid is a platform for all online video downloads and audio conversion requirements. It has no ads, pop-ups, or any other distracting and annoying debris that popular sites try to spread. Keepvid is made for providing a great user experience. And that's why you ought to use Keepvid: 100s of sites supported, various download choices, MP3converter and audio downloader, secure https browsing, no tracking, full privacy, and first and foremost – try hard to meet your demand!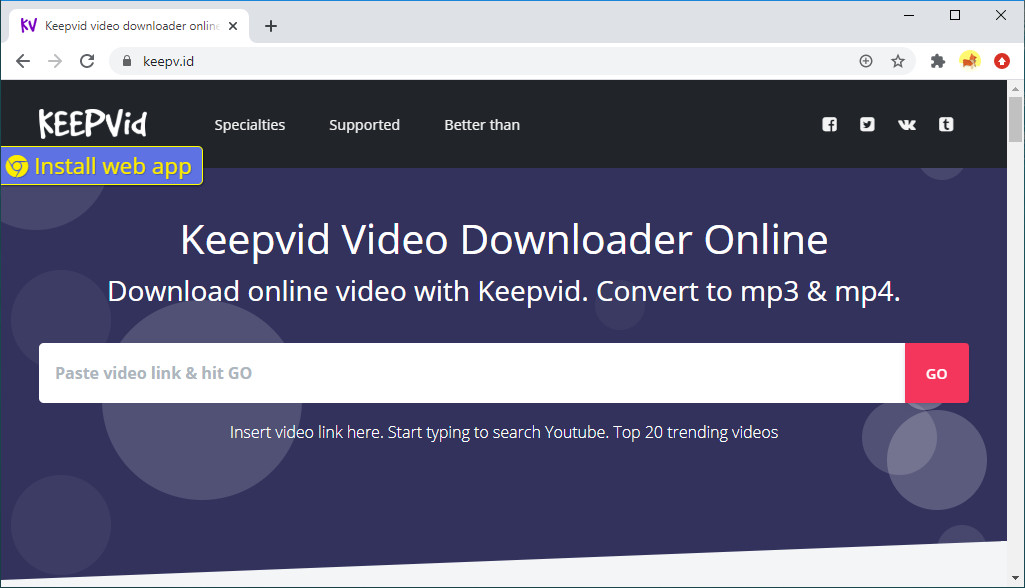 Features:
● Keepvid is a Youtube video downloader. Keepvid is the most trustworthy Youtube video downloader online. Keepvid can download YouTube videos, convert YouTube to MP4, extract audio from music videos, and save YouTube playlists in bulk.
● Keepvid is a Youtube playlist downloader.Many a website says they can save YouTube playlists, but very few can show playlist contents and allow you to work with videos included in this playlist. Keepvid is one of those who can.
● Keepvid is a Youtube to MP3 converter. The process is easy to understand and to operate. It involves all the same process as saving any video, just when you have the download options – find the one that says MP3 and hit that.
Conclusion
What is your best online video downloader?
For me, I like AmoyShare Free Video Finder. You can get the experience of downloading whatever videos you want quickly and easily.
Share with your friends for the best video downloader online this article lists.
Leave the voice for your best online video downloader.