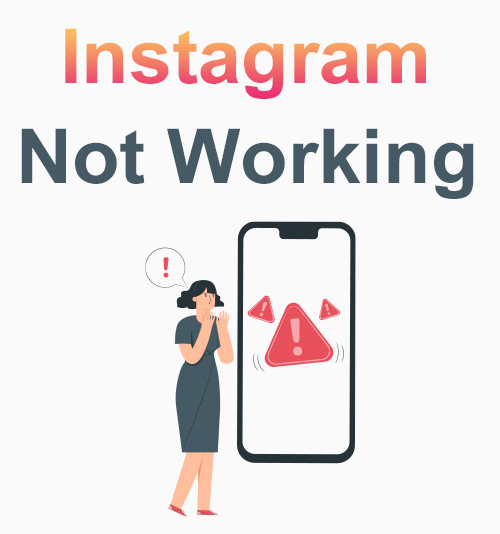 Instagram is the most popular platform for photo sharing and has become the go-to social media website used by people who like to express themselves with pictures rather than words.
But what do you do when Instagram is not working? You may have run into some below situations before or are going through at present: Instagram keeps crashing, Instagram couldn't refresh feed, Instagram unknown network error, and Instagram videos not playing.
Here I will show you the workable ways to fix Instagram not working issues. Besides, using an Instagram video downloader to make a copy for yourself is always a feasible approach.
Part 1. Why Is My Instagram Not Working?
Have you ever found your Instagram not working suddenly?
The feed freezes, can't refresh anything new or takes forever to publish a post or story. You are not the only one that has this experience. According to Servicedown, a website that records Instagram bugs in real time , the last crash of Instagram just took place 12 days ago.
Mostly, it's a problem with their server. When the problem occurs in the connection between the server and users' end, there's nothing much we can do. The only way is to wait for the Instagram team to fix the bug.
However, you can inspect yourself firstly while Instagram keeps crashing to see if the problem is at your end.
Let's continue reading to learn how to troubleshoot when Instagram is not working.
Part 2. How to Fix Instagram Not Working?
The methods below apply to the situation like Instagram keeps crashing, Instagram couldn't refresh feed, Instagram unknown network error, Instagram videos not playing, etc.
Quick tip: To begin with, it is better to restart your device and make sure you have a stable Internet connection. If you've tried both and Instagram is still down, then read on.
Check If Instagram Is Down
When you find your Instagram not working, you can search by the Twitter hashtag #instagram_down to see what other users said.
Sites like Downdetector and Servicedown are practical tools to check if Instagram is down. You can see people posting reports on these websites. You can also submit the problem you met on these websites to help them collect more information.
Normally, the Instagram team will announce their countermeasure on their official Twitter account.
Clear Application Data and Cache (iOS/Android)
If a restart doesn't solve the problem, try clearing the application data and cache. Although you can clear the app's cache and data on Android, you have to delete and reinstall the app on the iPhone.
Fortunately, there's an "Offload" function, which means that your Ins data will keep on the phone even if you delete the app, so your Instagram data can be recovered when you reinstall Instagram. It's essentially a roundabout way to clear the cache.
Try Another Device
If the issue isn't with your Internet connection, you can try using Instagram on a different device like your other mobile device. Alternatively, check to see if your account is workable on others' phones where their accounts are workable.
Update and Reinstall Instagram
If nothing has worked so far, it could be that you haven't updated the Instagram application to the latest version. The latest version usually contains security patches and bug fixes, besides new features.
If some bug causes Instagram not working issues on iPhone/Android, you can fix Instagram by uninstalling and reinstalling the Instagram app.
Check Common Error Messages and Known Issues
Like many other applications, Instagram also has a set of error messages and known issues, and this list is regularly updated so that users are able to solve their daily problems.
Usually, it happens with the app on mobile, so if Instagram is down on your mobile, check if it works on the web version.
Part 3. Can You Avoid Instagram Not Working?
It's unfortunate if your Instagram is not working. Photos and videos are thriving on Instagram, and you may be unable to see the beautiful images and video if your Instagram is down.
Here comes a way to watch Instagram photos and videos even if it is not playing: downloading Instagram videos as local files for offline viewing.
It's super easy if you have a magic tool – AnyVid Instagram downloader.
AnyVid Instagram downloader can help you download from Instagram quickly in just a few steps. It supports downloading from Instagram on Android, Mac, and Windows.
AnyVid
Download any video from 1,000+ websites
for Windows 10/8/7
for Mac OS X 14+
for Android
Let's see how to use it on the desktop.
Copy a URL from Instagram. Although Instagram is not working, you can still copy a link from Instagram just like you usually do.
Paste the URL and download it. Launch AnyVid, and type the Instagram URL in the search box, and then choose the resolution to download the video.
That's It!
Suppose Instagram is still not working after you have tried the five methods above. In that case, you can report the error to Instagram by following these steps: go to Instagram, tap the Settings icon > Report a Problem > Something Isn't Working, and describe your problem.
Frequently Asked Questions
Why is my Instagram not working?
Instagram isn't down frequently. But every platform has its errors, that's why you will run into the problem sometimes. I have listed 5 solutions for you in this post.
How do I fix my Instagram feed not loading?
To begin with, you should restart your device and make sure you have a stable Internet connection. If you've tried both and your Instagram feed is still not loading, then read on.
How to fix Instagram not working on your phone?
You can update the Instagram app in Google Play Store or Apple App Store. If there are no recent updates, you can delete the app and reinstall it. To avoid losing your data, you can also make a copy by using AnyVid to download Instagram photos and videos.
You May Also Be Interested in These Topics