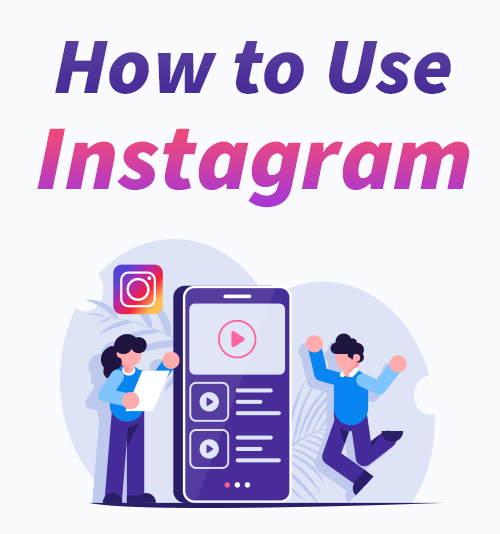 Over the past few years, Instagram has drawn over one billion users. All sorts of folks share their videos and images every day.
If you are out of the Instagram loop, you might want to reconsider. Instagram offers a great chance to keep in touch with your friends, follow your favorite celebrities, and reach people around the world. If you see something interesting in your feed, you can also save it via an Instagram video downloader.
How to use Instagram? Is it complicated to use? In this quick guide, I will cover 3 essential aspects to help you quickly get the hang of it.
Without further ado, let's move on.
Part 1. How to Create an Instagram Account
Before we start, you need to install Instagram from Google Play Store, App Store, or Microsoft Store.
Upon opening the Instagram app for the first time, you'll be asked to create a new account or log in to your Facebook account. If you decide to create an Instagram account, you will be required to provide a phone number or email account, user name, as well as password.
Once you create the account, you can further set up your profile. The Profile page is where people can get the first impression about you. Hence it is better to keep your username and profile picture decent. The Profile page serves as the hub for all your videos and photos. Also, you can find who you are following and who is following you here.
One thing that deserves mentioning is that Instagram account is public by default. Put simply, all the videos and images you uploaded can be viewed by millions of Instagram users. If you feel reluctant to make your post public, you can make your Instagram account private. Thus, others have to send you the following requests before viewing your videos and photos.
How to make your Instagram private?
On the Instagram app, tap the Profile icon at the bottom right side. Then tap the hamburger menu at the top right corner. After that, you can find the Settings gear icon at the bottom. Press it. Next, you can find Privacy, tap it, and enable the icon next to Private Account.
Part 2. How to Post on Instagram
After creating an Instagram account, you can view and even upload videos at will. Before you start uploading a post, let's get a quick view of Instagram's basic functions.
Every time you open the Instagram app, you'll see 4 buttons at the bottom navigation bar.
Home: Here you can view the videos from the accounts you've followed.
Search & explore: The magnifying glass icon guides you to the Explore page. Here you can search and navigate posts from the accounts you might be interested in.
Upload: The "+" icon is where you can edit and upload videos & pictures. Please keep reading, and you will learn how to upload videos and photos to Instagram.
Activity: The heart icon takes you to the page that shows like and comments on your posts. Besides, you can keep yourself updated with what's happening to your friends.
Profile: The last icon goes to your Profile page. The items on your Profile page include photos and videos you've uploaded, your followers, and people you've followed. Besides that, you can access Settings here.
You have already got a general idea about how to use Instagram. I bet you are raring to upload to Instagram now.
Let me illustrate in detailed steps.
How to Upload Videos & Photos to Instagram
Instagram makes it simple to share videos and photos. Tap the "+" button, and then you can choose videos or photos from your phone gallery. You are allowed to post multiple photos to Instagram at once.
After picking the desired videos or photos, you can refine them with Instagram fast editing tools. For multiple images, you can edit them one by one. Instagram's filter function offers a simple and fast way to edit the post with various visual pre-set overlays. Once the post is ready to go, tap Next to fill out more post details. Instagram app allows you to add a caption, location, or tag people before hitting the "Share" button. Additionally, you can also post Instagram to Facebook, Twitter, and Tumblr at the same time.
Apart from choosing videos and photos from the gallery, you can take a new photo or video with the Instagram built-in camera. Tap the camera icon, then you can take a photo with the help of grids. If you want to take a video, long-press the white circle button to record a video.
Besides posting Instagram videos and photos from your mobile phone, you can post on Instagram from your PC.
If you are not satisfied with your post, you can delete the Instagram post easily. Go to your Profile page and find the post you want to delete. Tap it and choose the ellipsis icon at the upper right corner. Then, Choose Delete and confirm the deletion.
How to Make an Instagram Story
Story is an outstanding Instagram feature that you can't miss out on. According to Instagram, more than 500 million users use its Stories every day. This Snap-like feature allows you to create sequences of videos and photos that expire after 24 hours.
When you navigate to the Instagram home page, you will see a series of the profile decorated with colorful circles. These are Instagram Stories uploaded by the users you have followed.
How to create an Instagram Story? Here is a quick tutorial.
On the Instagram home page, tap your Profile icon at the top left corner to access the Instagram Story camera.
Tap the round icon at the bottom of the screen to take a picture, or you can long-press the white circle icon to record a video. You can also use the tools on the screen's left side to spice up your picture or video.
After the photo or video has been shot, you can further edit it with preselected colors, stickers, text, etc.
Once the content is ready, you can send it to your Story or friends immediately.
To curate an engaging Instagram Story, you need to learn more tricks, such as adding music to Instagram Story, adding multiple photos to Instagram Stories, etc.
Tip:
Instagram Story will disappear from Feed after 24 hours. If you are attached to your Stories and want to keep them forever, below are some guides to help you download them from Instagram.
3 Effective Tools for Instagram Story Download
How to Go Live on Instagram
Instagram Live lets you connect with your Instagram followers in real-time. You can create a broadcast, interact with the audience, and attract more new followers with Instagram Live.
Instagram Live is part of Instagram Stories. Hence you can find the accounts that are currently live on the Instagram home page.
How to go live on Instagram? The steps are easy.
Tap the large "+" icon at the bottom navigation bar of the Instagram app.
Then scroll down and tap the Live icon.
Instagram will notify some of your friends that you are going Live on Instagram. Besides that, you can invite viewers and followers or interact with them by the Instagram comments function.
When broadcasting, you can make the live video immersive with Instagram pre-set overlays.
To finish the broadcast, press the End icon at the top right corner. You can then upload the Instagram Live video to IGTV or download Instagram Live videos to your phone.
Go live on Instagram is full of fun. You can not only go live with friends but also participate in another user's live video.
Tip:
If you come across a very immersive live video from those you've followed, you can get the Instagram live video download following the trick.
Part 3. How to Delete Instagram Account
Instagram offers a great way to kill time. You can quickly become addicted to its endless feeds and doing nothing else. In this sense, Instagram is like a ball and chain. Therefore, you may want to break up with it.
Instagram allows you to delete its account temporarily or permanently.
To temporarily disable Instagram means that your profiles, videos, pictures, comments, and likes will be hidden from others. However, this content will reappear if you reactivate your Instagram account.
How to deactivate Instagram? You can only disable your account from a computer or a mobile browser.
Log in to instagram.com and click your Profile picture to visit your Profile page. On your Profile page, hit the Edit Profile button, which will take you to a new tab. Scroll down and follow the prompts to disable your Instagram account temporarily.
If you decide to delete Instagram permanently, you need to think twice before action. Once you delete your Instagram account, all your videos, photos, and account history will be removed forever. Hence, I suggest you download from Instagram before deleting your account forever.
How to delete an Instagram account permanently? Again, you can only delete your account on a mobile browser or computer.
Log in to your Instagram on the web. Then go to the Delete Your Account page. Next, select an option from the dropdown menu next to Why you are deleting your account? After that, the page will load again. You need to re-enter your password and further hit the button Delete [your user name].
Now you have permanently deleted your Instagram.
Conclusion
How to use Instagram?
This post covers 3 vital aspects: creating an Instagram account, posting on Instagram, and deleting the Instagram account.
Have you got it?
Instagram is a popular and successful social media platform. On Instagram, you can showcase your creativity as well as learn from other engaging posts.
If you discover an excellent post on Instagram, don't hesitate. Go to download these excellent Instagram videos and photos for entertainment.
AnyVid
Download any video from 1,000+ websites
for Windows 10/8/7
for Mac OS X 14+
for Android
Frequently Asked Questions
How to upload video to Instagram?
1. Run the Instagram app and tap the "+" icon at the bottom.2. Add a video from your gallery, or you can take a video with Instagram's built-in camera.3. Edit your video with filter, trim, and cover functions. Once the video is ready, tap Next.4. Now you can add a caption, choose a location, tag friends, and even enable the Also Post to function to post your video to Facebook, Twitter and Tumblr simultaneously. After that, tap the tick at the top right corner to upload your video to Instagram.
How to post multiple photos to Instagram?
1. Launch the Instagram app and press the "+" icon at the bottom. 2. Press the Multiple icon, and add up to 10 photos from your gallery. Then click the arrow icon at the top right corner to move on.3. Spice up your photos one by one. After that, click the rightwards arrow icon.4. Add a caption and other information, then tap the tick arrow to upload multiple photos to Instagram.
How to make an Instagram Story?
1. Tap your Profile icon at the top left corner on Instagram feed.2. Press the white icon to take a photo, or long-press the white icon to shoot a video.3. Edit the photo or video with stickers, text, marks, etc.4. After the content is ready, press the Send to icon to forward it to your Story. You can also send this Story to your friends.
How to go Live on Instagram?
1. Open Instagram and press the "+" icon at the bottom navigation bar.2. Move the menu bar at the bottom and choose LIVE, then tap the big round icon to go Live now.3. To get much fun on Live, you can add music stickers, invite your friends, and interact with your audience.4. Suppose you want to finish the Live, press End at the top right corner of the screen. Then you can further decide if you are going to share the Live video to IGTV or download it. You can delete the Live video as well.
You May Also Be Interested in These Topics