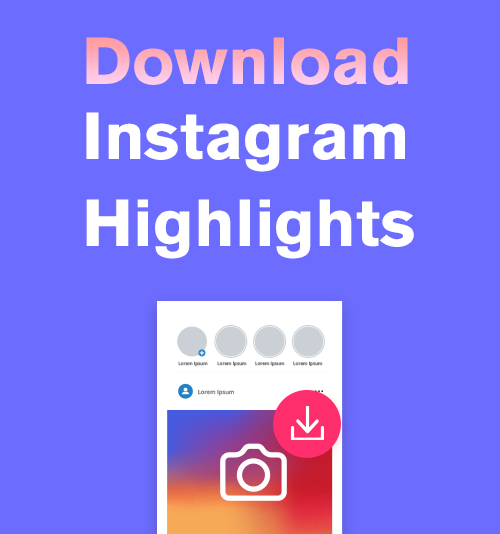 We all know that Instagram Stories will be automatically deleted after 24 hours. Therefore, many people would like to set their best Stories as Highlights, which is a series of Stories that display on the profile page, and would never disappear.
Instagram users can customize their Highlights by setting the cover page and rename the Stories. Highlights are like a good showcase full of selected stuff that can show users' personalities to followers.
So, how to download Instagram Highlights? Is there a safe and handy Instagram downloader to save these fantastic Story videos? In this article, I will introduce 2 valid ways to download Instagram Highlights. Both of them are easy to operate.
Follow the instructions, and you can view the Instagram Highlights offline without worrying about when they will be gone.
Method 1. Using Instagram Highlights Downloader
The best tool I've used to download Instagram Highlights is AnyVid.
It's a truly powerful video downloader that could download videos from more than 1,000 sites. For Instagram users, AnyVid can download Instagram Stories, photos, videos, and IGTVs in your feed without complicated steps.
When you use AnyVid to download Instagram Highlights, you will get the lossless quality at 3 times faster download speed than other downloaders. If someone posted a series of Highlights, you could download them with one click by using the batch download function.
AnyVid has Windows, Mac, and Android versions, which allows it to serve as many users as possible.
Sounds good? Let's see what the specific steps are.
Open Instagram. Get the link to the Highlights from other's profile page.
Paste the link into AnyVid's search bar. Click the magnifying lens icon to search.
On the result page, click the "MP4" button to download the Highlights.
After the progress bar hits 100%, you can check the downloaded Highlights in the default folder.
For Highlights that contains multiple content, you can click "Batch Download" to download them in one go.
For more about Instagram downloads, please follow the guides below:
Method 2. Download Instagram Highlights for Free
AnyVid's Pro Plan users can enjoy unlimited downloads. For free users, it offers 3 free downloads per day.
Typically, if you don't like to install software on your computer, you can use free online download tools. However, many online Instagram downloaders have been out of service or no longer provide the download service.
In this situation, we need to use another method: download Highlights via the page source.
This method might be a little bit complicated for you. Please read the instructions below carefully.
Visit someone's profile page. Click on the Highlights to view it.
Right-click on the Highlights, and then choose "Inspect" in the popup menu.
Click "Network" in the toolbar on the top, and then you can view all the files on this webpage. You will find images and videos listed in the column, with JPEG, PNG, or media types.
Double-click the content that you want to download, and then it will open in a new window. If you want to download the image, just right-click it and choose "Save image as…" If you want to download the video, you can click the icon at the bottom right corner and then select "Download."
Tips:
1.You can filter the content type in the column to quickly find what you want to download.
2.You need to wait till the image or video plays in the Highlight; otherwise, they won't show up in the content column.
Method 3. Save Instagram Highlights in Archive
If you want to download your highlights for create a backup, you can save Instagram Highlights in Archive. Although all the Stories will disappear 24 hours after you posted them, they are saved in your Archive.
Archive session is a great library that saves and manages all your stories. The best thing is, Archive files all the stories by dates. Users can find the content they want easily.
Go to your Instagram profile page. Tap the menu icon on the top right corner. Then, tap Archive.
Choose the story you want to save, tap to view it. And then tap the More button at the bottom right corner.
Tap Save Video/photo. Your Highlights will be saved to your device instantly.
Conclusion
By reading this article, I bet you've learned something about how to download Instagram Highlights.
You can either download the content via the inspect column or let AnyVid help you.
In my mind, AnyVid is the best and most convenient way. All you need to do is copy and paste the Instagram Highlights link, and AnyVid will parse the link and prepare the download options for you.
Moreover, AnyVid can download videos from a lot more sites besides Instagram.
AnyVid
Download any video from 1,000+ websites
for Windows 10/8/7
for Mac OS X 14+
for Android
So, one installation satisfies all your future download needs. Don't hesitate to give it a try!
Frequently Asked Questions
How do I download Instagram highlights?
The best way is to use AnyVid to download Instagram Highlights. Copy and paste the link of the Highlights, and then paste it to AnyVid's search box. After AnyVid parses the link, you will get the download options as results. Choose the format and quality you like, and then click "Download." AnyVid will save Instagram Highlights to your computer.
Can you add directly to highlights on Instagram?
1. Post a Story that only you can see by switching your account to Private, and then block all your followers from your Story.2. Add the Story to your Highlights.3. Unblock everyone afterward.
How to add highlights on Instagram?
Tap the + on your profile, and then you can choose the Stories you posted before in Archives. You are able to select multiple Stories and add them together as one Highlight. You can also rename the Highlight and set a cover page for it. The Highlights will display on your profile page, and the Stories within it will never disappear unless you remove them.
You May Also Be Interested in These Topics