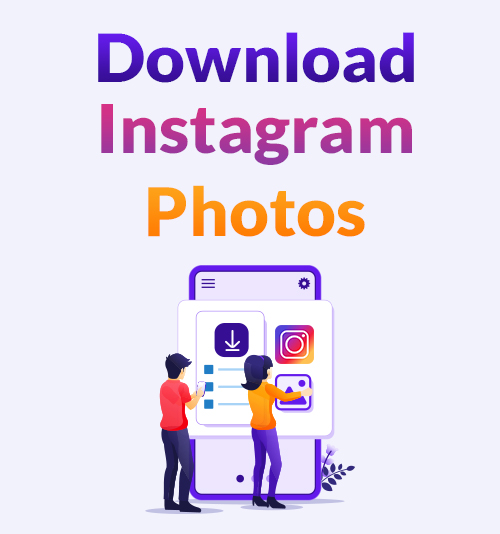 Among all the Instagram posts, photos are the most common format for the users to share. It only allows users to upload the square (1:1) pictures with 640 pixels to match the iPhone's display size during Instagram's beginning stage. Although Instagram removed the limits on photo shape and size, and allowed users to upload videos in 2015, images are the most favorable content on Instagram.
Instagram doesn't provide a photo download service for users. You cannot directly save the photos you see in the feed to your device. But no worries, I will show you the fast and safe way to download Instagram photos to local folders.
In this article, I have 3 methods for your choice. Let's see how I do this!
Part 1. How to Save an Instagram Photo on PC?
The best way to download the Instagram photos is by using a downloader program. AnyVid is an excellent option that could completely satisfy your need.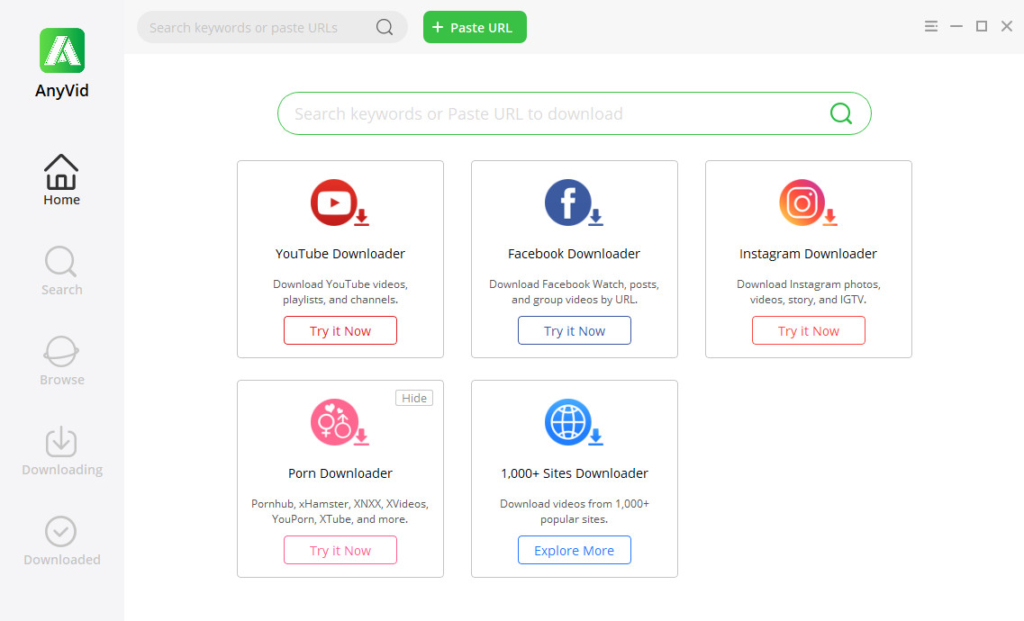 AnyVid supports photo downloads from Instagram. The download steps are pretty straightforward. Follow the steps below, and you can download Instagram Photos effortlessly.
Click the "…" on the top right corner of the Instagram photo post and then select "Copy Link."
Open AnyVid, paste the link into AnyVid's search box. Hit the Enter button to start parsing the link.
AnyVid would show you the picture on the result page, and you can see all the available download options. Click the "JPG" button, and then you can choose the folder that you want to save the photos.
After AnyVid downloaded the Instagram photos within a few seconds, you will see the downloaded photos in the folder you chose.
Besides Instagram photos download, AnyVid breezes through video downloads from various sites. It supports more than 1,000 sites and offers 3X faster speed for video downloads. As for Instagram, you can use AnyVid to download Instagram videos, Stories, and IGTV videos. The batch download function can save your time when you need to download a series of videos, such as someone's multiple Stories posted in a day.
AnyVid also supports downloading videos in different formats. You can choose the quality and format before the download task starts. You just need to click the "More" button. Moreover, you can choose to download the video and audio separately.
Part 2. How to Download Instagram Photo on Android?
In fact, most of Instagram users are from mobile platform. It's much more convenient if you can download Instagram photos without switch devices. With this said, AnyVid has launched the Android app that you can install from the official website.
The following steps will tell you how to download Instagram photos on Android fast and safe.
Copy the post link from Instagram app.
Open AnyVid, and then paste the link into its search box.
On the result page, tap the "JPG" button to save the picture to your gallery.
AnyVid app can automatically detect the link you copied in the clipboard. So it's a very convenient tool for Instagram photo download. Besides copying and pasting the Instagram post link, you can also visit Instagram using the built-in browser, and tap the download button whenever you see a video that you want to save in your feed. AnyVid can download other Instagram content with the same steps as well.
If there are multiple photos in one Instagram post, AnyVid can download them all in once.
Besides Instagram, you can use AnyVid to download videos from other 1,000+ websites.
Part 3. Download Instagram Photos Online
Using a Browser Extension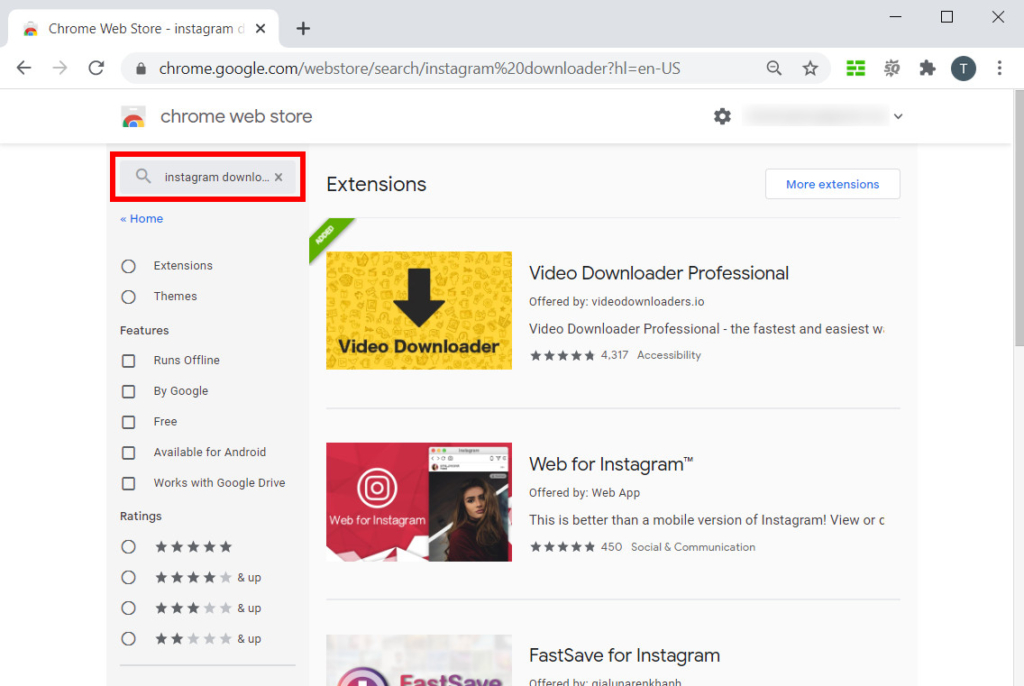 To download Instagram photos online, you will not need to install any program on your device. Using a browser extension could be a good way. Let's use Google Chrome as an example.
You can easily search for an Instagram photo downloader in the Chrome Web Store, like the Downloader for Instagram. Add it to your Chrome, and then refresh your Instagram page.
When you place the mouse on the Instagram posts in your feed, you will see the download button appear on the top left corner of the photo. Click it, and the extension would save the image directly to your local folder.
The benefit of using an extension is that it hardly takes up storage space on your PC. When you don't need it, you can disable it in Chrome's Extension Manager.
Using an Online Instagram Photos Downloader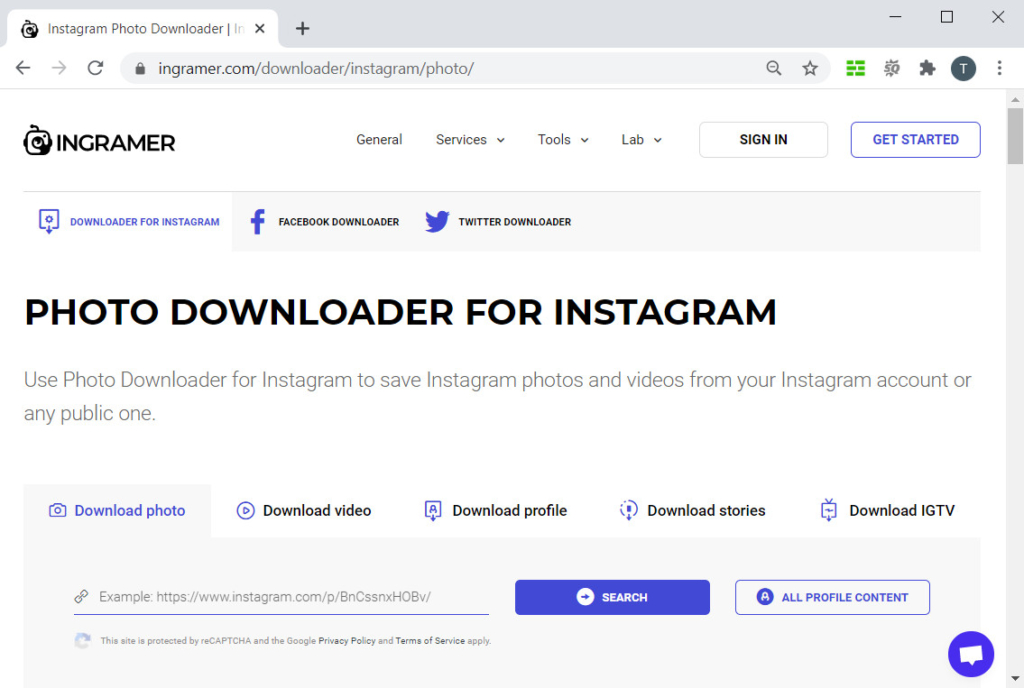 Another way to download Instagram photos is using the online download tools. For example, Ingramer is one of the online Instagram photo downloaders that still work. The download process is also pretty simple: copy and paste the Instagram post link and then click "search." Select the photo you wish to download, Ingramer will save the photo from Instagram to the default Downloads folder.
Additionally, Ingramer will show the number of available photos and videos from the target account. You can download them all in batch with its premium plan.
Conclusion
Through reading this article, did you get some ideas about how to download Instagram photos?
On PC, you can choose to use a downloader program, like AnyVid, or use a browser extension, or use an online downloader. Each of these methods can help you reach the goal of saving photos from Instagram.
On Android, AnyVid app is ready to help you save Instagram photos quick and safe.
AnyVid
Download any video from 1,000+ websites
for Windows 10/8/7
for Mac OS X 14+
for Android
However, I prefer AnyVid. Because it could do much more than an Instagram photo downloader. Install it on your PC and Android smartphone, and check if your download needs could be satisfied.
Don't hesitate to have a try. You won't lose anything for just an attempt.
Frequently Asked Questions
How to save an Instagram photo?
You can use Instagram photos downloader. AnyVid is a good choice that has Windows, Mac, and Android versions. By simply copying and pasting the post link into AnyVid, you can download the images from Instagram quickly and safely.
What is the best choice to downloads Instagram photos?
AnyVid – a powerful and useful Instagram photos downloader, has the Android app as well. You can install it on your smartphone and visit the Instagram website with its built-in browser. While you are scrolling down, you can download any post you want by tapping the download button in the bottom right corner.
Isn't it prohibited to download Instagram photos?
No, it isn't. But you need to use them properly with the credit to the original author. If you will use the photo for commercial use, you must contact the author ask for permission.
How to download all photos from Instagram?
Copy and paste the link of your target post, and then click the magnifying lens icon of AnyVid. The program will parse the link and provide all the available download options to you. If there are multiple contents in one Instagram post, AnyVid can download them all at once.
You May Also Be Interested in These Topics