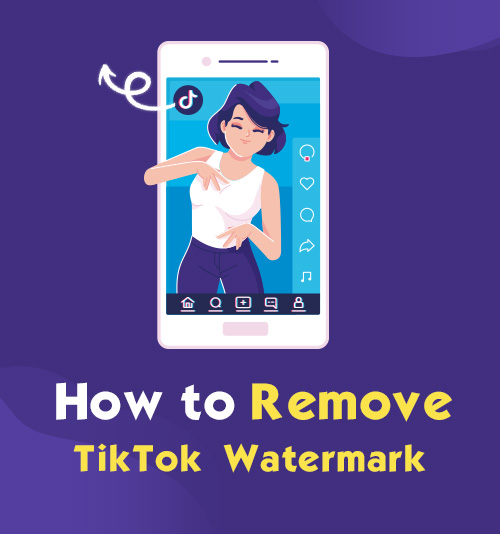 TikTok has thousands of hilarious videos to watch, save and share. Since the application was released in 2016, it has accumulated over a million downloads worldwide.
During the height of the Covid-19 pandemic, TikTok becomes a way for users to express themselves in comedy skits, dance, and by sharing stories on their TikTok platform.
Have you ever saved a TikTok to send to a friend and wondered how to remove the TikTok watermark?
Sometimes the watermark even blocks your view of the video. Although the watermark serves a purpose, it cannot be enjoyable.
During this piece, we look at the methods to remove a TikTok watermark without cropping the video.
Let us get started.
What Is the TikTok Watermark?
When you download or save a TikTok video, I am sure you have noticed a TikTok icon in the video with the creator's username. This is called a watermark; it keeps creators' content from being used by other accounts for publicity without the creator's consent.
This allows other users to see who the original creator is and give credit to the original video creator. Watermarks are necessary for creators so that other accounts do not steal their work for themselves or that popular brands don't use videos without permission.
Best Way to Remove the TikTok Watermark Without Cropping
Because I know just how annoying a watermark on a good video can be, here are a few options available to remove watermarks from all your favorite TikTok videos.
How to Take off TikTok Watermark Online
Let's say you would like to download one watermark-free video, and an online option would be better. So here are two easy steps on how to get rid of the TikTok watermark.
Copy the URL to the TikTok video of your choice and paste it in the search bar on the AmoyShare TikTok Watermark Remover website. Under the bar, you will see specifications on how a link should look.
Click on the big Download button to automatically start your download. Remember to select the quality you would like your download in.
And there you have it, how to take the TikTok logo off your video for free.
How to Remove TikTok Watermark on Android
When it comes to the top video downloading applications in 2022, AnyVid Pro Video Downloader is the best option for your Android device. But does it even help show you how to remove a TikTok watermark? Yes!
Please install this video downloader and follow these simple few steps. Let us get started.
Find a TikTok video you would like to download without a watermark.
You will notice a share button in the bottom corner. Click on it.
Look for the tab labelled "Copy link" and click on it.
Now that you copied the URL to the video of your choice, open the AnyVid application on your device.
Paste the link you have copied in the search bar and click the search icon next to the search bar to start the search process.
Once the preview of your video appears, you will see the Download button as well. Tap the Download button, leading to a pop-up of video quality choices.
You can either download an audio file or a video file. Select which option and the quality of the download and press the big green Download button.
Once you have tapped Download button, you can view the progress of your downloads in the Library > Downloads tab on the AnyVid application.
How to Remove TikTok Watermark on iPhone
Downloading content from websites has proven more complex when having an iPhone. Due to their security precautions, we have had to find another way to get what we want.
Let us get rid of the TikTok watermark together!
First, you will need to download the application Documents by Readdle, and this is a safe and free iOS file manager with a tremendous built-in browser.
Open TikTok and find a video you would like to download. Next, click on the share button and tap the Copy link icon.
Once the URL is copied, open the Documents by Readdle application and tap the browser in the lower right corner of the application.
Go to the search engine and make your way to https://www.amoyshare.com/tiktok-video-downloader/ website.
Paste the URL in the search bar and click search. When your video appears, so will a Download button. Click on the Download button and select your download video quality and click download.
After clicking the Download button, a pop-up will appear to ask if you would like to rename the file. Below the name of your file, you can choose the pathway in which your content should be saved. Next, pick where you would like your video saved and tap on done.
And just like that, you know how to get rid of the TikTok watermark on iPhone.
How to Get Rid of TikTok Watermark on Computer
Not only is AnyVid Pro Video Downloader available on your Android device, but you can also download this stellar application on your PC and Mac.
AnyVid gives you access to over 1000+ websites to download from, and with the in-application TikTok watermark remover, you can enjoy your videos in full quality.
Now install AnyVid video downloader and learn how to get rid of TikTok watermark on PC.
Browse through TikTok until you come across a video you would like to download.
Click on the share button and move your cursor over to the Copy link icon and click.
Open the AnyVid application on your computer and paste the URL of the TikTok video you want to download in the search bar at the top of the application. Click on the search icon to start your download process.
After you have searched, your video will appear. Next, click on the Download button.
After clicking Download button, different options will appear.
Select the format and quality of your download and click the big green Download button.
Once the download starts, you can view the progress of your download in the Downloading tab on the sidebar of the application.
You can find the content under the Downloaded tab when the download is entirely ready for offline use.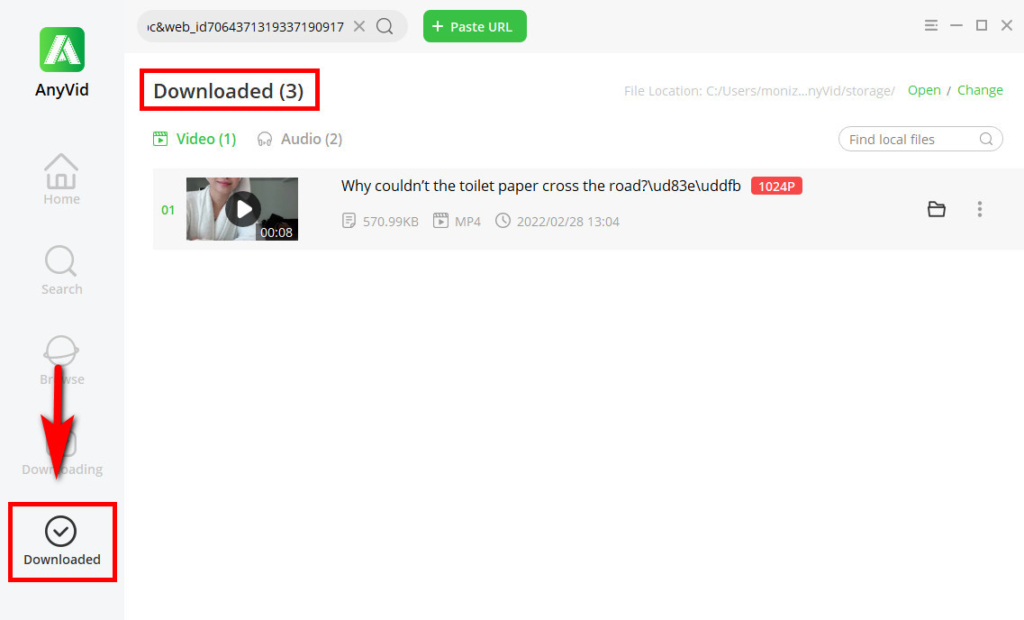 Best Windows Watermark Remover for TikTok
If you are looking for a trustworthy and fast watermark remover, AnyErase powered by AmoyShare is your best option. This application is free to download to your PC and not only allows you to erase watermarks but add your own as well.
AnyErase allows you to remove watermarks from pictures and videos from different sites, which means you can access any video or image without a watermark.
AnyErase
Remove watermark from videos and pictures magically
Downloading videos from the internet no longer needs to be obstructed by an obscure watermark because AnyErase will remove it. All you need to do is download this fantastic program and get started.
How to Crop out TikTok Watermark
If any of the above options for removing a watermark from TikTok videos are not for you, let me suggest the next best thing.
I am sure we have all had a great picture of ourselves, but it featured a person no longer in your life, so you crop them out of an image. But how to cut a watermark out of a TikTok video is another story.
Go to https://www.amoyshare.com/video-editor/video-cropper/ on your device and upload the video you would like to crop.
Once your video is uploaded, the website will take you to a screen with many tools, and you can move the toggles around the video to crop it to the correct size. If it is the correct size, click on the Export button in the bottom right corner.
After you clicked Export button, you can see the percentage of your videos progress where the button was.
Once the video is ready for download, this will appear on your screen.
Click on the Download for Free button.
Final Thoughts
Above, we have shared the detailed steps about how to remove TikTok watermark.
With so many options to choose from, I'm sure you are itching to start downloading all the best TikTok's without watermarks.
These steps are easy to follow with user-friendly applications. For example, on the AnyVid Video Downloader application, you do not have access to only TikTok video downloads but over 1,000+ other websites.
Or you can use AnyErase to remove watermark from TikTok without cropping.
AnyErase
Remove watermark from videos and pictures magically
What option worked best for you?
Which option is your favourite?
What are you waiting for? Get downloading.
Frequently Asked Qustions
How to remove the TikTok watermark for Instagram?
You can remove a TikTok watermark by downloading the video on your phone using the AmoyShare TikTok Watermark Remover online tool. Then upload the TikTok video to Instagram.
How to repost a TikTok without a watermark?
First of all, you have to download the TikTok video using another website or program like AnyVid Pro Video Downloader from AmoyShare. Then you can repost the TikTok video to Instagram or another platform.
You May Also Be Interested in These Topics