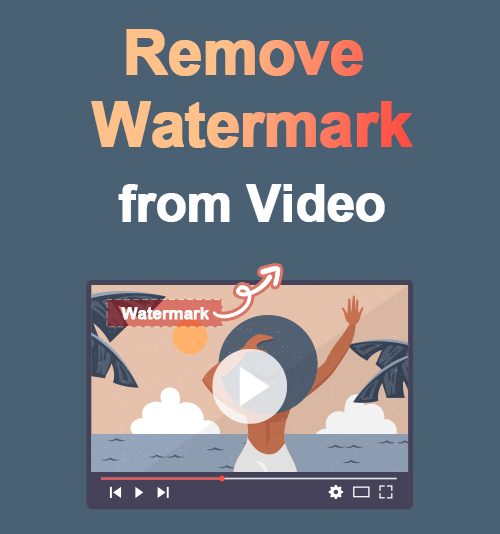 If you are a content creator or maybe just a mom creating videos on various platforms, I am sure you have wondered how to remove watermarks from videos. Do not fret; there are thousands of other people also curious about how they can remove watermarks from their content or saved videos.
Watermarks can often obstruct the view of the full video, irritating the viewer. Access to a great video watermark remover can benefit you and everyone you share your content with over time.
Unfortunately, many watermark removers tend to leave a blur on your video after removing the watermark. We have found a few fantastic tools to teach you how to remove watermarks without blur.
During this topic, we look at the different ways to remove watermarks from saved videos using desktop programs, online options, and on your Android or iPhone mobile.
Let's dive right in.
Part 1. How to Remove Logos from Videos on Computer
First, look at the different applications you can use on your PC to remove watermarks. For example, a professional video logo remover program instead of a random free version on some websites will help you have a high-quality result.
The following few applications are designed to improve the quality of your content while removing video text, logos, objects, etc. Plus, you can use them to get rid of watermark from TikTok, Instagram, Shutterstock, etc.
Although some of these applications charge a small fee, no quality comparison comes close. These applications will remove logos from videos with ease and leave you pleased.
AnyErase
To start, I would like to introduce one of my top choices of watermark removers. AnyErase is a simple application that requires no experience to use. For someone with no knowledge of software or how to do anything technical, AnyErase is a breeze.
It has a user-friendly interface that makes editing your content easy and enjoyable. Don't believe me? Install the AnyErase watermark remover on your Windows 7/8/10/11, and check out these simple steps to erase watermarks from videos.
AnyErase
Remove watermark from videos and pictures magically
Launch the application on your PC, then browse the application home screen and click the tab labeled Remove Video Watermark.
Next, you will see a button with a plus sign, the add button. Click on it and select the video you wish to upload to complete the watermark removal.
After the upload is complete, select the tool button in the top right corner of the app. Now you will notice a customizable square. Drag the square over the logo, watermark, object, text, person, etc., and click start. Your removal will begin. When done, you can now view your content watermark free.
HitPaw Watermark Remover
HitPaw is yet another high-quality video logo remover available for all to download. For $9.99 yearly, you gain full access to this incredible application. Although HitPaw is not entirely free, you stand to gain more by purchasing the full version in the long run.
Now, how to remove watermark from video using the HitPaw application.
Let's get started.
Download the HitPaw application to your PC or computer. After the installation is complete, open the HipPaw application.
Click to run HitPaw Watermark Remover, and you can find the Remove Video Watermark option, click on it. Next, select the "Choose file" option and add the watermarked video to the application.
Select the correct watermark mode. All modes vary with the removal needed. Find the option that suits your watermark removal best. You can review the removal effect before saving your final video. If you are unhappy, try a different watermark mode. Click the "Remove and Export" button to have the watermark removed and saved to your device.
MarkGo
Lastly, MarkGo can also help you to remove all unnecessary logos or watermarks. So MarkGo is another fantastic option for creators who want watermark-free content to post on other social media sites like Instagram.
This application, like the others, will help you remove logos from videos, and these next few steps will show you how to remove watermarks from videos with this amazing application.
Download the application available on this website. Once setup is complete, launch the application and click on the "Remove video watermark mode." You can do this by selecting the button that says remove video watermark.
Click on the tab "Add video" or drag the video that needs watermark removal from your files to the app. Once the video is imported, choose whether AI can detect the watermark or if you prefer to do it manually. If you select manual, drag the box that appears over the watermark to cover it completely.
Next, select the export tab to save the video after the logo is removed to save the content to your device.
Part 2. How to Remove Watermark from Saved Video Online
We all know how valuable time is, and during our lives, we have realized there is none to waste—to some, spending a few minutes downloading a stellar watermark removal application like AnyErase won't matter. But many people prefer to remove watermark from video online for free.
Let's look at a few online watermark removal options you can use to get rid of a watermark from a saved video in the future.
Watermarkremover.net
watermarkremover.net is an excellent online watermark remover for those who prefer to do online removal. Unfortunately, this site does have some adverts, but that is what can be expected from a free online website.
Go to https://watermarkremover.net/video-watermark-remover/ and scroll down until you find the upload box. Select the upload button and click on the video you need to remove the watermark.
Click on the tab labeled submit on your screen, and wait until the video processing is complete.
Click on the button labeled download to save your watermark-free video to your device.
Apowersoft Watermark Remover
Apowersoft is another online watermark remover that you can use, but this is not the best option for those looking to save time. The processing can take a long time and leave you frustrated. If you do not mind waiting a bit, Apowersoft can be the perfect online watermark remover.
Visit https://www.apowersoft.com/video-watermark-remover. This online watermark remover allows you to upload various video formats. Tap on the "Remove watermark from video" tab and select the video you need removal.
Click on the "Add box" to bring the erase box onto your video, drag it over the logo and select erase. Then wait for the processing to be completed.
Finally, hit the Download button to save the watermark-free video to your device.
Media.io
Media.io offers a user-friendly interface that makes it easy to figure out how to remove watermarks from videos online easily.
But because we don't want you wasting any time getting the hang of this tool, we made simple step-by-step instructions to help you.
Firstly, follow this link https://www.media.io/watermark-remover.html.
Then, click the "Choose files" button and upload the video to the site.
Once the video is uploaded to Media.io, select the "Add area" button located on the right panel. Drag the editing box across the footage until it covers your logo. Specify the times the logo is located there, so it only removes the logo and not anything else.
Next, select the export button and download your watermark-free video after processing is done.
Part 3. How to Remove Watermark from Video on Mobile
iPhone and Android have different operating systems. Therefore, you will need separate applications to remove your watermark from Android and iOS.
Luckily, there are fantastic watermark remover apps for both devices. Below you will find an alternative and instructions to help you know how to remove watermarks from videos on mobile.
Remove Watermark from Video on Android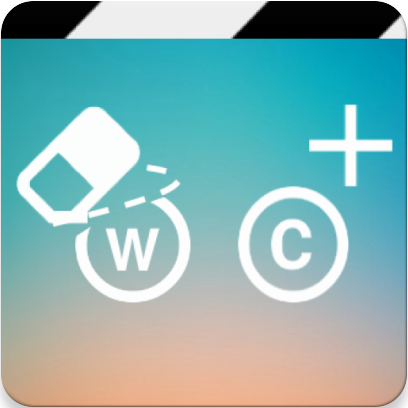 Download the Remove & Add Watermark application from your Androids application store. Once downloaded, open the application.
You will notice two options for watermark removal, photo or video. Please select a video by tapping on it. Once you have tapped, the application will ask If you want to add or remove a watermark. Click on the one that says "Remove Logo."
You will notice different options. First, click on the square tab at the bottom of your screen. Next, an adjustable rectangle will appear. Finally, drag the square over your logo and click the "Save" button. Your watermark-free video will now be in your Gallery.
Remove Watermark from Video on iPhone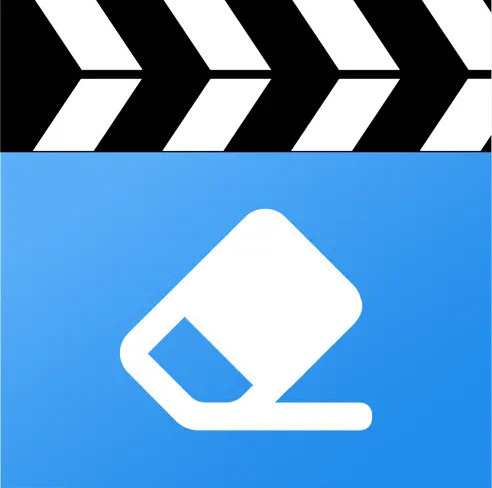 Download the Video Eraser application from your app store.
Run the application after the download is complete and tap on the plus in the top right corner of your screen. Next, select the video icon and tap on "Remove watermark."
Tap on the area where the watermark is located to start the process. You can view the removal progress and the result under the processed tab.
Final thoughts
After writing this feature, I realized it is simple to remove logos from videos with the right tools. There is no need for the experience of having a background in photoshop to know how to remove watermarks from videos.
Many of these applications help you achieve a watermark-free video in three easy steps, making it helpful for content creators everywhere. Incredibly, there are even tools to help you remove watermarks online without downloading an application.
But If you are still unsure which application to use, let's compare.
| | | | |
| --- | --- | --- | --- |
| Application | Price For Windows | Quality | Interface |
| AnyErase | $30.00 Lifetime | ⭐⭐⭐⭐⭐ | ⭐⭐⭐⭐⭐ |
| HitPaw | $9.99 Yearly | ⭐⭐⭐ | ⭐⭐⭐⭐ |
| MarkGo | $12.99 Yearly | ⭐⭐⭐⭐ | ⭐⭐⭐ |
In conclusion, anyone can access technology to improve their content for future posts.
Which application is your first choice?
Until next time.
AnyErase
Remove watermark from videos and pictures magically
FAQ
Can you remove the video without blur?
Yes, in a few simple steps, you can find various online applications designed to remove watermarks from application videos like TikTok or Instagram. AnyErase is a user-friendly option that leaves your video with the highest quality after removal.
What is the easiest way to remove the watermark from the video?
One of the easiest ways might be using an online video watermark remover. There are many options, but the processing takes longer than a downloadable application.
How to remove the watermark from the video for free?
You can erase watermarks from videos for free with the help of AnyErase. It is compatible with Windows7/8/10/11.
You May Also Be Interested in These Topics