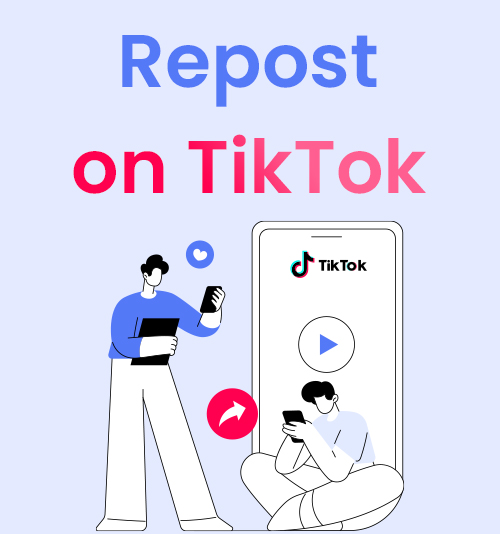 TikTok videos go viral quickly if the algorithm is correct. That helps creators gain popularity and build a following.
In the new update of TikTok, you may have noticed a new feature – Repost. It is a long-awaited feature in the latest version, as reposting on TikTok helps to gain a larger audience to view your content on the application, which results in a bigger chance of going viral.
People have loved the repost feature, but thousands of people still need help understanding how to repost on TikTok. During this feature, we look at how to repost a TikTok video on Android in a few simple clicks. We also look at how to remove TikTok watermark online and share it to Instagram, Facebook, Twitter, etc., without hassle.
Let's get started.
Part 1. What Does It Mean to Repost on TikTok?
Many new accounts have popped up on TikTok that save and repost videos from other popular creators on their TikTok page. While sharing the content made by your favorite creators is a great way to help spread their content, doing so without giving credit to them is not right.
What may seem like a simple short video, many creators make money with their content. However, when you use their hard work without giving them credit, they have a loss of income. In the end, something like this can hurt their career.
Yet, the new Repost on TikTok feature allows you to repost content without taking ownership of the video.
What happens when you repost on TikTok?
Your followers will see the video on their page and will also be able to see you reposted it. That is also a great way to show your followers the content you enjoy.
Once you know how to repost on TikTok, you will notice that you now have a whole tab to view all the videos you have reposted under your profile tab.
Part 2. How to Repost a TikTok?
I know how fantastic the repost feature is, and I am sure you are excited to try it. Unfortunately, many people have not yet figured out how because of the new feature. Don't worry. I am about to show you how easy reposting TikTok videos can be.
Once you start reposting, you may find yourself reposting without even noticing. It is effortless, and here is a detailed guide on how to repost a video on TikTok.
Open the application on your tablet or phone. Whichever device you prefer, scroll through the videos on your "for your" page. Once you have found a video you want to share, hit the share button in the bottom corner of the screen.
Once you click on the share button, you will see different share options. On the top row, you will see a row of different followers you can share the video via DM, and the first option is now a yellow button with the word "repost" underneath.
Tap on the repost button, the menu will drop away, and you will see the phrase "you reposted" above the original creator's name.
If you tap on the "you reposted" phrase, you will see the option to add a comment to your repost. That lets your followers see your thoughts on the video and why you reposted it.
See how easy reposts on TikTok are?
Part 3. Why Can't I Repost on TikTok?
TikTok has released many filters and features you may notice you do not have. So, why can't I repost on TikTok?
Sadly, some features are not always available to all people. So, the following reasons could explain the question – why don't I have the repost button on TikTok?
Your TikTok application needs to be updated. It may be that you have an older version and have not yet downloaded the version containing this feature.
The Repost feature is not available in your country. Unfortunately, like some voice features and filters, not all features can be found in all countries, and you might just be one of the unlucky ones.
The last reason why you might not be able to repost on TikTok is because of the privacy setting. To enable Repost on the TikTok app, go to the profile tab, and hit the hamburger icon at the upper right corner. Then go to Settings and Privacy> Repost, and toggle on the option.
Besides that, some creators have disabled the feature on their settings to avoid people sharing it or made their account a private one where only followers can view their content.
If any of these reasons might apply, you will have trouble reposting on TikTok. If your application is outdated, look if there is an update in your app store. If the problem persists, you might not be in a country where the repost feature is available.
However, there is a turnaround for you to share TikTok videos. Please keep reading.
Part 4. How to Share TikTok Videos Without a Watermark?
This next tip is very helpful for sharing content on other social media platforms such as Instagram and Facebook. Both popular social media outlets have strict guidelines that limit users from reposting TikTok videos on their platforms.
Facebook and Instagram have released a similar version to TikTok built-in on their applications called a reel. When users post TikTok videos with watermarks, it gives credit to their competition. To avoid your TikTok videos being declined on these platforms, you might need to remove the TikTok watermark from the content you want to repost.
The following steps will guide you to an easy TikTok watermark remover online that is 100% free for anyone. Follow it to remove TikTok logo, and then you can share the content to other social media with minimum effort.
Open the TikTok application and tap the share icon in the bottom right corner of the video. Next, select the copy link option and go to AmoyShare TikTok Watermark Remover Online.
Once on the page, you will see a search bar. Paste your link into the bar. Next, click on the round Start button. After a few seconds, you will see the video is ready to be downloaded without a watermark.
Click on the download tap featured under the video description you just edited. Next, decide where to save the video, which will be saved to your device in a few seconds.
Now you can post the video to TikTok, Instagram, or any other social media.
Part 5. How to See Reposts on TikTok?
Now that you have known how to repost on TikTok and how Repost on TikTok works, let's take a look at how to see reposts on TikTok. TikTok has made it relatively easy to see which videos you have reposted in the past, and it can be a helpful way to save a video you would want to show a friend later without downloading it.
But some of us might have missed where TikTok saves our collection of reposted videos. The following guide will help you find the list of reposted videos you have sent out in the past.
Open TikTok on your device and click on the profile tab in the bottom right.
Once you have clicked on the profile tab, you will be taken to your homepage to see all of the videos you have created. You will notice a lock symbol, a bookmark symbol, a reposted symbol, and the heart right underneath your profile picture and bio. The one that looks like arrows going in a circle is the repost symbol. Tap on this symbol.
Underneath the repost symbol, you will be able to see all of the videos you have reposted on TikTok.
Final Thoughts
Now that you have learned how to repost on TikTok and what happens when you repost a TikTok, you can constantly share all the awesome content you know and love with your followers and friends daily.
With the new way to remove TikTok watermark online for free, you can also share these cool videos across platforms with no issues.
Until next time.
FAQ
How to enable reposting on TikTok?
Firstly, you need to make sure your TikTok app is updated. And if there is still no repost sign, you might be in a country where this tool is unavailable or trying to repost a private video.
How to delete a repost on TikTok?
Go to the repost tab under your profile tab, and scroll through the reposted videos you have posted in the past. Once you find the video you'd like to remove, click on it and tap the share button again. Next, you will need to click on the yellow remove repost button.
You May Also Be Interested in These Topics