Summary of this article:Web banner ads are becoming one of the most promotion strategies in such a booming network. This article will provide you with a relatively comprehensive guideline to make an effective and valuable web banners. Some examples for banner design inspiration, 2015 web ads banner design trend, standard banner sizes and 9 tips for you to create effective website banner. Additionally, we will offer you AmoyShare free banner maker to customize your web banner design. It also generally introduces the new trend of HTML5 web banner, and some tips to make HTML banners.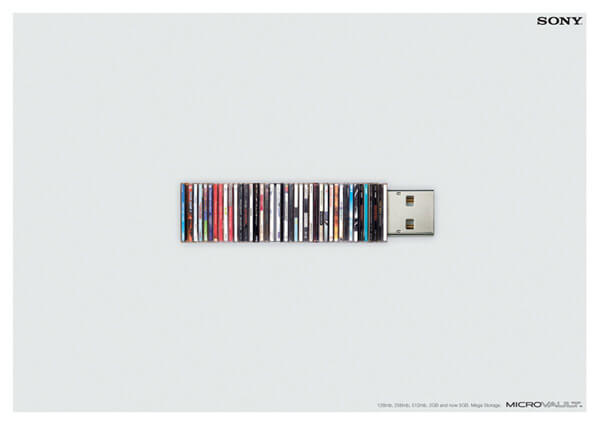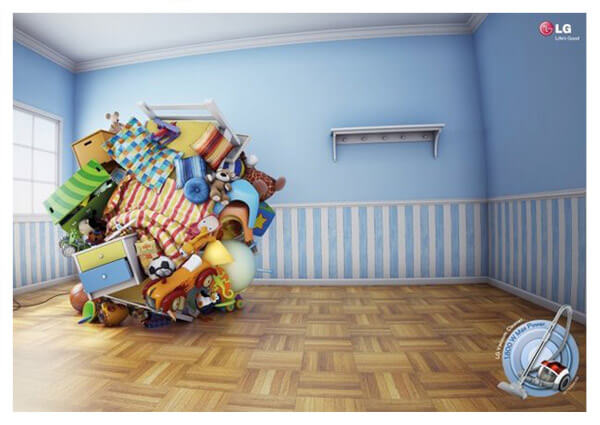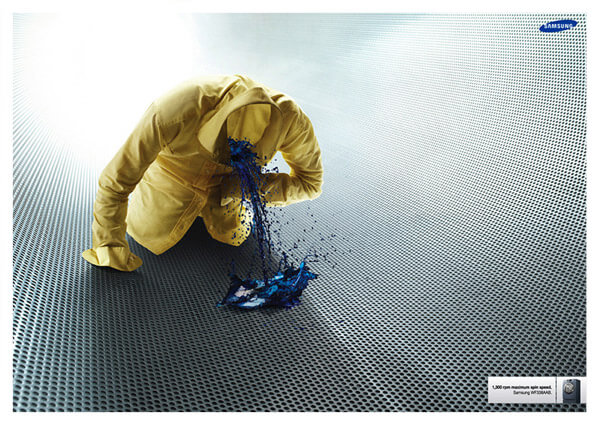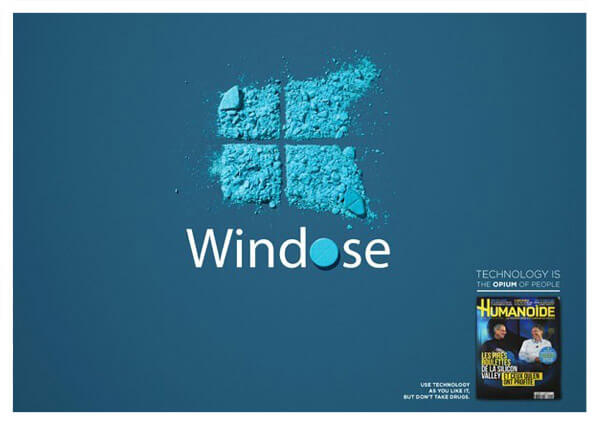 When you flip through a website, how often will you stop and stare at a web banner? Above are some really cool banner ads from notable companies like Sony, LG, Samsung, Window, etc. I believe, just like me, you will also think these banner ads are very catchy and attractive. Be creative, they can easily attract the attention of our viewers within a fleeting glance, then directing us towards finding more information about the company or product.
Today, it is the age of technological advancement. Quite obviously, advancement has left no field untouched. The Internet is one that can best prove this advancement, emerged as the new media for entertainment and information, it has been able to bring profits to lot of companies and revolutionize the economy. In daily life, we can easily feel the advancement from different types of powerful banner ads especially for some cool websites.
It cannot be denied that we are sucker for creative advertising, particularly those that convey messages with sense of humor, or deliver ideas in ways we have never expected. It's quite true about the saying – There's no second chance at making a good first impression. The main source of money for websites is advertising, which is generally done in the form of banner ads. Advertisement for banner design, regardless online or offline, if they don't catch your attention within seconds they are considered failed.
So what are web banners or banner ads? How do they work? How to make a banner? What's the prospect of web banners? Full list after jump, below I will show you in details.
Part 1:
Advertising for Web Banners – How Do They Work?
The Role of A Web Banner
1. What Is A Website Banner?
A Banner inserted as an advertisement on a website is called a banner ad or web banner. It is the little square or rectangular box that you see on all commercial sites. They are meant to attract traffic and increase sales.
Usually, web ads are put on sites which have a number of visitors. It's right option to select cool websites which contain interesting and informative content for embedding banner ads. The reason is that these sites are generally in the top rankings of search engines. But I have to mention here, it is absolutely not necessary to use same banner in different sites. If you want to create a different look in different sites, I suggest you to design your banner accordingly. It is not very expensive and the variety does add to the interest factor. In fact it might be an interesting creative process to create web banners that are different and yet similar in flavour for different websites. Besides, you can split test to see which ad works better, then you can drop out the web banner that doesn't get as many clicks.
So website banner is a very reasonable investment towards publicity. It's one of the very important web tools that when used effectively will ensure more profit for your business. It has the advantage of building a brand name and brand value in the minds of the consumer, for example, web ads give the features and benefits of the product so that the consumer is attracted to purchase it.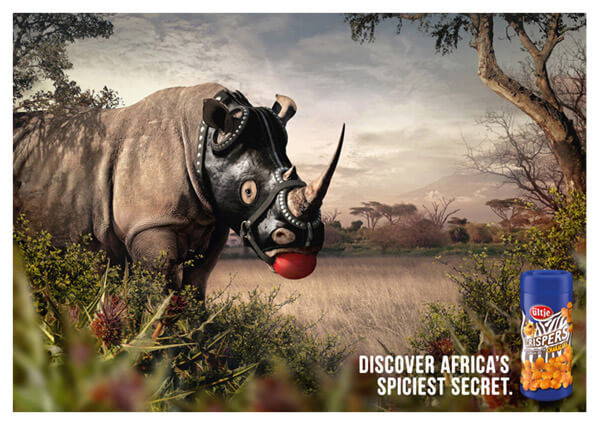 2. What Does the Web Banner Consist of?
Banner ads are creative consisting of graphics, sound, animation and sometimes even video. The greater the attractiveness of the banner design, the more number of people views it and becomes aware of the company's product or service. Since a person keeps viewing the ad again and again, it remains in his or her mind, and he or she can get back to it when a decision for purchase is made.
There are two basic steps involved in the processing of an ad by the viewer. They are
• Impression: Ads are usually displayed when you load a website on your web browser (Internet Explorer, Google Chrome, Firefox etc.) that has ads embedded to it.
• Click through: The viewer is directed to the web page which the banner advertises about. This happens when the user clicks on it. Ads are mostly hyperlinks.
It's said that animated banner can help deliver greater response than other web banners. The reason is that you can not only get your message display on attractive images but also can rotate text or images easily. The animate images and text can really help grab the attention of your website visitors. As we all know, the most important element in web advertising is the ability to get visitors attention immediately. Viewers always click through web pages and sites quickly, that's why we need something very visually impressive to make them stay long enough to see our message. Animated banner ads are clickable that you do not have to waste space with your URL, or cumbersome text to send them to your site. Just simple command lines such as 'click here' can work great, they are quick to read, and usually deliver the appropriate response.
Of course, as a website owner, online publisher or webmaster, when it comes to banner designs, the first thing you need to do is taking a good long look at the structure of your site. Do the visitors of your website suit a more subtle advertising approach, or do ads really need to shout at your visitors? You must then decide on which web ads will work best on your site and finally advertise in a thorough and professional manner.
3. Popularity of Different Banner Design Formats.
When it comes to banner design, it can become a little daunting until you take a step back and really look at how your web pages are structured. But we should remember that our goal is select the designs that will work in the best way for your clients on your website. So it's still necessary for us to pay attention to various forms and sizes of banner ads, such as full banners, half banners, leader boards, pop ups, wide sky scraper, etc. For people who often spend marketing budget on display advertising, they very need to know which kind of banner ads are the most effective to generate impressions, clicks and ultimately sales. You might also be asking, "which kind of banner design format does work well and how can I know whether my website is right for a particular design?" Well, apart from testing and testing again, setting up a simple tracking system to monitor the click through rates of ads, you can also take the latest research about banner formats for reference.
Below ranks the top web banner formats based on ad impression share from highest to lowest on Google's display networks.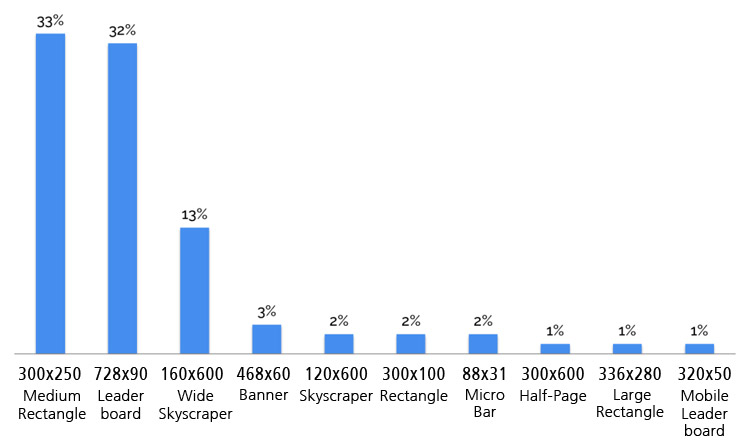 The data is based on billions of ad impressions worldwide and was published in a Google report about display advertising trends. From above, we can know that in today's advertising marketplace, Medium Rectangle banners seem to be working the best for most webmasters.
Therefore, we can jump to the conclusion that a good and valuable website banner should take web banner formats into account first.
What Is An Impressive And Valuable Web Banner?
For most Internet visitors, they may don't want to look at banner ads or just contest their effectiveness. But for a businessman who earnestly works to make his business successful, banner ads are indispensable.
In making impressive and valuable banner ads, the most important consideration is banner design. The banner design should not be very distracting for most people may hate that. So how to make nice-looking banner ads that can be a positive attraction to potential clients?
Nowadays, the most efficient way to design web banner is to use banner maker software. Banner maker can help create tasteful web ads, providing features that you can use to upload, track and display your ads on any permitting web server. Besides, it offers you nearly each style of banner template for your banner designs. When using any of banner creator software, make sure you update it, so you can take advantage of additional features which could help even more significantly to your best web design and the success of your campaign.
Apart from using banner creator software, an impressive and valuable web banner should avoid the blinking text and those annoying sound effects. They may look good as your work of art, but flashy ads rarely work. Usually, successful web ads are those that have plain and subtle designs which do not drown everything else on the page. To make your banner designs valuable, you can also listen to your customers about what type of ads they'll probably appreciate.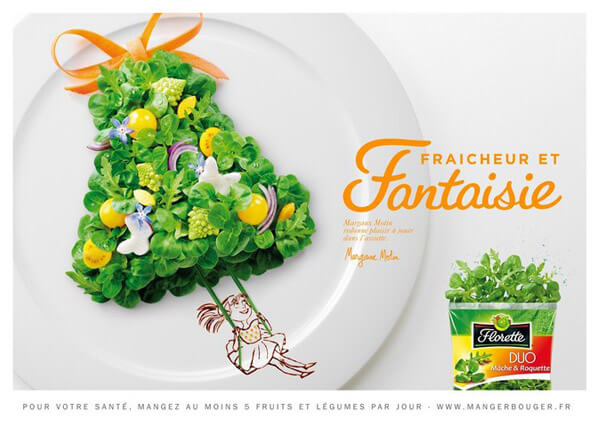 An impressive and valuable web banner should also give zing to your websites, and power in your advertising campaign. You can utilize a user-friendly banner creator to create custom made banners in seconds. Use your own images in one of many banner templates and add your text and you're done. A certain free banner maker software online will even not take up your entire advertising budget, or break your bank to add punch to your advertising campaign or website. There is no need for you to purchase expensive programs like Photoshop which runs about $699, Adobe Fireworks for over $299 and then spend hours upon hours trying to figure out complicated techniques with less banner templates. Some people never learn those programs well enough to manipulate a professional looking web banner. All you need is to take a few minutes to make a great and fantastic web banner.
Web Ads Banner Design Trend in 2015
In 2015, any advertising designer worth their salt should be able to be ahead of the game, and know the latest popular web ads banner design trends. In this quick paced, fast changing internet world, it is always useful for web ads designers to streamline their strategies to cater for the prevailing internet needs as well as cover emerging and future ones. Here I have identified 3 top banner design trends for 2015 worthy of note.
1. Multiscreen Display Advertising
Today's internet world is marked with multiple platforms for access to the internet, among which mobile devices for internet access is becoming the most popular one. As the well-known statistic from Google says, that 90% of our media interactions are screen-based, companies will be finally forced to take that leap to mobile and multi-screen marketing. This step can be seen frustrating to advertisers as there are so many different screen sizes to cater for, but marketers predict that multi-screen advertising will increase in importance on 88% by 2016 (as below shows).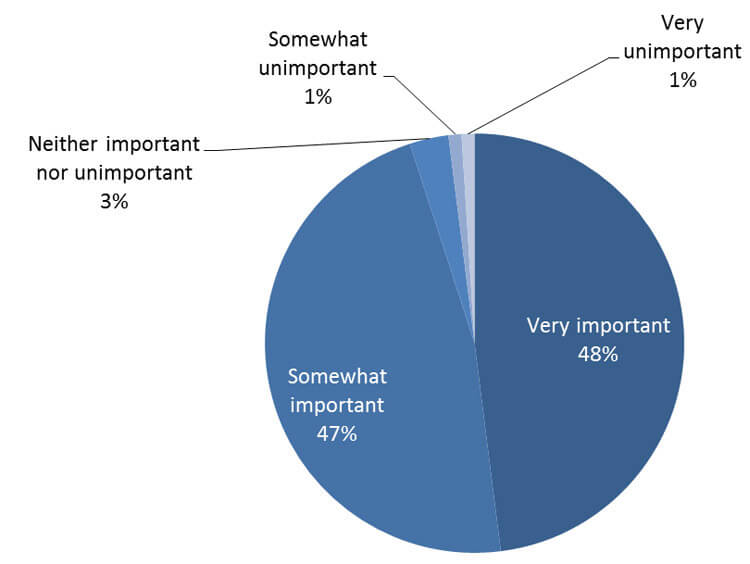 To make the display ads to be viewed appropriately both on mobile devices and other different screens sizes, one element of this step is switching to HTML5. This will ensure that the marketing message never stops regardless of what device you're using. It also means that users can have the same experience on a website regardless of the platform that they use. For example, a good shared user experience should be experience by a user on a Personal Computer and a smart phone or MacBook user. Responsive web ads banner design is no doubt the embodiment of true multimedia, and tops the list of the top 3 web ads designing trends of 2015.
2. More Programmatic Advertising
More programmatic has become the wave of the future for buying, selling, analyzing and optimizing online advertising. This kind of advertising aims to remove manual ad placement and other menial tasks that are often left up to marketers to get bogged down with. Through the use of quick and efficient real-time automated systems (machines rather than human buyers) and algorithms (the way computers think), more programmatic advertising is shaping up to be a must-have for targeting individual customers and increasing ROI (return on investment).
In this kind of advertising, programmatic direct, while a small subset of the overall digital marketplace, has enormous potential for the future of online advertising because it helps advertisers find and buy relevant ad space automatically and channel their efforts into spaces that will give the highest ROI.
Although programmatic advertising concept started picking up speed in 2014, 2015 will definitely be the year that we can see programmatic advertising really becomes part of the advertising family.
3. Personalized Advertising That Works with UX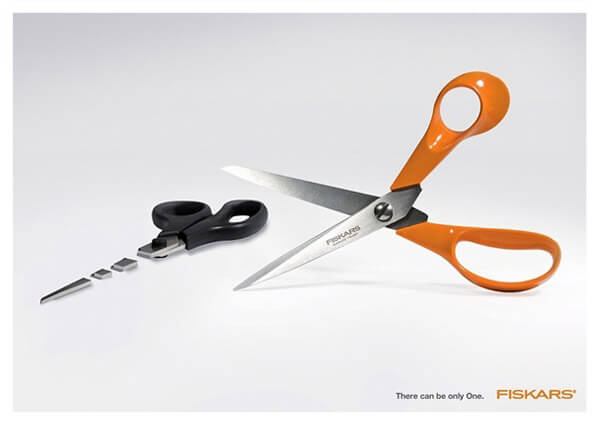 Web ads banner design is moving towards personalization, this is also a top trend of 2015. The personalized web ads are the way to tell people who you are and what you are looking for, so it should work relatively with UX (user experience).
The Internet has become one integral part of our lives. Thus, web browsers are becoming shrewder and pickier with what content they prefer, follow, and engage with. Today, ads need to become more adept at capturing and sustaining users' attention. So it's necessary to consider user experience to create the advertisements people want to see with some cool banner templates. Users now have the right to choose banner design participation and preference, it must be collected and respond to advertising from the website users and online content data (either the website themselves or their competitors), and understanding what drives their target audience for participating in? It is a waste to create web banner advertising, not to attract attention, so save yourself time by creating only your audience wants to see.
It will be interesting to see where these banner design trends lead. As society changes and economy becomes more global, you may see a blending of tastes and trends in the near future. Until then you know the latest regional and local banner design trends so that you can meet your clients' needs and have success in your business! More and more cool websites can also come into being.
Part 2:
How to Make Effective Web Ads Banner?
Standard Web Ads Banner Sizes
If you are spending amount of marketing budget on displaying advertising, you'll want to know which banner sizes are the most effective to generate impressions, clicks and ultimately sales. In this article, you will see a full-scale standard banner sizes. Online banner ads have standard sizes to accommodate horizontal, vertical, rectangular, and square advertisement areas. Publishers choose the banner ad sizes they want to feature on their websites. If you pick the wrong banner sizes as an advertiser, you will effectively limit the reach of your ad campaigns. The standard banner ad sizes are as follows: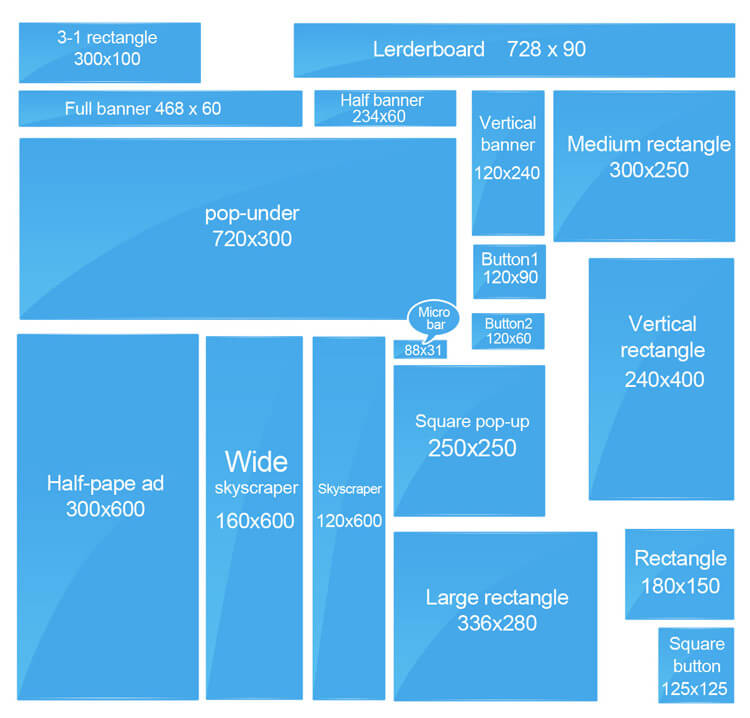 Above is an all-sided dimensional classification for the web banner design, they are standard banner sizes. Of course, you do not need to use all of them when you design your own web ads banner. However, you may wonder and confuse which one should you choose to create and rock your web banner design? The following sheet may provide you with a clearer guideline.
The top 6 performing ad sizes
Banner name

standard banner sizes

Description

Medium rectangle
300×250

View actual size

It is the most served banner format on the best web design display, and it tends to have more ad inventory available from advertisers, which can increase earnings when both text and image ads are enabled.

large rectangle
336×280

View actual size

It tends to have more ad inventory available from advertisers, which can increase earnings when both text and image ads are enabled.

Leaderboard
728×90

View actual size

The leaderboard is the second most served banner format on the best web design display;

Half page
300×600

View actual size

This web banner design format provides a larger space for advertisers to get their message across and can offer users rich engagement.

Wide Skyscraper
160×600

View actual size

The wide skyscraper is the third most popular banner size on the best web design display.

Full banner
468×60

View actual size

It is a rectangle full web banner design, which can show your web ads in a prominent place.

x
9 Design Tips to Create Clickable Banners with Banner Maker
1. Use the Most Appropriate and Standard Banner Sizes
In the previous part, we have pointed out that standard web banner sizes play an essential role in the web ads promotion. So, when you design your web ads banner, one of the most necessities is to use the most effective and standard banner ad sizes, you can refer to the standard and most performing web ads banner sizes in the previous part.
2. Maintain Hierarchy
Most of all, web banner ads are designed to increase brand awareness and bring click rates to your cool websites. When you design it, you should pay attention to the hierarchy of the following three aspects:
Logo label: Your company logo must be included to build brand awareness. Make sure that it's visually dominant but not as dominant as the value proposition and the call to action.
Value proposition: The value proposition shows the service or product your brand provides and calls attention to itself with attractive products, special offers and prices, i.e. 'High Quality', '50% off', 'Limited time offer', or 'Free!' It should occupy an essential space in your web banner and be the first thing that viewers will see.
Call to action: The call to action is usually made of text or a button with phrases like 'Click here', 'Learn more', 'Watch Now', or 'Register Here'. This should be a highlight of the web ads and prompt viewers to click on it.
3. Keep the Design Simple
In a space where flat design is becoming more and more prevalent, loud banner ads are jarring and unappealing to users. At any time, we should remember to design web banners from viewers' standpoint, keep it simple visually and content-wise. Viewers are probably only going to scan your banner for a second.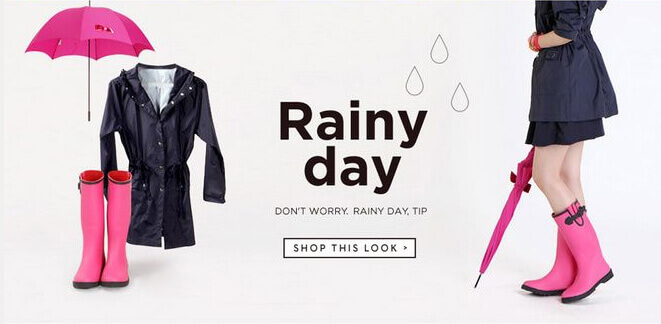 4. Use Buttons Appropriately
Relying on the type of banner ads, buttons are known to increase Click-through rate, or CTR. If you're going to use them in your ads for your best web design, you'd better place them after your copy, on the lower right side, in contrasting colors, and keep them looking consistent throughout the set of ads.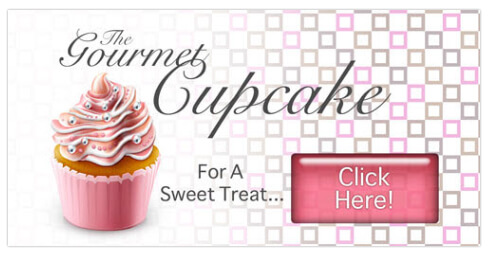 5. Make Your Text Promptly Readable

Please make the headline and body copy different sizes and make the headline and body copy 4 lines or less each.

Please do not use cursive fonts, script fonts, extremely thin fonts.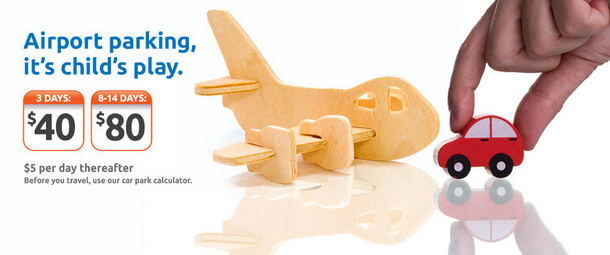 6.Avoid Distractions
One of the most common mistakes in banner design is over-inclusiveness. Often, advertisers will attempt to jam pack as much information as possible into a single advertising in a misguided attempt to get the most out of each impression. At first sight, this may appear to be a good tactic, but such web banner attempts to include so much information that can't convey meaningful information at all.
With any banner ad, you have only a moment to grab the attention of your viewer and make an impression. In addition, banner ads offer extremely limited real estate. Packing information in tiny, unreadable text will neither effectively relay that information nor make a lasting impression. Including too many images or overly complex graphics will have the same negative effect when it comes to how to make a banner.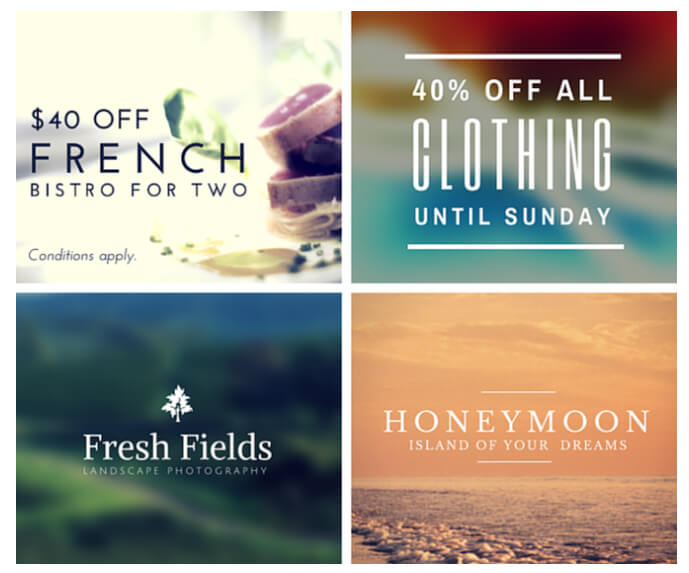 Due to the limited space and the small window of opportunity to catch the viewer, your goal should clearly make a lasting impression. Eye-catching backgrounds should be paired with short taglines that explain your product or value proposition as effectively as possible. That is to say, your banner ads can only be one call-to-action, and it should be simple, declarative, and bold.
7. Use Imagery When You Need It
When mentioning how to make a banner, it is often assumed that banner ads with a photo will always perform better than ads without a photo. Sometimes this is the case, but just as often, photos can backfire. The mere inclusion of a picture far from guarantees a high-performing ad for your best web design. Haphazard inclusion of seemingly arbitrary photos will do nothing to explain your product and is another of the most common mistakes made in banner design. A well-designed ad with a brightly colored background or simple artwork can also do the trick. In fact, bright colors and vibrant artwork are often more eye-catching than a photo.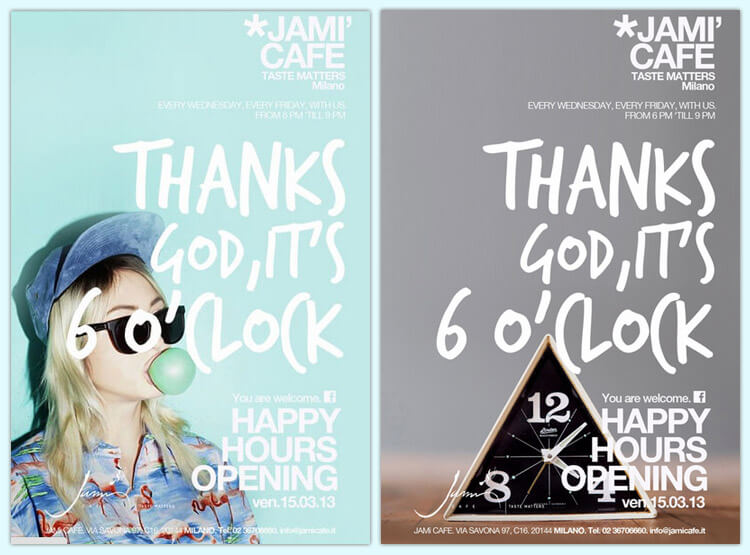 However, when appropriate, photos can help the viewer feel more of a connection to your product or the benefits it provides. This is best accomplished if you can show someone using your product or service. Giving how much space available within a banner to achieve your best web design is depending on your product or service, which is a flexible option. But remember to choose nice web tools and relevant images, graphics or photos that enhance your message and that are directly related to your client's product.
8. Choose Appropriate Colors
Color select-All colors have different associations, and it decides what types of emotions you want to evoke in your viewers. Your color choices have to be on point an appropriate, because the colors are the first thing that viewers will see in an ad. Colors can also be subjective, and have different associations in different cultures, so do some research aimed at your target audience when selecting your colors.
Red: associated with danger, passion, anger, excitement, speed, and love. The most powerful and attractive color, also known to stimulate appetite. Use in moderation.
Orange: associated with vitality, happiness. Not as overpowering as red and it energetic, inviting and friendly (it's a great color for a call to action button.)
Yellow: Associated with humor, sunshine, optimism, energy. Touches of yellow can capture a viewer's attention and it's even more energetic than orange and red and should be used judiciously – too much yellow is irritating to a viewer's eyes because it reflects the most light of any color. You can read more about colors here.
9. Rock Your Banner Design with a Banner Maker
All of above tips are based on the application of a banner maker online. So, the first and foremost thing we need to do is to choose an appropriate banner maker, also called banner creator, only in this way can we put these tips into practice. There are many banner software web tools online that offer different ways to personalize the greeting cards. And with many features, banner maker can not only make your web banner design interactive and impressive in appearance, but also add other photo effects to your banner to make cool websites. For creating attractive banners you can use any good banner software that is available on the web. Here I want to introduce you a banner maker- AmoyShare Photo Collage Maker, which is easy to use and time-saving. In addition, it can not only be used for windows, but also for Mac. After downloading this banner creator, you can use the free banner template in it, or you can drag the banner template you download from other cool websites. When utilizing this banner maker online, you can adjust the size of your web banner, change it's background, give your web banner design some decorations and personalize the fonts, text, crop images and graphics as you like. It's really user-friendly banner software with easy-to-manage interface, which takes you only a while before you get the hang of it.
Download Trial
Green Software with NO Plug-ins.
Download Trial
Green Software with NO Plug-ins.
You can do like followings: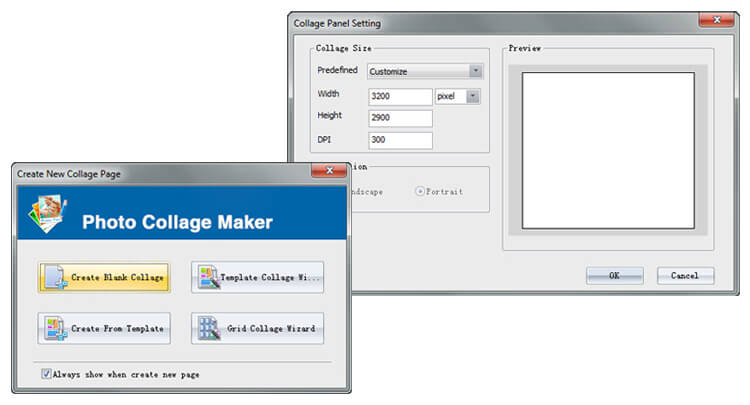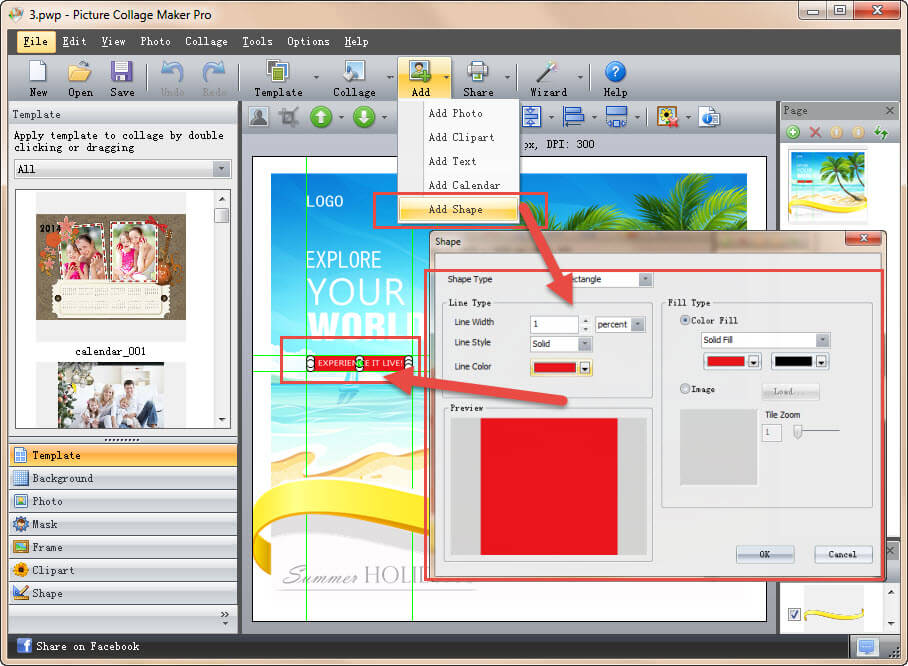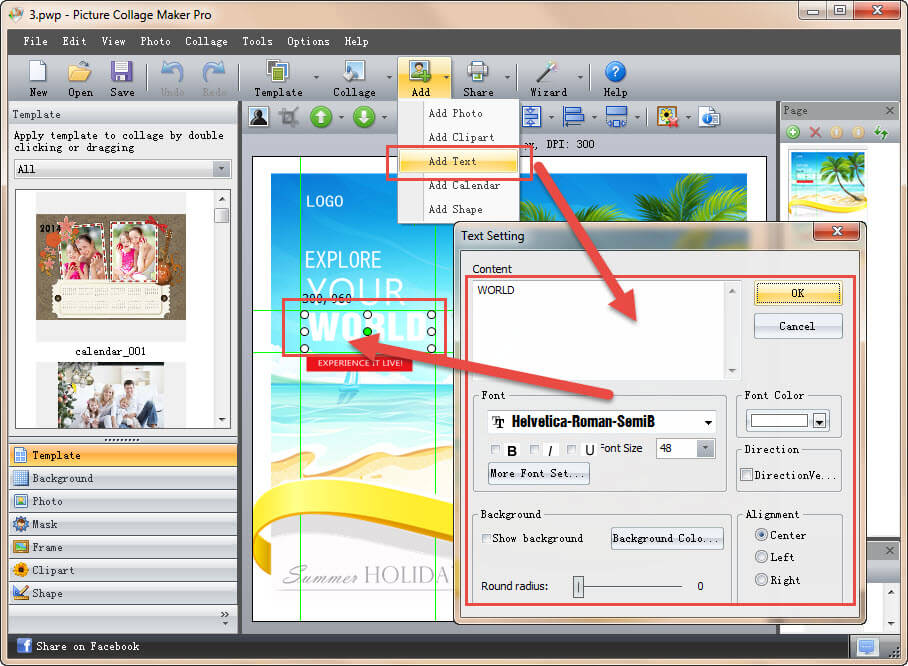 However, sometimes you may feel it difficult to find appropriate banner template to create your web banner as you imagine. Especially you want to find banner templates of different sizes. Below I will show you three sets of wonderful and free templates yielded by AmoyShare free banner maker. They are in different themes and sizes, including journey and product. You can use these theme templates to promote your products and as well make web banner for your personal blog.

View More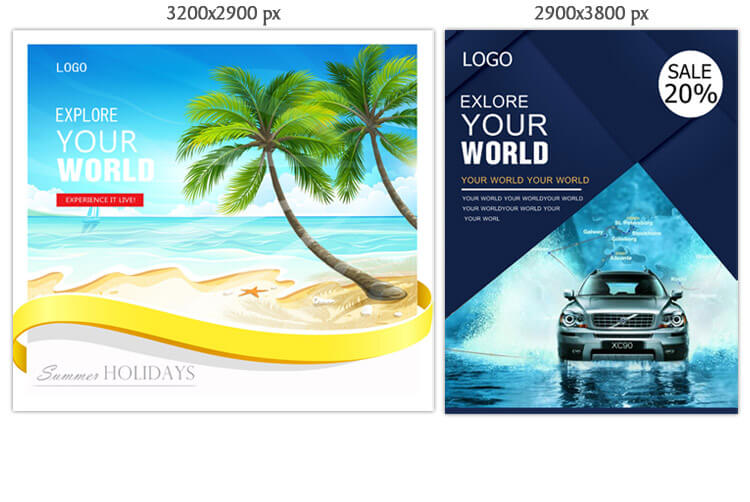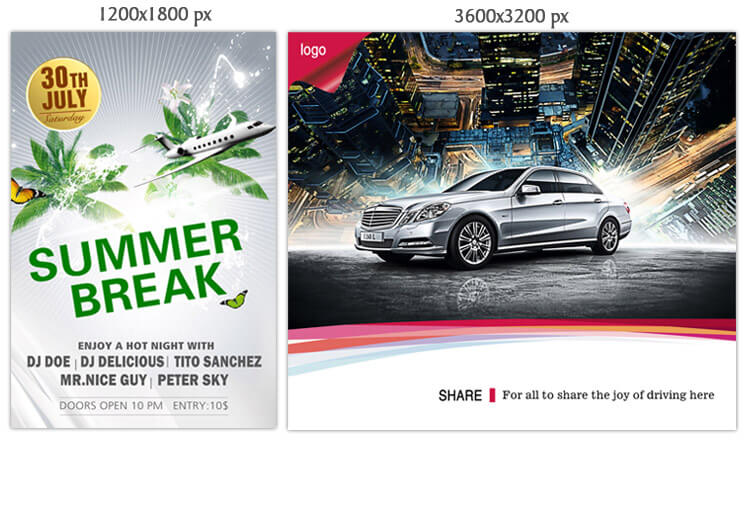 View More
Find Design Inspiration
Inspiration may disappear when you need it most. In a perfect world, we have time to wait until inspiration strikes again. Sadly, the world rarely works in that way. Most of us need to deal with clients and deadlines on a weekly basis. For instance, now I need to design a web ads banner to promote my product, but I have no inspiration, what should I do? When you work online, you cannot afford to wait until inspiration comes to you. You need to be proactive. In the next moment, I would like to share with you some of the tips and tricks I have learned before. I hope these tips can help you in practical application.
Your Purpose of the Design
Every website design needs to have a purpose. You need to pay attention to what your visitors need and then build the design around those requirements.
Practicality and usability should have a high priority. I have seen many websites that use flashy banners and overcomplicated menu systems with web tools. While the designs looked good, they made it difficult to navigate the website. A classic case of form outweighs the function. So, do not just consider how to make a complicated design for your web ads banner to attract viewers, you should keep your web banner concise and to the point with a simple banner maker online. When it comes to how to make a banner, a professional design is important; but the design still needs to be functional, practical, valuable and informational, that is what people want to see.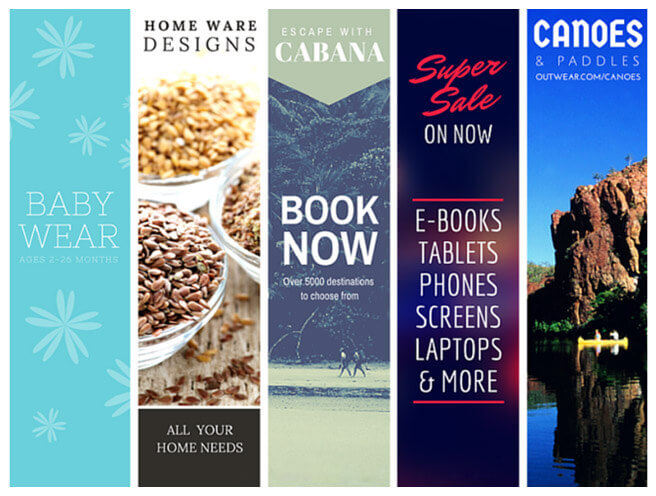 Seek Inspiration
Design blogs regularly publish wonderful collections of website banner designs and logos. These can help you understand current trends and let you see what other website owners and designers are doing. Below is a small collection of design blogs that I want to recommend to you.
Take Animation into Consideration
In banner advertising, there are static banner ads and then there are animated banners. Today, we often talk about animated advertising banners. Sometimes we may say it is annoying. But there are those that aren't annoying and really do provide valuable information for us. With a nice animated banner design, you can have quite a few advantages over a static advertisement. Let's look at some of the advantages that an animated banner design can give you. Firstly, it can grab viewer' s attention, animated banners opposed to static banners have the ability to get across more than one message at a time. For example, on the one hand, you want to prompt a customer to order now, on the other hand, you want them to know about a special discount or a new product as well, at that time you can tell them all of that in one animated advertising banner by using different frames. Secondly, it can make an Impression, even if your potential customer doesn't click through on your animated banner advertisement, they will remember it longer and in more detail than that of a static advertising banner. Maybe the next time they need a product like yours, they will remember you because of your animated banner design. The last point is that it also can increase CTR. Whether you are making a sale or not, you will still have a higher CTR with an animated banner than with a static banner. Animated banners can be classified into flash banner and HTML banner. You can choose any one of them to make an animated web ad banner. Of course, I recommend that you'd better create the HTML5 banners, because it's more popular and safe in nowadays network.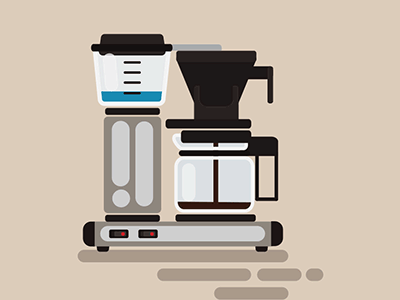 Part 3:
HTML5 Banner VS Flash Banner
According to the report Adobe Flash is on its last legs, HTML5 is the future, Flash is the past. A specialist point out "The entire rich media advertising space was initially built on flash, However, HTML5 capability that is native to browsers has long caught up to Flash. Those who have not switched over from flash rich media to HTML5 rich media ad units will have to scramble to do so." HTML5 banner trend is a new and predictable trend. But why HTML banner format is becoming more popular than flash format? What advantages do banner HTML have when it compared with flash?
Advantages of HTML5 Banners
Mobile Compatibility
This is perhaps the most important battle in the current media landscape, and HTML5 wins hands down. Flash doesn't work on most mobile phones and tablets. Banner HTML does. With the continued rise of mobile globally – this is something most of global marketers can't ignore. HTML banner ads also have a very small file size, so they load much faster than flash – which is a big plus for transient mobile traffic.

Multiple Screens
Another important change in new media is the growing variety of screen sizes, both big and small. HTML5 holds another point here, as CSS3 can be responsive – meaning ads can fit any screen size with a single file. There is a growing number of very large monitors and also an increasingly wide range of different sized tablet screens. Banner HTML, the HTML5 has smaller file sizes (better for mobile usage), and they are more accessible than flash, they don't require plugin support and can include SVG (scalable vector graphics) which can make a banner responsive to display well on all devices.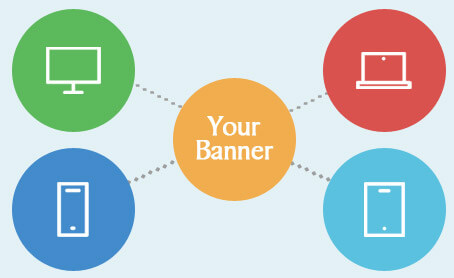 Accessibility
Flash falls down with accessibility too. HTML banner can be broken down and understood by devices, like screen readers (which can read the text to the visually impaired) and can be altered by accessibility programs on computers.
Dynamic Content
Yet again, we have another point for banner HTML. Dynamic content means your ads can change in real time. For example, e-commerce stores can use this to keep a price displayed on banners up to date with live store prices, or they can automatically update to include new promotional offer.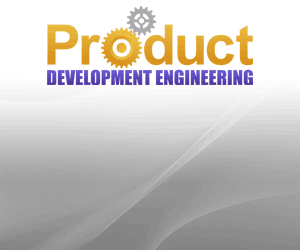 Distribution
As I just mentioned above, HTML5 banner is the future, flash is the past. Flash has served people for a long time. Of course it highlights some shortcomings during the process of application. So people will find an alternative for it, namely HTML5, which outweighs flash in above functions. In addition, Responsive HTML banner ads can make best use of space across any device.
4 Tips for Creating HTML5 Banners
After we have a general outlook for the HTML5 format, we certainly realize that we are of necessity to apply it when we design our own web ads banners. However, making web banner may not so difficult for us. The really tough task is to make great and attractive web ads banners. Here I want to share 5 tips with you, I hope it can help you promote your web ads banner design in some degree.
Call to Action
Having a good call to action button is essential, it tells the user what you want them to do - buy now, read more, play now and etc.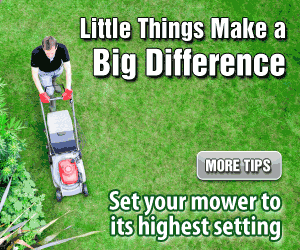 Animation
You can display more information to the users with an animated banner - you may be giving them information without needing them to click, for example 'latest film, out now!'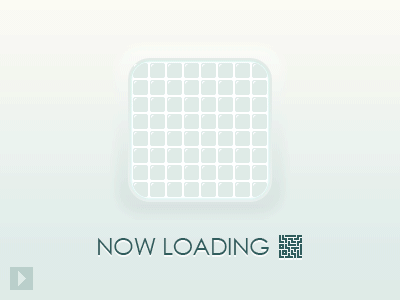 Avoid Hated Advertising Techniques
When users were asked how various aspects of online ads affected their Web experience, they rated the following attributes most negatively.
| | |
| --- | --- |
| Design Element | Users Answering "Very Negatively" or "Negatively" |
| Pops-up in front of your window | 95% |
| Loads slowly | 94% |
| Tries to trick you into clicking on it | 94% |
| Does not have a "Close" button | 93% |
| Covers what you are trying to see | 93% |
| Doesn't say what it is for | 92% |
| Moves content around | 92% |
| Occupies most of the page | 90% |
| Blinks on and off | 87% |
| Floats across the screen | 79% |
| Automatically plays sound | 79% |
Honesty
Unethical designs, such as fake system alerts and windows are unhallowed. Marketing won't be effective if you don't have the product/price/promotion, don't insult your user's intelligence by trying to trick them into clicking your ad.
Part 4:
Display and Share
How to make a banner effective? I think you've got it now. Which of these tips do you use in your banner design? After finishing your design using a simple banner creator, you can share and examine your artwork in standard banner sizes on some social media, such as FaceBook, Twitter, Instagram, Pinterest, Google plus and etc. You can examine whether it is more popular and effective than the original one or not. Additionally, if you have more suggestions for making better web ads banners, or if you know about some good free banner maker software, you can share with us as well.