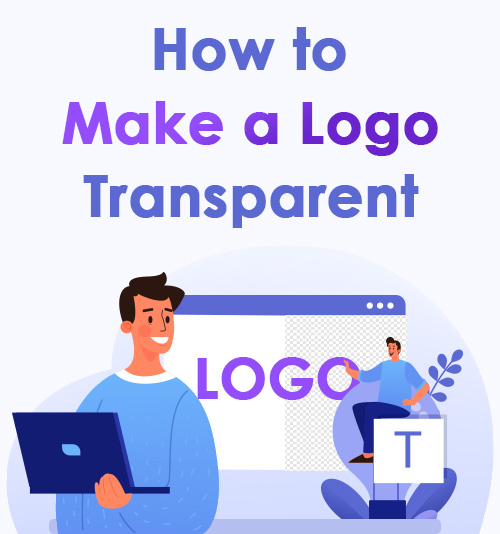 We all know that the logo is vital in increasing brand awareness.
However, you must have encountered the same trouble: when you want to paste a logo on an image, the logo background hides the image's contents.
I believe it is the trouble that leads you to this passage.
In this passage, I will tell you how to make a logo transparent, what tools you can use, and how to use these tools. All the tools are 100% free to use.
Read on to discover the new world!
How to Paste a Logo on Your Image Without Covering the Content?
The answer is to make a logo transparent. A logo with transparent background means the background has no color, usually displayed as a white and gray checkerboard in some photo editors and downloaded in a PNG file.
Owing to the logo's importance, we use it on website pages, advertisement posters, brand tags, uniforms, etc. A logo with a transparent background looks outstanding and vivid and integrates with your design seamlessly because it won't cover the content or clash with the color of your image. We pursue the best visual effect by making the logo transparent.
What Methods Can We Take to Remove the Logo Background?
I believe many people would take Photoshop as the first choice, but I would recommend some easier ways on how to make a logo transparent without it.
Nowadays, there are many ways to make a logo transparent, including online tools and professional photo editors. Moreover, I find 2 other methods by which you can create a transparent PNG through the programs that come with your computer system. The following contents are divided into three parts to provide a recommendation.
Read on to gain a helpful tool for yourself!
Part 1. How to Make a Logo Transparent Without Any Design Software?
The answer is through free online tools. In this part, I would like to recommend 3 online tools with which you can create images with transparent backgrounds.
1. remove.bg – Help to Get a Logo with Transparent Background
remove.bg is a free image background remover that runs on the website. Its name indicates the feature: remove bg. Its AI function helps you erase logo backgrounds in seconds, showing you a stunning effect without degrading the quality.
Only four steps are needed!
Click the link https://www.remove.bg/ to head to its official website. As you visit the homepage, you will notice the capital words Remove Image Background.
Upload the pictures you want to process or paste a photo URL. Then the tool will turn the logo background transparent automatically. You can see the contrast between the original and processed pictures by switching between "Original" and "Removed Background" tab.
By clicking "Edit," ample background modes and multiple colors are listed for you to retouch the image. You could click Erase/Restore to edit the background manually if the AI doesn't offer a perfect result. The brush size can be adjusted to erase the background details.
After making a logo transparent, you can press the "Download" button to export it in PNG format.
Tips: The difference between PNG and JPG is that PNG supports you in saving a picture with transparent background, but JPG doesn't.
2. Retoucher Online – The Best Online Image Background Remover
Retoucher Online is another easy-to-use background remover. It not only hugs essential artificial intelligence to make your logo transparent in a few clicks but also allows you to make personal or professional creations. For example, you can crop pictures, change image size and color, and add catching text to attract customers. The final image can be downloaded in PNG/JPG formats.
Let's see how to make a logo background transparent with Retoucher Online.
Search Retoucher Online through your browser and visit the website. You will see that the remove function is well-marked on the homepage.
Hit the blue box to upload your logo picture. Retoucher Online will display the processed logo with a transparent background on the left panel only a few seconds later.
Hit the Download button to get a logo with a no-color background for free. Besides removing the background, clicking "Edit" allows you to set different templates as the logo's new background to fit different platforms.
Tips: Retoucher Online offers only one free chance a day. You have to pay at least $6,59/month to enjoy its service. So, you'd better not waste the only chance to test its function if you are urgent.
3. PicWish – Remove Image Background in 1 Click
PicWish has launched many excellent online photo editing tools, and the Background Remove feature among them is favored by the masses. Backed up by AI, the free background remover can identify the photo subject from messy surroundings before removing the background.
Save your time. One-click promises to make a logo transparent.
Forward to PicWish's website, and tap the button labeled "Upload Image."
Check that the tool successfully makes your logo transparent, and then click the Download button — the fresh photo is exported as a transparent PNG file. Again, the service is 100% free.
Tips: The website requires you to log in in advance if you want to download the processed picture.
Part 2. Make Your Logo Transparent Using Photo Editing Apps
Online free tools permit a convenient method to make a logo transparent. You can spend no time but get a good result. Moreover, you could download the software if you demand more professional designs.
I will further recommend you some valuable photo editors in this part. They boast a simple way to remove image backgrounds and other great functions to perfect your images.
Get professional software to close the gap between you and the senior editor.
1. PicWish – a Small Sparrow but Fully Equipped
As a specialized image processor, PicWish software offers more high-tech functions than its online tools.
Here we talk about how to make a logo transparent, so we choose the Remove Bg box to explore its operation tips.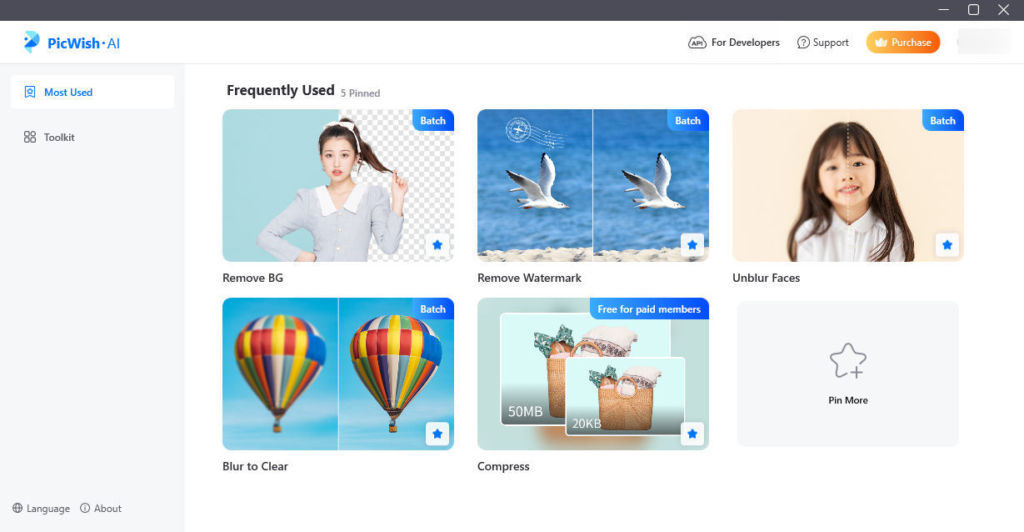 Run PicWish software, tap the Remove Bg box, and it guides us to import photos. We could find that the tool supports a batch solution, which means we can add 100 pictures to be dealt with in one go.
After we add the logo photos, PicWish will process the images within seconds and yield logos with transparent backgrounds.
You must have noticed three modes on the rightmost list: Manually, Background, and Effect. Get into the Manually box, and you can continue to erase the colorful background if some traces remain. In the Background section, you can quickly click the Resize option to frame apposite sizes applied in various platforms.
After adjusting the image to be pleasing, you can turn to the bottom blue button to save your designs in transparent PNG.
Tips: you are limited to saving the final photo if you didn't pay for its service.
2. Fotor – Automatically Remove the Complex Logo Background
Having been launched in Windows, Mac, and mobile systems (iOS & Android), Fotor is a comprehensive photo editor with many handy tools to prettify your pictures.
Let me share my experience in using its affiliate Background Remover.
I saw an array of tools when I double-clicked the icon on my desktop to open the application, then headed to the Background Remover to make my logo transparent. Its operation is so kindly easy for me, a chicken designer, to clear up an upset image background effortlessly.
Let's see how it works.
Run Fotor software and click the Background Remover box to enter the work page.
Follow its guidelines – click the "+" icon or drag files to upload your images. Just wait a moment: a logo with transparent background appears.
Tap the down arrow icon to save your logo.
Tips: Fotor has many professional design tools like PicWish, but most of Fotor's services require a pro subscription. You'd better upgrade before downloading. Otherwise, the exported logo will be stamped with the Fotor watermark.
Part 3. Remove the Logo Background with the Built-in Programs of Microsoft Corporation
The mentioned tools are enough for you, but I will show you another surprise in this part. Continue reading to catch the gift.
You can search for an online background remover and make a logo transparent without Photoshop. On top of that, even the built-in programs of Microsoft Corporation can tell you how to make a logo transparent.
A wonderful gift, right? Haha, let me present you with an interesting show.
1. Remove the Background in Paint 3D
Paint 3D is a creative application that comes free with Windows 10. However, it seems so ordinary that I almost ignore that it embeds great tech to edit photos.
When I first used it to make my logo background transparent, I was surprised at what it showed me.
Directly go to the photo library on your computer and find the logo you want to cut out.
Roll your mouse to the logo, right-click your mouse, navigate to "Open with," and select "Paint 3D."
Click the Magic select and then circle the subject you want to identify.
If the Magic select misses some fragments, you could manually depict the part to pick the missing piece. A scribble is enough because it will intelligently identify the subject. You should remember to turn off the "autofill background" and click "Done."
You can't see the logo with the transparent background now. Please copy and paste the processed logo picture on your newly created word file.
After pasting the processed logo image on your word file, you can press the right mouse button again, choose "Save as Picture," and finally get a logo in transparent PNG.
Tips: Do not save the logo to your computer directly from Paint 3D; otherwise, the picture will be saved with the original background.
2. Remove the Background in Word
The Office series is one of the best-selling products based on the Windows operating system developed by Microsoft. The Office provides so many fine functions to facilitate our work. For example, we use Word to create documents, during which we often insert some pictures to make the contents more vivid and fascinating.
Have you ever noticed that the picture tool in Word can remove the picture background directly?
I have run the function with my Word 2019 and found it is quick to deal with my logo background.
How to remove the background from a picture in Word? Please follow the steps below.
Open Word to create a new document.
Find the "insert" in the up column and choose the picture from your computer file.
Press the "Remove Background" and then "Mark Areas to Keep" or "Mark Areas to Remove" according to your habits. After marking, go to "Keep Changes."
Check that the logo background has turned completely transparent, and then right-click the mouse and choose "Save as Picture" to download your file.
Tips: This way is much more convenient and straightforward than other methods, but its function is inferior to others. Word can only deal with some pure background colors. If your logo is posted on a complex background, such as on a scene image, the result of erasing would be deficient in that you will see there remains some blurred background. After all, it is not a professional tool to edit photos.
Conclusion
To sum up, I am sharing some experience on how to make a logo transparent in a cost-free way. Whether an online transparent logo maker or a desktop application, they can remove a complex background instantly while retaining the original quality.
The former is a shortcut for a green designer, and the latter furnishes much more advanced tools to get a fancy logo.
On top of that, directly through the computer's programs is feasible to make a logo transparent. Just pick the way you like!
FAQ
How could I create a logo with transparent background free?
There are many free online tools that help you make a logo transparent, including remove.bg, and Retoucher Online. You can upload your logo picture to their websites, and then the tools will remove the backgrounds automatically.
How to make a logo transparent in Paint 3D?
1. Choose the logo picture from your computer files.2. Right-click the picture and open it with Paint 3D.3. Select Magic select and sketch the logo zone.4. Hit Next and Done, and then click the copy option.5. Paste your processed logo on a new word file.6. Click the right mouse button and select Save as Picture.
How can I remove my image backgrounds?
You can remove image backgrounds with online background remover, such as remove.bg, Retoucher Online, or you could use photo editing apps like Fotor and PicWish to make the backgrounds transparent.
You May Also Be Interested in These Topics