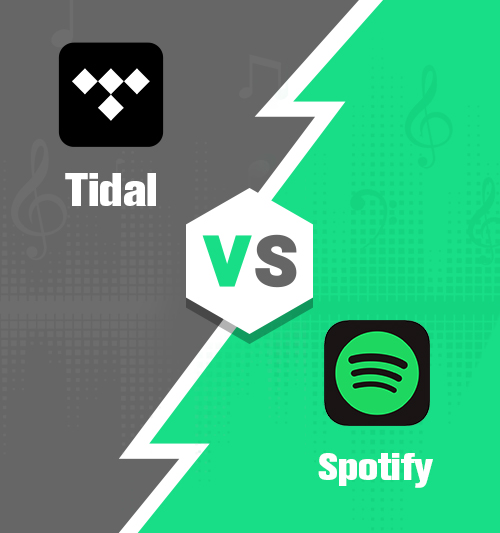 As a music fan, you may be familiar with the big music player Spotify and Tidal. However, when it comes to Tidal vs Spotify, can you tell the difference and make the best decision?
Both Tidal and Spotify allow us to listen to music, create playlist, download songs, and discover new tracks. However, these two streaming providers are different in several aspects.
To help you get the best experience in listening to music, we've rounded up all the significant differences and give you an ultimate guide on how to download music from Tidal and Spotify for free.
Let's dive it.
Part 1. Tidal vs Spotify: Which is Better?
Spotify is undoubtedly the most popular music streaming service in the world, while Tidal comes with competitive features. In this part, we will compare them in three aspects, and help you find out which is better, Spotify vs Tidal.
Spotify vs Tidal: Price
Free Version: Only Spotify provides free music with 160kbps or 96kbps for mobile. However, you will be served a handful of annoying ads between songs. Besides, a free user is limited to six skips per hour on mobile.
Premium with $9.99: With this plan, you can stream Spotify or Tidal music at 320 kbps of the utmost quality for the better sound experience.
HiFi with $ 19.99: Only Tidal offers this high-end plan. It enables you to get access to lossless content and streams at CD quality (44.1kHz/16bit).
Family Plan with $14.99: Both Spotify and Tidal offer this plan with 6 accounts. Besides, Tidal offers Family Hi-Fi at $29.99.
Winner: Spotify wins out due to its free plan.
Spotify vs Tidal: Sound Quality
Sound quality matters when it comes to music. Both Spotify and Tidal offer music with 320kbps, which is good enough for most of us. However, if you are particular about audio quality, Tidal knocks it out of the park when it comes to brilliant audio quality. It is one of the only services that offers Hi-Fi lossless streaming audio. Besides, you can enjoy the Master Quality Authenticated media with high-resolution (96 kHz/24bit) audio delivered via FLAC or WAV file as well.
For example, listening to Tidal's hi-fidelity audio is like eating a gourmet five-layer double chocolate cake, in contrast, Spotify is like having a nice Betty Crocker-style Devil's Food cake. Both are good, however, one had a rich nuance that only those with an experienced palate (ears, in this case) would appreciate. Although Spotify has a setting to increase streaming quality to 320kbit/s, that's still inferior to lossless.
Winner: Tidal shines given that it provides Hi-Fi lossless audio.
Spotify vs Tidal: Other Perks
Both Spotify and Tidal boast millions of songs. However, this only matters if your favorite artists or albums are unavailable.
As the most popular streaming service, Spotify is well-known for its Made For You feature. Its advanced algorithm could work out tracks you may like based on your listening habits. Thus, Spotify Discovery Weekly playlist qualifies the music and a curated playlist with 30 new tracks for you every day. Besides, its Release Radar and Daily Mix are good ways to find more music. Plus, Spotify has a leg up on podcasts, while Tidal is excellent for video. You can find a vast library of podcasts titles on Spotify.
Tidal has its strategies. It wins out hands down when it comes to exclusives. Lots of famous artists such as Rihanna and Beyoncé release their albums on Tidal first before publishing them on competing platform months down the line. Furthermore, you can get access to a bunch of videos. Spotify has videos as well. However, it falls short compared to Tidal music videos. The selection of Tidal content covers music videos, live performances, and all sorts of music-related movies and documents. A lot of these videos are exclusive to the service.
Winner: Both music services are largely neck and neck.
In short, Spotify focuses on the playlist for enjoying music on the go while Tidal aims to the audiophile who has a high demand for audio quality.
Part 2. [Free] Download Music from Tidal & Spotify
Both Tidal and Spotify allow us to download songs, albums, and playlists for listening. However, you have to subscribe to their premium plans, which charge $9.99 per month or more.
If you don't want to spend any money, is there any method to download music from Tidal & Spotify without Premium?
The answer is YES! With the help of AnyMusic, you can download Tidal & Spotify music without premium and listen to music whenever you want.
AnyMusic is a versatile downloader that enables you to download music from more than 1000+ sites such as Spotify, Tidal, SoundCloud, Jamendo, etc. Plus, AnyMusic allows you to download MP3 music with high quality ranged from 128kbps to 320 kbps. Furthermore, you can download over 600 music in batch with only a few clicks.
Now let's install AnyMusic and see how to download Tidal & Spotify music without premium.
AnyMusic
Get unlimited music downloads in 320kbps
Search for the songs. Launch AnyMusic and type the track title, album, or artist on the search bar.
Download music. You can click the MP3 or MP4 button to download the song in default quality. Or click the More button to choose the desired format for download. Of course, you can preview the song by clicking the play button on the thumbnail.
If you want to batch download the music, click the Batch Download button and select the tracks you want to save. Then you need to click the Download button further to choose a quality and start downloading.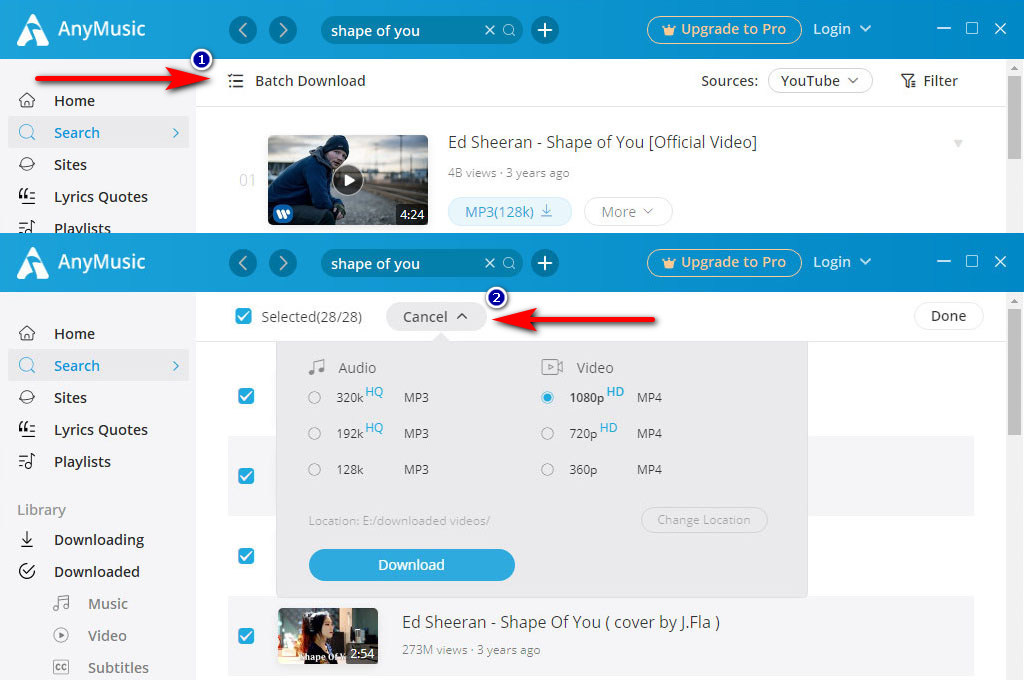 Now enjoy yourself.
Bottom Line
Have you found your option on Tidal vs Spotify? If you are an audiophile, Tidal is your best choice. After all, it edges out in the comparison of Spotify vs Tidal sound quality. If you tend to listen to music without paying a dime, or you prefer podcasts, Spotify is right for you.
If you want to download music without any premium, AnyMusic could help you. It enables you to download music from more than 1000+ sites for free. Besides, you can save music with 320kbps on AnyMusic. Plus, AnyMusic allows you to download music on Windows, Mac, and Android easily.
Give it a shot!
AnyMusic
Get unlimited music downloads in 320kbps
You May Also Be Interested in These Topics