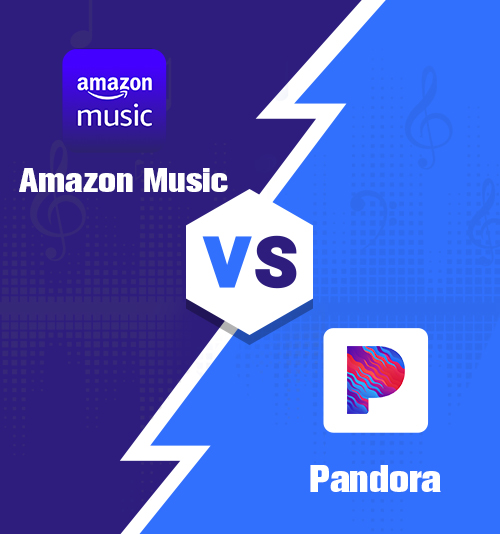 Nowadays, you have a wide selection of music streaming services.
You may just fall into a dilemma of whether to choose Amazon Music or Pandora to listen to music.
This article can help you understand where the two music streaming services mainly differ in.
I will offer you a bonus tip on how to download music from streaming services like them.
Amazon Music vs Pandora?
Let's dive in!
Differences between Amazon Music and Pandora
What's New
Amazon Music
Amazon recently announced a new upgrade of music streaming services for all the audiophiles. Users can free enjoy Amazon Music HD with the highest quality streaming audio for 90 days, which can save you $45 altogether. If you haven't subscribed to Amazon's Music Unlimited streaming service before, either the individual or family plan, you can sign up to the premier Amazon Music HD and get the first 90 days free. You can access Amazon Music HD in three different ways: a web browser, an exclusive desktop app, or an Android or iOS mobile app. And it is noteworthy that you can't stream CD-quality music or hi-res tracks through your browser.
Amazon is known as paying attention to music quality. It provides the finest CD and hi-resolution streaming service for users. Amazon's HD service promises to double the bitrate of standard streaming services and the bitrate of millions of songs can be elevated up to 10 times. Specific in numbers, the High Definition audio can reach a bitrate up to 850 kbps, and for the songs in Ultra HD, the bitrates can be up to 3,730 kbps.
Pandora
At the end of July, Pandora announced that it was launching interactive voice ads into more extensive public testing. This move by Pandora can be seen as the music streaming service first introduced the new advertising format. How do the ads work? The ads begin by making listeners understood what they are and how they work. Then, a short and simple message will be played and followed by a question that listeners can respond to. According to statistics, interactive voice ads seem to be fairly well-received since their debut. More and more advertisers are signed up to test the interactive ads.
In addition to ads, Pandora recently has taken a further move in the field of podcast streaming. Started August 3, all the podcasts on Pandora could be accessed via devices that support Amazon Alexa. By using voice commands, users request a specific demand when they visit music and podcast in the Pandora library.
Amazon Music vs Pandora Features
Amazon is an American worldwide technology company that focuses on e-commerce, digital streaming, artificial intelligence, etc. Amazon Music is a platform for streaming music operated by it. Therefore, you can enjoy a complete service system with Amazon prime.
Pros:
● A great platform for audiophiles to experience the lossless CD and hi-resolution streaming service.
● Support multiple devices. You can stream on Amazon Music from the web player or player apps for numerous platforms, including macOS, iOS, Windows, Android, FireTV, Alexa devices, Amazon Echo, etc.
● Cover more countries and regions compared to Pandora.
Cons:
● Amazon Music says that it provides tens of millions of songs with new releases from today's most popular artists. However, there is no specific number to show the music number.
● The difference in sound with higher-quality files is subtle to be noticed, but it is more perceptible on better audio equipment like headphones.
Pandora
Pandora is an American music streaming website and a popular audio station founded 7 years before Amazon Music. Music Genome Project is its core technology that takes trained musicologists to work out nearly 450 music's attributes of each song.
Pros:
● Give you the most personalized radio station experience. Pandora is much better at predicting which songs the user would enjoy hearing because the recommendation is based on nearly 450 attributes of each song.
● Easy to use. Tell Pandora which artist you want to hear, and it creates a station with the recommendation from that artist and others with similar styles, which you can then thump up or down to match your tastes.
Cons:
● Pandora's service only faces US users.
● Compared to Amazon music, Pandora supports streaming music on fewer devices. It can be accessed with its mobile app, a web browser as well as devices that support Amazon Alexa.
Amazon Music vs Pandora Price
Amazon Music
Prime members get a discount. For Prime members, Amazon Music Unlimited costs $7.99/month for a monthly subscription or $79/year for an annual subscription. Non-Prime customers pay $9.99/month.
Amazon Music HD offers a selection of higher-quality music files. It costs $15 per month ($13 for Prime members), and family plans run $20.
Pandora
Pandora Plus is $4.99 /month or $54.89 /year (plus tax where applicable). Much cheaper than Amazon Music Unlimited.
Pandora Premium is $9.99/month or $109.89/year. It includes all the benefits of Pandora Plus, but also offers other privileges like unlimited offline listening, make and share playlists.
Bonus Tip: How to Download Music from Streaming Services like Amazon Music and Pandora
There is no doubt that you can download music from Amazon Music and Pandora by making subscriptions. Is there another way to download your favorite songs to listen to them anytime, anywhere?
Use AnyMusic downloader for music!
AnyMusic has many features that fascinate many users. It supports downloading music on Windows, Mac, and Android. Download 320k music from 1000+ supported sites is accessible right here.
Let's see how to download music from Amazon Music and Pandora with AnyMusic:
Search the music in the search bar. You can enter in both the music and the singer to help you find the music quickly.
Choose the quality and download the music.
Amazing! Download AnyMusic and have a try!
AnyMusic
Get unlimited music downloads in 320kbps
for Windows 10/8/7
for Mac OS X 14+
for Android
Pandora vs Amazon Music: Which Is the Best Music Streaming Service?
Compared to Pandora, Amazon Music is more like a nice addition to Prime that further justifies the price tag. For many music listeners, Amazon Music may not be as good as Pandora and other popular streaming services, but the lossless CD and hi-resolution streaming service is its prominent feature.
Amazon Music vs Pandora, have you made your choice? Besides, using AnyMusic to download your favorite music from sites like these two music platforms.
You May Also Be Interested in These Topics