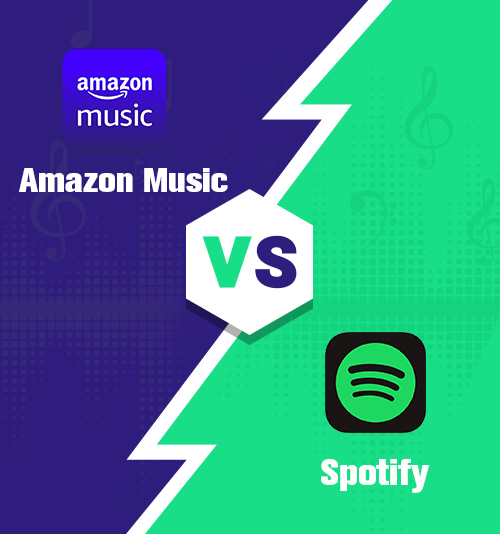 With plenty of music stream service available online, do you get confused about which is fit for you, especially in the option between Amazon Music vs Spotify?
If you don't have an amazon membership, the choice is easier for you. After all, Spotify is the pioneer in the music-streaming competition.
However, Amazon announced that users could stream music for free online and on some devices in November 2019. That is a strike for Spotify. Will Amazon Music catch up with Spotify? Or Spotify is better than Amazon music?
In this post, we will make an ultimate comparison between Spotify vs Amazon Music and find the best one for you. Besides, this post also tells you how to download music from Spotify and Amazon music for free.
Let's dive in.
Part 1. Amazon Music vs Spotify
1) Subscription Plan
Spotify vs Amazon Music: Free Version
Spotify is undoubtedly the biggest music streaming service in the world. It offers an easy way to access a giant library of streaming music.
In November 2019, Amazon declared that users in the US, UK, and Germany would be able to enjoy ad-supported music with no subscription or credit card required on smartphones and TV, as well as online.
In this sense, both Spotify and Amazon are neck to neck.
Both services provide free music with ad-supported and skip-limitation features. However, Spotify provides more tracks and enables us to create a playlist. Thus, I prefer Spotify in the free version.
If you've subscribed to Amazon Prime ($12.99 per month or $119 per year), however, you can get access to a broad category of 2 million curated songs without paying extra dimes. Furthermore, you can listen offline with unlimited skips. In this sense, you should choose Amazon Music as a Prime member.
Spotify Premium vs Amazon Music Unlimited
Either Spotify or Amazon boasts vast libraries of 60 million tracks. With Spotify Premium and Amazon Music Unlimited, you can get access to each library with ad-free, unlimited skips & plays, and offline playback.
Spotify Premium charges $9.99 per month. With this plan, you can enjoy tracks with 320 kbps. The sound is much clear and punchier than standard sound (160 kbps).
Amazon Music Unlimited costs $9.99 per month for non-Prime members. If you have subscribed to Amazon Prime, then you will be charged $7.99 per month or $79.99 annually.
In short, Spotify wins by a narrow margin in this round due to its high-quality sound. Once again, if you are not a picky listener, Amazon has the bang for your buck.
Spotify vs Amazon Music: Other Price Scheme
Family Plan: both Spotify and Amazon provide Family plans with 6 accounts. The subscription buck for Spotify is $14.99/month. Amazon Music Unlimited [Family Plan], available to Prime members only, costs $14.99/month or $149/year.
Amazon Music Unlimited HD: with 12.99/month for Prime members or 14.99/month for non-Prime customers, you can reach 60 million songs in High Definition and millions in Ultra High Definition (Ultra HD). Of course, this plan requires incredible equipment.
In a word, Amazon Music Unlimited HD is suitable for those picky listeners.
2) Distinct Features
Spotify: Powerful Discovery & Social Functions
Spotify stands out from the crowd when it comes to music discovery. Its popular Discovery Weekly features apply advanced algorithm to create curated playlists based on your listening habits. Besides, Spotify sends out a two-hour Release Radar playlist on Friday. The playlist contains brand-new music and remixes. Although Amazon Music has a similar feature calls Music Experts. It is less smart than Spotify's.
What's more, Spotify shines when it comes to social features. Spotify makes it easier to share music than any other competitor. With Spotify, you can send a track or album, curate playlists with friends, or peek at what your Facebook friends are listening to. Furthermore, the Group Session function enables more than one user to add the playlist on the fly.
Amazon Music: Premium Sound Quality & AI
If you are looking for hi-fidelity sound quality, Amazon Music Unlimited HD is your best choice.
Amazon Music HD features premium music with more than 60 million songs in High Definition and million songs in Ultra High Definition (Ultra HD). They are the highest streaming audio available. Amazon Music HD offers with an average bitrate of 850 kbps while most standard streaming services only provide Standard Definition (SD)with a bitrate up to 320 kbps.
The audio files provided by Amazon Music HD preserve the original recording information to deliver the highest quality sound available. That is what audiophiles look for!
Both Spotify and Amazon Music are compatible with many devices. However, Amazon Music is exclusively available for Fire tablets, Fire TVs, as well as BMW and Mini in-car entertainment systems. As expected, Amazon Music Unlimited integrates seamlessly with Echo devices, and you can ask Alexa to play a specific track or search by mood, lyric, artists, or decade.
Part 2. Download Music from Spotify or Amazon Music for Free
Both Spotify and Amazon Music allow you to stream music offline as long as you subscribe to it. Is there any free method to download music from Spotify or Amazon Music?
To download music from Spotify or Amazon music for free, AnyMusic is a must. AnyMusic is a feature-rich software. It enables you to download music and video from more than 1000+ sites, such as YouTube Music, SoundCloud, Jamendo, etc. Besides, you can download tracks with 320kbps easily with AnyMusic. Plus, batch download music is available.
Before we start, you need to install AnyMusic on your device. AnyMusic is compatible with Windows, Mac, and Android.
AnyMusic
Get unlimited music downloads in 320kbps
for Windows 10/8/7
for Mac OS X 14+
for Android
Launch AnyMusic and type the track title on the search box to search for the music. You can also search for the music via artists, albums as well.
Download the music with default quality, or you can click the More button to find out more formats. Besides, you can click the play icon on a thumbnail to preview the file.
Conclusion
We have made a comprehensive comparison of Amazon Music vs Spotify. If you want a solid all-around service, or you love to create, browse, and share playlists for any scenario, Spotify is your choice. If you are a picky listener, or you like AI equipment, I guess you don't want to miss Amazon Music, especially when you are an Amazon Prime member.
Of course, if you don't want to spend a dime while enjoying Amazon Music and Spotify, you can listen to music offline with AnyMusic. AnyMusic is a versatile downloader to help you save music with high quality.
Have a try right now!
You May Also Be Interested in These Topics