Summary of this article: Do you want to cut costs from your large wedding budget without sacrificing style? Making your own wedding invitation card with smart software is a good way to cut costs. AmoyShare Photo Collage Maker (abbreviated AmoyShare PCM) could help you to achieve that also by creating unique and elegant wedding invites easily.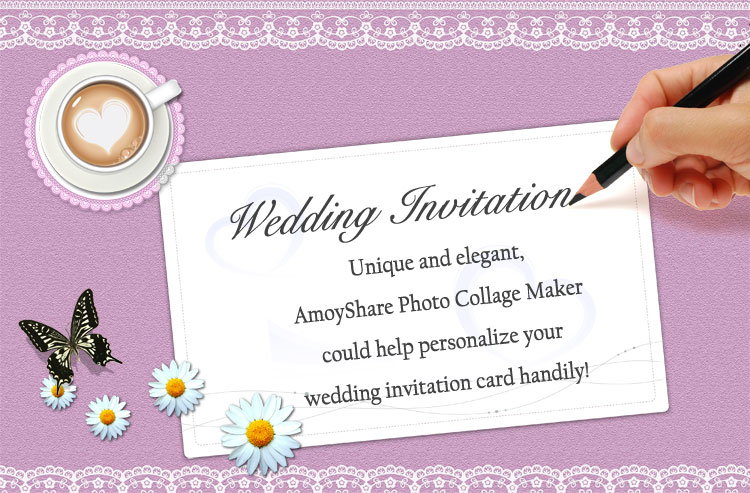 My fiancée and I are getting married recently. Everything during our wedding planning goes perfect but yet one thing makes us greatly divided in opinion. That is wedding invitation designs. Maybe you will better understand our disagreement after you know that she's a trendsetter in technology, yet I'm a little old-fashioned. So, when it comes to wedding invitation card, in order to keep style, I support to buy mass elegant and expensive readymade, whereas, my fiancée thinks it too out-dated and extravagant. She argued that we could design our unique one online and sent them to guests by e-mail.
War fire kindles, and then long period of frozen relations between us exists. Leave unsaid, in a word, we are both in low spirits towards this thing. Thank God, later, one of my friends recommends a software called AmoyShare PCM, solving all the problems I worried and my beautiful fiancée also beams with pleasure at last. It manages to reconcile my fiancée and me!
At first, I just took an attitude with a grain of salt towards this software. I am afraid that it cannot meet my demand and although we can trim a lot of money from this way in our wedding budget, we have to sacrifice style. Think twice but it finally conquers me through its creative, high quality and user-friendly features.
With AmoyShare PCM, my fiancée and I cannot only find many wedding invitation templates inside, but also the various tools to edit or decorate by customizing our own wedding invitation designs. Moreover, we can print or share just through this full considerate software! Fabulous, isn't it?
Therefore, in order to help those who are getting married profit from our lesson by avoiding detours, I will teach you below how to use AmoyShare PCM to make wedding invitation card from start to finish. Let's start!
Step 1: Make the front of the wedding invite. Download and open Photo Collage Maker on your computer. It will ask you if you want to create it from a blank page or from existed templates. For example, just choose the option of Create Blank Collage and set up the customized size on the appearing Collage Panel Setting. Then click OK to start.



Step 2: Choose the wedding photos you preserve on your computer and drag them to the blank page, they will be shown as thumbnails. You can right click your mouse to clear photo frames. Next adjust every picture to its proper position that you'd like to fill the whole page.





Step 3: Click Add Text option to customize your wedding invitation card using personalized text, choosing from a vast array of fonts and colors.



Step 4: Make the back of the wedding invite as below. Just open Amoyshare Photo Collage Maker to create a blank collage, adding the text you prefer.



Step 5: Save both front and back to print or share.
Now my fiancée and I can both preserve our practice now: she can create our unique wedding invitation card through AmoyShare PCM and send them by email, while I can just send part of guests the ones by multiple print through AmoyShare PCM. Hooray, it's a win-win situation!
Would you also like to create a professional quality wedding card by yourself with easy cutting wedding costs? Why not use AmoyShare PCM to try out like me?
JUST DOWNLOAD IT TO FREE TRIAL NOW BY CLICKING BELOW LINK:
Download Trial
Green Software with NO Plug-ins.

Download Trial
Green Software with NO Plug-ins.