Many people used to stereotype animations as a thing for teenagers. Actually, it's different from cartoon. Anime, especially from Japan, are derived from Japanese comics and light novels. A typical short anime series always contains 12 or 24 episodes, and the longer series could reach hundreds of episodes.
Anime receives audiences because of its creative plot twists, good-looking characters, and meaningful themes. Globally, anime is popular among a wide age range. There are also plenty of websites streaming anime works, allowing people to watch anime online in an easier way.
Meanwhile, downloading anime is a growing demand that the Internet needs to pay attention to.
So, where to download anime for free? No worries. Here, I collated a top list of anime download sites for you. Besides that, I highly recommend AnyVid all-in-one video downloader to download HD anime episodes. Of course, you can use Online Video Downloader to searh for save your favorite anime via episode titles or URLs.
Read on and see how these sites will help you download anime episodes!
Part 1. Best Anime Downloader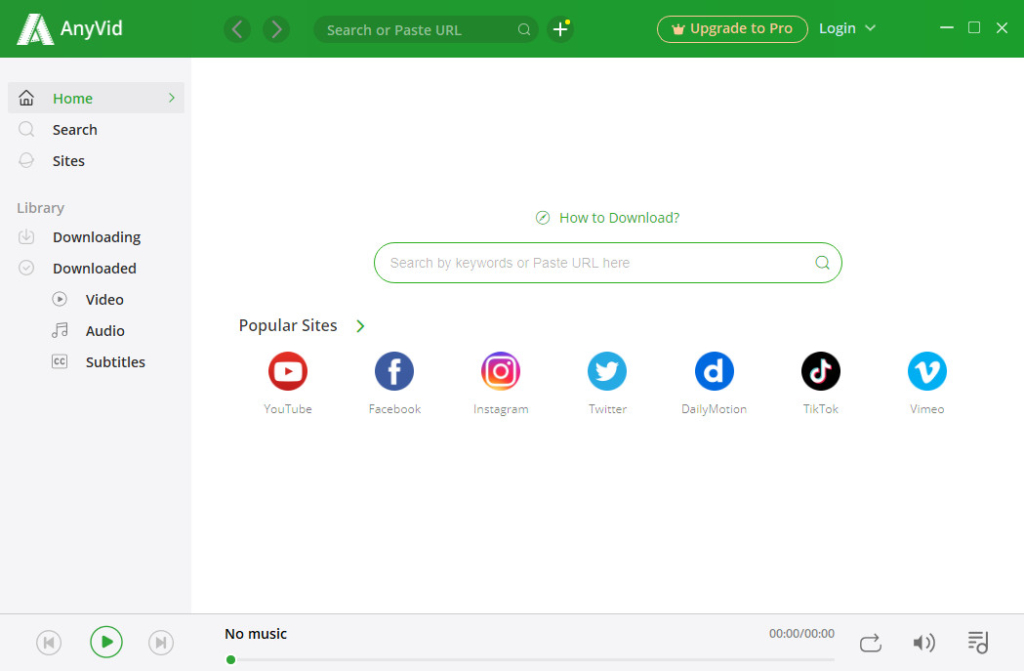 Before introduction of 7 best sites to download anime, I would like to recommend the easiest way to download anime free. Install AnyVid from amoyshare.com, and then you can use this downloader software to download anime resource from 1,000+ video streaming websites.
AnyVid
Download any video from 1,000+ websites
AnyVid also offers 3X fast download speed when downloading the HD and 4K videos. The batch download function is efficient for anime episodes download. The speed won't be slowed down a lot while multiple download tasks are running simultaneously.
The operation is also super easy to learn: get the link of the video you want to download and paste it to AnyVid's search box. If you don't have the exact video link, no worries, you can still use AnyVid's built-in browser's keyword search function. When the results show up, you can save your favorite anime to MP4 in 720p,1080p,2K or even 4K.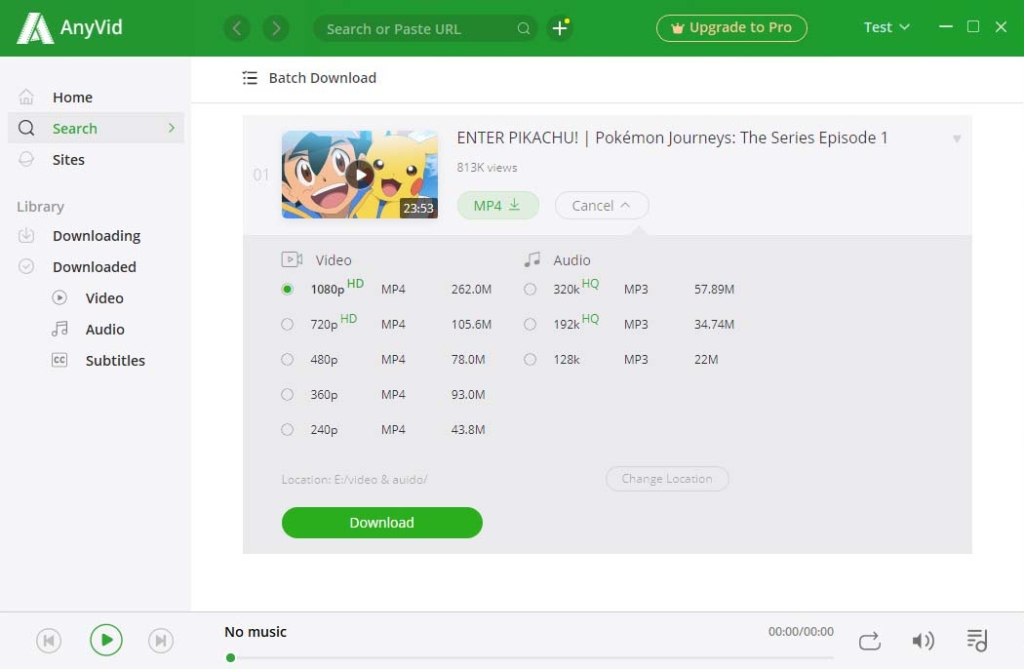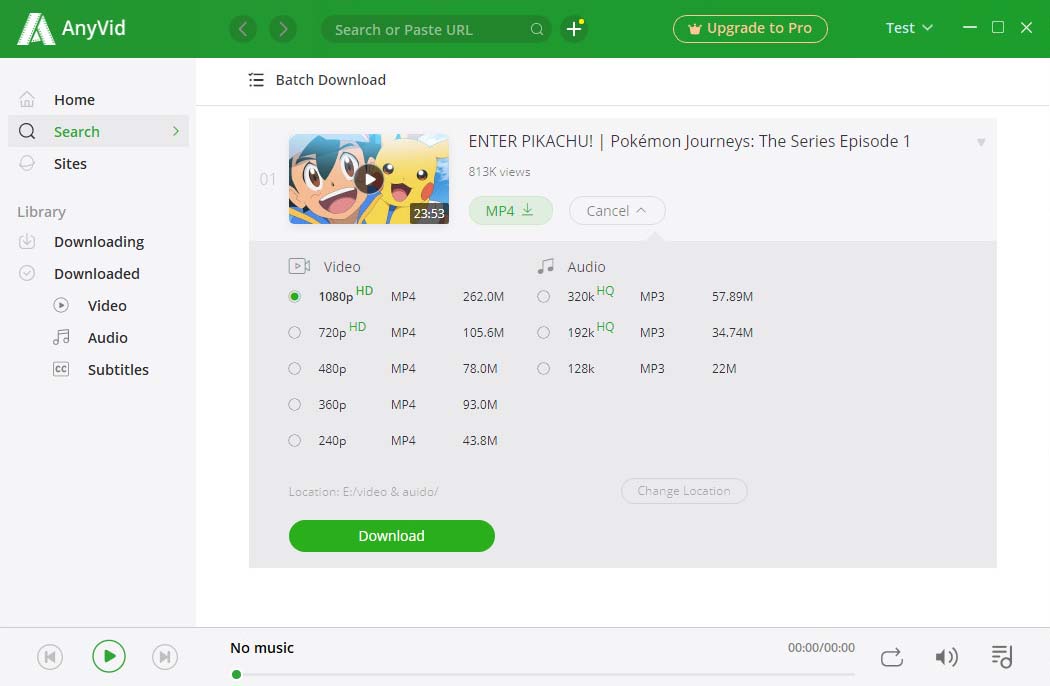 Part 1. Top 7 Online Sites to Download Anime for Free
In this part, we have handpicked 7 websites to download anime for free. Please keep reading.
1. KissAnime
If you ask anime lovers for the most famous video streaming site, they will probably recommend KissAnime. Indeed, KissAnime is a big anime streaming website that provides the latest anime episodes. Thanks to the high-performance server, the watching experience on KissAnime is pretty smooth. KissAnime sorts anime works by different categories, and you can also search for the anime you like by typing in the keywords. KissAnime offers high-quality anime videos like 1080p. If you want to download the great anime episodes from KissAnime, you need to register an account to become its member. When you click on an episode you like, scroll down the page, and then you will see the download link.
2. 9Anime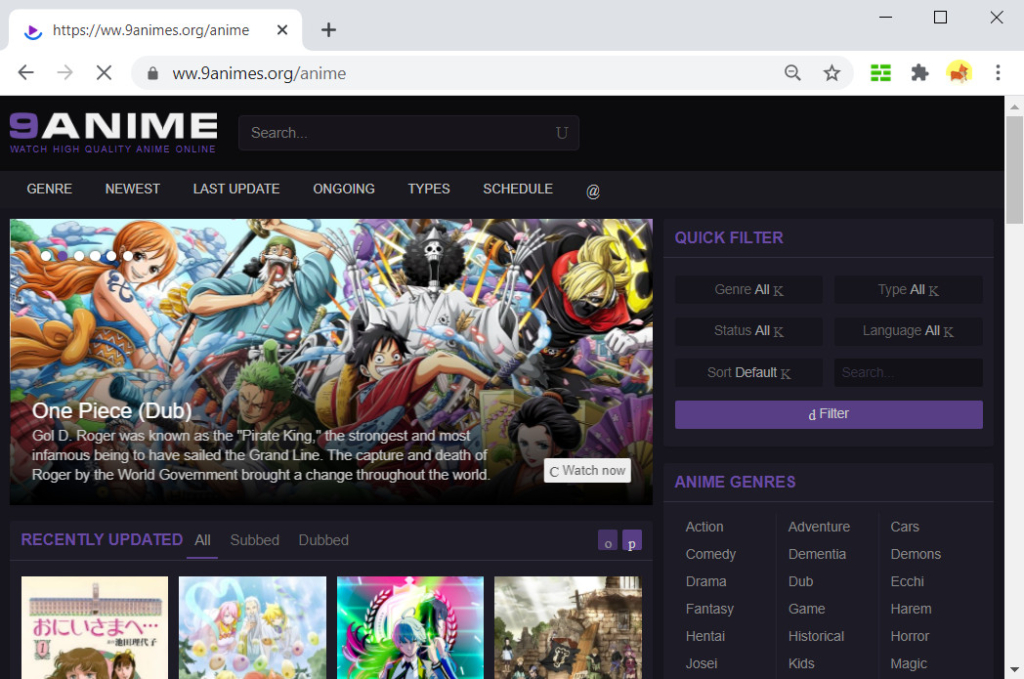 9Anime is another well-known amine streaming website that offers multi-language subtitles. Compared with KissAnime, which is stuffed with ads, 9Anime has a much clearer UI design. 9Anime also uses categories to arrange anime resources. Besides browsing categories and searching by keywords, you can also click on "Get a random anime" to see what this site prepares for you if you don't have a specific choice. When you enter the anime-watching window, you can find the download icon at the bottom right corner. Start downloading the anime episode by clicking on it.
3. Chia-Anime
You will see lots of anime series thumbnails on the Chia-Anime homepage, and those are the latest anime episodes. Unlike KissAnime and 9Anime I mentioned above, Chia-Anime has a much simpler category system. This website sorts all the anime series in alphabetical order.
Other than that, you can also search for the anime you want at the search box on the top right corner. Chia-Anime provides high-quality anime videos with English subtitles. You can download the anime for free by clicking the download link under the play window. However, you can only download the anime episode in MP4 format.
4. GoGoAnime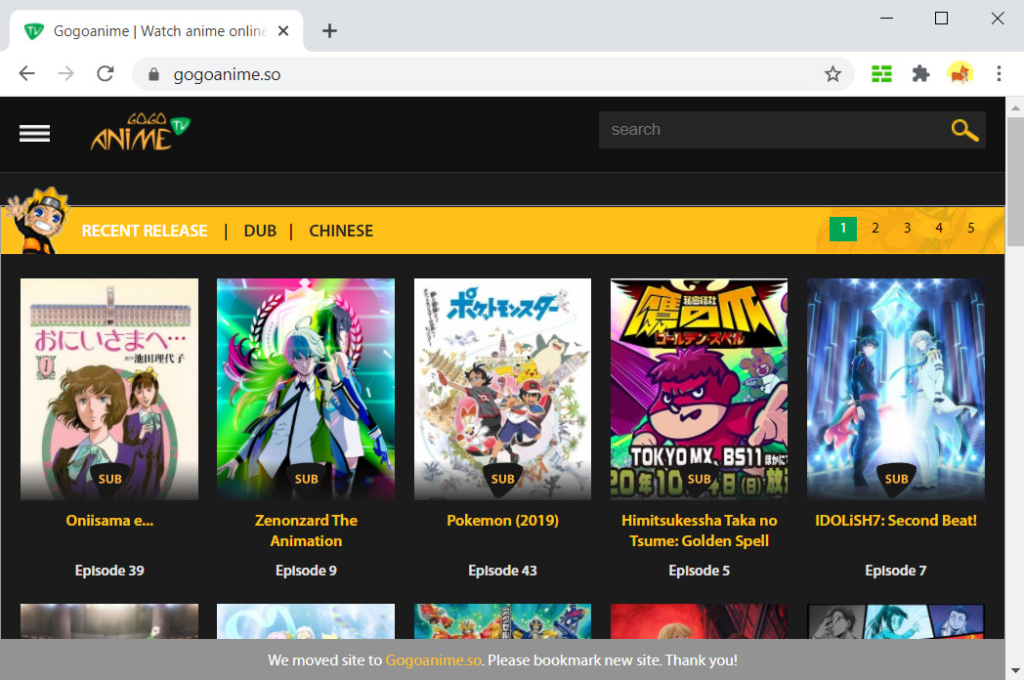 GoGoAnime is a user-friendly anime streaming website that offers a download service as well. GoGoAnime has a well-organized homepage that lists its anime resources by "Recent Release," "DUB," and "Chinese." There's also a ranking list on the right, allows you to see the most popular anime work in a day/week/month.
Click on the thumbnail of the anime you wish to watch, and you can see the download button above the play window. But remember, you need to log in before downloading anything from GoGoAnime. Luckily, the registration process is not complex at all. The only shortcoming is this site contains lots of ads.
5. Funimation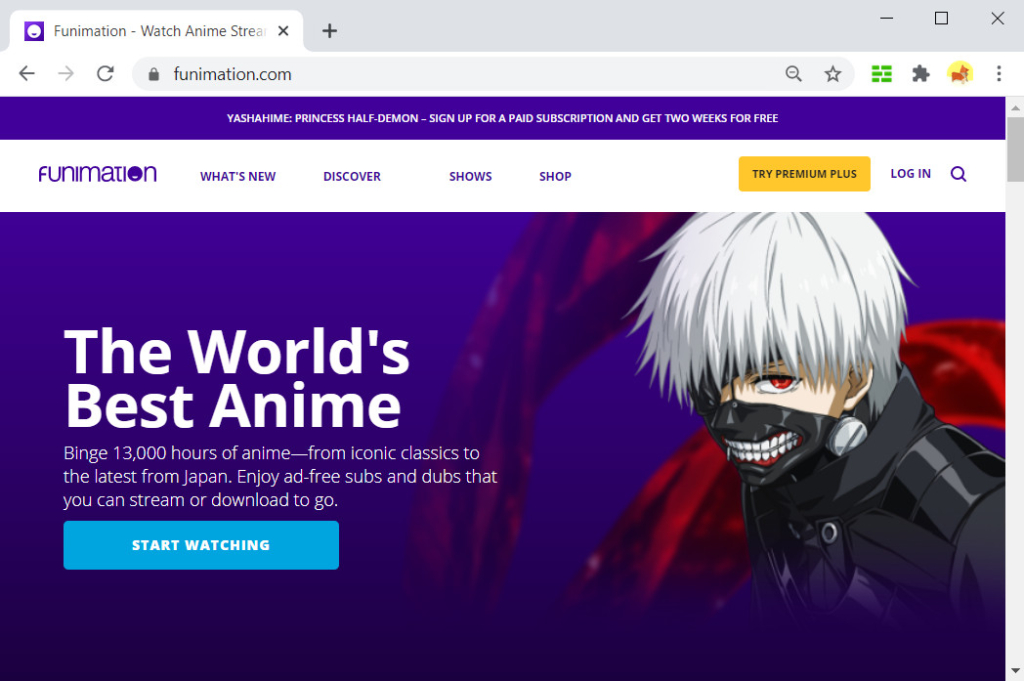 Funimation is an American anime streaming website that is mainly owned by Japanese conglomerate Sony. It gained fame with the famous licensed series Dragan Ball Z. Besides anime video streaming, Funimation also has an online store that sells video games, character figures, and many other anime peripheral products.
The anime episodes on Funimation have high-quality and multi-language subtitles that audiences could choose. The interface is also very flexible and clean. All anime information and thumbnails are displayed neatly without ads. However, if you would like to download the anime, Funimation only supports offline viewing on mobile devices (both iOS and Android).
Download the app, create an account, and purchase the Premium Plus plan (usually start with a free trial and then it costs $7.99/mo). Then you can enjoy the high-quality anime episodes without the limitation of network connection.
6. Crunchyroll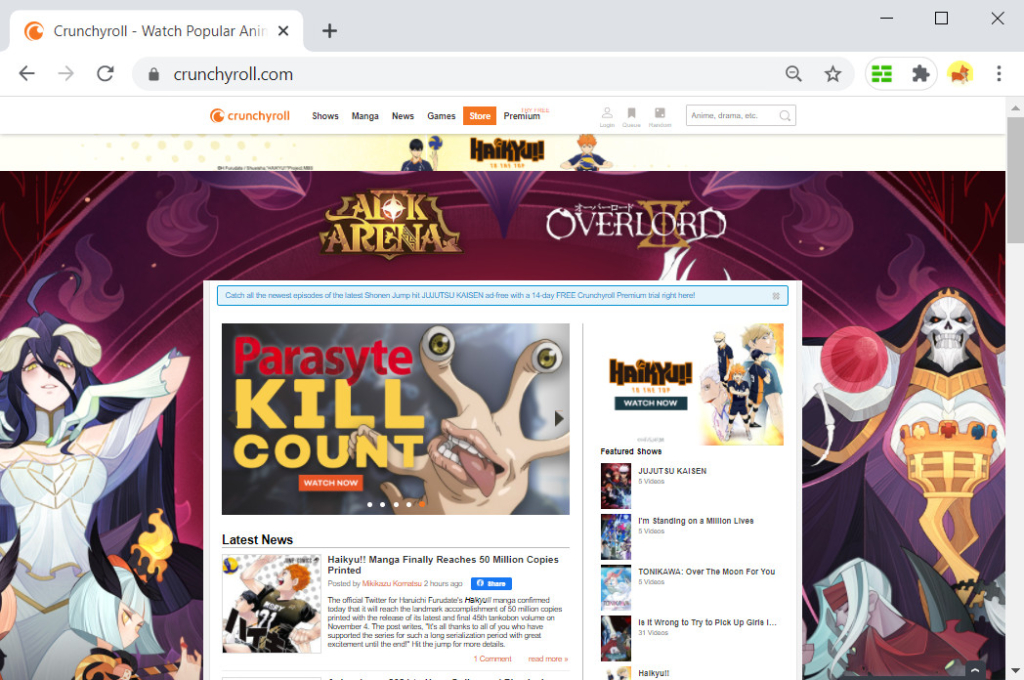 Crunchyroll is also a licensing company that aims to stream anime, drama, and manga. Watching anime works on Crunchyroll won't bring any copyright issue. Browsing the homepage of Crunchyroll, you will see the latest anime series, and site news, and the advance notice of further anime updates.
Anime on Crunchyroll is always attached with multi-language subtitles and has quality options from 240p to 1080p. But downloading anime works from Crunchyroll is not free. The website provides a MEGA FAN premium plan (costs $9.99/mo) that allows users to view anime episodes offline. What's more, enjoy the 3,000+ ad-free videos and new episodes one hour after they are aired in Japan.
7. Hulu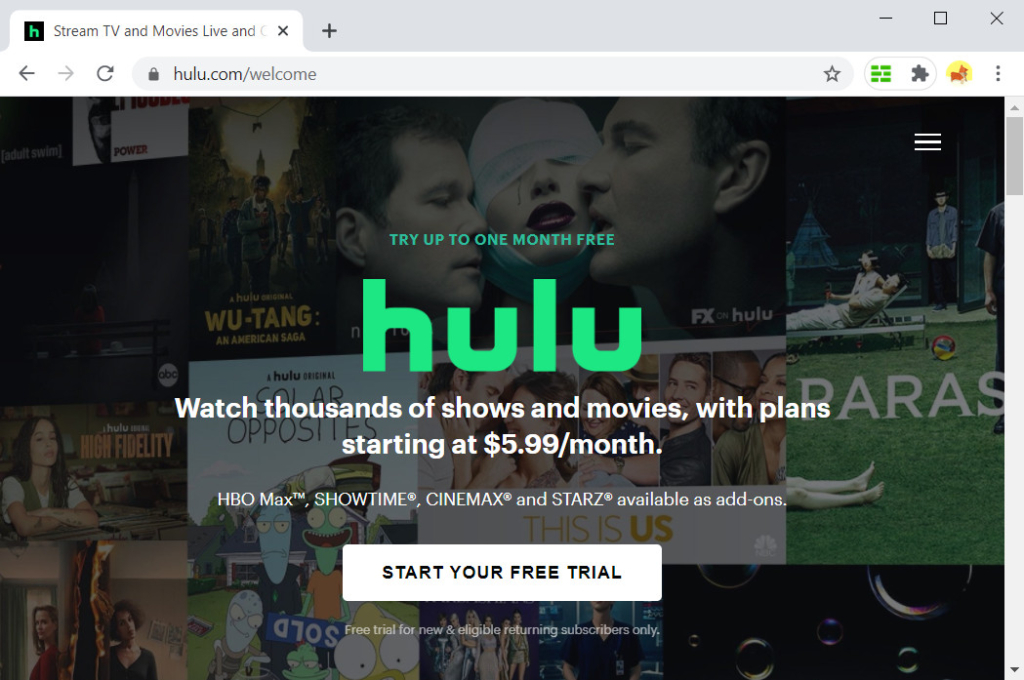 Hulu is an American video streaming website that is mainly owned by The Walt Disney Company. In September 2011, Hulu started to serve the Japanese users to expand the overseas market. By reaching agreements with many famous American and Japanese TV stations and film companies, Hulu offers video resources through licensing streaming.
In Japan, Hulu's main stockholders are NTV, Yahoo! JAPAN, Toho Company, Ltd., YTV, and CTV. Therefore, the TV drama, variety shows, and anime from these companies will also be streaming on Hulu, for example, Detective Conan and Gin Tama.
Hulu also provides a paid download service. If you want to watch the anime series offline on your supported devices, you need to purchase the premium plan that costs $11.99/mo.
Conclusion
After reading through this post, I guess you are now having some ideas of where to download anime.
For me, online anime download sites are truly convenient and easy to use. But I still prefer the downloader software, AnyVid. Rather than finding the anime among many different online sites, I prefer to get a downloader once for all.
Click on the Download button below to get AnyVid on your PC or mobile device. There's no loss to you for just a try!
AnyVid
Download any video from 1,000+ websites
You May Also Be Interested in These Topics