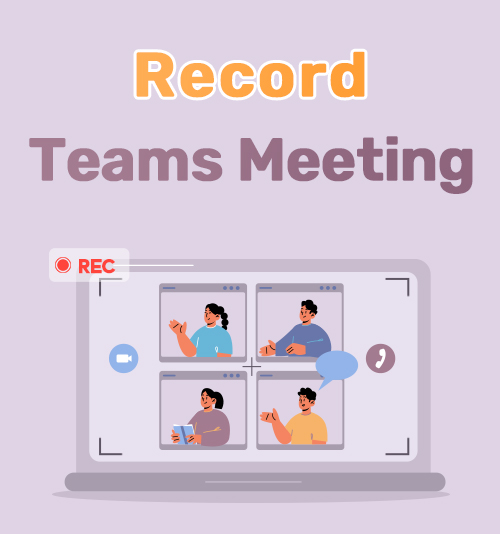 There are many communication methods, including Skype, Zoom, and social media. However, during the Covid pandemic, many companies and schools have to find alternative options to have meetings and teach classes.
Over 80% of the world started using other sorts of communication to have meetings. For example, Microsoft Teams have seen an increase in users in the last three years, leaving many users with questions like how to record a Teams meeting.
Team recordings can be simple when you have the right tools. During this feature, we look at how to record Teams meetings on Android and iPhone. We also find out how to record Teams meeting as a guest. Knowing which tools to use to start recording Teams can be beneficial to your professional life and help you when you forget a few critical points that hosts discussed in the meetings.
Let's get started.
Part 1. How to Record Teams Meetings with a Built-in Recorder
Teams has a built-in recorder that you can opt to use when needing to record Teams meetings, and using it is relatively simple. If you are struggling with the recorder, follow these easy steps to help you.
Kindly know that you have to be the host or get permission from the host before recording meetings in Microsoft Teams.
Log into your account and open the Teams app. Once the application is open, you will see many options. Here you can choose to start a meeting or join one.
Join the Team meeting and move your pointer to the bottom-middle section of the Teams window to find more options. Then, please proceed to the ellipsis icon and click on it.
Under the more actions tab, you will see a wide range of options, including a recording button. Select the start recording option, and you will see a recording notification on your screen. To stop the recording, select the stop option to end the meeting.
Many users have ever asked why can't I record on Teams. As said before, only the host or people who have been allowed to record meetings and guests will not have the luxury of recording. It is also not the best option to record teams discreetly, as all participants will have to be notified of the recording in progress. If you want to know how to record a Team meeting secretly, please keep reading.
Part 2. How to Record Teams Meetings as a Guest
When you join a Teams meeting, I am sure you have noticed the inability to record a Teams meeting as a guest. Guests often cannot use the built-in Team's recorder, which can result in you missing out on a few talking points. We suggest trying one Team recording app to record all your meetings.
AmoyShare Screen Recorder
AmoyShare offers a screen recorder that allows you to record Teams in a few easy steps. Have you ever wondered how to record a Teams meeting secretly? Then, AmoyShare is your best option. It lets you record the meeting without permission. Besides, you can record video, system sound, microphone, and webcam in one go. On top of it, it features built-in draw toolkits to mark critical points while recording. Hence, many users include it in the list of best screen recording software.
Then how to record a Teams meeting with AmoyShare Screen Recorder? Before we start, please download the application on Windows.
Screen Recorder
Capture HD video and audio instantly
Open the application and view your options. You will see the following tabs "video recorder," "audio recorder," and "game recorder. " Click on the one called video recorder.
The program will take you to another screen with an adjustable orange square. Drag the sides to fit your Team's screen ratio and hit the record button. A countdown will appear, and your recording will start. You can use the hotkeys Ctrl + Alt + R to start and stop your recordings in the future.
Movavi Screen Recorder
Movavi is also an excellent Windows screen recorder that you can be used to record a Microsoft Teams meeting.
How to achieve it, please follow the detailed steps below.
Download Movavi screen recorder from their website onto your desktop. Then follow the prompts dto install it.
Open the application and click on the screen recording icon on the right-hand side of your screen. Change your microphone and sound recording settings to your preference, and you can also add to record your webcam. Here you also select the screen recording ratio.
Click record, and you will notice your recording starting shortly after you click the recording button.
Part 3. How to Record Microsoft Teams Meetings on Mobile
Not everyone attends virtual meetings on their desktop or laptop. Many people are on the move and need to use their phones to join Teams meeting. What happens if you need to record Teams meetings on your mobile? The following options are perfect for you. You will now know how to record Teams on iPhone and Android.
Teams Meeting Recording on Android
Open your Android device and swipe down from the top of your screen, revealing a widget panel.
Find the widget labeled "Screen recorder." If this tab is not on your widget panel, you can go to your settings and add it or access the recorder by searching for it in your settings tab.
A countdown will begin after you have clicked on the screen recording widget.
Teams Meeting Recording on iPhone
Go to your settings tab and look for the control center tab. Then, add the screen recorder to your control panel to access it on your phone.
Swipe in an upwards motion from the bottom of your home screen to access your control panel. Here you will find your newly added screen recording button. It is a grey recording icon. Tap it. Switch on your microphone for sound recording and click start Teams recording.
When you have stopped the recording, you can find it saved in your iPhone's Camera Roll.
Final Thoughts
When having many meetings daily, having access to some fantastic recorders is beneficial. But we understand that some recorders are not as easy to use and require detailed steps.
During this article, you have discovered how to record a Teams meeting with AmoyShare Screen Recorder, Movavi, and even some handy built-in options. You also know how to record Teams on mobile devices.
I hope this feature helped you understand how simple recording Teams meetings can be with practical tools.
Try it out!
Screen Recorder
Capture HD video and audio instantly
FAQ
Can anyone record a Teams meeting?
When using the Teams' built-in recorder, no. But when you use an application like AmoyShare's screen recorder, anyone can record meetings on Teams.
How to record Teams meeting secretly?
You can use an external application to record your Teams meeting without the other users' permission. AmoyShare screen recorder allows you to record meetings discreetly. Be careful not to share the discussion on public platforms without the attendees' permission.
Where are Teams recordings stored?
They are saved to the device you have recorded on. Before starting a recording, you can change your setting to save the recordings in a selected folder of your choice.
You May Also Be Interested in These Topics