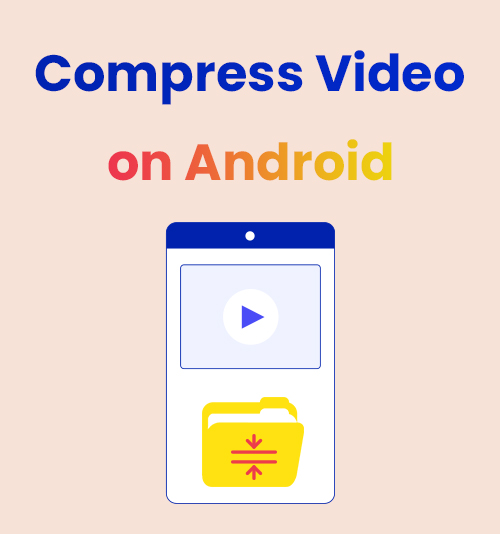 Android has been characterized by a lovely robot icon. Unlike iPhone, which provides limited access to third-party applications, Android offers a level-playing field for all types of apps. However, the more freedom is conferred to service providers, the more risks are hidden under the surface.
This article selects the safest and most convenient apps for Android, and offers 3 fast tips on how to compress a video on Android. These apps contain no ads or viruses, which may become your headache as you swipe on the screen to exit the pop-up windows.
Compressing a video is easier than you expected. The most difficult part is finding the best video compression app with the fastest solution. In the article, you can get the most difficult problem solved.
All the Methods for Video Compression on Android
Before you arrive at this article, you may have thought of several possible solutions to reduce video size. For instance, you opt to chop the videos into different pieces and send them via social media. But pay attention to the timeline of your video, because it's quite annoying to see the video stop midway through the climax. Of course, you can make video file smaller by adjusting the video quality or packing your videos into a zip. And there is a fourth method. That is, compressing a video directly. The following chapters will take up the topic of downsizing video via video compressor app for Android.
Tip 1: Compress Video files via Video Compression Apps
The first tip to compress a video on Android is to download an app from Google Play. Using Android video compressor apps to compress is the most direct method, for you can upload the video files locally and the compressed results will automatically appear in your photo album.
Video Converter & Compressor
This video compressor for Android supports video formats of all types and compresses videos efficiently (300 MB > 60 MB). Even videos with the highest resolution can shed weight without any hassle with the help of Video Converter & Compressor. Besides directly compressing video size, you can decrease the resolution, frame rate, and bitrate rate. Below is how to compress a video on Android.
Click "Convert or Compress" to enter the compressor tool.
Add files to the compressor by choosing one input channel.
Select one video and click "Done."
Switch on the compression mode and click the Convert button.
Compress Video Size Compressor
It's easier to compress a bigger file than a file that is already small. Some applications require the video files that are smaller than you have expected. Compress Video Size Compressor can compress 7MB into 3MB. Once you type in a desired file size, the video compressor will produce a range of workable target sizes. And there is a preview feature by which you can compare the quality of the compressed video with that of the original.
Import files to Compress Video Size Compressor.
Select one compression setting and click "Compress."
Press Start button to compress the video.
Tip 2: Downsize Video Online
Cloud services abound across the Internet, where you can pay nothing for the fast video compression on any device. That means the solution is not confined to your smartphone. Online tool is a new perspective from which to know how to compress a video for Android in an easier way. The websites chosen in this chapter are virus-free and powerful enough like third-party programs.
AmoyShare Video Compressor Online
AmoyShare Video Compressor has a user-friendly interface and merely requires three steps to compress videos. After the video file is compressed, AmoyShare will keep the files for two hours to protect user privacy, so remember to download the results as quickly as possible.
This picture-aided guide will teach you how to compress a video online step by step:
Import files to AmoyShare online tool by clicking "Upload file."
Move the slider to decide the output size, and press "OK" to save the setting.
Press the "Compress" button to start the video compression.
Click the "Download" button to download the compressed file.
FreeConvert Video Compressor
FreeConvert provides a free video compressor, which enables the MAX 1 GB online video compression. A few simple taps and swipes on the screen are enough to compress a video online. On FreeConvert, there exist two options to downsize video. You can either shrink video by percentage or to a specific number.
Note: No video compressor can compress a huge video to a size below 10 MB.
Click "Choose Files" to import files.
Click the gear icon to enter the compression setting.
Opt to reduce size by percentage or to a specific number and apply the settings.
Click the Compress button after saving the settings.
[Bonus] Tip 3: Reduce Video Size on Mac/Wins
A desktop video compressor is the best alternative to a video compression app or online video compressor. It has no limit for file size and promises near zero quality loss during the video compression. Therefore, in this chapter, you will realize the potential of desktop programs to provide the most reliable compression services for Android users. This tip is most useful for videos that are too big for a phone to handle.
BeeConverter
BeeConverter is one of the best video compression programs. Its tools are beloved by green hands for their manifold possibilities. Users can convert, download, compress, and record a video with the least effort. As for video compression, BeeConverter allows you to:
⭐ Download lower quality videos with smaller sizes from 1000+ sites
⭐ Reduce video file size by 90% at most
⭐ Trim the video according to your preference
⭐ Compress multiple files at the same time
Below is an easy user guide, by which you can easily comprehend how to compress a video on Android quickly.
Video Converter
Convert videos to MP4, MOV, MP3, GIF, and more
for Windows 10/8/7
for Mac OS X 14+
for Android
Choose the video compressor tool on the Home tab.
Click "+ Add File" to import your video.
Select the target size, quality, and output format, and hit "OK" to confirm the settings.
Tap the Compress button to start.
WonderShare UniConverter
WonderShare UniConverter has established some reputation in this industry. The consumption of high-quality videos is on the rise, and so does the demand for video tools. UniConverter is such a tool that can do what you can think of. Unlike most video size compressors, UniConverter can only predict the possible size of the results.
Click the folder icon to upload the video.
Hit the gear icon and select the "Small Size" for video compression.
Press the Compress button to reduce video size.
Conclusion
Android system is friendly to all service providers, so users are inundated with countless applications to solve only one problem. Sometimes picking the best solution poses a challenge. This article has selected 6 best video compression apps for Android. Each of them is verified to be safe & efficient, and is provided with a step-by-step tutorial on how to compress a video on Android. When the video files are too big, they are beyond the capability of smartphones. Then, you need the help from professional desktop programs like BeeConverter.
Frequently Asked Questions
What is the best video compression app for Android?
BeeConverter is one of the best video problem solvers worth your trust. Powered by hardware in your PC, this best video compression software can compress big files hassle-free.
Which is the best online video compressor?
AmoyShare Video Compressor Online can compress videos effortlessly online. Without hardware support, online video compressors may underperform in some aspects. So you can opt for desktop software like BeeConverter. Even compressing a whole movie is an easy task for it.
How do I reduce the MB of a video on my Android?
You need to download the recommended apps to your Android or visit the online video compressors. But I suggest you compress videos on PC using BeeConverter, especially when you want to compress large video files in batches.