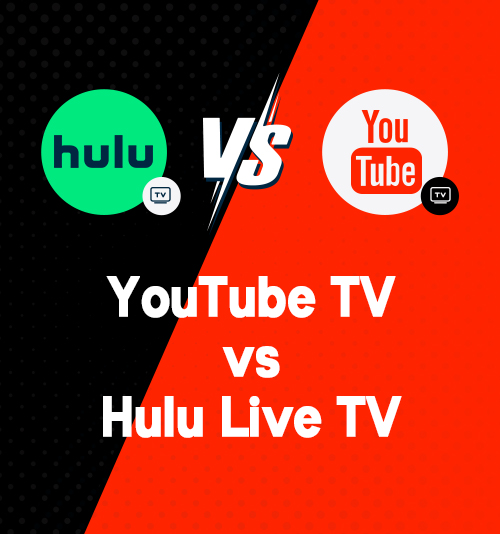 Nowadays, many people have abandoned traditional cable networks and switch to live TV streaming service. It not only allows you to cut the cord on your cable provider but also saves some money.
However, how to choose the streaming provider suitable for you? Every streaming service comes with their own price tag and special features, especially the choice of Hulu Live TV vs YouTube TV. They are the major player in the competition of TV streaming service.
In this article, we will make a comparison between these two of the top contenders: YouTube TV vs Hulu Live. Besides, we will provide the best way to download TV shows for free. Thus you can download and watch the shows whenever you want.
Without further ado, let's start!
Part 1. Which is Better: Hulu or YouTube TV?
You may get the latest news that YouTube TV just increases its base price to $64.99 in 30, June,2020, while Hulu + Live TV still keep its price of $ 54.99. Does that mean Hulu + Live TV is much competitive?
In this part, we will compare Hulu and YouTube TV in 3 aspects: content, cloud DVR, and user experience.
Content
With the price increases, YouTube TV base plan has enlarged its lineup to 85+ channels. It adds big ones such as AMC and BBC America while abandons some channels such as A&E, Lifetime, and History Channel.
Hulu + Live TV boasts over 65 channels, including many of the major popular cable basics. Plus, it is proud of the Hulu library and original contents. In Hulu's streaming library you can enjoy full seasons of hit shows, award-winning original series, new and classic films, etc. That gives the service a serious edge for Hulu subscribers.
Overall, YouTube TV has an excellent sports selection while Hulu + Live TV processes a nice array of news and entertainment channels.
If you don't know how to choose from YouTube TV vs Hulu Live channels, visit YouTube TV site or Hulu + Live TV site and enter Zip code to see if your favorite channels are available.
Cloud DVR
Cloud DVR enables you to record your favorite live TV shows to watch later. YouTube offers unlimited storage and works great. The recorded videos can be kept for up to 9 months. On the flipside, Hulu + Live TV provides only 50 hours of cloud DVR storage. You have to pay extra to enhance cloud DVR for 200 hours of storage.
In this sense, YouTube TV wins out hands down.
User Experience
YouTube TV has an edge out Hulu Live + TV when it comes to TV interface. YouTube interface is neat and easy to use, even if you are not used to using regular YouTube. However, Hulu's interface is workable but garners complaints.
As for simultaneous viewing, YouTube TV still takes the prize. It allows 3 screens at once while Hulu + Live TV only let you stream 2. However, if you are willing to pay a hefty $9.99 extra per month, you will be able to stream on unlimited screens with supported devices that connect to your home network.
When it comes to compatible devices, YouTube TV and Hulu are largely neck and neck. Both services work well with almost any streaming device. Of course, it is better to double check what device model are compatible with new service.
All in all, the comparison of YouTube TV vs Hulu Live TV comes down to price, channel selections, cloud DVR as well as user experience. Which one will you give the overall victory?
Part 2. How to Download TV Shows from YouTube TV or Hulu
Either YouTube TV or Hulu provides free cloud DVR storage of TV shows. However, even the best-in-class YouTube cloud DVR service only keeps the recordings for 9 months.
Such limitations may produce negative effects on your viewing experience. Why not download these TV shows so that you can watch them at anytime and anywhere?
AnyVid is a versatile downloader that allows you to download TV shows from most popular TV providers. Besides, you can batch download the episodes with a few clicks. AnyVid is safe, clean and fast to download. Let's use it to download TV shows for free right now!
First of you, please install AnyVid on your device. It is compatible with Windows, Mac and Android.
AnyVid
Download any video from 1,000+ websites
Insert the TV show's title to search for the episodes you want to download.
When the results show up, click the MP4 button to download shows in default quality. Or you can click the More button to pick up quality.
Tip: You can click the Filter on the upper right corner to select shows with duration and upload date.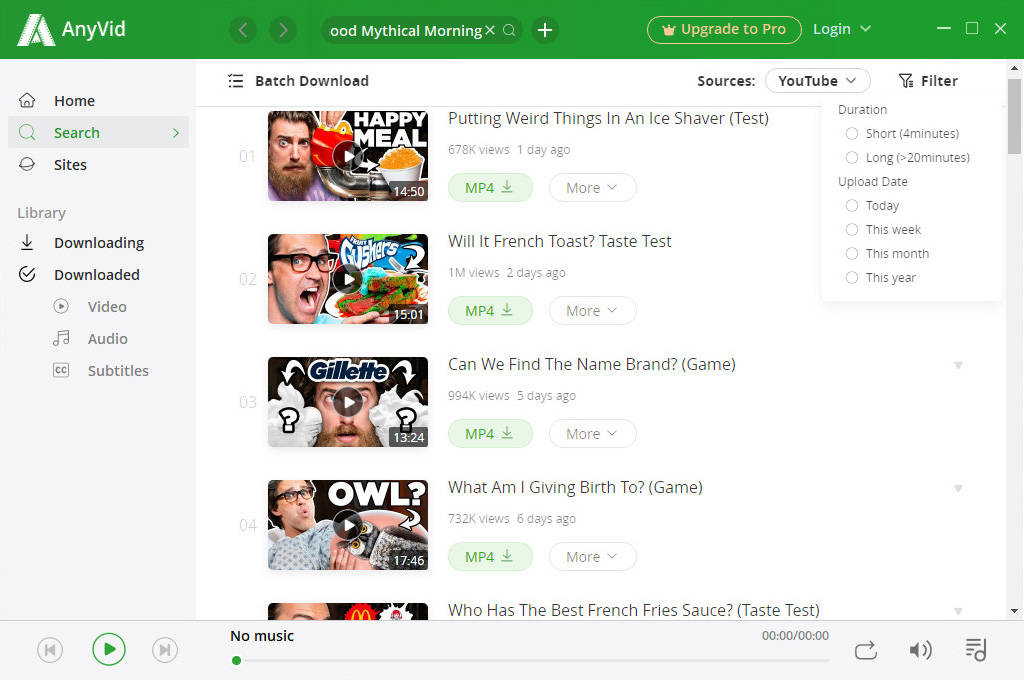 If you want to batch download the TV shows, click the batch download button on the upper left side.
Then you can select the episodes and click the download button to pick quality. Hit the green Download button to start the TV shows download.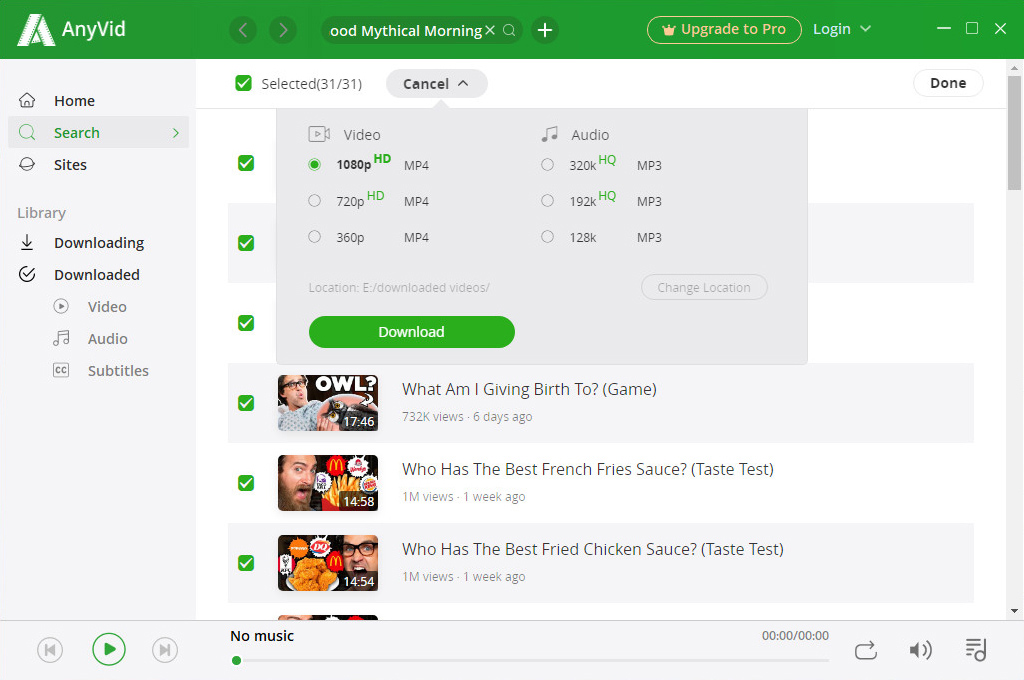 Now you can find the TV shows on Library. Enjoy yourself.
The Bottom Line
The cost-effective guide of YouTube TV vs Hulu Live has been analyzed. If you are interested in Hulu's library or original content, Hulu + Live TV is better. But for a sports fan, YouTube TV is the place to go. If you are still not sure, you'd better make good use of the 7-day free trial.
If you want to download TV shows, AnyVid is your best choice. It is also a supplement of Hulu + Live TV' poor cloud DVR storage. Besides, if allows you to download TV shows for free.
Have a try right now!
AnyVid
Download any video from 1,000+ websites
You May Also Be Interested in These Topics