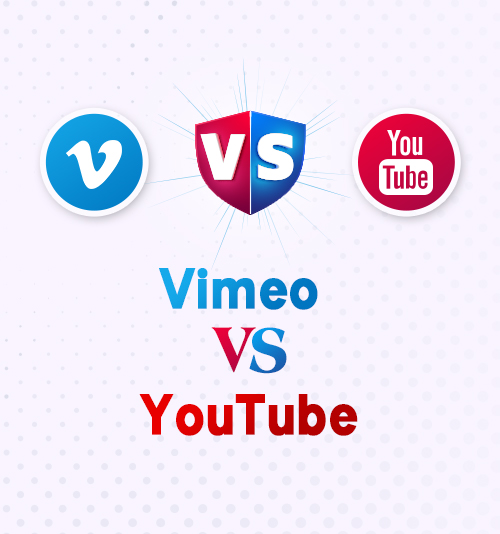 Vimeo and YouTube are two popular video sites to upload and view videos.
If you are a video uploader, there are some differences between them you must know.
You are lucky!
This article can help you know where the two video sites mainly differ in.
I will also offer you a bonus tip on how to download videos from Vimeo and YouTube.
Vimeo vs YouTube? Let's get started!
Vimeo vs YouTube for Business
The Audience
YouTube is the world's second largest search engine and second most visited site after Google. Being so popular, YouTube has 1.9 billion users with 500 hours of videos uploading to the site every minute. People watch over 1 billion hours of YouTube content in various categories every day. Compared to YouTube, Vimeo only has 175 million creators worldwide.
However, quantity doesn't mean everything. Although Vimeo's market is much small, it's a niche market creates for professional video makers and video amateurs. The communities on Vimeo are more supportive and can give you more constructive feedback than YouTube.
YouTube vs Vimeo? In short, if you aim to make high-performing and professional videos and look forward to receiving constructive remarks, you should choose Vimeo rather than YouTube.
Account Types
You have four plans to choose on Vimeo – Plus, Pro, Business and Premium. Or you can start with Vimeo Basic firstly, but bear in mind that it limits you to 500MB/week upload space.
On YouTube, you can apply for various accounts and every accounts have its merits but all are free.
Monetization
Vimeo vs YouTube for business?
Vimeo doesn't earn its profits from ads so you are totally free from watching ads here. To make more excellent videos and upload more videos smoothly on Vimeo, it's inevitable that you need to be a member. Through Vimeo OTT, you can transform your video content into a full-scale subscription service, by which people can directly buy a video from you.
YouTube allows video-makers to earn money from Ads, YouTube premium subscribers and so on. To make this, you need to be part of the YouTube Partner Program (YPP). Of course, you should meet some requirements to make your channel cross the thresholds.
Updating Video
Both video sites have a time limit on videos. And video quality for upload is optional.
Besides, Vimeo supports you replacing a video after it has been uploaded without losing the video's stats. However, you can't make alternations on YouTube unless you delete the file entirely and upload it again. Therefore, be careful about the spelling and content before you upload the video.
Bonus Tip: How to Download Video from Vimeo and YouTube
You must have been impressed by the visual effect or advanced video-making skill after watching so many professional videos on Vimeo and YouTube. For a video editor, good content and skilled craft could let your works catch more eyes. Watching and researching on how the excellent video is made is an efficient way to spur your improvement!
To watch others' videos fluently and make comparisons easily, you need to download videos from Vimeo and YouTube for offline viewing.
As you already know, you can not download Vimeo's and YouTube's videos directly. Don't worry. Here comes a professional video downloader for you!
AnyVid can help you download whatever high-quality video you like on Vimeo and YouTube. You can download videos easily just by pasting the video link or typing keywords in the search bar.
I am gonna to show you how to download a video from Vimeo with the built-in browser in AnyVid.
Open AnyVid and click the icon of Vimeo.
Select a video you like and then hit the big green download button to parse the video.
Choose the format and download the video.
Pretty cool! Download AnyVid and start your self-editing now.
AnyVid
Download any video from 1,000+ websites
for Windows 10/8/7
for Mac OS X 14+
for Android
Which is better, Vimeo or YouTube?
In a nutshell, the main difference between Vimeo and YouTube is the audience who they're targeting.
If you just start your business in the beginning, it's better that you use both video sites together. Besides, using AnyVid to improve your video editing.
Vimeo vs YouTube. Have you made your choice? Leave your comment in the below box to share with us.
You May Also Be Interested in These Topics