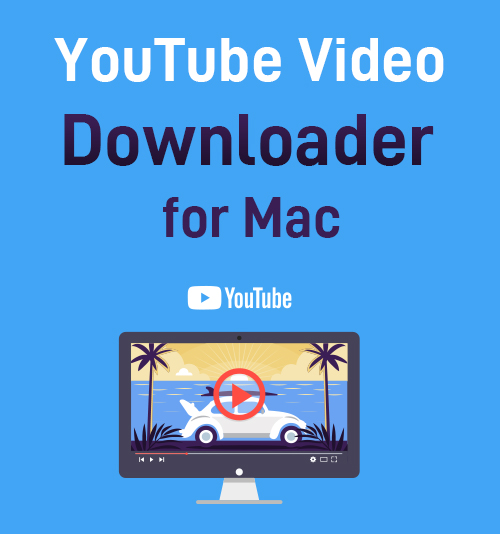 Several days ago, I came across some newly released but inspiring videos on YouTube when I was in the middle of working.
I wanted to download them onto my Mac for offline watching, but I was not allowed to do so.
This frustrated me a lot!
There exist a lot of useful and interesting videos on YouTube. How exciting it would be if we can freely download them onto our Mac!
So, I tried to use many different tools, which claim to be powerful YouTube video downloaders. But frustration came again and again because most of them had denied this service.
Fortunately, after the long "battle," I found a capable and free YouTube video downloader for Mac, in the end.
I guess most of you must have run into such problems as me. Hence, in this post, I want to share it with you.
Hope this post works for you!
Part 1. Best YouTube Video Downloader for Mac [Software]
If you are scouting for the best YouTube video downloader for Mac, it is unwise of you to miss AnyVid. Many users speak highly of it because it can be used not only as a YouTube video player but also converter and downloader for Mac.
● As a player, AnyVid brings us varieties of trending YouTube videos, including music videos, sports videos, gaming videos, news, etc.
● As a converter, AnyVid enables us to convert YouTube videos into MP3 files. Before getting downloads, there are 2 format options, MP3 or MP4. Feel free to get one! This feature is quite suitable for those looking for wonderful BGMs on YouTube.
● As a YouTube video downloader, AnyVid offers numerous high-resolution videos, ranging from 360p to higher. After selecting the video quality you want, you can directly download the video onto your Mac, Windows and mobile without having to create an account.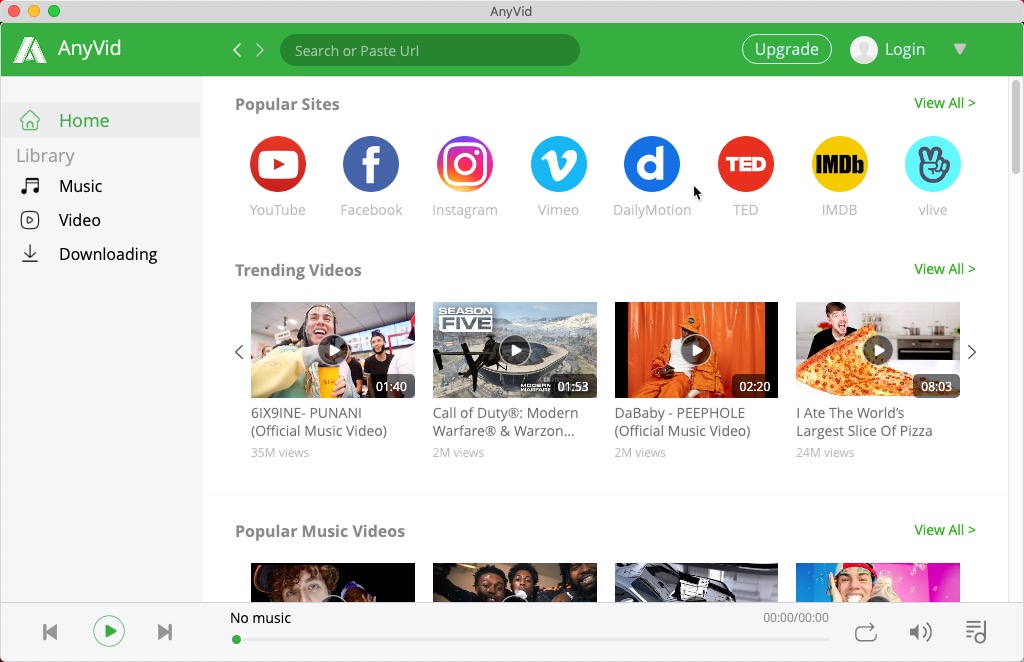 So, anything else?
Of course! If you further explore AnyVid, you will find more surprises. For example, it boasts an embedded YouTube site, which allows you to search, watch and download YouTube videos on AnyVid, without visiting the official YouTube site. Really amazing!
AnyVid
Download any video from 1,000+ websites
Well, without further ado, I will show you how to download YouTube videos on Mac.
Launch AnyVid program, and then paste the YouTube video URL into the search bar. Click the "Search" icon.
After the search result shows up, click "MP3" or "MP4" to get direct downloads. Or you can click "More" to see more quality options. Choose what you want and press the download button.
It only takes 2 steps to download YouTube videos on Mac. But what if you are afraid of overloading your Mac? No worries! Please read on!
Part 2. Best YouTube Video Downloader for Mac [Online]
Free Video Downloader is an online version of AnyVid. They share nearly the same features and downloading process.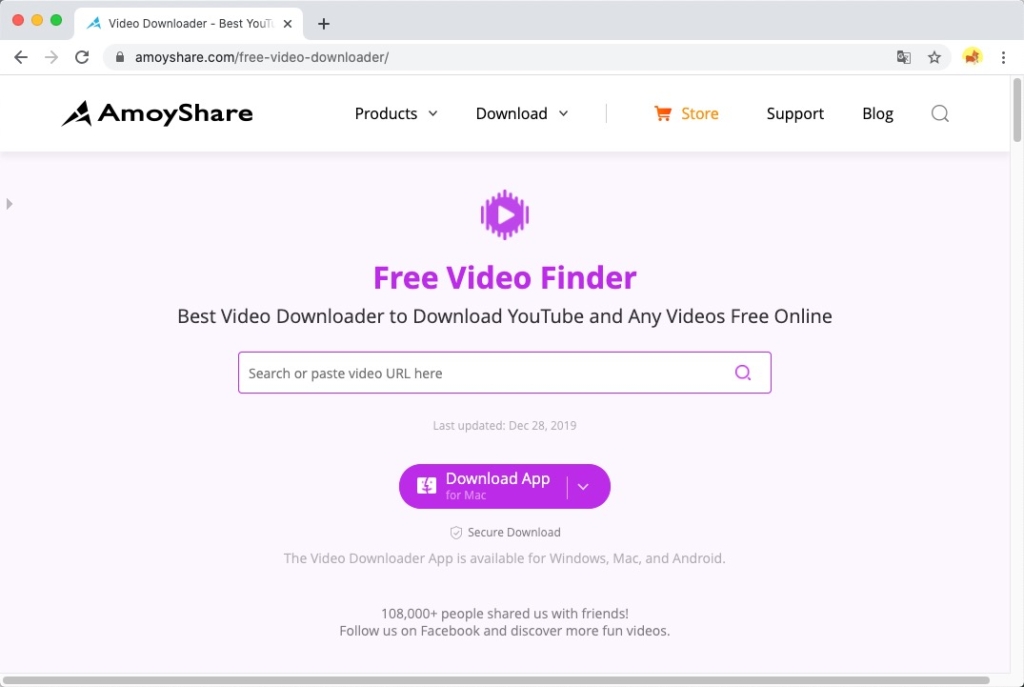 As an online YouTube video downloader for Mac, it works as long as you open it on your browser. No software or application!
But it only provides videos with limited quality options. So, if you want to download HD videos, Free Video Downloader won't be the right one for you.
Anyway, let me briefly teach you how to use Free Video Downloader to get downloads.
Just paste the YouTube video link into its search bar. After the video you want shows up, click the "Download" button to see more video quality options. Find the downloadable one and press the "download" button.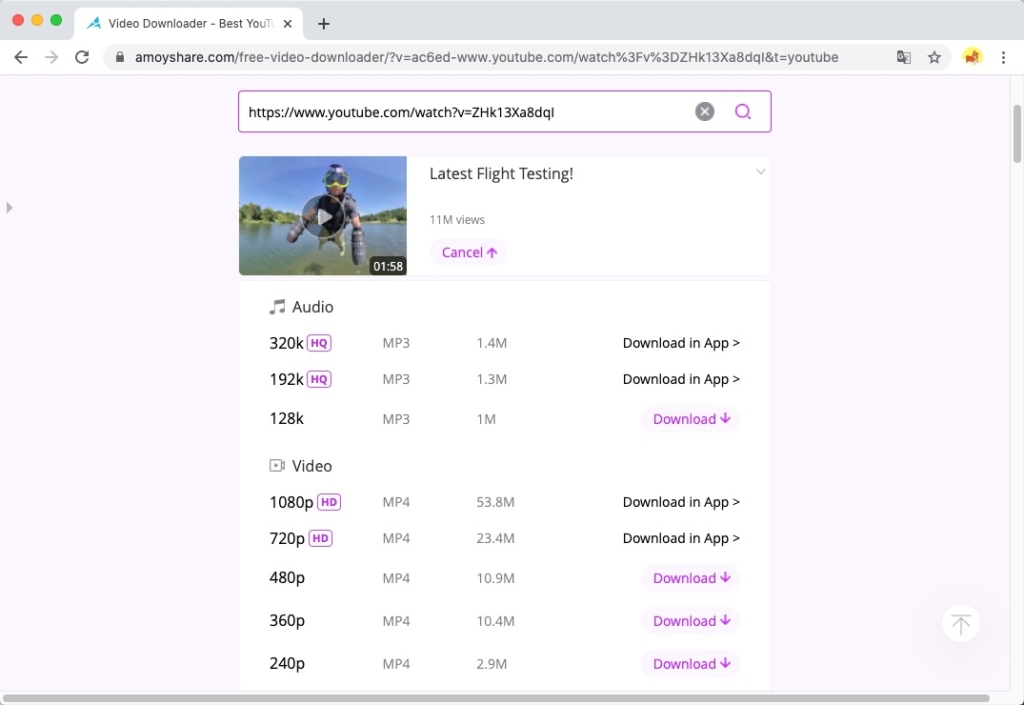 Note: If you would like to download YouTube videos with keywords, AnyVid and Free Video Downloader also help. Just follow the above instructions.
In Short
After reading this post, have you figured out how to easily download YouTube videos on Mac?
If you are also looking for ways to get YouTube video downloads, I strongly recommend you to use AnyVid. It is the best YouTube video downloader for Mac, Windows and Android. With AnyVid, you can download varieties of YouTube videos with HD quality.
AnyVid
Download any video from 1,000+ websites
Most importantly, it is free and easy to use.
Why still waiting?
Give it a shot!
You May Also Be Interested in These Topics