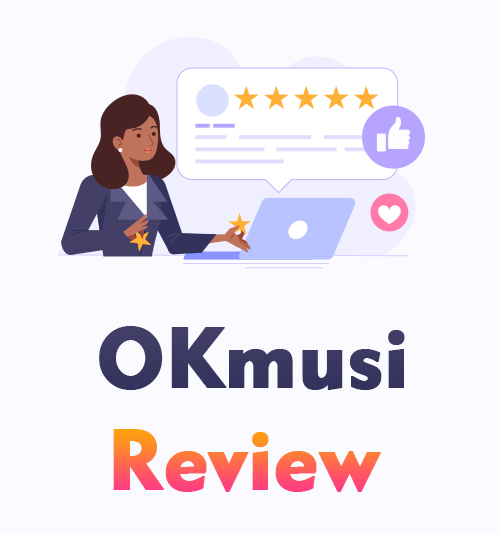 Music has changed our lives in many ways. It helps us deal with different emotions and let our negative feelings.
That is why finding a safe website to download music is always beneficial.
If you have ever searched for a site to download music from, I am sure you have found many websites riddled with advertisements. These websites can be harmful to your device, giving you viruses and malicious malware.
This article does an OKmusi review and looks at the few easy steps to download MP3 free on OKmusi.
We also give you another online music download option to download free music anytime.
Please keep reading.
Is OKmusi Safe?
OKmusi is a website that you can use to download free music on Android, iPhone, PC, Mac, and many other devices. In addition, you can download many songs for offline use by simply typing in keywords.
But is OKmusi safe?
Yes, OKmusi is safe. The website contains no signs of any malicious links or corrupt files that you are downloading. In addition, unlike many other free music download sites, OKmusi does not feature hundreds of adverts and does not redirect you with every click to harmful websites.
OKmusi is one of the safest websites to use when downloading MP3, so when you are looking for a secure music download site, add OKmusi to your list and make it a top choice.
You might be redirected to a website at times, but these sites are safe and do not place your device at risk. For example, OKmusi has no pop-ups or adverts across the screen. It means you will not accidentally click on an unverified link or advertisement.
Other MP3 download websites, however, will waste your time by redirecting you to websites that are impossible to navigate.
How to Download Music with OKmusi MP3 Downloader?
We have found a top site to download music from, but how complicated is it to navigate and understand.
Don't worry. In just three steps, you can download loads of music from OKmusi.
Actually, when you need a fantastic site to make free music downloads from, OKmusi is the answer to your prayers.
Now let me show you how to download music online with the OKmusi downloader.
Find your preferred browser on your device and open it. Then, go to the OKmusi website. In the search bar, search keywords for the song, or you can copy the link from SoundCloud and paste it.
Once the search is complete, the song you are looking to download will show up. Next, click on the download link beneath the song's thumbnail.
Select the audio quality you prefer, and click on the download button that corresponds with the preferred audio quality.
Your download will start automatically and will be saved onto your device!
The Features of OKmusi MP3 Downloader Online
When you find a website that allows you to download music for free, I am sure you will share it with your friends and family.
OKmusi is a reliable free music MP3 downloader that creates an opportunity for users to have all their favorite songs available offline.
OKmusi has a fast process where you can easily download new music straight from the website. Moreover, it is free and safe. On top of that, there are only three easy steps that you need to follow to download music.
Enjoy high-quality MP3 files on any device offline by downloading them from OKmusi!
Best Site like OKmusi
As the OKmusi reviews above, we know that OKmusi is a fantastic music downloader. However, on the off chance that the website is offline or crashed, what other options are out there?
Aside from OKmusi, there are many different websites where you can download music for free. Although, many of these music download sites can prove to be harmful to your devices. That is why you always need to ensure that the website you use is safe and can be trusted.
Here, I decided to do some research and give you another fantastic MP3 downloader site like OKmusi.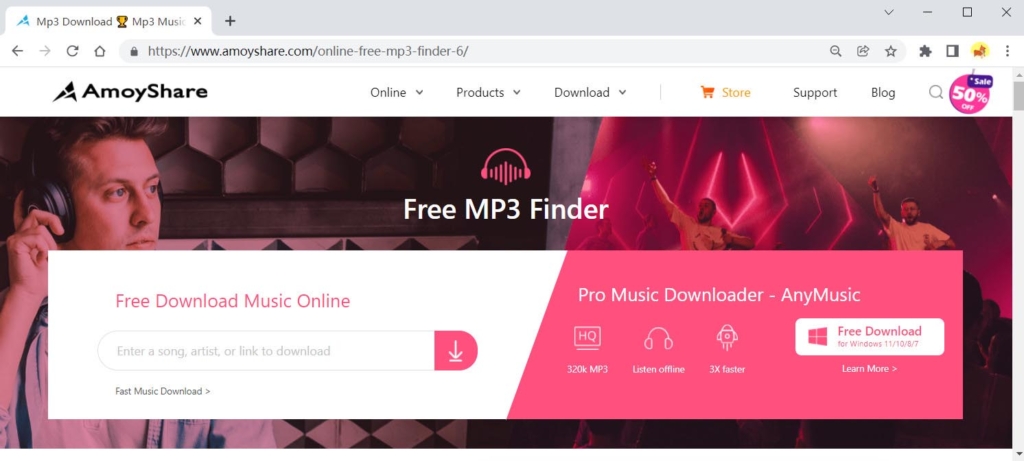 This free MP3 downloader from AmoyShare is exactly a site like OKmusi with a few slight differences, the name being one.
When downloading content from the website, you can follow these simple steps that are almost the same as OKmusi.
Go to the AmoyShare Free MP3 Finder website. In the search bar, search keywords for the song, or you can copy the link from another website that leads directly to the desired video. Once you have copied the URL, paste it into the search bar.
When the search is done, you will find a thumbnail for the song with a download button underneath. Click on the download button.
Hit the download button that corresponds with the preferred audio quality.
Once you have clicked on the download button, watch as your download starts automatically and will be saved onto your device!
With unlimited access to countless tasteful songs offline, you will never be bored again.
Final Thoughts
When you travel long distances, it helps to have a vast music collection to keep you entertained.
Based on the OKmusi review above, you can use it to download countless songs from different artists. Besides that, you can also try AmoyShare Free MP3 Finder. It is the best alternative to OKmusic. By downloading music from this free music download site, you will always have offline entertainment.
Which of these two websites did you enjoy more?
Let us know.
Until next time.
FAQ
Is OKmusi trustworthy?
Yes. OKmusi is a trustworthy website to download music for offline playing. With it, you can download music from leading websites. And this website doesn't contain any clickbait or skeptical redirects. It is 100% safe and reliable.
How to get MP3 songs free download for mobile offline?
Visit the OKmusi website on your phone. Then paste the MP3 URL or search for the music directly. Then hit the Download button to get free MP3 songs downloaded to enjoy offline.
Where can I download MP3 songs for free?
There are hundreds of free MP3 download websites, but they pose a potential risk. OKmusi is one of the best and safest websites to use when downloading songs. It has a fast and secure system that offers excellent sound quality downloads.
You May Also Be Interested in These Topics